As a small business owner, GPS vehicle tracking system helps you in many ways especially if you are having a fleet of cars and drivers to deal with business operations. This system allows you to easily monitor, manage, and maintain the fleet of your vehicle and driver to improve overall productivity.
Such tracking systems not only track your vehicles but also help you in managing your daily transporting activities with ease. So, it becomes essential for you to know the basic information on: what is a vehicle tracking system and the benefits your small business will get.
To help in your assessment, we've summarized the detailed information on the vehicle tracking systems, so let's get started.
What is a Vehicle Tracking System?
A vehicle tracking system is a system that allows the tracking and managing of vehicles via the internet, smartphone, tablet, etc., on a 24/7 basis. It is made possible just due to GPS satellites. 
Vehicle tracking systems make it possible to have an instantaneous and history tracking of vehicle speeds, the routes they traveled, halting spots, idle periods on maps giving a register and checkpoint with past and current data.
How Does the Vehicle Tracking System Work?
A vehicle tracking system is a business solution that combines in-vehicle telematics and fleet management software to collect data from both the vehicle (or mobile asset) and its driver/operator. A fleet tracking software provides the business with robust and actionable data about field operations processes that were previously only available through manual methods.
The in-vehicle telematics system utilizes GPS technology to automatically transmit position data and other information such as date and time, vehicle diagnostics, and engine management. 
When used in conjunction with an in-cab device into which drivers/operators log in, it automates operational reports to provide detailed information to the business about the health and efficiency of its vehicles. Moreover, it also provides insights into driver behavior such as harsh usage, driving hours, excessive idling, speeding, and fatigue.
When implemented by businesses with fleet operations, such as those in the transportation, construction, specialty services, delivery, and government sectors, vehicle tracking systems typically come with – and deliver on – an expectation of lower operational costs, increased productivity and increased efficiency. Given the razor-thin margins associated with fleet operations, any savings or efficiency may substantially impact a business's bottom line.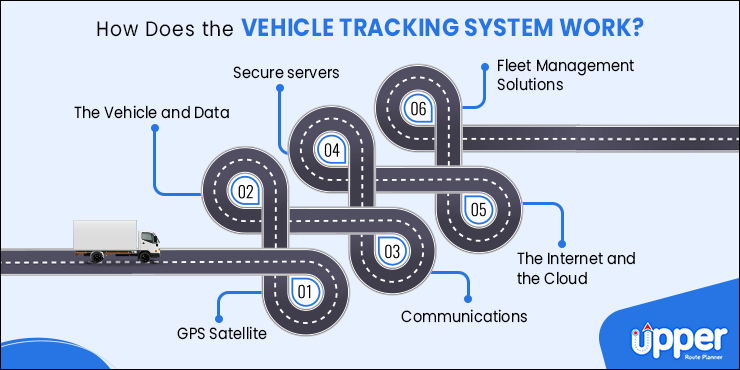 GPS Satellite: Telematics technology installed in the vehicle communicates with a GPS satellite network to locate the vehicle.
The Vehicle and Data

: The telematics device deployed gathers and transmits critical vehicle and driver data in real time

Communications: Data is transmitted to regional servers via cellphone networks. In today's modern environment, coverage, signal strength, and speed all contribute to the reliability and efficiency of data transfer.
Secure servers

: Servers placed in each area give data to fleet businesses while enforcing stringent security measures. The data is presented in real time by the servers.

The Internet and the Cloud

: The Internet offers enormous potential for enhanced functionality and instant accessibility. Businesses may rely on vehicle monitoring systems to offer information in real time, thanks to what is known as the cloud.

Fleet Management Solutions

: Fleet management systems are accessible via any internet-connected device and provide organizations with real-time data to assist in making educated decisions and completing everyday duties efficiently.
What Are the Types of Vehicle Tracking Systems?
Generally, there are two common types of vehicle tracking systems available: Active and Passive VETRAC systems.
Active Vehicle Tracking Systems
Active trackers (also known as "real-time" trackers) help you to instantly check where your vehicle is located. You can check the entire vehicle's movements directly on your computer. Such tracking is made possible by using GPS loggers to capture the vehicle's location.
The active tracking system is the perfect choice for the business involved in delivering and monitoring their employees. With its geo-fence abilities, it becomes easy for you to see notifications on your mobile app when the vehicle enters or exits a predetermined location. 
Such types of systems play an essential role in helping prevent theft and recover stolen vehicles.
To operate the device, you must install it into your vehicle. Frequently, this entails connecting it into a port on the vehicle. Then, you subscribe to a service that notifies you of updates by text message or email. Usually, the active tracking system has two major tracking system functionalities: cellular tracking and satellite-based tracking.
Cellular tracking

: This type of vehicle monitoring is the least expensive to implement. It transmits fleet position data through cellular networks. You will examine the data and modify your tracking settings via an app and an internet connection. The system is not constantly updated; nevertheless, location information is transmitted every 1 to 10 minutes, depending on the subscription level selected. You must pay a monthly charge to use this system.
Satellite-based tracking:

While the gadget and monthly costs may be prohibitively expensive, shipping and trucking businesses prefer satellite-based search because it provides comprehensive data and real-time updates on corporate fleets and workers, even in areas with no mobile service. Additionally, it enables asset tracking with ease located anywhere in the globe.
Once you retrieve such essential data, it allows you to view the summary reports on an animated digital street mapping software, or with Google Earth. So, it becomes easy for you to see every area visited by the target car and the duration of each stop in your mobile app.
Passive Vehicle Tracking System
The good part of a passive VETRAC system is that you can even store the information on a local hard drive or memory card for future perspectives. So, just place it in your vehicle and activate the device.
The passive tracking system is an ideal choice for the users typically involved in tracking their mileage for work purposes as well as businesses interested in reducing the misuse of their vehicles.

Moreover, it allows us to check the trackers on a monthly basis and compile reports on each employee using this information.

The passive trackers involve one-time payment for commercial customers and that too during the device's purchase and installation. For this particular reason, many customers opt for passive tracking systems. Additionally, each purchase includes hardware, software, and a database.

As it does not support real-time tracking, passive tracking devices are ineffectual in traffic accidents or theft. This issue, however, is readily resolved by adding more models to the car for an additional expense.
These add-on tools enable the system to monitor vehicles in real-time, providing fleet managers with real-time alerts about the vehicle locations and speed.
Benefits of GPS Vehicle Tracking System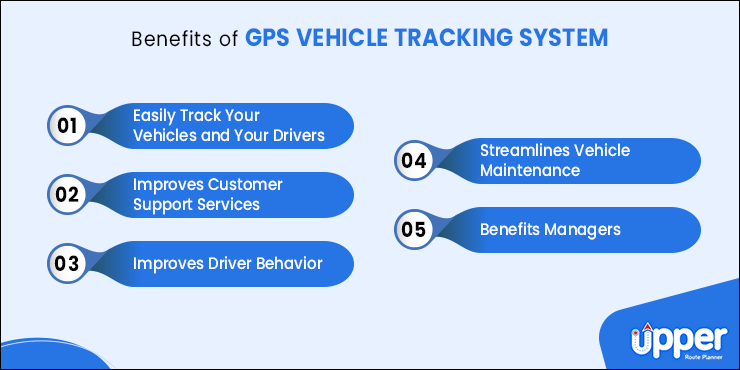 No matter how simple monitoring features are utilized, they help businesses. Learning about fleet tracking's benefits can benefit your business in the long term. Small companies may profit from fleet monitoring in five possible ways.
1. Easily Track Your Vehicles and Your Drivers
The most successful business owners adhere to trust but verify attitude. Savvy business leaders empower their workers to work freely and use contemporary processes and technology to get insight into daily life. Then, if problems do occur, the knowledge necessary to resolve them is easily accessible.
For many small companies, a VETRAC system is just like something that requires or involves little or no mental effort. So, it becomes quite challenging for the companies to deal with just vehicle monitoring technologies.
2. Improves Customer Support Services
Your customers' memories are limited. If you run a home service or delivery company, the quality of your reputation is only as good as your most recent visit. Unfortunately, that is the harsh reality of operating a service-based company.
Add social media to the picture, where customer evaluations on Yelp, Twitter, and Facebook can make or break a company. As a result, it has never been more critical to take all measures possible to guarantee your customers are constantly pleased.
Here are three ways that help to boost the quality of service directly.
Ease in dispatching your drivers: Because you'll always know where your drivers are, you'll be able to dispatch the appropriate person and vehicle to the right task every time.
Accuracy in providing arrival timing to customers: You can effectively provide the approximate timing of your driver to your customers to reach their location. It is possible by tracking the vehicle's actual position. 
Managing and improving route planning

: With a comprehensive history of journeys, which includes a map of the route traveled, the start and finish locations, and the trip length, you can discover inefficiencies in infrequently used ways, allowing you to modify and optimize popular routes, saving you time and money.
3. Improves Driver Behavior
A tracking system will monitor a driver's behavior, which will immediately benefit your business.
As per the study from Concordia University, United States, it has been found that staff from the call center that was monitored electronically were less prone to wasting time and more effectively doing their jobs. Likewise, for vehicle tracking.
When drivers know their movements are being monitored, they will be more inclined to choose the most efficient routes and only use their mobile devices for work-related activities while driving.

Additionally, fleet monitoring may notify you of any areas that need improvement. For example, suppose you have an employee who brakes abruptly and harshly or who regularly accelerates forcefully. In that case, this may suggest that other hazardous behaviors, such as inattentive driving, are occurring in the car.

When you are alerted to possibly lethal driving habits, you may select the kind of instruction necessary to rectify the behavior, thus decreasing the chance that the action results in a collision in a business vehicle.
4. Streamlines Vehicle Maintenance
Your tracking system is not just monitoring what drivers are doing behind the wheel; it also monitors what is happening beneath the hood. By alerting you of the need for regular vehicle maintenance, you can reduce the risk of breakdowns and the associated operating costs with having a vehicle out of operation for repairs.
Plan quickly, deliver faster, delight customers and get home early.
Everyone deserves to have simple and easy route planning.
5. Benefits Managers
By investing in a tracking system, managers have access to a suite of technologies that perform various tasks, including the ability to determine the whereabouts of any vehicle at any given moment.
This technology enables you to monitor drivers' behavior throughout the day, identify people who are not arriving at their destinations on time, and identify drivers who need further training.
With a tracking system in place, you can do more than identify the source of an issue, such as a driver who is often late; you can also create a solution to guarantee workers are more productive with their time.
After looking at the basic information on the VETRAC system, you will be having questions related to the same. We have come up with frequently asked questions in the next section.
5 Best Vehicle Tracking System To Checkout
Here is the list of 5 vehicle tracking apps to consider in 2022. 
1. FollowMee
It is one of the vehicle tracking apps that helps you monitor delivery vehicles. Dispatch managers can track their vehicles on the go and you can update the team about the same. The admin user can monitor drivers as well as vehicles and inform their family if needed. It automatically tracks the fleet location every 5 mins to the user. 
2. GPS Route Finder
It is a GPS tracking app that allows you to track the vehicle location and share it anytime with your team. You can access the location no matter if you are walking or driving. It has an in-built digital speedometer which helps you navigate routes and provides traffic updates. The free-to-use app can also discover the shortest routes for your vehicles. 
3. m2m Vehicle Tracking Service
m2m vehicle tracking gives you vehicle updates after every 25 seconds of interval. It is a popular app that tracks your vehicle and allows you to set a customized maximum speed limit. The app also sends you updates about vehicle engines as well. Plus, it notifies the user for geo-fence violation. 
4. Tracki GPS
It is another app that keeps you updated regarding your vehicle location. The app also displays fuel consumption level and engine status of vehicles for its users. Such information will help you take care of your vehicle. You can add a geofence zone so that if your vehicle passes it, you will get notified. With Tracki GPS, you can keep track of children and pets as well. 
5. My Vehicles
It is a great vehicle tracking app for Android users to enable real-time location tracking just in a few clicks. The vehicle tracking app is compatible with major automobiles. It has in-built features like vehicle history, last location and other emergency notifications. Using My Vehicles, users can even get notified in case the tracker gets disconnected.
Find Optimized Routes for Your Vehicles on Upper
Upper can simplify your delivery process by providing the efficient routes in no time. This means your team won't spend extra time in planning routes manually. Notably, the route planner considers avoidance zones, toll roads and live traffic while optimizing routes. 
With features like route scheduling, import file, one-tap dispatch and proof of delivery, it ensures faster delivery performance. A wide range of features also includes vehicle tracking that keeps you updated about your vehicle location. Upper uses a fully automated process which doesn't require manual intervention. Also, you can send customize delivery notifications to your clients.  
Get Efficient Routes for Delivery Vehicles
Explore fastest routes on Upper Route Planner and reduce your unnecessary vehicle costs. Also, track your vehicles anytime throughout the delivery process on Upper.
Join Upper for Free

FAQs
GPS monitoring solutions facilitate real-time decision-making and increase driver and asset responsibility. Instant access to data on vehicle economy and driver productivity may assist a business in better managing fleet management expenses. In addition, GPS vehicle monitoring enables businesses to increase the number of tasks performed daily.
GPS fleet monitoring price often varies between $14 and $250+ per vehicle per month, but averages between $25 and $45 per vehicle, per month.
GPS tracking devices can be easily placed anywhere on a car. It can be:
In the front or rear bumper

Wheel wells

Underfloor mats or seats

In the glove compartment
It entirely depends on you where you want to keep. However, for fleet tracking purposes, GPS trackers are almost always installed on the dashboard through an onboard diagnostics (OBD) port.
Conclusion
Maintain accountability for your drivers, cost management, and fleet security with a vehicle tracking system.
A VETRAC system is a piece of technology that enables you to determine the whereabouts of each of your cars at any given moment. Additionally, it allows you to monitor drivers' behavior throughout the day and flags drivers who need extra training.
Being a business owner of any industry like courier & delivery, food delivery, medical & pharmaceutical, etc. 
If you are planning to improve deliveries along with tracking, then route planner software with vehicle tracking system is the best suggestion to go with. 
You can start your free trial with Upper Route Planner and generate route plans in the best manner.