Key Takeaways:
A route optimization tool called Optimoroute can lower transportation expenses, free up time, and boost productivity for businesses.
Optimoroute provides cutting-edge capabilities including automatic scheduling, dispatching, and a drag-and-drop interface to make planning more simpler.
All sizes of businesses, from small delivery services to massive enterprises with several cars and drivers, can use Optimoroute.
Upper Route Planner being an alternative of Optimoroute offers quick excel import, route scheduling, proof of delivery, and parcel info.
Optimoroute is a route optimization software for businesses that need to organize a delivery team or a mobile workforce.
Optimoroute offers all the necessary features you would require, from route planning to optimization software. But most of those features like Breadcrumbs and real-time order tracking will not be very useful for small or medium-sized delivery businesses.
But the cost of the features adds up anyway. For businesses that cannot afford software like Optimoroute or have tried it and are looking for another software, we have made a list of the best Optimoroute alternatives.
Reasons To Look For an Alternative to Optimoroute
Optimoroute is a route optimization software with many advanced features. But like every other software, it has reasons for having an alternative to it.
Optimoroute has a variety of features to offer. But most of them will not be very useful for small or medium-sized businesses.
Not the most affordable and suitable option for small or medium-sized businesses.
Optimoroute has a steep learning curve.
The maps didn't look very helpful after they removed the numbers.
It is a promising app but doesn't have the best customer support.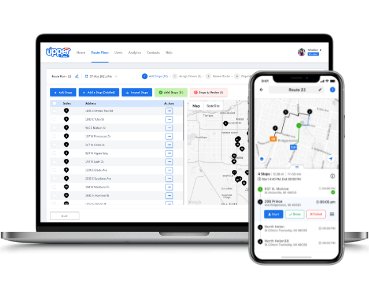 Upper Route Planner
A Simple-to-use route planner that every one is talking about.
Save up to 95% of planning time
Save up to 40% of time on the road
Plan 500 stops at once
4 Best Alternatives To Optimoroute
Upper Route Planner

Upper Route Planner is the most suitable alternative to Optimoroute. Last mile delivery businesses or any business with a team of drivers to manage and operate can benefit from Upper Route Planner.

Businesses of all sizes can scale their delivery service with Upper Route Planner's powerful route planning and optimization capabilities.

Route scheduling and optimization help in cutting down time-consuming methods of planning. This will help boost the delivery experience for businesses from various industries.

Upper Route Planner Features

Quick Excel Import: Add up to 500 addresses quickly with our import Excel feature. Avoid the hassle of manually adding multiple addresses. Just bring a list of addresses and import using an Excel sheet.
Route Scheduling: Schedule efficient routes for months in advance. Our route scheduling feature helps you plan, so when the time comes, you pull out the route and forward it to your driver.
Route Planning & Optimization: Businesses are able to save hours of planning time with Upper Route Planner. Our algorithm optimizes routes instantly with real-time constraints like priority stops and time windows.
Proof of Delivery: Proof of delivery or service helps establish records for successful completion of the task. Drivers can click pictures and collect customer signatures once a package is delivered. Drivers are able to report successful deliveries with our electronic proof of delivery feature.
Parcel Info: Parcel info helps drivers in identifying the right parcel for delivery. It includes Parcel Count, Placement in Vehicle, and Parcel Photo information. These details can be attached to each order to easily identify the parcel in the back of the van.
One-click Driver Dispatch: Dispatchers can divide a list of addresses into several routes. They can send the routes to your drivers with a single click.
Customer Notifications: Businesses use our automated SMS notifications and email notifications to keep their customers informed throughout the delivery process. Customer notifications immensely help in improving visibility into the delivery process. Also, it boosts customer experience.
Reports & Analytics: Identify areas of improvement and make better decisions with the help of daily, weekly, and monthly delivery reports.

Best Used For

A variety of industries like healthy meal delivery, Post & Courier Delivery, Cannabis Delivery, and Sales Reps.

Pricing

Essential plan: Starting from $80 per month for up to 3 drivers
Growth plan: Starting from $160 per month for up to 5 drivers
Enterprise plan: Contact for more details

Customer Reviews

Onfleet

Onfleet is one of the most advanced logistics software that helps businesses power their delivery process.

Onfleet is a last mile delivery solution trusted by companies across dozens of industries, including food and beverage, retail, e-commerce, and pharmacy.

Onfleet offers end-to-end route planning, dispatch, communication, and analytics. It helps tackle route planning and optimization challenges so businesses can focus on their customers.

Onfleet Features

Route Optimization: Onfleet considers time, location, capacity, and traffic to optimize and create the most efficient delivery route. All the route updates are forwarded to drivers in real-time.
Auto-assign: Onfleet has a powerful auto-assign engine to reduce service time and labor costs. It sends all the delivery assignments to the right driver at the right time.
Real-time Data: Real-time customer info, order details, and navigation for your drivers. Supports use of Google Maps, Apple Maps, or Waze.
Proof of Delivery: An in-app collection of photos, signatures, barcodes, and notes help present clear documentation for proof of successful delivery.
Driver Chat: Onfleet allows businesses to communicate with their entire delivery team inside a private, secure chat platform.
Predictive ETAs: Stay proactive with Onfleet offers remarkably accurate predictive arrival times and real-time alerts. The real-time information powered by machine learning helps you solve problems quickly.
Real-time Driver Tracking: Onfleet offers live driver locations with accurate ETAs in a responsive web tracking experience. This helps the dispatchers as well as the customers.
Feedback Collection: Collecting first-hand reviews of each customer's experience after their delivery is made easier with Onfleet's integrated feedback form.
Comprehensive Reports: Dispatchers and managers can gain insights by exporting analytics and raw task data.

Best Used For

Onfleet caters to various businesses – multi-national couriers, retailers, and distributors to on-demand delivery startups.

Pricing

Launch: All the basics for new and small teams at $500 per month
Scale: Advanced tools for growing delivery operations at $1,150 per month

Pros

It has both Android and iOS driver apps.
Easy onboarding process and easy user interface.
Customers love ETA texting, and tracking link.

Cons

It is a highly expensive option.
The time estimates overshoot actual driving times by at least 50%.
Sometimes the speed can be extremely slow.

Customer Reviews

Route4Me

Route4Me is a route planning optimization software that takes away the hassle of manual route planning. It helps delivery businesses optimize routes and dispatch them to their mobile app.

Route4Me helps improve efficiency for businesses with the help of real-time routing and GPS.

Time and money-savings improve substantially for businesses that serve hundreds of customers each month using Route4Me.

Route4Me Features

Route Optimization: Businesses can optimize their routes by considering real-time delivery constraints. Considering time windows, avoidance zones, and priority orders help optimize routes effectively.

Team Management: Advanced team management and operations features of Route4Me are helpful for audit logging, activity streaming, and operational assessment to streamline management activities.

Telematics: Offers features like smartphone app GPS tracking and geofencing analytics. These can help keep the delivery team in check at all times.

eCommerce Integration: Route4Me also offers eCommerce integration for Shopify, Woocommerce, and Magento platforms.

Notifications & Alerts: Businesses can use the customer notifications and alerts feature. It needs a monthly subscription. Businesses can keep their customers informed at all times with these notifications and alerts.

NOTE: All features of Route4Me are offered as an add-on functionality. So businesses have to pay a monthly fee to use any additional features. The add-on features are time windows, telematics, customer notifications, and advanced team management.

Best Used For

Route4Me is suitable for field service, field sales, field marketing, and any other business requiring last-mile planning, scheduling, and optimization.

Pricing

Route4Me offers three pricing plans:

Route Management – Priced at $199 per month.

Running and managing business operations. Offers real-time business insights and driver tracking.

Route Optimization – Priced at $249 per month.

Offers route management features. It includes automatic optimization of single-person routes.

Route Optimization Plus – Priced at $349 per month.

Offer route optimization features for multiple users.

Pros

Geofencing and GPS tracking are really useful features for businesses.
Adding addresses using the voice search adds ease of use.

Cons

Most of its features can only be used if purchased at a monthly fee.
Navigating through delivery completion steps is often very slow.

Customer Reviews

Routific

Routific's planning and optimization software support delivery operations; whether you deliver parcels, food, or furniture, Routific provides businesses with enough tools to deliver faster and on schedule.

Routific plans and optimizes routes according to real-time factors like time windows, vehicle capacities, delivery types, priority stops, and driver speeds.

Routific boost revenue and delivery experience. It improves the overall operational efficiency of the delivery business.

Routific Features

Route customization: Optimize delivery routes with real-time delivery factors like time windows and vehicle capacity. Adding or removing last-minute orders and customizing the route is easy.
Live GPS Tracking: Dispatchers and managers can track drivers' progress. ETAs are sent to dispatchers throughout the day. Driver tracking provides your customers with more accurate ETAs and boosts customer experience.
Customer notifications: Keeping customers informed about when they can expect their package is important for a good delivery experience. Provide automatic SMS and email notifications at each step of the delivery process with Routific.
Proof of Delivery: Your drivers can easily collect signatures and photos using Routific driver app. Simply click a package picture or ask the customer for a signature after completing each delivery. Businesses and their drivers can stay accountable using proof of delivery.
API Integration: Businesses can push their orders directly to Routific's platform with API integration.

Best Used For

Routific is ideal for small and medium-sized businesses. Any business making deliveries or pickups daily. Businesses with multiple drivers and routes and routes to manage will find it helpful.

Pricing

Essentials: Essential route planning features are planned at $39 per vehicle, per month.
Professional: Offers all the Essential features. Includes driver management tools priced at $59 per vehicle, per month.

Pros

Offers route optimization API.
Great customer support.
It is easy to reschedule or cancel deliveries.

Cons

Unable to edit or personalize customer notifications.
Only offers to route for cars.
Need an alternative for when certain stops are not included in the route.

Customer Reviews
Why Should You Consider Upper Route Planner As An Alternative for Optimoroute?
Some major reasons why you need routing software like Upper Route Planner are as follows: .
Save Time & Resources: Why spend precious resources and hours of time on route planning & optimization when you can automate it? Salvage time and resources with Upper Route Planner. Our automated and efficient route planning helps you throughout planning and execution.
Advanced Delivery Scheduling: Give up on your manual delivery planning process. Automate the process with Upper Route Planner. Quickly schedule routes for months in advance. Our advanced scheduling and optimization algorithm supports you at each planning process step.
Scale Delivery Operations: Your drivers will deliver their orders on time when you provide them with optimal routes. Covering more stops with each route and scaling delivery operations is made possible with Upper Route Planner. So scaling delivery operations is a breeze.
Boost Revenue: With scaling your delivery operations, your business revenue will also automatically get a boost.
Enhance Customer Experience: We help boost customer experience with features like customer notifications and proof of delivery. This will help you retain customers and improve brand loyalty.
Optimized Route Schedules Are Just A Click Away
Sign up to Upper Route Planner and start optimizing delivery routes for your business.
Choosing an Optimoroute Alternative
Whether it is fleet optimization, routing, scheduling, short-haul, or long-haul optimization, Optimoroute is an excellent option. It works well for various businesses like Retail & Distribution, eCommerce, Field Sales, Food Delivery, Pharmacies, and others.
Maybe it fits most requirements for large-scale businesses and is probably easy to afford for them. But what about small or medium-sized businesses?
There are several alternatives, in that case. Upper Route Planner proves to be the best alternative to Optimoroute. It is excellent for businesses handling multiple drivers and their schedules. It offers the required features, is affordable, and scales your delivery process.
If you are a small or medium-sized business looking to plan and optimize local deliveries and driver schedules, Upper Route Planner is your go-to app. Try out our 7-day free trial today and see how it suits your requirements.