Key Takeaways:
To track delivery routes and manage drivers more effectively, use delivery management software.
Choose software with capabilities that can be customized to meet the unique demands of your business.
To increase customer satisfaction, think about making an investment in software with real-time tracking.
Upper Route Planner is a highly-rated delivery management software that provides accurate and efficient route planning for businesses of all sizes.
Efficient and updated technologies are the backbone of any thriving business, and delivery businesses are no exception. If you've got a delivery business, you know how painful it is to manage delivery operations, maintain optimum delivery, ensure customer satisfaction, and manage delivery reps – all at once.
To eliminate this chaos, ensure smooth functioning (minus the dreadful manual efforts) and save substantial costs, it's high time you add some route planning solution or we can say delivery management solution to your business. But making this decision doesn't end all your woes. Because the next, and equally important, the decision is to figure out which is the best delivery management software for your business. And that's precisely why we are here today.
This article looks at some of the industry's best software solutions for planning optimized delivery routes. These 7 best delivery management software are cream of the crop with the latest technology. Ready to make a name in the delivery space? Let's dive in!
What is a Delivery Management Software?
A delivery management solution essentially streamlines the delivery process through route planning and optimization. Delivery management software, thus, are a top asset for businesses that offer delivery services. Why? Because these businesses require delivery management software to improve the workflow efficiency of their business by reducing delivery times, running multiple orders, spending less time stuck in traffic, and alleviating other unforeseen obstacles.
With real-time vehicle tracking, route planning & optimization, complete control dashboard, real-time tracking for the end customer, automatic dispatch management, and more, delivery management software makes delivery a delightful experience for you, your drivers, and your customers.
Route planning and optimizing algorithms choose the shortest and most efficient paths for delivery. These paths connect multiple order stops, significantly cutting the delivery time.
With the boom in the delivery business industry, the right delivery management software has come to the forefront, and rightly so, to speed up (and optimize) the delivery process, satisfy customers, and increase profitability.
Finally, it's time we go through the best delivery management software, its best features, pricing model, and availability.
7 Best Apps for Delivery Management Software
App
Best Features
Pricing Model
Availability
Upper Route Planner

One-click driver dispatch
Route planning achieved considering traffic, order priority, and more
Reports and in-depth analytics to assess driver performance and workflow gaps
Plan up to 500 stops in a single route
Proof of Delivery

Essentials that costs $80/month for up to 3 drivers
Growth that costs $160/month for up to 5 drivers
Enterprise (Contact team)

OptimoRoute

Real-time Order/driver tracking
Route modification in-between delivery is possible
Workload balancing by evenly distribute delivery order stops.

Lite version for $35.10/month per driver
Pro version for $44.10/month per drive

Tookan

Simple but effective app dashboard
Proof of delivery through scanning barcode as well as other methods
Geofencing tracking is available
Integration to major third-party apps

Early Stage version $17/month
Startup version $53/month
Growth version$113/month
Standard version $215/month

Route4Me

Customize and personalize the app with the necessary features only
Unlimited route stops
Add and remove features as and when required

Route management for $149/month
Route optimization for $199/month
Route optimization plus for $299/month

Routific

Integration with Shopify.
Live-tracking and customer communication via SMS or emails
Routific API is available to integrate within your business software

Essentials version for $33/vehicle per month
Professional version for $49/vehicle per month
both billed annually

Onfleet

Easy-to-use web dashboard
Proof of delivery through barcode scanning is possible
In-app chat feature to communicate with the delivery fleet

Starter model is $149/month
Basic model is $349/month
Premium version is $799/month
Professional model is $1999/month

Circuit

Unlimited stops
Driver tracking – monitor the route taken and the stops completed by the delivery fleet
Proof of Delivery using electronic signature and photos
1. Upper Route Planner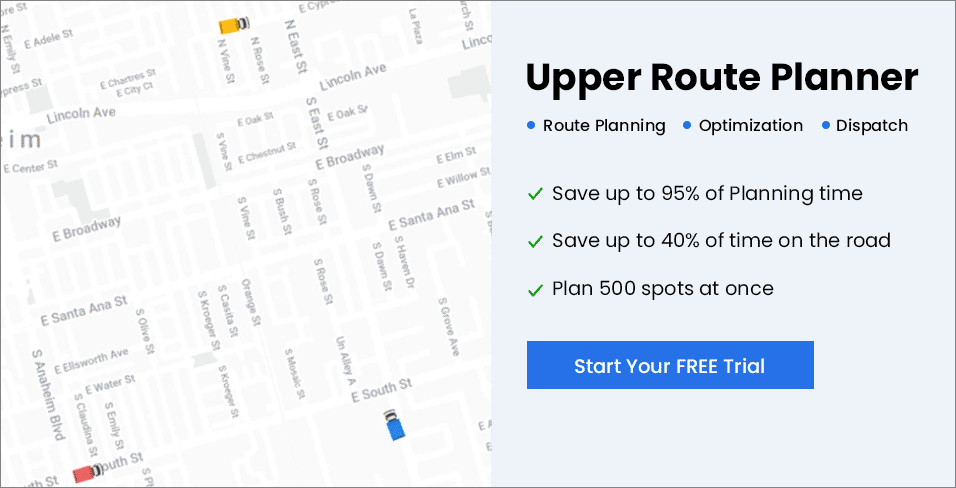 Upper Route Planner is the recommended delivery management solution for delivery businesses to plan and optimize their delivery routes efficiently. With Upper Route Planner, companies can focus on the core business operations and cut down on manual planning and scheduling hours while the algorithm takes care of the rest.
Features of Upper Route Planner that make it the best route planning and optimization–delivery management software in the market include
One-click driver dispatch allows you to assign multiple orders to several delivery agents with the simplest click. The dispatch process is easier and streamlined with clear-cut instructions to avoid all kinds of communication errors.
Route or delivery schedule can be done months in advance. Teams can also save or archive the addresses of their regular customers for easy access.
Generate daily, weekly, and monthly reports and quickly analyze the delivery workflow performance.
Easy Excel importing feature. The algorithm weeds out duplicated stops in the spreadsheet to produce the most optimized delivery route with multiple stops.
Pros
Available on a mobile device and web.
Offline navigation, street-view, and accurate ETAs.
Navigation for driving, cycling, walking, and public transport..
Archive routes using the "Pin" feature.
Automatically re-routes in case you miss an exit.
Cons
Collects user data.
Only creates routes with up to 10 stops.
No proof of delivery.
Doesn't consider factors like time windows, driver breaks, or restrictions.
Does not offer routes specifically for heavy vehicles like trucks.
Great for: Planning & optimization for multiple routes with multiple stops
Available on Web, iOS, Android
Pro Tip
: Get your hands on our
7-day free trial
to better get to know Upper Route Planner.
2. OptimoRoute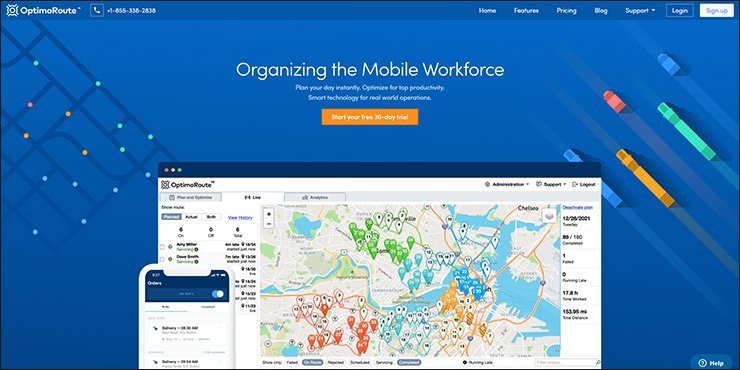 OptimoRoute is an excellent route planning software and right delivery management system built for optimizing routes and increasing productivity. This delivery management software solution works well with businesses that deliver goods and services like cleaning services, eCommerce, field sales, food delivery, HVAC services, healthcare, and more.
Some of the best features of OptimoRoute include
Minimal planning time is required. By importing numerous orders simultaneously, you can receive an optimized route plan that is great for reducing the time spent by delivery agents on the road.
Order (real-time) tracking is possible with accurate ETA. Get the precise location of the order being delivered so that you can update your customers with the order status via automated SMS notifications or emails.
Lightweight mobile application with low data usage.
3. Tookan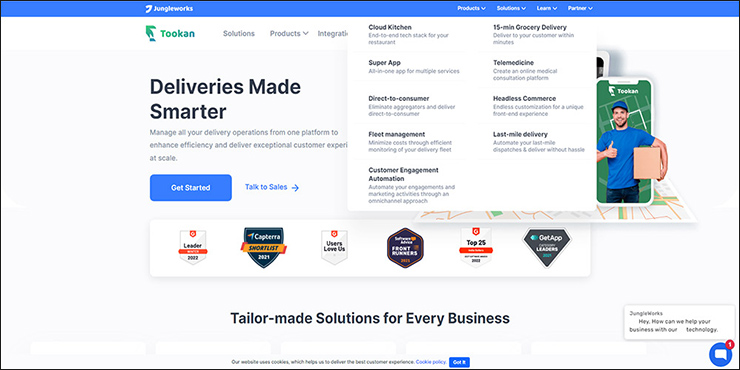 Tookan is an enterprise-level powerful delivery management software solution. Apart from being a comprehensive solution for delivery businesses, its customizable and interactive dashboard makes this delivery management software an attractive alternative.
Not only is this great delivery management system easy to maintain and manage, but it also comes with some highly functional features, including
Simplified management of all delivery-related processes.
Essential features like SMS communication with customers, recurring tasks, optimized routes, and much more.
The ability to customize the application to add fields specific to your business.
Real-time electronic proof of delivery through digital signatures, scanning barcodes, images, and added notes.
Geofencing tracking and behavior monitoring like driving behavior can be used to identify anomalies.
Easy integration with major third-party apps.
One of Tookan's major drawbacks is that it offers readily available features like route optimization as an add-on, making the extensive features quite expensive. This could be a limitation to certain businesses that require these essential features.
4. Route4Me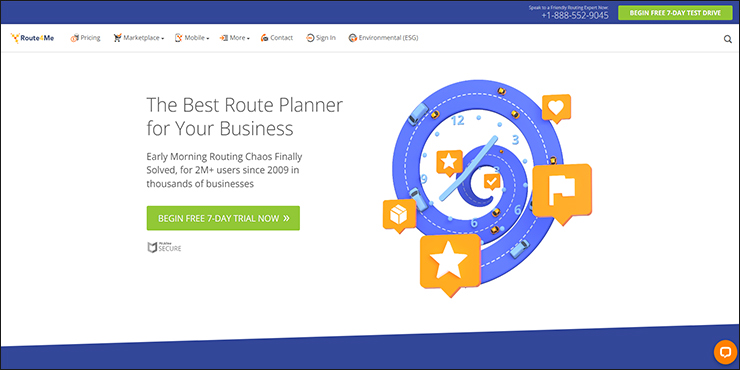 What's more enticing than a route planning and optimizing app? An all-in-one app that helps business owners pick and choose features that enhance their business. Delivery companies well aware of the competitive features that improve their business (delivery) operations can significantly benefit from a universal app like Route4Me. This app is perfect for medium and large delivery companies operating in the industry for quite some time.
Route4Me boasts incredible features like
Flexibility with committing and using features that are only essential to your business. Avoid paying for redundant features.
Predictive weather route optimization is an add-on that works to optimize or reroute in harsh weather conditions.
Plan routes with evenly-distributed workloads to avoid overworking delivery agents that eventually negatively impact productivity.
One drawback of Route4Me is that as a business just starting in the delivery space, it can be easy to get overwhelmed with all the features that this app offers. Careful planning and business strategy implementation can help you overcome this drawback and utilize this app in the best possible way.
5. Routific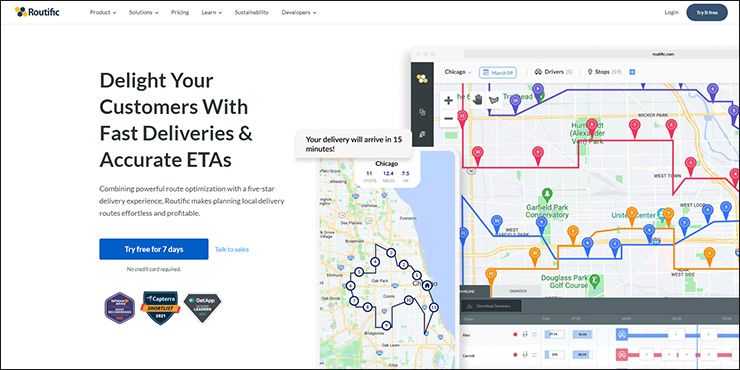 Routific helps businesses scale faster using optimized delivery route planning. This delivery management system is robust and efficient enough to save businesses over 40% on fuel and time. Routific also allows delivery companies to connect to other navigation apps like Google Maps or Apple Maps, making it a flexible option for business owners to consider.
A few features that prove Routific is a highly effective delivery management platform include
Importing customer addresses through spreadsheets, Shopify integration, or adding them manually.
Easy to customize routes by adding stops to the route or adding or deleting last-minute orders.
Dispatch drivers with a single click by sending the route straight to the driver via SMS.
Routific API integration is available with great customer and developer support.
One major drawback of the Routific software is that customer notification is available only on the Professional version of the application- the higher-end version. Although such a feature could deter some businesses, others may find it very effective in their business. Besides this limitation, Routific is a robust app for optimizing routes for your delivery business.
6. Onfleet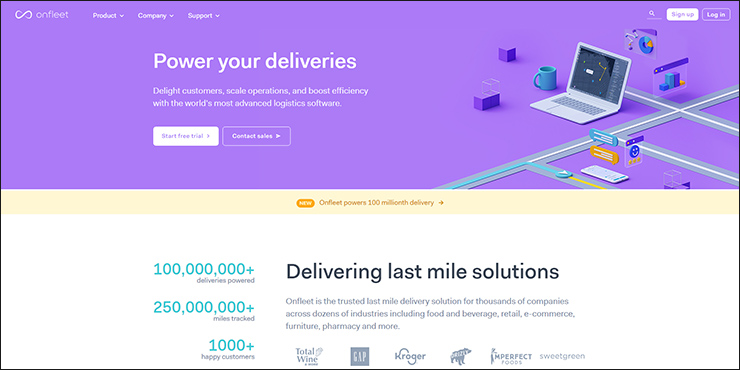 Onfleet is an advanced logistics software that increases the efficiency of delivery teams. Onfleet allows for integration with hundreds of third-party applications, making it easy to integrate this app into your existing business workflow.
Best features offered by Onfleet include
Real-time updation of routes. Updated routes are easily sent to drivers with a click of a button.
Chat platform to always be in touch with drivers. This removes the need for third-party apps and keeps all communication within the platform.
Integrated feedback form to collect customer feedback right after the delivery operation is completed.
Analyze all performance metrics for a delivery operation like success rates, customer feedback, and more.
Onfleet is a great app for businesses, but it is not as economical as other available options, especially since competitors offer the most basic features for a much more affordable option.
7. Circuit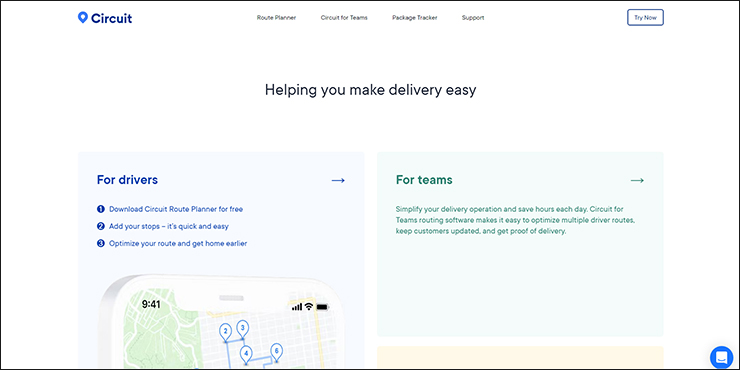 Last but not least on the list is the Circuit Route Planner app. Circuit Route Planner helps business delivery teams simplify the route planning process. By reducing time spent waiting in traffic and following shorter routes that make delivery logistics quicker, drivers can now work on more orders during their workday. As a business owner, you don't require extensive knowledge of any location, Circuit Route Planner does the work for you.
Circuit features that make it stand out from the crowd include
Unlimited order stops are possible.
Proof of delivery captured using electronic signature and photos.
End to end visibility with route monitoring to track route progress. Monitor the current location of the driver and the stops they have already taken, and the next stop they are delivering to.
Best suitable for all kinds of courier management services.
Despite all the best features, one drawback of Circuit Route Planner is the limitation of spreadsheet importing to Android app only. This limitation could be a turn-off for some, but overall the app offers competitive pricing and guarantees a boost in productivity.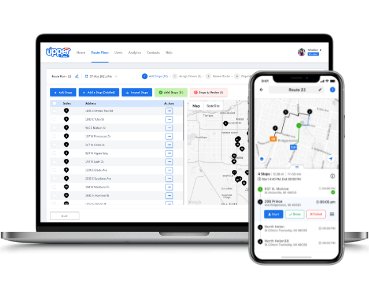 Upper Route Planner
A Simple-to-use route planner that every one is talking about.
Save up to 95% of planning time
Save up to 40% of time on the road
Plan 500 stops at once
FAQ
To run an excellent delivery logistics and supply chain (e-commerce or last-mile delivery management, for example), optimizing the delivery route is critical. When done right, businesses can save money and time, ensure a delightful customers delivery experience, and boost profits significantly. If delivery logistics operations are an integral part of running your business, you must invest in delivery management software/delivery management systems that optimize routes.
Always choose an app that fits your needs after much deliberation. With that being said, out of the apps mentioned above, Upper Route Planner has all the needed features at a cost-effective price. Upper Route Planner also comes with a 7-day trial so that business owners can try out and assess if the app is a good fit for their organization.
The best route planners will have the following basic yet competitive features-
Excel importing
Route optimization
Report generation
GPS tracking
Single click dispatch and proof of delivery
Route scheduling
Customer notification
Businesses must maintain accuracy throughout the entire delivery process to run efficiently. Google Maps is great for navigation, but it has many undesirable drawbacks for a business. For example, accuracy issues like last-minute roads blocked due to construction not reflected in the app or lack of proper routes in remote areas. It is easier to rely on a route planning algorithm explicitly built for businesses in such cases.
Conclusion
Businesses these days find innovative ways to scale their operations while ensuring their existing workflows are optimized for great results. One such business operation is the delivery process.
Ensuring that delivery is done promptly is integral to any delivery process. The way to do that is by using proper care in planning routes, especially multi-stop delivery routes. This saves time for all the team members, skyrockets productivity, and boosts profit margins.
Being able to reach far-off locations with ease will also ensure business growth. Remember, a growing loyal customer base is the best indication of an effective business strategy. So, adopt the best delivery management solution for your business and streamline the entire process. Don't give a second thought, just Start Your FREE Trial with Upper Router Planner and know how it benefits your business.