Top Features
4.1

Routing

4.0

Dispatch management

4.2

Features

3.9

Customer Support
Overview
A routing algorithm is a preset method that considers multiple factors like time, distance, traffic, and vehicle speed to plan an efficient route. Using Routific's routing algorithm, you can plan and optimize your routes within a few minutes.
This route optimization software reduces the time taken to deliver goods, allowing businesses to accommodate more stops in the same time frame. It also comes with additional features, such as customer notifications and proof of delivery, improving overall customer satisfaction.
Some of the other common features of Routific are data import, delivery analytics, customer notifications, and proof of delivery. These features aim to streamline route planning processes, reduce delivery time, improve customer satisfaction, and enhance overall operational efficiency.
Routific allows businesses to input their customer addresses and other relevant information, and it automatically generates optimized routes based on the specified parameters. It provides real-time tracking of drivers, enabling dispatchers to monitor progress and make adjustments as needed.
Routific Review
Positive
Routific allows you to plan, optimize, and dispatch delivery or service routes within minutes using its automated processes.
The route optimization algorithm speeds up your delivery operations, allowing you to accommodate more deliveries and raise profitability.
As everything from route planning to dispatching is centralized, delivery management becomes easier for the dispatcher.
Features like proof of delivery, customer notifications, and live GPS tracking help you keep your customers updated and certain about their delivery's progress.
Routific's route optimization API helps you seamlessly pair it with most of the popular web platforms to streamline your workflow.
Routific provides a 7-day free trial to prospective customers without entering credit card information.
The data import feature lets you skip the process of adding addresses to your route plan manually by allowing you to import an Excel or CSV file with the relevant data.
Negative
The pricing of Routific is higher than competitors that offer similar features.
Routific only allows you to plan a route with up to 500 stops, making it unsuitable for large-scale operations.
GPS tracking is only available if the driver is using the regular Routific driver's app and is not available on the lite version.
Customer notifications are exclusive to the professional plan and only if you pay an additional $19 per month per vehicle, making it very expensive.
The timeline is a bit confusing to navigate and takes some time to get used to.
Route customization options, such as reverse route, swap route, and lock route, are not available and have to be done manually.
Essentials
$49.00
per month per vehicle
Features
Route planning
Route optimization
Excel/CSV import
Drag & drop scheduling
Customer profiles
Dispatcher notes
Custom data fields
Customizable driver start & end locations
Adjustable vehicle capacity
Priority-based routing
Time window planning
Customizable service time
Mobile driver app
Time & distance report
Delivery completion time report
In-app chat with the support team
Professional
$59.00
per month per vehicle
Essentials Features +
Everything from the Essentials plan
Driver notes
Proof of delivery
Live driver tracking
Platform API integration
Driver notes report
Final delivery status report
Price Plan For Team
Upper
Essential
$80/month
3 Users included
Growth
$160/month
5 Users included
Free Trial Available
Routific
Essentials
$147/month
3 vehicles included
Professional
$245/month
5 vehicles included
Free Trial Available
---
Is Routific Worth the Price?
Having sophisticated delivery and routing features at your disposal is crucial to make better profits in the modern competitive business world.
Though it is often the case where the price of the software solution ends up being more than the costs saved, let's see how well Routific offers value when compared to an alternative route planner.
| | | |
| --- | --- | --- |
| Data Import | | |
| Route Optimization | | |
| Service Time | | |
| Time Windows | | |
| Curbside Delivery | | |
| Route Scheduling | | |
| Pickup & Delivery Options | | |
| Swap Routes | | |
| Reverse Routes | | |
| Multi-stop Selector Tool | | |
| Driver's App | | |
| One-Click Driver Dispatch | | |
| Proof of Delivery | | |
| Reassigning Routes | | |
| Export Routes | | |
| Stops Priority via Color Coding | | |
| Reports & Analytics | | |
| API Integration | | |
| Expected Time to Arrive | | |
Features Routific Upper

Data Import

Route Optimization

Service Time

Time Windows

Curbside Delivery

Route Scheduling

Pickup & Delivery Options

Swap Routes

Reverse Routes

Multi-stop Selector Tool

Driver's App

One-Click Driver Dispatch

Proof of Delivery

Reassigning Routes

Export Routes

Stops Priority via Color Coding

Reports & Analytics

API Integration

Expected Time to Arrive

Try Upper for FREE No credit card required
What People Say About Upper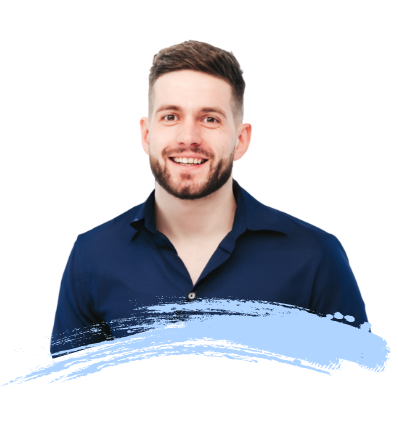 Saved 10 hours per week & delivering 3x more meals with Upper. It's easy to take proof of delivery, the speed is great, it's super super fast!

Ben Parker,
Delivery Manager of Flavors2Go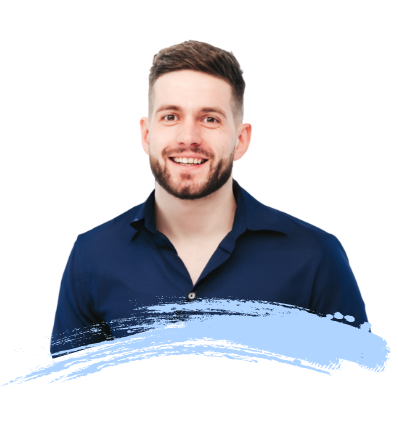 Routific Features
1. Route optimization:
As a route planning and optimization software, one of the prime features of Routific is its ability to optimize your route plans to be more efficient. Its optimization algorithm takes into account multiple variable parameters to ensure that your optimized routes are shorter and faster.
These parameters include vehicle capacity, stop operation type, driver preferences, time windows, stop priority, and more.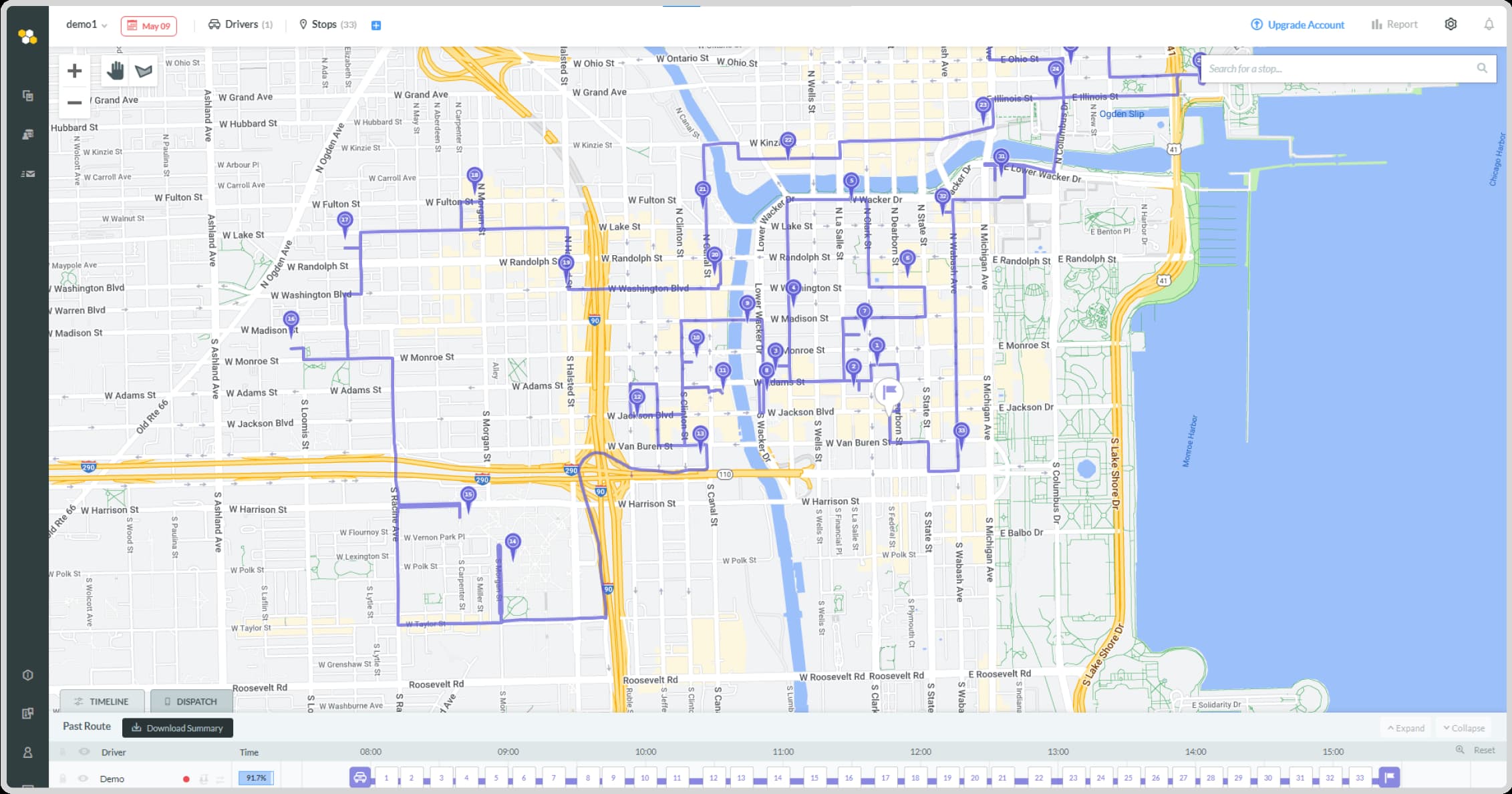 2. Data import:
If you do not wish to enter the details of your customers into the route plan manually, one at a time, then it is best to use Routific's data import feature. This enables you to import an entire Excel or CSV file that contains the customer's delivery details into the route plan.
When imported, the data is represented as individual stops on the route plan, saving you the time of manually entering each and every stop.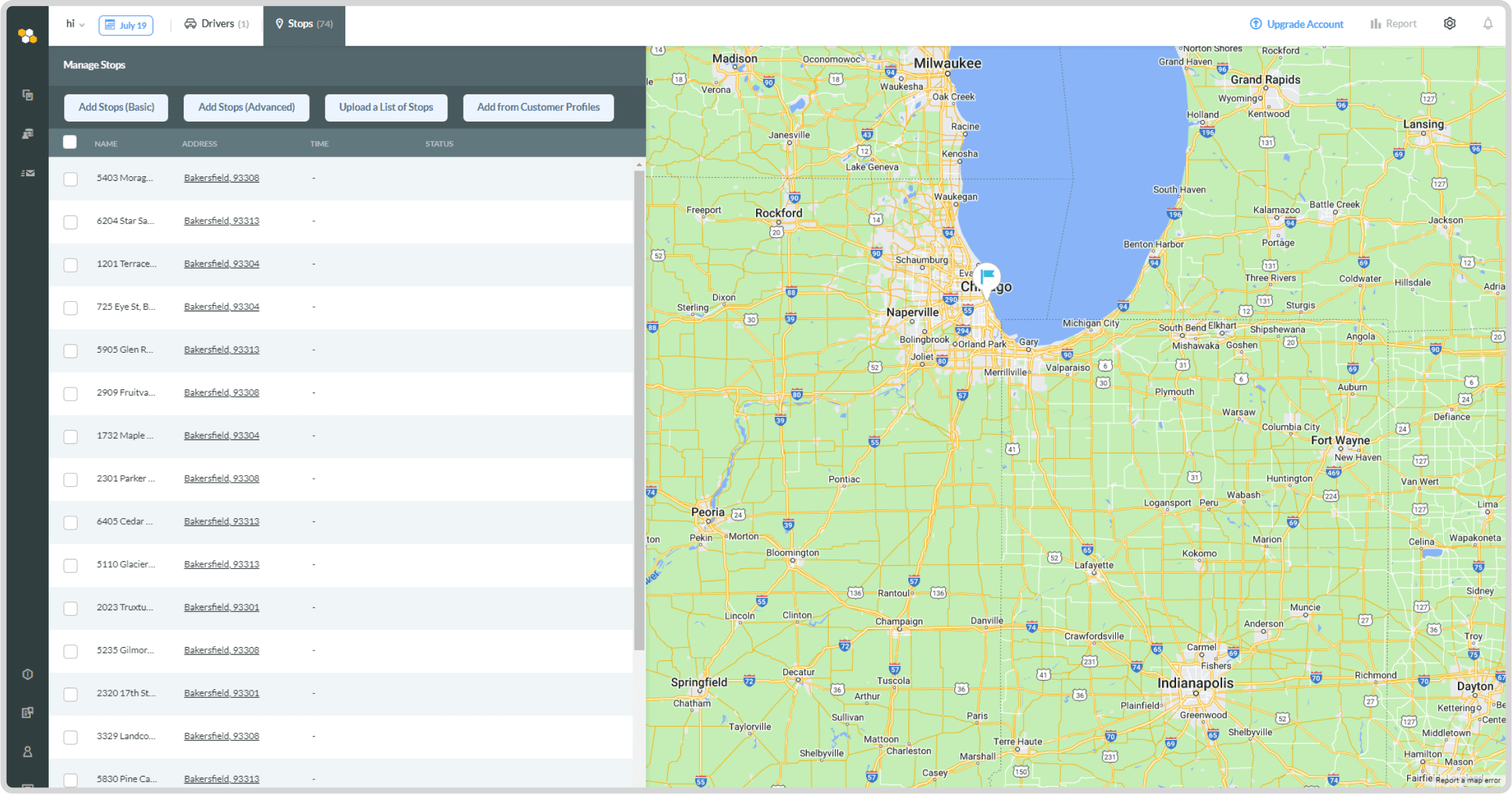 3. Delivery analytics:
All of your driver's progress throughout the delivery process is collected as data by Routific that you can view at your convenience in the form of delivery analytics. These analytics can be very helpful if you are looking to assess your fleet's delivery performance.
Once you have gone through the key performance indicators (KPIs), you can work on methods to improve areas where your performance may be lacking. Accurate reports do provide a data-based method to map out your business's strengths and weaknesses quickly.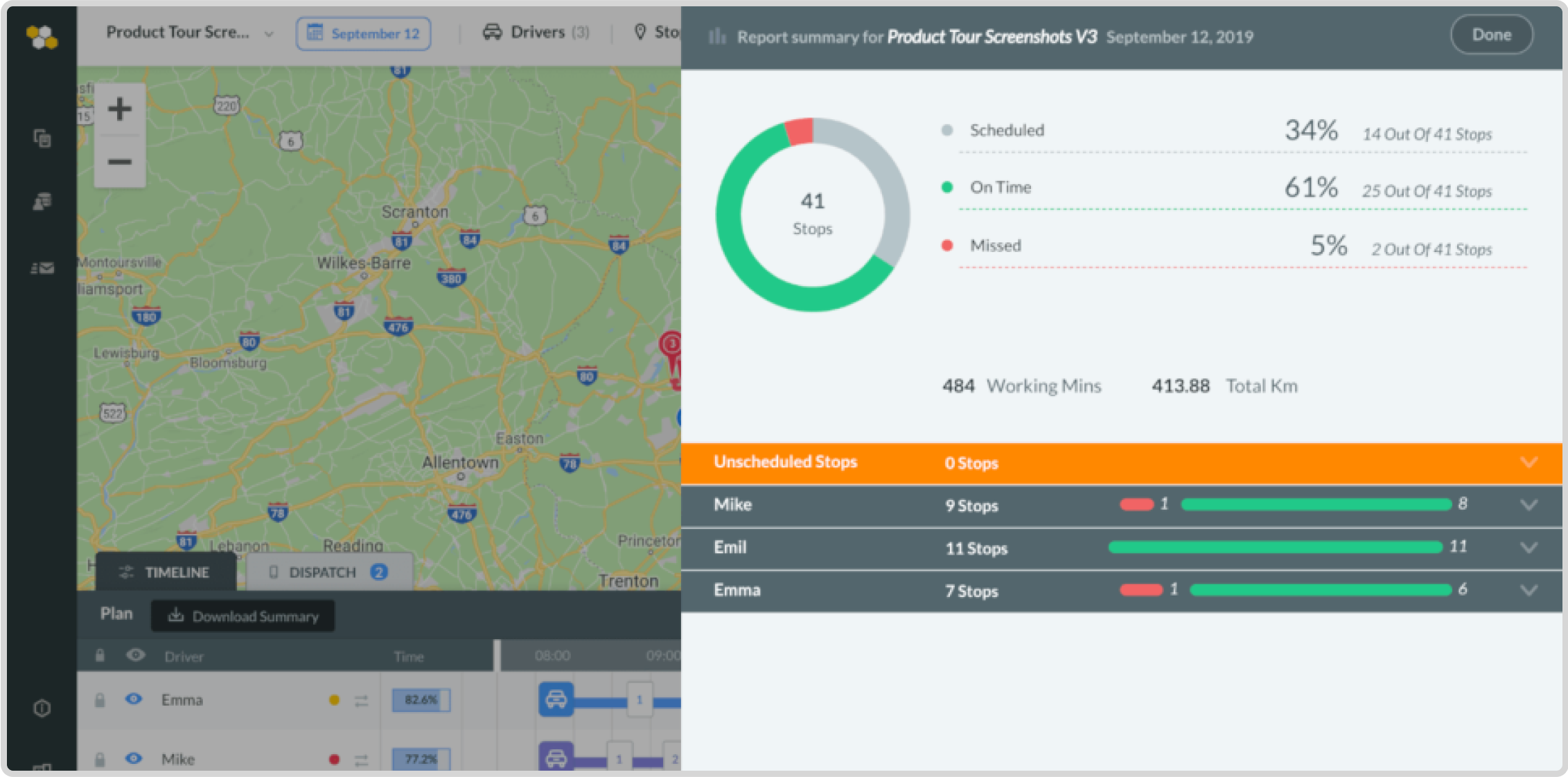 4. Dedicated driver app:
Routific has not one but two dedicated apps for drivers that enhance their capabilities when serving customers. Routific provides a regular driver app and a lite version of the app to work on older devices with limited processing power.
The driver app allows drivers to navigate to their stops using an inbuilt map, send notes to the dispatcher, and collect proof of delivery by capturing pictures or signatures. Though the ability to track drivers in real-time stays unavailable in the Lite app.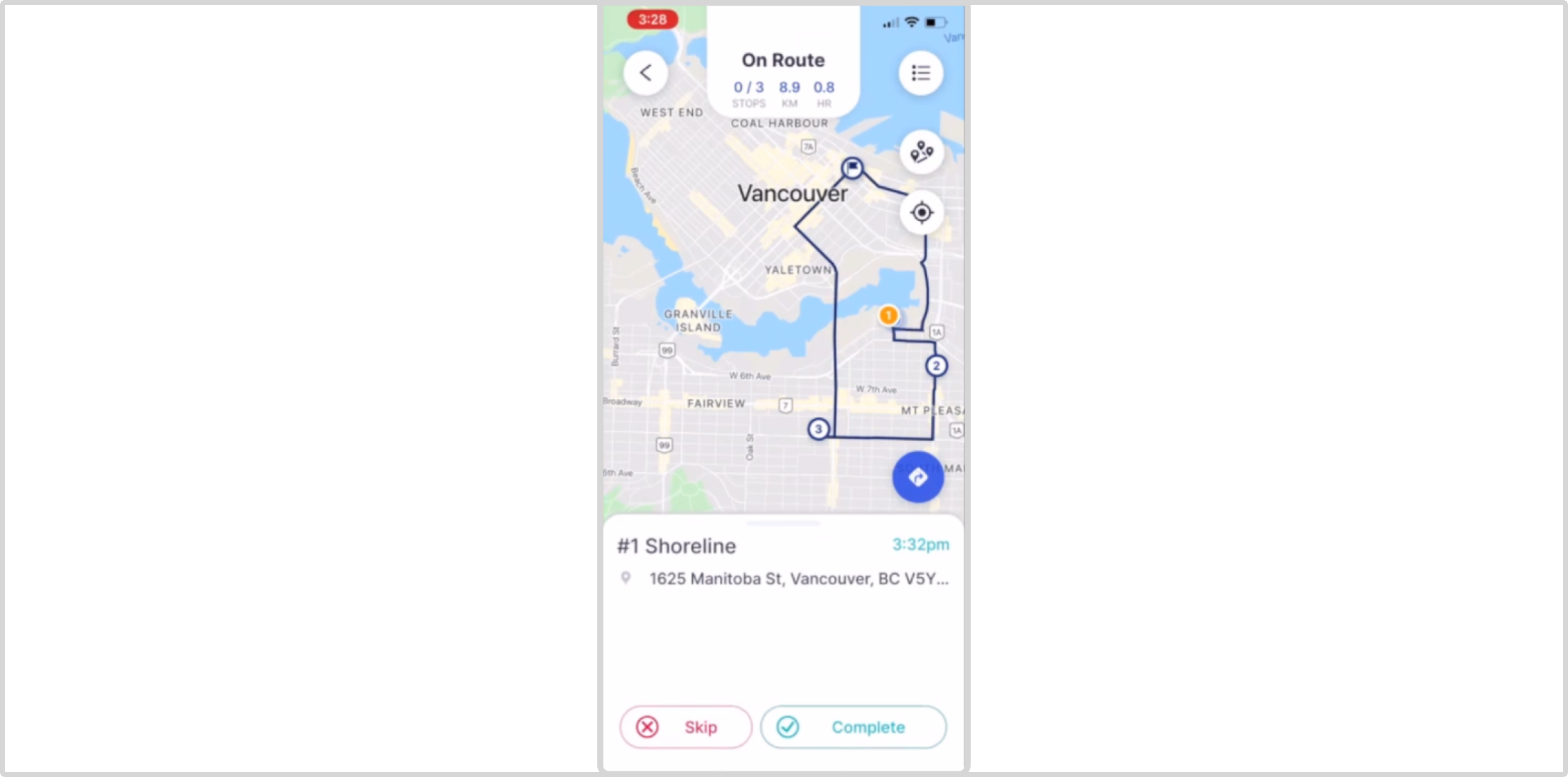 5. Customer notifications:
Keep your customers informed about their delivery status and progress. The customer notifications can be customized to fit your needs and are sent automatically as soon as your drivers hit a specific milestone set by you. Customers also get a delivery tracking link that shows them the progress of their deliveries in real-time.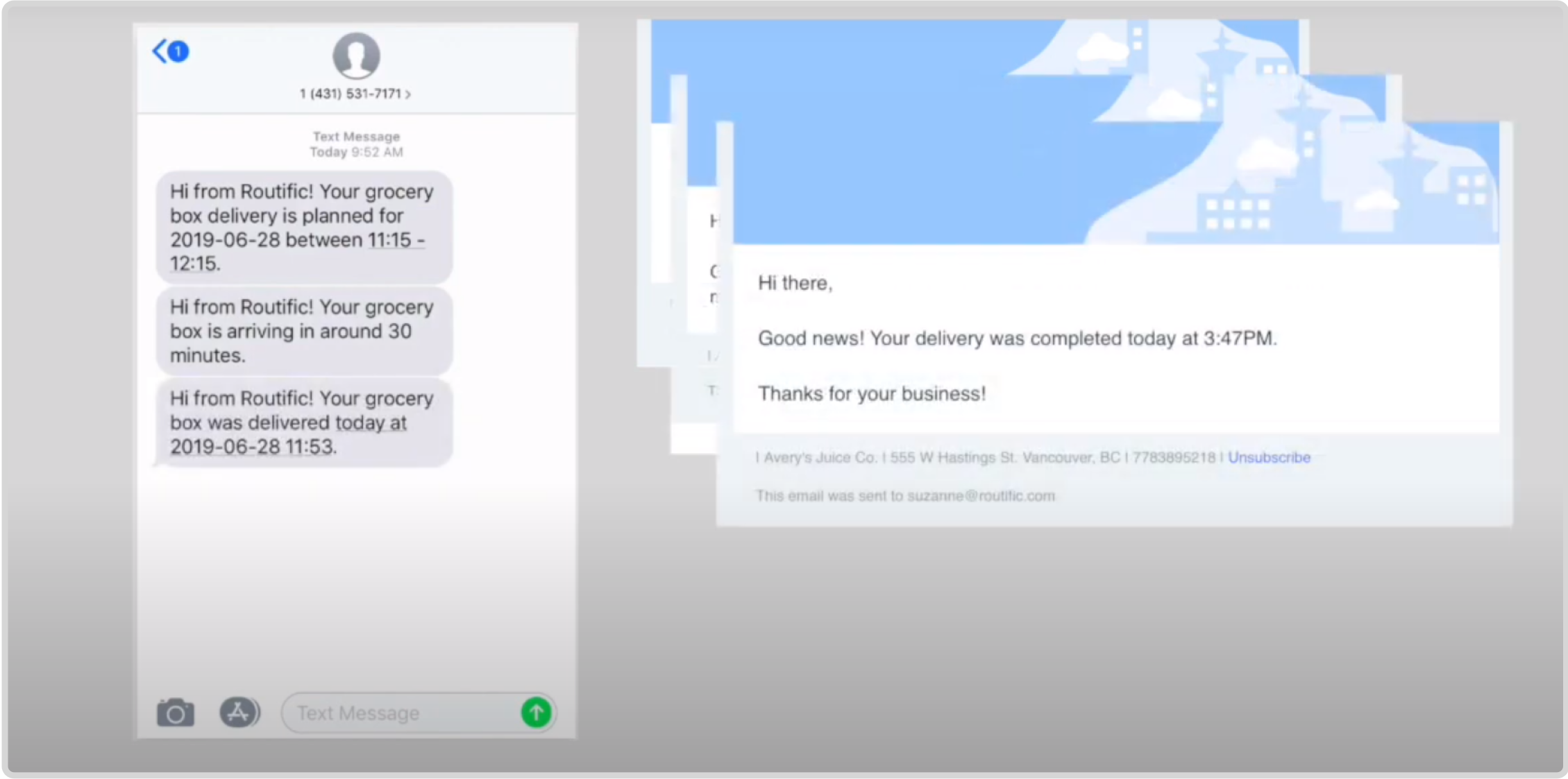 6. Proof of delivery:
If you have any delivery proof, then it allows you to refute or counter any false claims about your business missing deliveries or services. Using the Routific driver app, drivers can collect proof of delivery by either capturing pictures or collecting the customer's signatures.
Since all of this is done digitally, it eliminates the need for paper-based documents that drivers have to carry all the time. It also ensures that the dispatcher is instantly updated with proof of delivery as soon as the delivery or service is completed.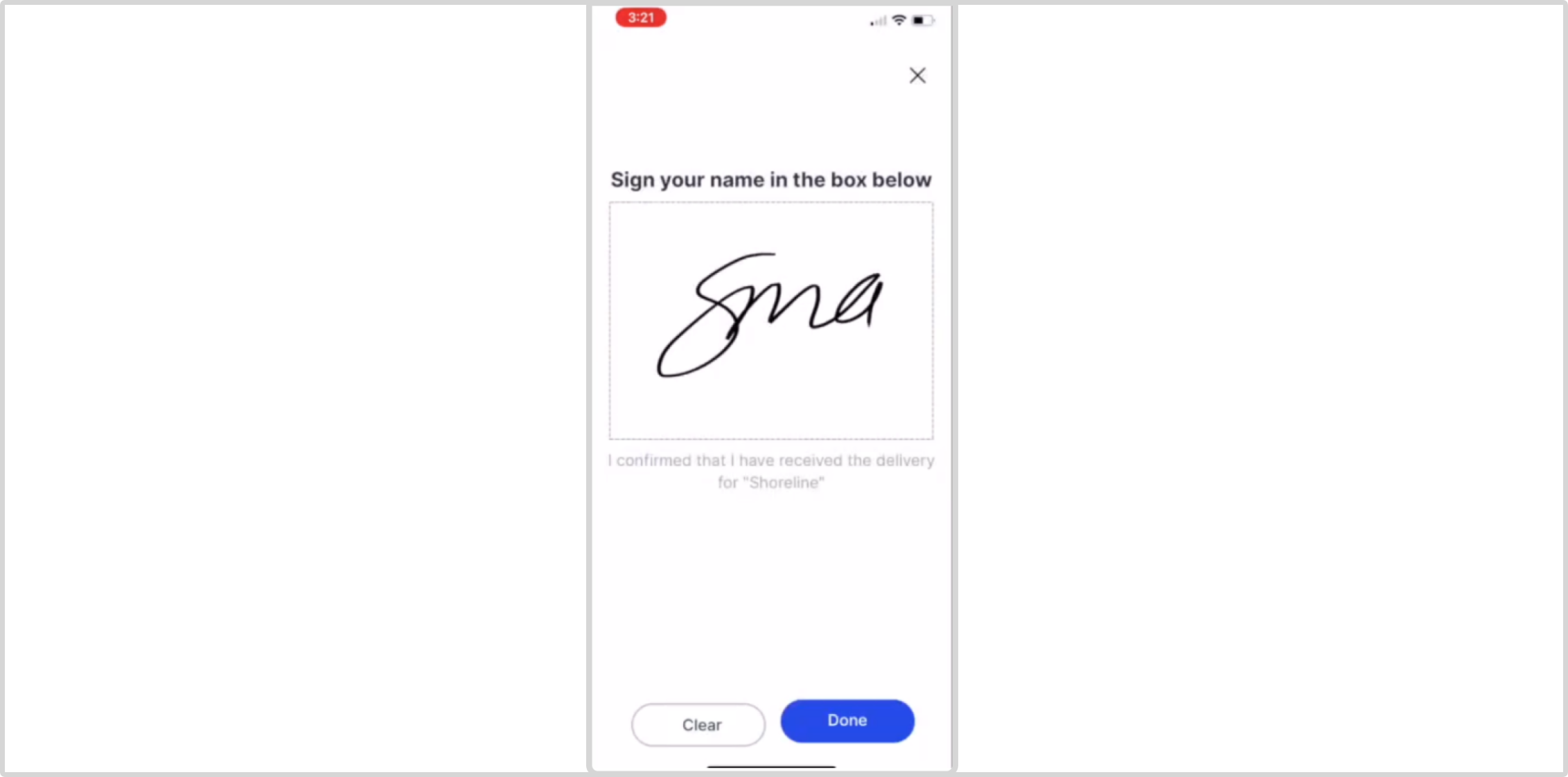 Is Routific Right for Your Business?
On its own, the feature set of the Routific route planner is quite impressive and utilitarian. On its higher-priced plan, you get everything from route planning abilities to custom API integration, making it very usable for most businesses.
However, knowing what features are offered by Routific, it is hard to overlook its higher price when compared to its competitors that offer the same features at lower prices. This is why you must venture into the world of alternative options to make the best choice.
Considering overall features, pricing, and functionalities, it may not be the right route planning and optimization software for your business.
Routific
$147/mo
Upper
$80/mo
Save 20% with annual billing
Make Deliveries Easier
Use the innovative routing features from Upper without breaking the bank.
Route optimization has now been streamlined with such user-friendly and reasonable software available.

Go and grab the one that can help you feel worthy for every penny you paid.
A Perfect Alternative to Routific
The pricing and feature set of Routific might not be perfect for you. And it is not as if Routific is the only way to optimize routes, as the market has a lot of alternatives that are potentially better suited for your use cases.
One of the strongest contenders in the route planner market is Upper, which sports a vibrant set of features at reasonable prices. Using Upper is also arguably easier to use, given its intuitive user interface that is easy to navigate.
Here are the ways in which the Upper surpasses Routific
Stop Priority: When planning routes on Upper, you can set the priority of each and every individual stop to account for their urgency during the route optimization phase. Not only are routes optimized to meet the set priorities, but you also have additional settings to customize the level of priority to your liking.

User Interface: The user interface of the Upper is very simple and straightforward to navigate for both dispatchers and drivers. All the options when creating a route are laid out in a logical manner and are easily accessible.

Pricing Plans: If you have a whole team of drivers, then the Essentials plan is yours for just $80/month for three users making it very affordable for all users considering the features that are offered.
DON'T MISS OUT! LIMITED OFFER
Upper's Growth Plan now available @
$160/mo
Get the Best Cost-Effective Routific Alternative & Speed up Your Deliveries by 3x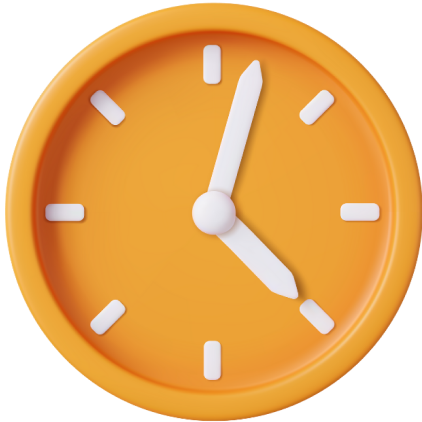 Conclusion
Routing software like Routific is indeed a formidable option on the market if you want a multi-stop route planner. Its feature set allows you to do more than just plan efficient routes as it can also be used to improve customer satisfaction and business profitability.
But, as far as pricing is concerned, many customers might find it pricey and may start looking elsewhere for alternative options. Thankfully, the market is ripe with alternatives that not only offer more features compared to Routific but are also less expensive.
One such alternative is the Upper, which comes with a whole list of features that are bound to make your routing operations more efficient. You may want to try out Upper's routing capabilities yourself with our 7-day free trial! and experience its exclusive features.
Frequently asked questions
What is the cost of a route planner?

Ideally, route planning software with a modest set of features costs around $60 to $80 per month or per vehicle. There are also route planners on the market that charge you based on the number of stops that you have when optimizing routes.

Does Upper has any app for performing deliveries?

Yes, Upper comes with an driver app to help your team follow the fastest route. The assigned routes can be directly explored on the mobile app so that the drivers learn about their delivery schedule.

Do I have to train my staff to use a route planner?

Most modern route planners are made to be as simple and straightforward to use for both drivers and dispatchers. Regardless of which route planner you choose, you will get tutorial videos to get going or else you can schedule a call with support team to use it rightly.

How long does it take to plan a route?

The time taken to plan the route would primarily depend on the number of stops, drivers, and the overall complexity of the route. Though because the routing algorithm is automated, your route planning and optimization should not take more than a few minutes.

What should I do if I'm unable to use a route planner?

Most route planning software companies like Upper provide 24/7 customer support that can help you resolve problems. Even if you are having trouble navigating the software, the service team should be able to help you figure it out.

What types of businesses use route planning software?

Businesses associated with deliveries or pickups can benefit greatly by using route planning software as it optimizes your route to be as efficient as possible. This reduces the level of wear and tear on your vehicles and saves fuel costs as they have to travel across lesser distances.