Key Takeaways:
When selecting a vehicle, delivery drivers should put cargo space and fuel economy first.
The Prius (Toyota), Volkswagen Golf and Jetta Sportwagen- Diesels, Hyundai Sonata Hybrid, Light-Duty Vehicles, and many other vehicles are popular choices for delivery drivers.
The most fuel-efficient all-electric vehicle available is the Chevy Bolt EV.
While choosing a vehicle, delivery drivers should also take reliability, maintenance expenses, and safety ratings into account.
The recent pandemic and the onset of online shopping have resulted in huge demand for delivery drivers.
With an average yearly income of $39000, a delivery driver job is a well-paying sought-after gig for many.
As good as the profession is, there are things a delivery driver needs, a good vehicle being the most important.
But what features to consider while buying a vehicle?
Out of so many available options, how to sort out the best car for delivery gigs?
Keeping these questions in mind, we've written this blog post explaining the importance of a good delivery vehicle and why you should go for the best cars for delivery drivers.
Keep reading to get the list of the six best cars for delivery drivers.
What Shall be the Key Features of a Delivery Driver's Car?
The important features to be considered while buying the best car for delivery drivers are
Leather seats: Delivery drivers have to sit in their cars for long durations, and their seats must be durable and comfortable.
Sunproof: While doing deliveries or even normal driving, who would like to have the sun glazing into their eyes. Therefore make sure your vehicle has soundproofing in it.
Heated seats: They provide luxury comfort, relaxation, and physical health benefits, but they also improve safety. Heating chairs and backrests provide a high degree of comfort while preventing constricted posture.
Backup camera: A backup camera is a small video camera mounted on the back of the car attached to a screen inside the cabin. These are installed to save the expenditures of tooling, hardware, software, and testing required to integrate the display/feature into other vehicle portions.
Navigation system: Navigation systems assist delivery drivers by storing maps, determining a vehicle's or vessel's location using sensors, charts, or information from other sources, and presenting suggested instructions to a human in control of a vehicle via text.
Remote start: A remote starter is a radio-controlled device that the factory or an auxiliary installer installs in a car to warm or cool the automobile before the owner gets in it. It starts the automobile automatically for a predefined period after being initiated by pressing a button on a unique key chain remote.
Blind-spot monitoring: Blind Zone Monitoring (BSM) tries to decrease collisions when altering lanes with a car in your blind spot.
What Should be Considered When Buying a Car for a Delivery Driver?
A good vehicle is important but making smart decisions while buying one is just as important.
After all, Lamborghini and Porsche are considered the best vehicles but is it a cost-efficient decision to do deliveries in them?
Hence, although having a good vehicle is emphasized in the delivery man's profession, keeping costs low is important.
Smart delivery drivers keep their costs as low as possible since they aim to boost revenue and reduce expenses per mile.
Below are our top two tips:
High Fuel Efficiency

Avoid automobiles that consume a lot of gas or require pricey fuel. Your bottom line is impacted by a powerful car that requires premium fuel. On the other hand, hybrid and diesel-powered vehicles can work to your advantage.
Avoid hybrid sedans with a rear seat that cannot be folded down if you plan to transport bulky objects. The Prius V wagon offers a lot of cargo room while also fuel-efficient.

Purchase and Resell at the Right Times

Professional delivery drivers should know when to enter and exit a vehicle on better standing. Examine the depreciation curve of a model.
Hundreds of reliable miles can be accumulated, but the automobile must be sold while still in favor and before any repairs can be made.
If the vehicle's drivetrain warranty covers you, you won't have to pay for the most expensive repairs.
Top 6 Cars for Delivery Drivers 2023
1. Prius (Toyota)
The Toyota Prius is not just the greatest automobile for nationwide delivery, but it's one of the most desirable four-door hatchbacks.
Delivery men have the best of all worlds with the Prius: fuel economy and cargo room. Owners claim their Prius' lasted well beyond 200,000 miles without any repairs, indicating that this four cyl 1.8 L automobile will last forever (nearly).
It can be an ideal delivery driving car that provides the drivers with decent gas mileage, cargo space, and minimal repair costs.
Toyota vehicles are designed to last. In addition, getting 50 miles/gallon in the city is not outlandish. Toyota charging points are also becoming more common in many cities so that you won't run out of juice on the way.
You can also look for an electric car provided by Toyota as a reliable and great alternative to gas-based delivery cars. Toyota Camry Hybrid can also be a great option for delivery service as it provides good gas mileage, helps you save money, and has decent safety features.
Also, look at some of the other Toyota Prius family models, such as
The Prius liftback models
The Yaris-inspired compact Prius C (for smaller cargo)
The large Prius V
2. Volkswagen Golf and Jetta Sportwagen- Diesels
You could believe that VW's older Golfs and Jettas had vanished after the company's new line of diesel failed to launch in 2015. In reality, many delivery people can locate reasonably priced VW hatchback diesel automobiles for sale around the country.
Diesel cars are the greatest choice for delivery since they last longer and are generally less expensive than standard gasoline vehicles. It's one of the best delivery cars that can be used for bulk food delivery because of its great storage space, decent mileage, and minimal vehicle requirements.
You'll lose a little fuel economy because they typically get 2-5 mpg less than in the city/highway. However, the advantage of having a large truck compartment with a solid structure for larger loads is undeniable.
3. Hyundai Sonata Hybrid
Electric delivery vans are ideal for people living in heavily populated areas with short distances between stops. Hybrids will be much better if you drive more than 200 miles daily.
The Hyundai Sonata Hybrid tops the field regarding trunk size and fuel efficiency among hybrids. You can cross the city traffic easily while minimizing your fuel costs. It's one of the most reliable cars for a vehicle owner and provides great mileage with cost-effective major repairs.
In the city, the Hyundai Sonata Hybrid achieves 36 mpg and gets 40 mpg on the interstate. New models, on the other hand, get more. You can provide regular maintenance to the car, which can help you simplify making deliveries and ensure that you avoid an unreliable car.
A typical Sonata Hybrid should cost roughly $15,000 on the internet. Because the market is swamped with hybrids such as the Sonata, lesser pricing is almost certain to be found.
4. Light-Duty Vehicles
Light-duty trucks, commonly known as midrange or two-ton trucks (because of their two-ton capacity), are an excellent alternative to SUVs and cargo vans. The Honda Ridgeline, Toyota Tacoma, and Chevrolet Colorado are excellent choices.
They all get good fuel economy for their trunk space, with 18 mpg inside the city and 25 on the interstate.
Light-duty trucks have a longer bed liner length (5-7 feet) than midsize vans. Furthermore, the open vehicle bed sends bigger loads and unevenly shaped freight. Light-duty trucks should work well for retail delivery.
You get more space that can help you earn more money. It's the right vehicle for heavy deliveries because of the extra space and can easily pass the dirt roads.
5. Chevrolet Bolt
Fuel-efficient automobiles provide an obvious advantage over huge box trucks for delivery drivers. If you can't afford a huge truck, swapping a large cargo room for a vehicle that can go days without needing to be refueled is even more vital.
The Chevy Bolt EV is an all-electric automobile with the best fuel efficiency in the industry.
The Bolt gets roughly 240 miles/charge on average. If your routes include intercity or long-distance travel, that's not much. On the other hand, last-mile or neighborhood couriers should be able to complete a day's worth of deliveries on a single charge.
Refurbished Chevy Bolt EVs may be found in plenty online and in real life. They frequently sell for less than $16,000.
6. Cargo vans
If you're a delivery driver who requires more capacity than a five-door sedan, a standard-size cargo van like the Ford Transit Connector Mercedes-Benz Sprinter is the ideal alternative.
Most cargo vans will include side and rear doors to make retrieving large and medium-sized packages easier.
Compact cargo vans, such as the Ford Transit Connect, are ideal for working in crowded places, but the Mercedes is more like a multi-stop truck.
If you upgrade to cargo vans again for the best card for delivery drivers for delivery, you'll compromise fuel efficiency. They're more difficult to park and may necessitate additional bending and lifting.
However, cargo trucks are the way to go if you're making big shipping and are a good driver; cargo trucks are the way to go.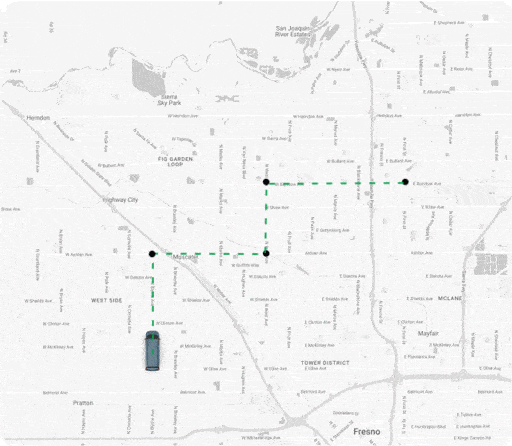 Why is the Means of Transportation an Important Aspect for a Delivery Driver?
As mentioned above in the job duties section, most delivery drivers' work heavily depends on their vehicle.
He uses the vehicle to navigate, carry goods, and so on. To mention further, the importance of a good vehicle for a delivery driver can be explained as follows:
1. Transport of Goods
One of the most significant functions of delivery drivers is to bring all required raw materials to the business and, finally, deliver all finished goods to the clients promptly and properly.
A good vehicle aids in this process. Think about a situation where you're making a time-bound delivery, and your vehicle suddenly breaks down.
Now rare instances happen, but what if this becomes a frequent deal?
Won't that hinder your work process?
Moreover, a late delivery will result in a bad reputation for a business that works primarily on making contacts.
Therefore it's important to invest in a good vehicle that reduces the chances of a late delivery as much as possible.
2. Maximizing Profits
A good vehicle won't need frequent visits to the mechanic, saving your time and money.
This will inevitably help you maximize your profits. In addition, a good vehicle won't become a hindrance when traveling long distances to do deliveries.
As mentioned above, timely deliveries help make good contacts and get more clients and work.
3. A Plan for the Future
Think about a situation where being a delivery guy doesn't interest you anymore, and you want to shift to another transport profession.
This could be Uber, food trucks, selling household items, etc. These professions are just as profit-making and need a good vehicle as a raw material.
A good vehicle will also get you a good amount when you resell it.
Choose Ideal Vehicles for Delivery Drivers with Upper Route Planner
In the above article, you read about the importance of the best cars for delivery drivers.
Just as a good car aids a delivery operator's business, apps like Upper Route Planner help navigate the optimum delivery routes.
Upper Route Planner is a route optimization software that allows you to keep track of your deliveries, save clients' contact information, manage your time, etc. The software can help you achieve same-day deliveries and ensure there's no compromise in the quality of the delivery operations.
Manage Your Delivery Fleets Using Upper
Unable to operate deliveries as usual? Try Upper and manage multiple deliveries with just a few clicks. Plan unlimited routes, optimize them, and reach the delivery stop instantly.
Get Upper

FAQ
Your ideal car depends on what your work needs. A big delivery truck might be ideal if you're making large shipments. On the other hand, a small car or a two-wheeler will be ideal for you if you're doing food deliveries. It all depends on your work and personal needs.
Yes, insurance and registration will always be necessary for every car, whether used as a delivery car or for personal use.
Your delivery car will be the lifeline for your delivery work. Therefore maintaining it and taking it to regular servicing is always advised since that'll aid in smooth work functioning.
If your company provided your delivery car, the vehicle would belong to them. On the contrary, if you're doing deliveries using your vehicle, the company has no rights to it, and it completely belongs to you.
Conclusion
Before we conclude this blog, we hope now you know which are the best cars to consider for your drivers. So, make your decision wisely while keeping the above-mentioned points in mind. In case if you want to level up your delivery process, we recommend you choose the right delivery route planner like Upper.
Now, since you have the best car for delivering packages, why not get the best route planner for easy route navigation. Explore route planning and optimization features on Upper by booking a demo with us.