Key Takeaways:
Successful same-day delivery depends on careful planning and preparation, which includes inventory management and logistics efficiency.
Deliveries can be made on time and consistently by working with reputable and effective courier or delivery services.
The user experience and transparency can be enhanced by investing in technological solutions like real-time tracking and automatic notifications.
Pricing and service restrictions must take into account the costs and viability of same-day delivery, including order volume and regional coverage.
Online delivery businesses are focused on delivering same-day deliveries to gain more business and satisfy the customers' evolving demands.
With the big guns like Amazon stepping up the standard of same-day deliveries, being in the online delivery business world, you need to hit the bullseye with your same-day delivery strategy.
But how to offer same-day delivery?
There are different ways to achieve the target, but we have filtered the optimized path to help you understand the nitty-gritty elements of same-day deliveries.
So without further ado, let's get started.
Why Is Same-Day Delivery Demand Growing?
The demand for same-day delivery is growing because of the customers and its revenue for the business.
In the digital era, the patience of modern-day consumers has decreased, and they want instant deliveries within a few clicks at their doorsteps. And for businesses that can achieve these targets, people are willing to flush in dollar sums big time.
Let's look at a few of the trending statistics Bringg spotted that help us throw some light on the rising same-day delivery demand in the business ecosystem.
1. Faster shipping increases the conversion rate
Businesses offering faster shipping services are witnessing a surge in the conversion rate. Paid ads that feature 'same day' have increased the online conversion for businesses by 5x in the furniture and home retail business.
Similar results were witnessed in the apparel industry with an increased conversion rate of 2x on paid search ads with the term 'same day'.
2. People want a minimum delivery window
Over 45% of the customers are willing to purchase a product if it has a maximum delivery window of 2 days.
If you offer a fast delivery service, two-day delivery will not match the consumers' expectations. According to a survey conducted by GreyOrange, over 57% of the customers will not purchase from a business after experiencing three late orders.
The last mile local market in the United States is growing at a fast pace of 32% growth per year as same-day deliveries are becoming the new standards in the eCommerce business segment.
3. The shopping cart abandonment rate is increasing because of slow delivery offers
Over 27% of the consumers admitted that they abandoned their shopping cart because the business was not offering a quick delivery. It's all about instant gratification in the digital era where online delivery businesses need to shift their focus toward enhancing the speed of their delivery while maintaining a premium quality for an excellent customer experience.
4. Retail businesses are switching toward same-day delivery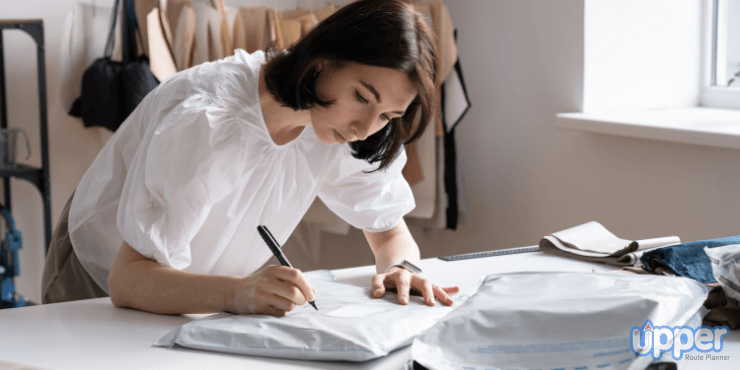 Over 64% of the retailers will switch toward same-day delivery services in the coming few years. Over 35% of the retailers have already transformed their delivery service by 2021.
Same-day delivery is becoming the center of attraction for different retailers globally. Businesses want to make the most of the rising opportunity in the delivery sector with the rise in instant gratification among the customers.
Now that we understand the importance of same-day delivery and why it's on the rise post-pandemic, the transformation to achieve it for your business is not a smooth ride.
You need to overcome multiple hurdles to integrate an error-free same-day delivery service for your business.
Let's look at the challenges you can face with a same-day delivery service.
5 Same-Day Delivery Challenges
1. Limited staff
The rise in the customer and industry demands to fulfill same-day deliveries requires a decent workforce and equipment to run a smooth and agile delivery process.
With an increase in business numbers, there is a shortage of skilled drivers, fleet managers, and other staff members in the industry. The shortage directly put pressure on the last mile delivery providers to match the customer's expectations with a limited workforce.
It can cause errors and delivery delays resulting in a poor delivery experience. Businesses can switch toward modern-day technologies that can help you automate the redundant delivery process and create a productive environment for a limited workforce.
2. Travel distance from customers
Out of 4, only 1 company can meet the delivery demands because of the travel distance.
The surge in the online delivery business has forced multiple retailers to look for larger warehouses outside the city in the rural areas or suburbs, away from the customers. Very few retailers have their storage houses closer to the customers, which increases the travel distance between the fulfillment centers and the customers.
And not every business has a robust inventory management system that increases the inefficiencies in the delivery process and makes it difficult for businesses to guarantee inventory availability on demand.
3. Order visibility and tracking across multiple drivers
Customers want instant access to the tracking details with their last-mile delivery. Multiple businesses associate with third-party delivery services that minimize instant real-time visibility chances for the customers.
Even with the manual routing process, you cannot get the real-time visibility of your delivery drivers and don't have the option to provide your customers the real-time details about their orders.
And if third-party delivery providers cannot deliver on time or fail to deliver the order, it will directly affect your business, increase the delivery cost, and deliver a poor customer experience.
4. Cost to deliver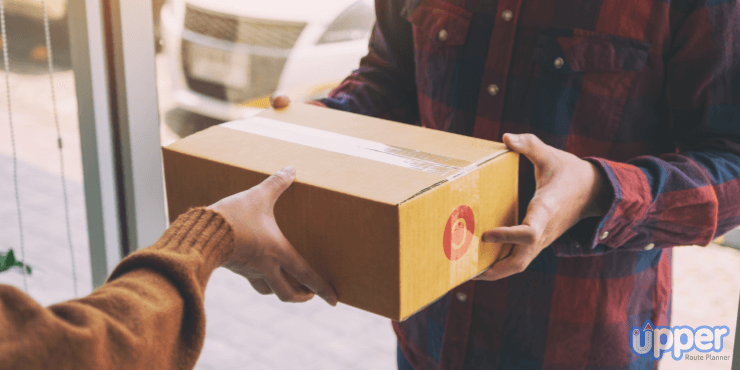 You can lock in millions of dollars over the years by offering same-day delivery service to your customers. Still, it's only possible if you can minimize the delivery cost.
You need to remove the latencies, roadblocks, and different factors that can increase the delivery cost of a single order.
Having an in-house agile delivery management system can help you improve the efficiency of your delivery process and put more focus to cut the delivery cost.
You can use different advanced technology to help you with automation and agile communication to minimize the friction in the delivery process.
The last challenge you can face with same-day delivery is effective route planning and dispatching.
5. Inefficient or manual dispatching and routing
Manual dispatching and routing processes are ineffective in handling the modern-day surge in the online delivery numbers and same-day delivery fulfillment requirements.
Pen and paper routing and logistics approach give rise to human errors, ineffective results, and no real-time tracking of the deliveries. Your customers can get delayed or failed delivery orders that accumulate a bad experience.
But you can bypass these challenges with effective route planning and optimization software that can help you match the same-day delivery expectation of the customers in no time.
How? Let's find out.
How Does Route Planning and Optimization Software Help You with Same-Day Delivery?
Route planning and optimization software removes the barriers of manual route planning and logistics operation. It analyzes the most optimized multi-stop delivery path considering different aspects like weather and traffic conditions, vehicle and driver capacity, and order priority, among other touchpoints.
You can use a route planner to get real-time information about the delivery order and pass it on to the customers for delivering a quality customer experience.
It can strengthen the productivity of your in-house delivery and the logistic team as they can work in sync and collaborate actively on the route planner within instant messaging and communication.
You can streamline your delivery process by minimizing the delivery duration and cost and maximizing the number of orders delivered. Route planning and optimization can help you achieve same-day service with finesse.
But there are multiple route planning and optimization software available in the market. Which one is a complete package to fulfill your delivery business requirements?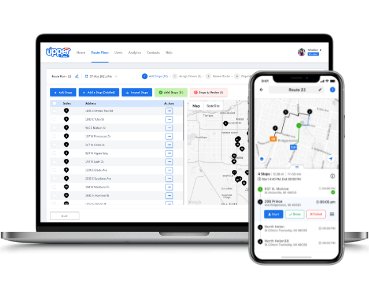 Upper Route Planner
A Simple-to-use route planner that every one is talking about.
Save up to 95% of planning time
Save up to 40% of time on the road
Plan 500 stops at once
---
FAQs
The shift toward same-day delivery in the eCommerce business is becoming necessary because of the rising industry and customer demands. You need to fulfill the expectations and industry requirements to sustain your delivery business and match up to the big guns in the industry.
Same-day delivery is your asset to allure more conversion rates and increase your business revenue and profits by standing out from the rest of your competitors. Over 88% of the consumers are willing to pay extra for same-day delivery service. Still, only a few businesses can fulfill the expectation due to a lack of knowledge and a robust delivery ecosystem.
The same-day shipping service kicks off with an enticing same-day delivery option at your place during the buyer's journey. If the customers are convinced with your same-day delivery service, chances are they'll make the transaction. You need to create a holistic ecosystem to complete your promise of a same-day delivery program.
From integrating the latest technology to creating multiple warehouses and storage points to minimize delivery distance, you need to handle the entire process of completing a same-day delivery.
Yes, it is possible to achieve same-day delivery using the right strategies and right tools. You need to be aware of the challenges you can face while offering same-day delivery to your customers and strategies for the optimized way to bypass those challenges. Once done, you can deliver a smooth same-day delivery service and scale your business to new heights because of the rising demand in the delivery industry.
If you run grocery stores or any eCommerce business with rising demand in the industry, it's ideal for you to integrate a same-day grocery delivery service. With over 63% of local stores planning to switch toward same-day delivery service, you can't afford to miss out on the opportunity and lag behind your competitors.
Amazon is raising the bar for same-day deliveries globally. If you want to scale your business in an environment where big guns are ruling, then a robust same-day delivery service is a must-have for your business.
There has been a rise in retailers offering same-day delivery service to the customers. This number will rise exponentially because of the changing consumer behavior and a plethora of opportunities available for business in the last-mile delivery market.
More than 50% of the retailers are promising same-day delivery, but a few can fulfill the promise with excellent efficiency and quality. Different same-day delivery challenges are a roadblock for businesses, and it's essential to bypass them with the right strategy and technology.
Upper Route Planner Is the Route Planner You Were Missing Out on
Upper Route Planner is one of the leading route planners available in the industry because of its easy-to-use feature packages at a cost-effective price. It offers an intuitive UX/UI for you to explore its powerful dashboard and get a bird's-eye view of your delivery operations.
You can add 500 delivery addresses from your Excel sheet within a few clicks and improve the productivity of your business by 40%.
Upper Route Planner has the power of quality features that enable you to save over 95% of the manual routing time and shift your focus to different core business elements. It can help you streamline your delivery process, cut the delivery fees, and achieve maximum same-day deliveries.
Don't you want all this for your delivery business?
If yes, get instant access to a 7-day FREE trial of Upper Route Planner, achieve your same-day delivery targets, and outshine your competitors with quality delivery service in the modern era.