In 2022, making a lighting fast delivery would not be possible without using route planner apps. Some of you might not have imagined getting route optimization software on your android mobile, right? Anyways, belated but, thanks to these delivery route planner apps which managed to wipe off the delivery challenges.
To help you choose the perfect app for your business, we conducted a survey of modern route optimization apps. Reviewing the multiple online route planner apps, we compiled the list of 11 best route planner apps based on their performance and user ratings.
The list that you should check before calling off your online route planner search. Therefore, we are hopeful this blog will help you pick the best route planner app for Android.
Now, before you ask which is the right app for your specific delivery requirements? Or which factors to consider while making a decision? Let's dive deeper into this topic.
---
Best Route Planning Apps (Android) Quick Comparison
| Delivery Route Planner Apps | Most Useful For | Overall Ratings |
| --- | --- | --- |
| Upper Route Planner | Individual drivers, independent contractors, delivery drivers, couriers, truck drivers, small to large businesses. | 4/5 |
| Google Maps | Road trips, public transit info, daily commute, create the most efficient route for delivery. | 3.9/5 |
| MapQuest | Individual drivers, independent contractors for simple, daily routing. | 4.2/5 |
| Badger Maps | Businesses with small or big fleets, sales reps. | 4.2/5 |
| Circuit Route Planner | Delivery drivers, couriers, non-professionals. | 4.6/5 |
| OptimoRoute | Mobile workforces, delivery businesses. | 3.7/5 |
| RoadWarrior | Courier businesses, insurance agents, salespeople, and service providers. | 4.2/5 |
| Route4me | Delivery drivers, and salespeople. | 4.4/5 |
| Routific | Small and medium-sized businesses making pickups and deliveries. | 2.9/5 |
| Onfleet | Couriers, retailers, distributors, and on-demand delivery startups. | 4.5/5 |
| Zeo Route Planner | Pickups, deliveries, and providing services. | 4.9/5 |
What is a Delivery Route Planner App?
A delivery route planner app is a tool on your smartphone that helps you plan and optimize your delivery routes for timely deliveries.
A delivery route planning software calculates and creates the most efficient and cost-effective way to move from a starting point to a destination with unlimited stops. Muti-stop route planning can be done manually as well as using routing technology.
Route planning & optimization is an integral part of a good route planner app. Planning is often followed by optimizing. Route optimization involves calculating and weighing the options of reaching a particular location through different routes.
How to Choose Delivery Route Planner Apps for Android?
The ideal multi-stop delivery route planner app for your needs depends on your actual requirements and needs.
Different businesses have varying requirements depending on their delivery processes and the products or services they deliver.
But there are a few things in common like the ease of use, affordability, and route optimization.
Every delivery business needs good route optimization for faster and timely deliveries.
They need ease of use because the app must simplify their work and not complicate it more than it already is.
Affordability, because why not? Every business wants the support of a tool that is within its budget.
Several other factors come into play. But these are some of the most basic things you should consider while choosing a route planner app.
1. Upper Route Planner – Best Route Planner App for Delivery Drivers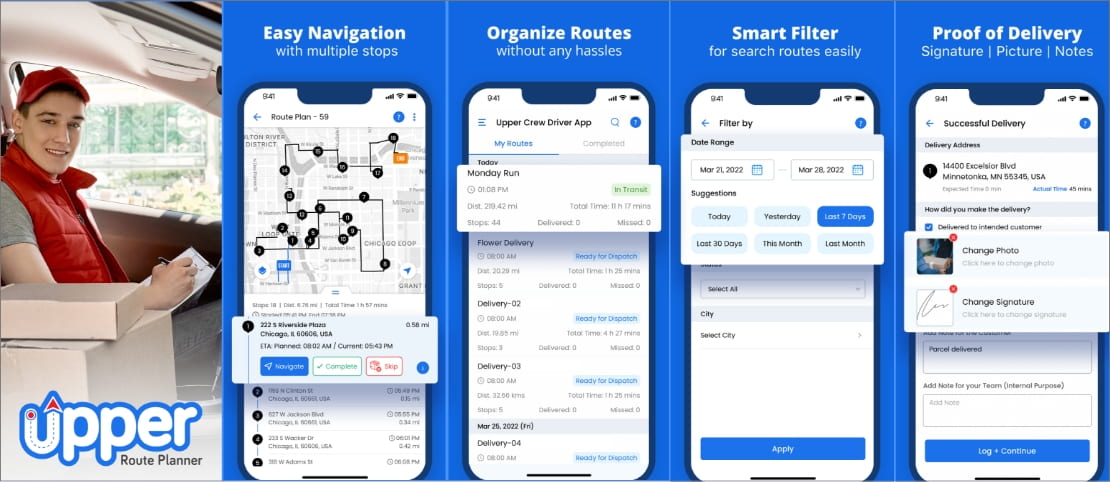 Upper Route Planner is a route planning and route optimization app with multiple stops. It uses a human-centric design approach that puts its users first. Upper Route Planner syncs with GPS navigation apps like Google Maps, Apple Maps, and Waze to provide optimized routes within seconds.
Upper Route Planner has several features that can make route planning, scheduling, and optimization a breeze for many businesses, some of these features are as follows:
Excel Import: Importing 500 stops at once using an Excel sheet, sounds very convenient, right? You do not have to manually type each address into Upper Route Planner.
One-click dispatch: Upper Route Planner makes it possible to dispatch routes to multiple drivers at once. 
Route Schedules in Advance: Want to create a route schedule for the next three months? No problem at all. Upper Route Planner allows you to schedule daily routes months in advance.
Route Optimization with Specific Constraints: Optimize your routes for better accuracy by considering factors like service time, time windows, driver availability, and priority orders. 
Other functionalities that offer more value to businesses are:
Customer notification: Informing your customers through email and SMS notifications is easier now.
Proof of Delivery: Drivers do not have to carry a manual manifest for signatures. Collect customer signatures and pictures from mobile devices now.
Reports & Analytics: Reports show where your drivers are lagging, the number of hours they worked, successful deliveries, etc. Helps in making improvements.
Driver Tracking: You need to know where your drivers are at any given moment, and with Upper, you get this information on your dashboard. Driver tracking is easy with Upper Route Planner, so you can stay on top of things
Businesses from various industries have adopted Upper Route Planner into their delivery process. Some of these industries are:
Meal-kit Delivery: Meal-kit delivery drivers make time-sensitive deliveries quickly with Upper Route Planner.
Field Sales: Field Sales workers schedules their routes in advance with Upper Route Planner.
Cannabis Delivery: Cannabis delivery drivers deliver on time and are able to record proof of delivery.
Post & Courier: Postal and courier drivers make hundreds of deliveries and record customer signatures on their phones.
Pros
Creating route schedules in advance.
Route optimization while considering several constraints like driver availability and time windows.
Proof of delivery by way of signature and capturing a picture.
Customer notifications through email and SMS.
Package location in the vehicle is displayed next to the stop to make it easier for drivers.
Driver location on the map
Affordable and scalable pricing
Cons
You can't change a route once it is dispatched.
Drivers can't directly communicate through the app.
Get started with Upper Route Planner app by downloading the app from Google PlayStore. You can also use the web app or the iOS app.
Pro Tip
: Get your hands on our
7-day free trial
to better get to know Upper Route Planner.
2. Google Maps Route Planner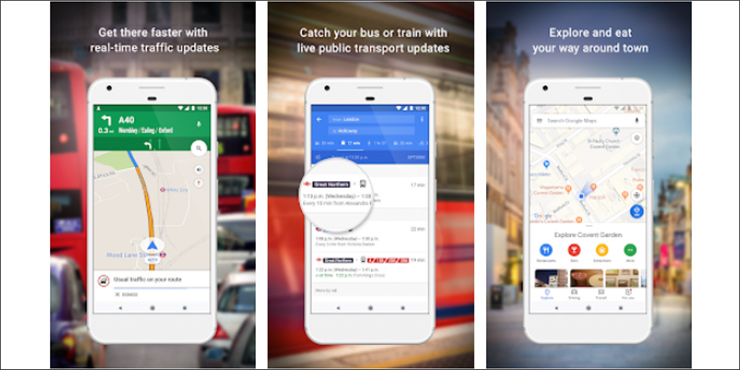 Using Google Maps is the fastest and easiest way to find driving directions from one place to another. Google Maps is useful for drivers as it provides them with real-time ETAs, traffic conditions, and automatic rerouting based on traffic, accidents, and road closures.
Another reason why Google Maps is a good option for Android users is that it offers offline maps for searching and navigation without an internet connection. Google Street View is a great addition when going to unexplored localities.
Pros
Easy access and availability, and it's FREE.
User-friendly with a shallow learning curve.
Quick and re-routing around accidents and road closures.
Cons
You can add only up to 10 addresses, including the starting point.
It is quick, but not always accurate.
Does not offer speedy route optimization.
Google Maps does seem like a great free route planner app. But it will not be enough for a single driver with multiple deliveries to make throughout the day.
3. Mapquest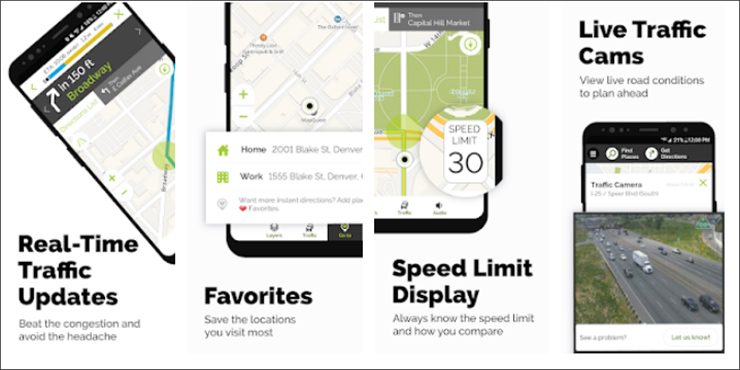 Mapquest Route Planner has been a useful and reliable mapping service and route planning software. Mapquest is a pioneer in the logistic industry and helped pave the way for other route planner apps.
Mapquest is an appropriate tool to use when you want accurate route directions, find hotels and make reservations, find out information related to traffic incidents, and need something a little more than just Google Maps or Apple Maps.
Pros
Provides multi-segment routing capabilities.
Comes with built-in traffic information.
Offers geocoding.
Cons
No voice command for address input.
You can only add up to 26 stops per route.
Has a limited database of locations and maps.
Mapquest is a good tool for navigation, but won't be enough if you need to plan and optimize multiple deliveries throughout the day.
4. Badger Maps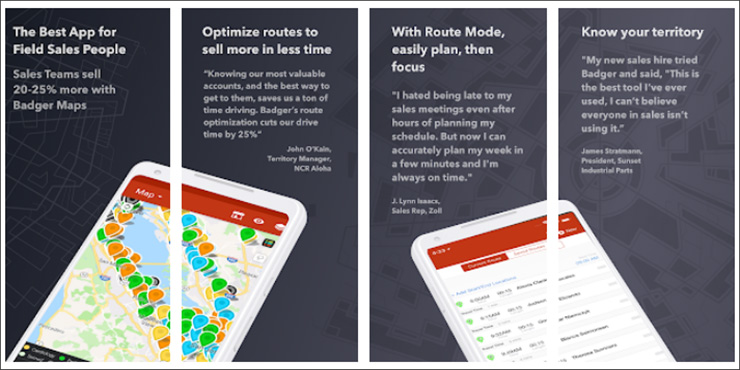 Badger Maps is developed specifically to assist sales reps working in the field sales industry. It helps sales reps in being more efficient and effective in their daily sales activities. It offers lead generation, route optimization, schedule planning, and Google Maps data from the CRM on the representative's mobile phone.
Badger Maps helps businesses sell more with some really useful features like Teams, Check-ins, Leads, Reminders, and Lasso. These features help your sales teams in prioritizing their daily tasks. The mobile app can easily merge with a map, a calendar, and a customer list. By automating tasks, the sales team can save time on administrative work.
Pros
Planning a day of field sales becomes easier.
Easy to upload addresses using an Excel spreadsheet.
Helps field service representatives find more leads.
Cons
It is not possible to change field information on your own.
Doesn't route stops based on appointment times.
No security mechanism to keep client information safe.
Badger Maps is a useful CRM to manage sales in the field.
5. Circuit Route Planner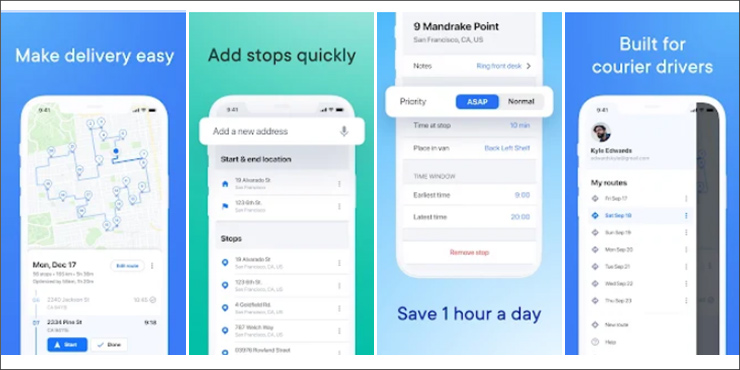 Circuit Route Planner is a multi-stop delivery route planner app to create routes, manage drivers, track packages, and help delivery teams and customers. Dispatchers make use of Circuit route optimizer to manage fleets and delivery teams of all sizes.
The Circuit's sophisticated technology considers traffic flow and uses the most updated map technology. So, you will be able to plan and optimize the best routes whether you are going out for delivery, heading to the local stores, or just going out for a drive.
Pros
Extremely easy-to-use app interface with a shallow learning curve.
Offers a way to keep customers informed with notifications.
Provides great customer support.
Cons
The mobile is not great for an administrator's use.
Unable to assign a particular driver for delivery.
Overpriced tool.
Circuit Route Planner app is a great tool with easy-to-use features and interface. But it's a pricey tool which is often the reason for people to look for other options.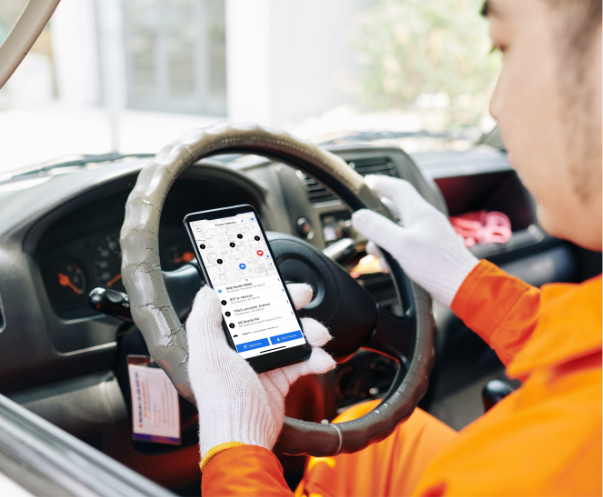 Upper Route Planner
A Simple-to-use route planner that everyone is talking about
Save up to 95% of planning time
Save up to 40% of time on the road
Plan 500 stops at once
6. Optimoroute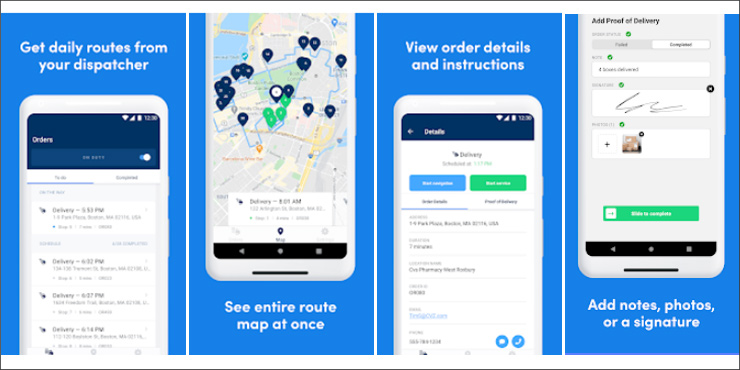 Optimoroute is a cloud-based software that helps a delivery company to create an optimal route for delivery drivers. Optimoroute works towards "organizing the mobile workforce." It is a route planning tool adopted by many different industries, from food delivery businesses to waste collection.
Optimoroute offers some really useful features like Live Tracking and ETA, Realtime Route Modification, Workload Balancing, and Analytics. It can be used by businesses in retail, food delivery, healthcare, waste collection, cleaning services, logistics, and courier.
Pros
Intuitive enough to set up and use without any assistance.
Allows to text customers with ETA.
It doesn't overestimate and overfill the routes for the same day.
Cons
No option to avoid tolls for routing.
Needs design improvements.
A bit pricey compared to other options.
Optimoroute is a good route planner app for the mobile workforce, but it needs a few improvements.
7. RoadWarrior Route Planner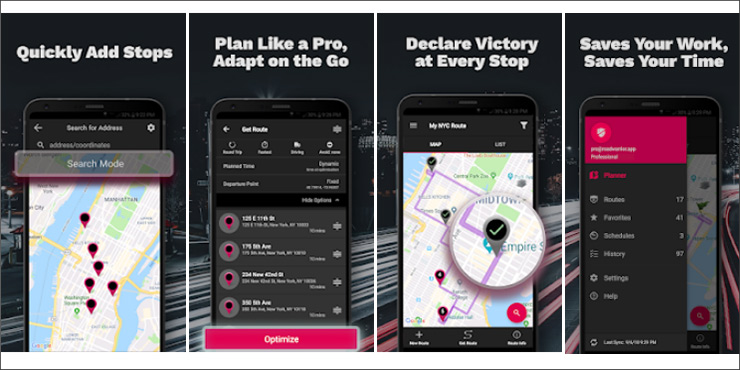 RoadWarrior is one of the easy-to-use route planners for Android users. It allows users to customize their routes with different settings. Users can choose to plan a one-way trip, or a round-trip, or even avoid tolls and highways.
The route optimization app takes into consideration several other factors like traffic, school zones, customer availability, priority orders, and more to create the most optimal route for deliveries.
Pros
Can be used by individual drivers as well as a team of drivers.
One of the most affordable route planners.
Allows you to track stops and check driver location.
Cons
Only allows you to add 8 stops per route in the free plan.
It does not record proof of delivery.
The paid plan has a limit of 500 stops and 500 searchers a day.
An affordable multi-stop route planning tool with a limit on the number of stops and routes you can optimize per day.
8. Route4Me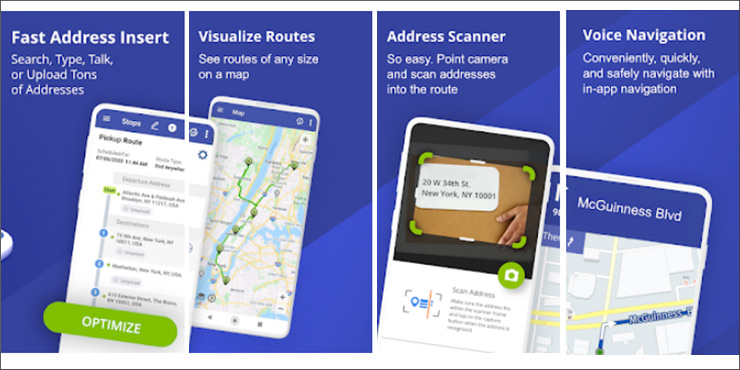 Route4Me is one of the great route planner apps for delivery businesses. It allows users to add up to a thousand stops. It then optimizes the route and provides a map with route lines. It also provides turn-by-turn driving directions.
The best part about Route4Me is two modules to choose from:
Dynamic Routing is for users whose routes change daily.
Scheduled Routing is for users who have a repeat driving schedule.
Pros
It is a great tool for businesses with multiple deliveries.
An option to save routes for future reference.
Sharing routes with others is easy.
Cons
One of the most expensive delivery route planners.
The most affordable plan only consists of route management.
More suitable for a team of drivers.
A superior Android route planner but more useful and affordable for a team of drivers.
9. Routific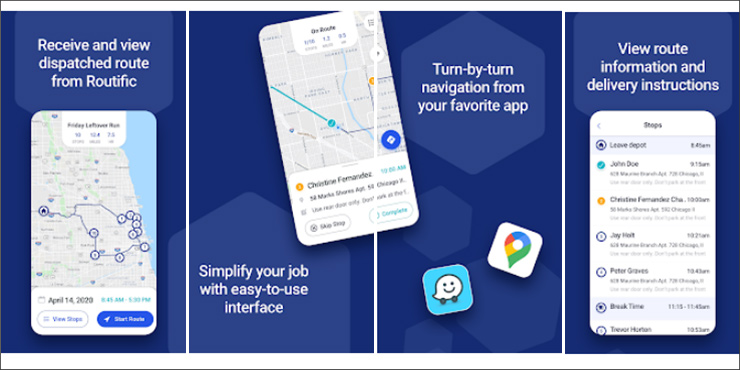 Routific has managed to find a spot in the top 11 route planner apps. It is a great delivery route management app for businesses. It is often considered a good alternative to RouteSavvy. There are quite a few features beyond just route planning and optimization.
For optimizing routes accurately, Routific takes into consideration several factors like vehicle types, vehicle capacity, driver availability, time windows, delivery types, priority order, and driver speeds. With such accurate routes, it becomes easier to deliver on time.
Pros
Allows you to change driver routes on the fly.
Allows you to record proof of delivery.
Provides customer notifications.
Cons
It is an expensive delivery route planner app.
The routes sometimes picked do not make a lot of sense.
They should allow customer notifications through email AND text.
Businesses appreciate Routific's feature and speedy route optimization.
10. Onfleet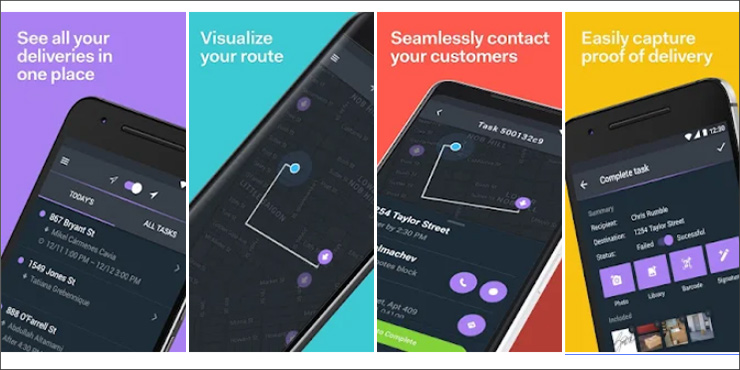 Onfleet is a great option for businesses looking for route optimization for their fleets. Onfleet is more than just for route planning and optimization. It is an end-to-end route planning platform with dispatch, communications, and analytics capabilities.
Onfleet serves a variety of businesses ranging from food & beverage to retail. It is one of the best delivery route planner apps to keep your fleet organized and make maximum use of it.
Pros
Quick and easy onboarding for drivers.
Allows you to record proof of delivery.
Auto-dispatch helps with the reduction in time and labor costs.
Cons
Expensive for small companies.
Route optimization is for truck or warehouse deliveries.
No way to track miles driven per state.
An impressive tool that is more suitable to larger companies with a bigger fleet to manage.
11. Zeo Route Planner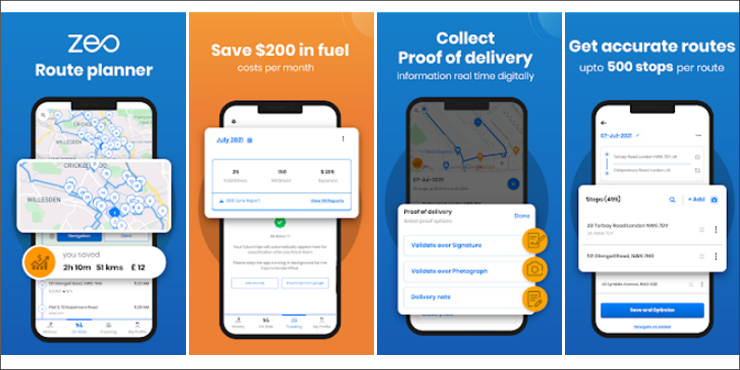 Zeo is among the top delivery route planners because it allows users to plan and optimize an unlimited number of routes. Zeo Route Planner re-routes the order in case of any last-minute changes.
It helps businesses in keeping their customers informed in real-time. Drivers can collect proof of delivery, navigate using Google Maps or Waze, avoid tolls and highways, and make timely deliveries.
Pros
The most convenient interface for planning routes.
An affordable pricing plan.
Live location sharing and real-time tracking.
Cons
Have to switch between the navigation app and Zeo to mark a stop as completed.
No detailed summary of routes.
The pin on the map doesn't get the accurate location.
An affordable, easy-to-use, no-fuss, great route planner app for Android users.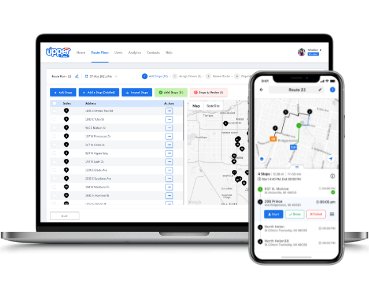 Upper Route Planner
A Simple-to-use route planner that every one is talking about.
Save up to 95% of planning time
Save up to 40% of time on the road
Plan 500 stops at once
FAQs
Business owners who are interested in buying an online route generator should consider the below questions before finalizing a purchase.
How long does it take for route optimization?
Can you generate reports anytime?
Will it allow the import of files for route mapping?
Is the route generator smoothly working on android devices?
Will you get electronic proof of successful delivery?
In 2022, Upper Route Planner has retained the top spot in the list of best android app for route mapping. The multi-stop route planner app is capable of finding the most efficient route including multiple stops.
From single-click dispatching to making on-time delivery, it extends maximum support to the delivery crew. Since it helps in managing delivery operations, Upper Route Planner has become top-pick for business owners in recent years.
Using multi-stop route optimization software like Upper, you can easily plan unlimited routes or multi-stop routes. Also, you can set up route scheduling for long-haul deliveries. These multi-stop routes will be accessible directly on the driver's smartphone so they can deliver the package as soon as possible.
Speaking to the online route generators, there is no such free route planner app. But, some of them allow the user to try a free trial for a limited period. Likewise, Upper lets the admin plan an entire route for delivery in seconds until 14 days when you sign up for free.
When it comes to organizing delivery routes, one should adopt online route optimization software. Also, an online route optimizer will assist you in finding the exact location and let you know the shortest path for delivery. As a result, it would be easier for owners to organize delivery operations without investing much time.
Conclusion
We hope the information provided in this article has helped you find what's suitable for your deliveries.
Our goal with each of these lists is to speed up your search and help you find optimize routes without manual interceptions.
Whether you are looking for a route planning app for a specific platform or a specific business, you will find the answer in Upper Route Planner. Get in touch with us to know more about Upper Route Planner and its capabilities.
---