We all agree that all types of businesses can receive the benefits of using multi-stop delivery route planner apps, right? We agree because we are aware of the time saving and cost-effectiveness of the tool for last-mile delivery businesses.
But when it comes to picking a solution, people tend to get confused because there several options out there. While some of them are only web-based, some others function only on iOS devices. An important thing that route planner companies often miss is that most drivers use Android devices to find delivery routes and directions.
But from all the options at your disposal, how do you pick the best route planner app for Android? Which is the right app for your specific delivery requirements? Which factors to consider while making a decision?
If you have these kind of questions arising, you've come to the right place. We have done the hard work of listing some of the best multi-stop route planner apps for Android devices in this article. You will find the information about each route planner app and who they are most useful for.
What is Route Planning? – The Basics
Route Planning is the science of calculating and creating the most efficient and cost-effective way to move from a starting point to a destination with all the stops in a particular order. Route planning can be done manually as well as using routing technology.
The process of route planning is often referred to as:
Route optimization
Route management
Routing
Route scheduling
Trip planning
In practice, all these terms imply the same thing: finding the best way to go from one location to another. Planning is often followed by optimizing. Optimization involves calculating and weighing the options of reaching a particular location through different routes.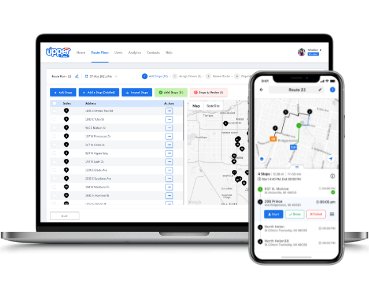 Upper Crew
A Simple-to-use route planner that every one is talking about.
Save up to 95% of planning time
Save up to 40% of time on the road
Plan 500 stops at once
No credit card details required
7 Best Multi-Stop Route Planning Apps for Android in 2022
Let us explore some of the 7 best multi-stop route planning apps for Android users.
Upper Route Planner
Upper Route Planner is a route planning and route optimization app with multiple stops. It uses a human-centric design approach that puts its users first. Upper Route Planner syncs with GPS navigation services like Google Maps, Apple Maps, and Waze.
Upper Route Planner offers useful features like Quick and Efficient Address Input, Fast Route Planning, Share Contacts, Reports, and more. Get started with Upper Route Planner by downloading the app from Google PlayStore. You can also use the web app or the iOS app.
Most Useful for: Individual drivers, independent contractors, delivery drivers, couriers, truck drivers, small to large businesses.
Overall Ratings: 4/5
Mapquest
Mapquest has been a useful and reliable mapping service and route planning tool. Mapquest is a pioneer in the mapping and route planning and delivery industry and helped pave the way for other route planners.
Mapquest is an appropriate tool to use when you want accurate route directions, find hotels and make reservations, find out information related to traffic incidents, and need something a little more than just Google Maps.
Most Useful for individual drivers, independent contractors for simple, daily routing.
Overall Ratings: 4.2/5
Badger Maps
Badger Maps is developed specifically to assist sales reps working in the field sales industry. It helps sales reps in being more efficient and effective in their daily sales activities. It offers lead generation, route optimization, schedule planning, and Google Maps data from the CRM on the representative's mobile phone.
Badger Maps helps businesses sell more with some really useful features like Teams, Check-ins, Leads, Reminders, and Lasso. These features helps your sales teams in prioritizing their daily tasks. The mobile app can easily merge with a map, a calendar, and a customer list. By automating tasks, the sales team can save time on administrative work.
Most Useful for: Businesses with small or big fleets, sales reps.
Overall Ratings: 4/5
Circuit
Circuit Route Planner is a multi-stop delivery route planner app to create routes, manage drivers, track packages, and help delivery teams and customers. Dispatchers make use of Circuit to manage fleets and delivery teams of all sizes.
Circuit's sophisticated technology considers traffic conditions and uses the most updated map technology. So you will be able to plan and optimize the best routes whether you are going out for a delivery, heading to the local stores, or just going out a drive.
Most Useful for Delivery drivers, couriers, non-professionals
Overall Ratings: 4.7/5
Optimoroute
Optimoroute is a cloud-based software that helps businesses create routes and schedules for technicians and delivery drivers. Optimoroute works towards "organizing the mobile workforce." It is a route planning tool adopted by many different industries, from food delivery businesses to waste collection.
Optimoroute offers some really useful features like Live Tracking and ETA, Realtime Route Modification, Workload Balancing, and Analytics. It can be used by businesses in retail, food delivery, healthcare, waste collection, cleaning services, logistics, and courier.
Most Useful for mobile workforces, delivery businesses.
Overall Ratings: 3.7/5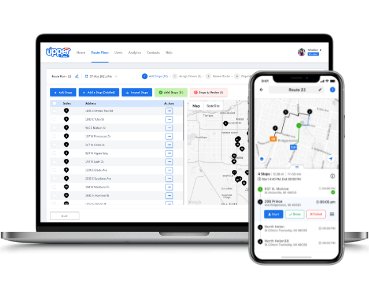 Upper Crew
A Simple-to-use route planner that every one is talking about.
Save up to 95% of planning time
Save up to 40% of time on the road
Plan 500 stops at once
No credit card details required
---
FAQs
MapQuest and Waze are two of the best free delivery route planner apps you can use. While Google Maps also allows you to plan up to 10 stops per route, it is still more of a navigation app.
The best way to plan a route with multiple stops is by using a multi-stop route planner app. Using route planning software, you can enter as many stops as you want and create multiple routes for multiple routes. This is very useful for a delivery business.
Yes, Google Maps does have a route planner. It can offer driving directions for multiple stops. You can create routes for driving, biking, transit, or walking.
On your Android phone or tablet, you can download Google Maps. You can enter the starting point and the destination and create a route. You can choose options like driving, walking, biking, or transit.
At the time of choosing a route planner app or route optimization software, you must check the major features. The app must offer features like GPS tracking, updated maps, Excel spreadsheet import, proof of delivery, and other functionalities that may be important for your delivery service.
The Vehicle Routing Problem is an optimization challenge that raises the question of finding the most optimal routes for a fleet of vehicles to cross to make deliveries to the customers. The problem is about identifying the most efficient and cost-effective route with multiple driving constraints.
You can map out a delivery route using route optimization software like Upper Route Planner, MapQuest, or Waze. You can also use a free version of route planner apps.
---
Give Way to Automatic Route Planning
We hope the information provided in this article has helped you find what's suitable for your deliveries. Our goal with each of these lists is to speed up your search and change over from manual route planning. Whether you are looking for a route planning app for a specific platform or a specific business, you will find the necessary information on our blog. If you have any queries, feel free to reach out to us.