In 2021, Instacart generated over $1.8 billion in revenue. The company has created over 186,000 jobs in the grocery industry within five years (2013-2019).
As a leading grocery business in the States, Instacart has become a great source of income for independent contractors and delivery drivers.
The minimum wages offered to the delivery drivers compared to other delivery businesses is comparatively high, and the business provides great flexibility to the drivers.
Many individuals are confused about the Instacart driver's pay and want to understand different details.
We have compiled the information to help you get the best information about how much Instacart pays its drivers.
What is Instacart?
Instacart is a grocery business that offers great offers to customers and instant deliveries. The company provides multiple options to the delivery drivers compared to other delivery service companies with its wide range of functions on the service end.
Instacart drivers broadly have two roles: In-Store Shoppers and Full-Service Shoppers.
Full-Service Shoppers
The Full-service shoppers complete the full-service process for the company. From receiving the order to picking it up from the grocery stores, from following the company guidelines to delivering the items to the customers, full-service shoppers perform it all.
They have the flexibility of working based on different orders, accepting or declining as they wish, and other great delivery driver options.
In-Store Shoppers
The in-store shoppers simplify the process for drivers or customers who want to pick up their order curbside. Many customers don't want the delivery drivers to visit their residences and want to stop at the store to pick up their orders.
The in-store shoppers make the order pickups available for the drivers and customers and streamline the delivery flow for the customers.
In-store shoppers spend their working hours at the grocery store and have a different scheduling process than full-service shoppers. They don't get paid based on an order-by-order rate and have hourly shifts at the Instacart stores across different cities.
The hiring situation is also different for the in-house shoppers, who are technically part-time company employees. They get different employee benefits which include the 401(k) packages.
How Does Instacart Pay Its Drivers?
Both full-service and in-store shoppers are paid weekly through direct deposit to a savings or checking account.
The full-service shoppers can also Instant Cashout, which is an immediate transfer to the driver's debit card for accessing the earnings more quickly and effectively.
The Instant Cashout option is available after the driver completes the first five batches. Instacart enables the delivery drivers to cash out up to five times a day for at least $5 in earnings. The daily cash-out limit is $3,000.
Being an independent contractor at Instacart, you must ensure that your taxes are managed because the company doesn't withhold taxes from earnings for full-time shoppers.
The situation changes for the in-store shoppers as they don't need to worry about the tax filing being a part-time employee of Instacart.
Also, full-service shoppers can get extra tips from happy customers that can add to the overall earnings of independent contractors. Your tips can be processed through the Instant Cashout portal, removing the hiccups of delayed withdrawals.
Instacart Pay Structure for Delivery Drivers
The hourly wage information and the pay structure for different delivery platforms are hard to analyze. The total amount drivers are capable of making depends on the hours of work they put in, the location of the grocery store, and the operational timings.
Delivery companies avoid quoting a specific amount an independent contractor can make from the platform. A few years back, Instacart advertised that Instacart shoppers pay close to $25 per hour, and it backfired.
Multiple shoppers expressed displeasure across the social and web platforms. The overall structure that Instacart uses involves different moving parts. Instacart pays drivers based on multiple factors. Hence, the payment rates fluctuate.
The Highest Paying Cities
The average earning of an Instacart driver in the United States is $13.88 per hour, and the range may vary from $7.25 to $25.59 depending on the area and city of delivery operations. This means for an 8-hour shift, you can expect to earn a minimum of $111 per day shopping for Instacart.
Some top paying cities for Instacart delivery drivers are
| | |
| --- | --- |
| New York, NY. | $25.59 per hour |
| Queens, NY. | $23.12 per hour |
| Brooklyn, NY. | $23.07 per hour |
Apart from the United States, Instacart shoppers can earn a decent amount in Canada. The average income for Instacart full-service shoppers is CAD 15.75 per hour. The income may vary from location to location.
how do Instacart shoppers get paid?
As an Instacart shopper, you'll get a payment card from Instacart and use it at the checkout register at the store you shop. New shoppers usually receive their payment cards in the mail in 5 to 7 business days after the signup process is completed.
Instacart issues paychecks weekly via direct deposit. Instant Cashout is a feature you can use if you are a full-service shopper, which allows for an immediate payday, as long as you have at least $5 in earnings.
Optimize Your Routes for Instacart Delivery
Get route optimization in a few clicks with Upper Route Planner and get home earlier.
Try Upper for Free Now

Let's check the factors that influence how Instacart pays shoppers.
Which Factors Influence Instacart Driver Pay?
Broadly, two major factors decide the hourly price for the independent contractors working with Instacart.
1. Service region
Different service regions have different demands that can vary the pricing of Instacart pay rates. The higher the demand for the deliveries, the greater the payout.
2. Location
Your location also determines how much you can earn from a delivery. The more miles required to complete the delivery process, the chances you might receive a higher payout. Sometimes, the local grocery store is far from the driver's location, which can help you increase the payout because of the extra effort.
How to Become an Instacart Driver?
The process of becoming an Instacart driver is simple. You must download the Instacart Shopper app, where you need to provide the basic personal information and approve different background checks by the company officials.
You must select whether you want to sign up as an in-store or full-service shopper. You also need to fill out the appropriate paperwork based on the choice of position you want to opt for.
Being an in-store shopper, you need to fill out a W-4 form for taxes because you'll become a part-time employee of the company and get an offer letter from Instacart.
A full-service shopper operates as an independent contractor and should fill the W-9 and contract agreement to proceed further.
The onboarding process for both positions differs from becoming an in-Store shopper; you need to sign up for an in-person onboarding process.
But for becoming an Instacart driver, you must first fulfill the requirements below.
Instacart driver's requirements
You must own a car or have regular access to a car.

You should meet the minimum age requirement of 18.

A smartphone that can run the Instacart app (either an iPhone iOS 6s or newer or an Android 5.0).

You should lift at least 50 pounds without help.

A valid driver's license.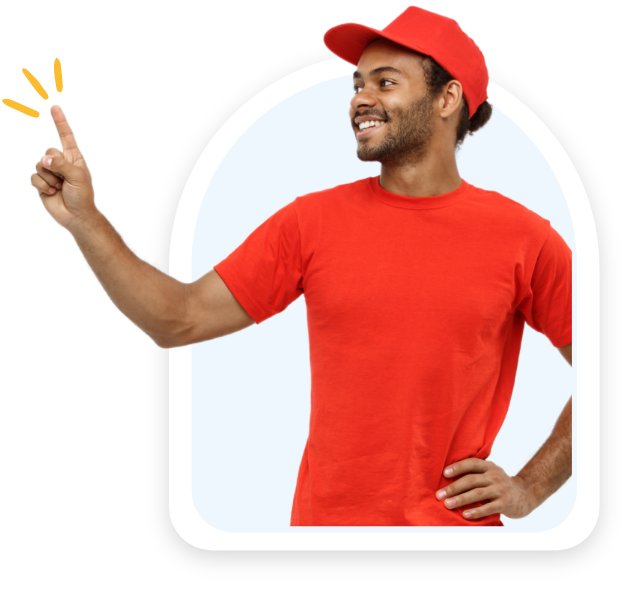 To become a full-service Instacart shopper, you can sign in to Instacart through their dedicated website and avoid the physical onboarding process.
You need to add the basic details like address, name, and cellphone number and wait for the background check to complete.
Once the check is complete, you can start with your first Instacart delivery. But before you jump to the delivery operations, you must know a few vital tips.
Some Useful Tips for Instacart Drivers
1. Be Deliberate
Being an Instacart driver, you can choose your desired delivery batch and reject the delivery process that's unsuitable for you.
Being deliberate about choosing batches can help you increase your efficiency and deliver the best grocery delivery service being an independent contractor.
If a delivery order is too far away from your location or the order has multiple items that can be troublesome for you to deliver, you can easily reject the order and look for other Instacart jobs.
The Instacart orders requiring extra effort take more time and don't end up with great Instacart earnings. So you should not accept Instacart orders that can result in more effort and fewer rewards.
2. Understand Tax Benefits
Instacart full-service shoppers should know the tax benefits and write-offs available. Apart from the self-employment taxes, you can avail of different tax deductions and write-offs for being an independent contractor.
It can help you secure your profits and earnings and ensure that you can scale up your delivery operations with Instacart.
Reporting quarterly taxes can eat up your earnings; you can use the tax deductions available for self-employed contractors to help you avoid taxes.
Keep checking your miles, gas purchases, or other car maintenance expenses using GPS tracking software or a professional delivery route planner.
3. Identify Hotspots
Identifying hot spots can result in higher numbers of batch requests that can boost your earnings and ensure that you can lock in more profits in less time and effort.
You should operate in cities with peak pay or check the Instacart Shopper app for areas where you have the best chance to pick up more orders to scale your Instacart shopper salary.
Avoid working in low-income generating zones to avoid a financial crunch being an independent contractor. You should look for high-paying zones with a higher volume of delivery requests.
4. Increase Your Ratings
Improved ratings of Instacart workers can help them attract more work. You should focus on enhancing the quality of customer service and ensure that you increase your ratings.
You can deliver an excellent delivery experience to the customers and ask them to review your service, enhancing your overall ratings on the platforms.
Fast and friendly service is the best way to increase your rating and the number of orders you get from the platform. Once you get more orders, you increase the chances of getting more tips and delivery payouts.
These tips can help you increase delivery efficiency and rise above the average amount Instacart shoppers get paid.
5. Switch to a Professional Delivery Software
You can use the in-app maps to track the delivery process, but you may encounter different issues and a lack of features during the delivery operations.
As an independent contractor, you can access powerful route planning software that can assist you in tracking your overall delivery operations to calculate your expenses for smooth tax filing.
The software can also help you handle multiple deliveries and extract the shortest delivery routes based on real-time traffic, weather, and ETA updates.
You can integrate the software with different third-party applications to enhance your Instacart delivery driver operations and achieve your desired business goals.
Choosing a dedicated route planning software can be overwhelming because of the multiple online options. Our team has filtered the best route planner for your independent contractor delivery operations at Instacart.
Upper Route Planner Has Got You Covered
Upper is a leading route planning and optimization software that can help you enhance your independent contractor delivery operations with Instacart.
You can simplify the multiple-stops delivery process and create multiple routes to handle the delivery operations with finesse.
You can track the overall performance that can help you with your expense calculation for availing of the tax deduction.
Try the 7-day trial period now and improve your full-service shopper services with Instacart.
Don't Let Route Planning Cost Your Time
Whether you are an experienced driver or new in the delivery industry, Upper can get you the best routes. Plan routes using a fully automated process and wrap your delivery schedule early.
Join Upper Now

FAQs
Instacart offers great earning opportunities for full-service shoppers as the average earning in the United States is around $13.88 per hour. The payouts are based on the service location and the number of hours put in by the delivery driver.
Even if customers zero-out the tip, Instacart promises its personal shoppers a tip up to $10. The process is known as tip baiting, and Instacart uses it effectively to attract more shoppers.
Yes. Driving for Instacart can be great for an independent contractor if you can spot the hotspots to increase your payouts and make the most of the opportunity provided by the platform.
Summing It Up
Instacart is helping the gig economy grow in the United States and Canada. If you are willing to work as an independent contractor with Instacart, you can achieve great heights because of the opportunities provided by the platform.
You can take additional assistance by using Upper Route Planner, which can help you track, schedule, and manage your delivery process.
Avail of the 7-day trial period now and scale your delivery operations.