United Parcel Service (UPS) is a world leader in logistics that offers a broad range of solutions, including packages and freight transport in more than 220 countries and territories worldwide. Every UPS delivery driver completes an average of 135 stops each day. Multiply it by 119,000 delivery vehicles that operate worldwide, and you have a formula for potential package delivery and pick-up disaster.
However, UPS saves 100 million miles and 10 million gallons of fuel a year. UPS drivers also reduce their vehicles' carbon dioxide emissions by 100,000 metric tons. It saves $400 million in costs annually, thanks to its On-Road Integration Optimization and Navigation (ORION), – UPS' route planning software – a technology that integrates artificial intelligence, an advanced algorithm, and machine learning for cost-effective optimization. In this article, we will explain how UPS effectively uses optimization to solve package pick-up and delivery, move its business forward, and maintain its position as a global industry leader.
What is UPS ORION?
UPS ORION is an optimization platform that uses 1,000 pages of code and countless fleet telematics or delivery vehicles' information to calculate data such as distance, time, fuel, and other delivery factors for each trip. ORION provides UPS drivers with an optimal way to deliver and pick-up packages within stops defined by start and commit time, special customer needs, and pick-up windows.
UPS captured vehicle data through vehicle sensors, GPS tracking equipment, and the drivers' handheld devices. It also developed an algorithm that could solve complex routing problems in seconds. The result is ORION, a technology that utilizes algorithms and turns captured data into instructions to drivers for optimized routes.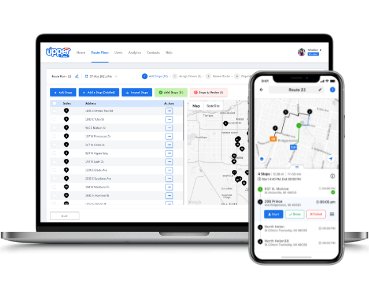 Upper Route Planner
A Simple-to-use route planner that every one is talking about.
Save up to 95% of planning time
Save up to 40% of time on the road
Plan 500 stops at once
No credit card details required
The company spent more than $1 billion and ten years on building ORION and tested the program at eight sites between 2010 and 2011 and six beta sites in 2012. The first major ORION rollout happened in 2013, with a team of 500 resources to 10,000 UPS routes. Exceeding expectations, ORION now deploys to 66,000 points in the United States, Canada, and Europe.
UPS integrated UPSNav to the ORION optimization platform in 2019. UPSNav provides UPS drivers turn-by-turn directions to specific package pick-up and drop-off locations not visible on main roads or traditional maps.
This year, UPS enhanced ORION through Digital Optimization that updates directions for drivers while on the road based on current traffic conditions and changes in package pick-up and delivery commitments.
Guided by the UPS culture of "constructive dissatisfaction," the company continues to develop its award-winning ORION platform to improve customer service level by providing clients estimated delivery times, advance delivery notifications, and options for alternative package delivery locations.
Moreover, UPS continues its research, development, and technological investment in operational and customer solutions to solve the Traveling Salesman Problem.
For more information, check out:
What is Courier Service and Why Do I Need it?
Solving the Traveling Salesman Problem
Including multiple location points, what is the shortest way to and from the point of origin? This question summarizes the Traveling Salesman Problem (TSP) formulated in 1930 and is among the most studied optimization problems.
The problem is simple when applied to two points since there are only two possible routes. However, the problem gets more complicated as stops increase. Traveling between ten stops yields more than 3.6 million possibilities while calculating 16 stops equals more than 20 trillion route permutations.
Optimizing the best trajectory for 50 stops is humanly impossible. Here is where route planning apps come in handy.
While they do not promise to solve the centuries-old TSP, an application such as ORION uses advanced algorithms for practical and faster problem solving for an immediate situation, even if the solution is not perfect. This technique is called heuristics or approximating a solution to a problem in a short time frame.
Route optimization apps can optimize routes that are next to ideal with heuristics, captured vehicle data, and advanced algorithms. They come up with better ideas than humans.
Benefits of a Route Optimization App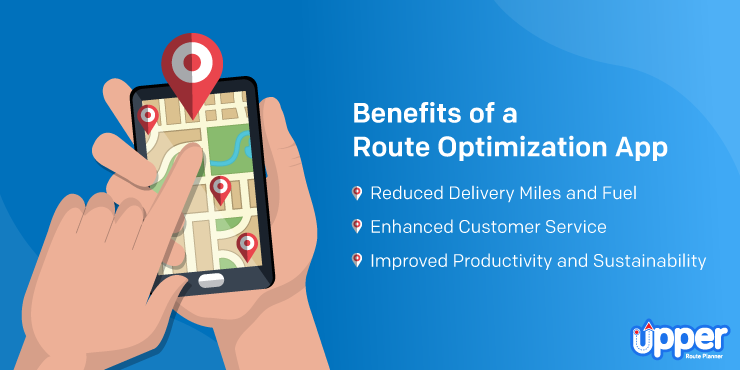 Finding a short distance is only one problem in the delivery service. You must also consider different types of customer needs, delivery times and windows, traffic, and weather conditions. By using an optimization app, you can experience these benefits to improve your delivery service:
Reduced Delivery Miles and Fuel
Combining the suggestions of your app and your delivery driver's experience could result in lesser travel time and lower fuel consumption. Effective planning results in optimized results and cuts down unnecessary trips because of missed stops due to human error.
With an app doing the thinking and organizing, your driver can ensure driver safety and other delivery priorities.
Enhanced Customer Service
Using an app can help you provide customers with more accurate delivery real time estimates and offer services with a higher level of responsiveness and reliability.
A route planner allows customers to track their packages on their mobile device (iPhone or iPad), adjust delivery locations and dates, and choose delivery preferences.
With faster delivery times, you can offer shorter window periods and possibly achieve same-day delivery.
Improved Productivity and Sustainability
Lesser miles traveled means less carbon dioxide emissions. By using a routing app for optimization, you are also helping protect the environment.
Less travel also means fewer vehicle problems and longer life for your delivery vehicles. With routing problems out of the way, you can also focus on equally important aspects of your business.
Plan quickly, deliver faster, delight customers and get home early.
Everyone deserves to have simple and easy route planning.
---
FAQs
UPS uses an integrated optimization software called "Orion" to schedule and dispatch its company delivery drivers.
The best software is the one that can best optimize the delivery routes for your company and your drivers. Several times per day, drivers are inputting data points and carrying out the delivery process. These are all opportunities to improve efficiencies and success for businesses.
---
Use a Reliable Tool for Effective Optimization
Your company may not be as big as UPS today. Maybe you have one delivery vehicle and less than ten deliveries every day. In this case, using a free app on your smartphone is the best option.
However, as in the case of UPS's culture, it pays to have constructive dissatisfaction. Think of ways to evolve your business and upgrade your delivery service continually. Think big, plan, and execute.
As your business grows to include multi-stop deliveries and fleet management, using a reliable software tool for effective optimization is your next step for improved customer service, enhanced productivity, and cost savings for sustainability.