Key Takeaways:
Choose a name for your delivery company that is memorable and easy to pronounce.
To enhance SEO, think about using keywords in the name of your delivery company.
To make it simple to remember, keep the name of your delivery company brief and straightforward.
A delivery company's name should correctly reflect your company's brand and core values.
Coming up with delivery company names looks like an easy task, but it quickly gets frustrating once you start the process. A delivery company is supposed to have a name that is catchy yet self-descriptive of the business.
Delivery services often ignore the aspects that make a name memorable and go with random names that they like. While that is not wrong, it can prove to be ineffective. The biggest brands on the planet do have weird names that don't make sense. However, they do have massive marketing campaigns to spread the name.
Your delivery service needs a name that can quickly generate leads instead of a name that makes your audience confused. This does indeed sound like a complex process which is why we're here to break down the process of choosing a name for your delivery service business.
How to get the right name for your delivery company?
1. Plan the structure for your business name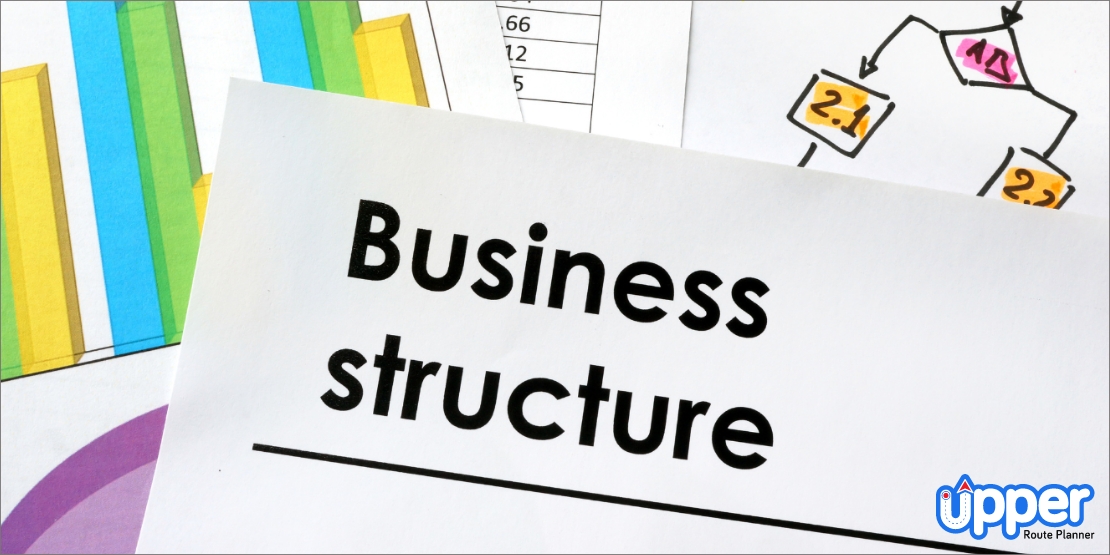 Before you start looking for delivery company names, perhaps you should try figuring out what you would like your name to be like. People usually have set preferences when it comes to names. However, not everyone can say it off the top of their heads. This is why you might need to ask yourself a few questions to understand the basic structure of your business name.
Decide how long you want your delivery business name to be
Determining the length of your business name is crucial as it will allow you to move on to other aspects that make your name perfect. A long name usually allows for more creativity but the caveat is that it will also make it harder for people to remember and find it.
The sweet spot that most businesses tend to go with is a two-word name. A name with two words allows for the name to be short and descriptive. Such an arrangement also works well for established brands when opening a sub-brand.
Do you want the name to rhyme?
Rhyming words in your business name might help people easily remember it or give your brand a unique image. For example, Grubhub is a memorable name because it has a rhyme to it. Though making a name that rhymes cohesively can be a challenge.
This is why most businesses choose to go with simple names that are easy to remember, while rhymes can solve such problems they also take a lot of creativity and can backfire if they turn out to be complex.
2. Select appropriate keywords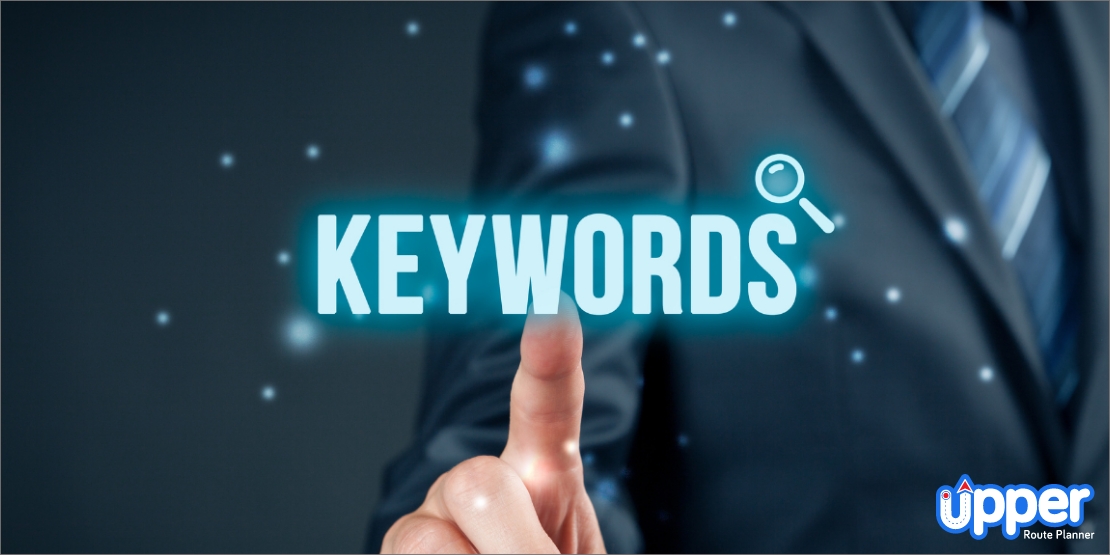 When people start having a hard time they tend to use specific words to ease their process. Such words can be very random, though people usually choose words from specific criteria such as family names, the name of a place, or an object related to the business.
Family names are a great choice for plenty of reasons, One of those reasons is sentimental value. Most people would like their business represented by their family name as it gives them a sense of pride and joy.
Others choose to go with their family name for its uniqueness. Both reasons are fair and are also very valid when it comes to other factors such as name availability and authenticity. Though family names do come with their share of drawbacks.
Almost all drawbacks heavily rely on the name itself. Let's say that you have a simple name such as "Smith" then it might be easy for your customer to remember your name but the domain availability and uniqueness might not be very good. On the other hand, if you have a less common surname like "Llewellyn" then your name sure would be unique but your customers are going to have a really hard time remembering your business.
A lot of established businesses choose to add the name of a place to separate it from the parent company. For example, Ubisoft Montreal. While this might be a good name for big companies, it might not be the best choice for you depending on the final name.
Since the name of places is very often used, it might become difficult for your business to stand out. In many ways, the name of a place suffers from the same issues that family names do.
Adding the name of an object that is related to the company can give a lot of clarity to your customers. It makes your company name very descriptive making it easy for your customers to find your delivery service.
A name such as "Lens Flair" makes you instantly understand that the company does something related to cameras. You can incorporate any object in your business name in the same manner as long as the object is relevant enough.
3. Find new names with your preferences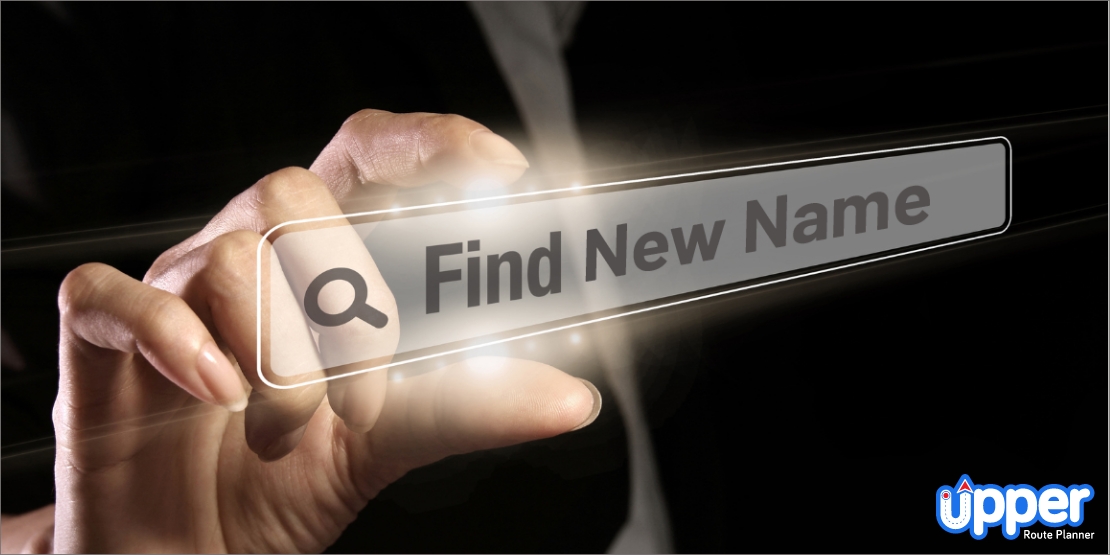 Now that you have some preferences and keywords in your mind it is time to search for names that might fit the bill. There are many ways to go about this though we do have a couple of suggestions that might give you the best results.
Use a delivery business name generator
A delivery business name generator can greatly boost your progress when looking for the perfect name for your delivery company. This is because a business name generator will take your preferred keywords into account and then process thousands of possible names at once.
Such a generator will give you the ability to browse through thousands of delivery company names within minutes. While these name generators mostly show generic names, they do also at times give you some truly unique and creative names that you may have never thought of yourself.
A delivery business name generator might also have tools to help you check the availability of your chosen name. With this information at hand, you probably get an idea of how powerful a business name generator can be to the right person.
Ask the people in your social circle
When thinking of delivery company names one might forget to seek the counsel of their social circle. This is a big mistake as the people in your social circle know you the best and might just give you the most fun, creative, and catchy business names imaginable.
You definitely wouldn't want to miss out on such creative suggestions, so we highly suggest brainstorming new business name ideas with your family and friends with your set preferences. You can also conduct such a session as a fun activity for you to explore your creative side.
Though unlike a delivery business name generator you will have to manually look at the availability of every name that is suggested to you.
Check the Name Availability
Now that you probably have a few delivery business names, it is time to check whether or not those new business names can be yours for the taking. Checking the availability of your delivery company names is quite a straightforward process.
However, there are a few challenges that you might encounter. But not to worry! The issues that you'll face are very common and are faced by most looking to register their business name ideas. These issues can be easily fixed by implementing some smart tactics.
Let's say that you got your ideal catchy business name and want to check its availability. If you used a name generator that lets you see the price of the domains with your delivery service names then your process is not going to be complex at all.
If you came up with the delivery company names without a generator then just look up the delivery service names on domain-selling websites to look up their price and availability. If the domain that you want is unavailable on the market then there are a few things that you can do.
You can use another one of your delivery business names but do not try adding random characters to the end of your delivery business names just to make it available. This will only worsen your chances of being discovered.
What you can do is either wait for the domain to become available or write to the domain owner Otherwise you're better off using a different catchy name for your website.
Top Catchy Delivery Business Names to Consider in 2023
You probably have a better idea at naming your business now, although if you're still unclear about how a great name is formed then worry not. We will now see a couple of examples of catchy delivery business names.
Food delivery company names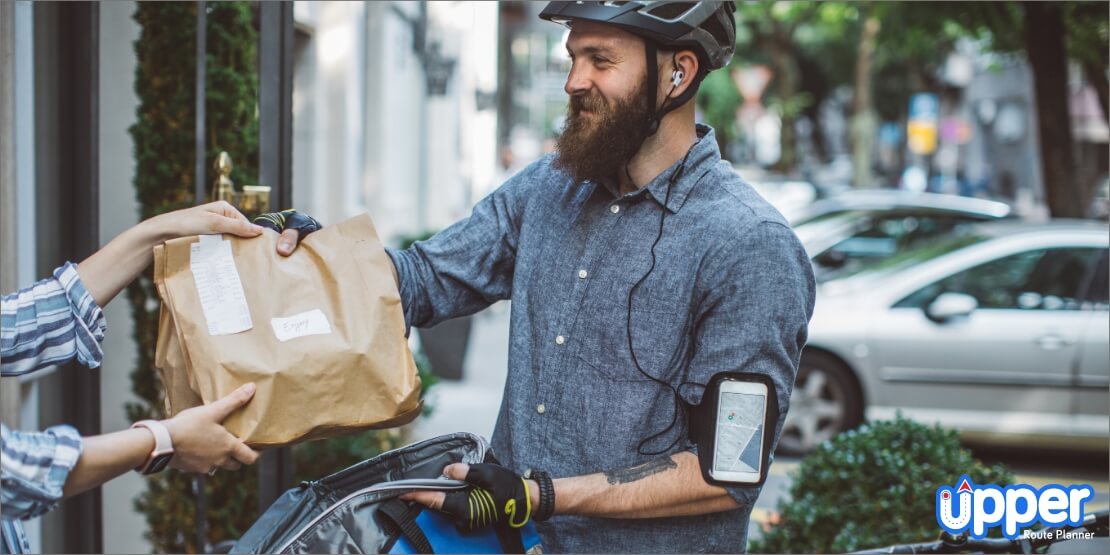 A good reference for any name idea would be the competitor. Since we're dealing with food delivery companies we must look at the competitors to see why their names are so memorable.
When you analyze the competitors you will get to learn their methods of making their name memorable.
Usually, with a food delivery business, you'd want to keep the name short yet descriptive to help your clients understand your product. Examples of short yet descriptive names would be:
Ready Fork
Mealivery
Bolt Bread
Takekout Truck
Fryder
XiaoChow
Hot-Pot
Proflame
Home Sweet Package
Pocketwings
Pocketperfect
Packagehub
Deliveraza
Warmsome
Fast friendly fun
Pan and Post
Quickstartz
SetReadyPost
JustforFood
Sweetshuttle
Donedelivery
Foodtranspo
Funfoodfest
Minimeal
Foodinabox
Speeadysweet
Driving Foods
Food Innovations
Qucikwik
Foodgrid
Swift Delivery
Belly Full
Coffee connection
Craverz
Dinnerdone
Shake and Smoothie
Sweet-spot Delivery
Dig-in Delivery
Online Organic Packaging
Fast Food Sender
Food HQ
Delicious Food Packaging
Dine Master
Foodlynn
Door Delights
Only Organic Food
Food on Doors
Mealman
Food Curves
Foodzone
Foodcomaquickly
Instant Delivery
WeDeliverfood
Swipe Food
Click Click Collect
Tried And True Delivery
Quick Delights
Home Eatery
Five Rate Delivery
Superspacestop
Flyingfyers
Tummy Filling Delivery
Craving sense
Send Food Now
Lunch Little Delivery
Big Delivery League
Expert Express
Express Exports
What A Food Packaging
Expert Exports
Bring Best Food
Conquer Food Castle
Taste of Everything
Better Food Delivery
Undining
Food Travelers
Deliver with Joy
Fit Packaging
Food Cube
Delightlydelicous
Food Binders
Food Destination
Food Trauma Delivery
Food Drama
Chop chop
Curbside
Burgerbarista
Full eating
Health Matters
Foodbite Delivery
Live Food Delivery
Just Arrive Express
Distribute Wholesome
Food in a Minute
Your Choice Food
Aesthetic food Delivery
Food Alliance
Slice of heaven
Brunch much
The Organic wheels
Stay Fab
Giant Slice
Order Royal
Where's My Food?
Meal Wheel
Zip Grip
Grab That Food
Food Mobile
The Food Market
Food Boss
The Clean Plate
Eat Now
Eat Right Away
Dots the Cravings
Festive Food
Food Ville
Hungry birds
Get in My Belly
Food on Call
Food Magic
Fresh Food Way
Foodetry
Flying Plates
Delight Dining
Food Sharks
Fast Food Call
Delight Crew
Ready Meals
Food on Go
Meals on Call
Foodzie Delivery
Fooddeliv
Deli Delicious
Delicate Delivery
Delicious Gate
Food Dash
Kitchen Meals
Joey's Food Delivery
Friends Kitchen
Epic Eateries
Spice hub
Sweet and Spice Delivery
Food Rush Courier
Meal Delivers
Gate to Heaven
Bliss Meals
Crunch Caterers
At Your Service Meals
Foodie Express
Foodies on Run
Eat Clean Caterers
Hungry Blaster
Food Master
Delicious Scout
Food Wheel Eatery
Takeout Guide
Last Minute Food
Hunger Pangs Delivery
Meals Trip
Hungry Trips
Drive Cravings
Mealshades
Wehavefood
Soul Foods
Food Circles
Delish Delivery
Craving Happiness
Foodsters
Meals Map
The Takeout Wheels
Forking Awesome
Knives and Forks
Order and Deliver
The Food Agent
The Easter Fest
All Time Eater
Unicorn Food Delivery
Spread food
Food Fondness
Food Mission
The Meal Magic
Top Meals Delivery
Best Food Only
Hungry What?
Fit City Food
Allstar Meals
Food Bunny
Espressio
Meals Bound
Diner Wizards
Quickest Lane
Daily Food
Holly Molly Food
The Meal Rescue
Food Riot
No Restaurant Chaos
Only Your Food
Fresh Out of Garden
Dining Drop-Off
Calm Your Cravings
Courier business names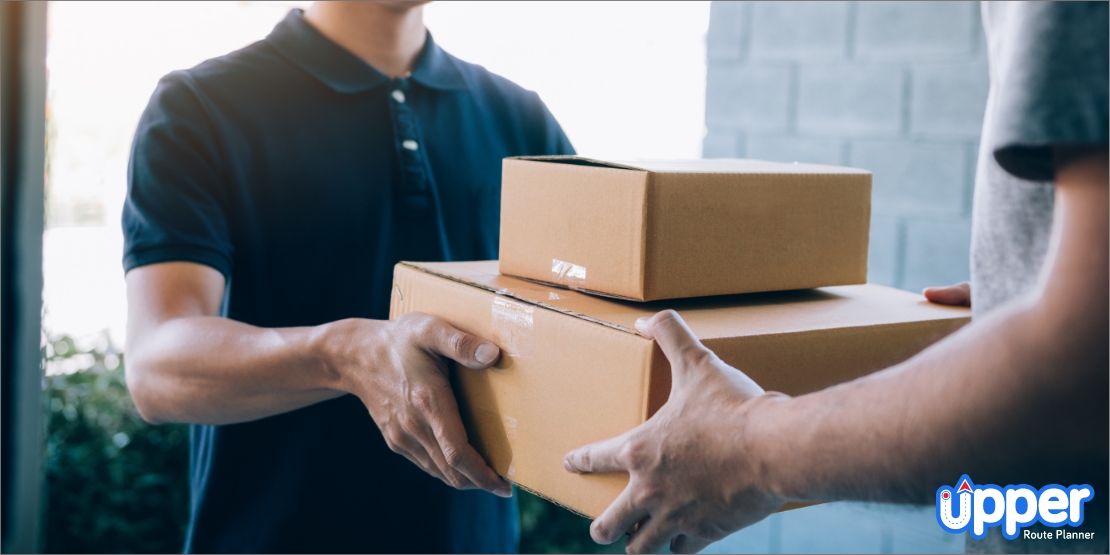 For courier services, your best bet would be to go with a simple name as your primary goal is to make your courier service highly recognizable. To make a name recognizable it could include words that are descriptive of the business such as:
Mails on Rails
Coureagles
Rapitide
Turbo-Charged Transport
PortPackage
BoomWagon
RocketBox
Blaze Boi
Delivercube
Delight Express
Wow Delivery
Royal Packaging
First-In-First-Out
Major Mail
Mega Express
Quickest to Quality
The Fastest Route
Package On Way
Faster Faithful
Speediest and Securest
Secure Dynamic Delivery
Overnight Delivery
Fastest Express
Send this Express
Everywhere Express
Mail Trails
Driving Delivery
Speedy Express
Deliver Now
Delivery On Way
Pride Logistics
Rapid and Reliable Express
Fox in Box Logistics
Secure Logistics
Ensure Express
RapidHot Delivery
Deal Dispatch Deliver
Can't Wait Delivery
Supreme and Safest Logistics
Deliver It
Carry Away
To your Logistics
On-time Safely
Internal Parcel
Safe and Sound Express
Deliver to Live
Excel Courier
The Rat Race Crew
Forward Courier
Special Services
Rocket Express
In and Out Parcel
Business Packages
Sealed Couriers
Hurry Delivery
Parcel Works
Blink Express
Born to Deliver
Express It
Make it Right
Sener Here Courier
Prompt Delivery
Name It
Packetpacks
Elite Courrier
Superior Delivery
Want It Now
Right Away
Buzzbee Logistics
Innovative Express
Pack and Move
Pick and Package
Move Faster
Get There Express
Do It Now Logistics
Deliver Square
Rate and Review
Delivery Please
Courier Crew
Ship 2 Everywhere
Ready 2 Go
Delivery Riders
Move Mailers
Touch Ground
Package Please
Deliver Zone
Catch Courier
Cool Courier
Post Package
Want 2 Send
Get There Now
Courier2Go
Parcel On Way
Couriermore
Anytime Alliance
Rapid Delivery
Prompt Delivery
Insightful Delivery
Pack Parcel
Rapid Bliss
Up to the Mark
Bundle of joy
Deliver to Happiness
Faster Deliveries
Spread Happiness
No Doubt Delivery
Confident Courier
Peaceful Pack
Go 2 Go Delivery
Courier links
Bluebird Packagings
Fox Express
Sunshine Courier
Road Flex Delivery
American Courier
Plus one Delivery
Sum up Courier
The Courier Coach
Green Express
The Parcely
Package Rocket
Get Moved Delivery
Get Your Stuff
Moved In and Out
Drop it Off Delivery
Mark Out Delivery
Planet Express
Skyline Courier
Quick and Quicker
Flat Price Delivery
Right Freight Shipping
Deliver2Go
Red Pack
Olive Express
Infinity Parcel
Affinity Courier
Coolest Express
Reliable Parcel
Rapidly Packed
Anytime Express
Interlink Delivery
Move Express
Pick It Up Now
Reliable Couriers
Miracle Delivers
Ship Deport
Trusted Courier
Superior Box
Back Door Delivery
Right at Entry
Corporate Express
Copper Couriers
Handled With Care
LightSpeed Delivery
Rocky Steady Express
Classy Couriers
Delivery Wings
Dedication Delivery
Door 2 Door Express
Stable Delivery
The Car Grabber
Angel Delivery
Hands on Package
Silver Medal Delivery
Multiway Delivery
Coast Across Courier
Easyship Delivery
Speedlink Express
No Rush Delivery
No Chaotic Delivery
Parcel Hero
Breakfree Delivery
High Low Express
Sweet Pals Delivery
Point to Point Delivery
On time Express
Plenty Source Courier
Deliver on Dot
First Choice Delivery
Epic Couriers
Countrywide Couriers
Package2Go
On Track Delivery
Safer Delivery
Efficient Couriers
Effective Express
Package Connect
Deliver Destiny
Fast Parcels
A to Z Courier
Express Ways
On Clock Express
Mission Dispatch
Parcel Touch
Pack My Parcel
Exchange Courier
MyMove Express
Roadline Delivery
Swift Parcel
StreetZest Delivery
Simplify Your Delivery Process Using Upper
Whatever you deliver, be it meals, mail, alcohol, or anything else, you can rest assured that their delivery routes will be planned to perfection with Upper. We know exactly how difficult route planning can be when operating a delivery service.
This is why Upper has come to the rescue. Upper helps you make your route planning process as easy as playing a song on your computer. With one-click dispatch, you can create optimized routes for hundreds of stops in just one click.
Upper has a whole host of features that will help your delivery service perform better and build trust with your customers. Giving your customers accurate ETAs and proof of delivery is an absolute game changer for any delivery business.
You can also configure the stops to your requirements. You can schedule stops in advance and can also set their priority levels to further optimize routes all thanks to Upper's ability to create the perfect route in minutes!
Utilize Upper for Efficient Delivery Routes
Do stress-free route planning on Upper instead of doing manual things. Find optimized routes for your multi-stop deliveries in just a few taps.
Start Using Upper

FAQs
With the rise of online stores across the globe and dark stores popping up everywhere, it is no wonder that the delivery industry is going to see massive growth. Thanks to this global phenomenon there are plenty of opportunities for small delivery businesses to capitalize on.
Follow the steps to start your delivery service:
Register your delivery service
Organize a delivery fleet
Market your delivery business
Use Optimization software
Generate Leads
You can do one of two things in that scenario. Either talk to the domain owner and convince them to sell the domain to you or use a different domain extension. For example, if you want fish4free.com then you can instead try getting fish4free.us
Conclusion
Coming up with names for any business is a tricky task, let alone coming up with a name for a delivery company. The business name of any company is often overlooked by most. Without that catchy business name, it does not remain the same.
Thankfully with the help of great people and tools, coming up with a unique name for a delivery business is now easier and faster. One must only know how to use them to get the best results in the fastest time.
If coming up with a name was difficult, then running a delivery business might look like a scary task, however, it does not have to be that way. Thanks to Upper, almost all of your stress when it comes to planning routes is vaporized! Without the proper tools, one cannot truly reach their potential.