Key Takeaways:
Customer satisfaction and loyalty must be improved by meeting delivery expectations.
Giving customers precise and open delivery estimates can help control expectations and ease worry.
Customers' convenience and flexibility can be increased by providing a variety of delivery options, such as same-day and expedited delivery.
Using technological solutions can improve delivery experiences and lower consumer enquiries, such as real-time tracking and automatic delivery alerts.
Managing your delivery business using a manual route planning process is a challenging task. Even relying on Google Maps as the only advanced technology integration in your business ecosystem won't deliver your desired business results.
Because of the non-efficient delivery process, chances are your drivers may choose the traffic-hit delivery route. They might miss out on the delivery ETA, which can cause ineffective customers.
Untimely deliveries can cause losing 83.5% of your clientele. You don't want that, right?
So, how to ensure your delivery service meets your customer's delivery expectations?
Well, there are multiple ways, and luckily, we have compiled a list of the best ways to meet customer delivery expectations. So, without further ado, let's get started.
What Do Customers Expect from Your Delivery?
In a world where social media is reducing people's attention spans and making them impatient, same-day deliveries have become a new norm for online shoppers.
Over 80% of the shoppers in 2022 want same-day shipping, and to take a step forward, over 61% want their packages within 1-3 hours.
Many businesses are adapting to the new consumer demand, and the competition is fiercely rising in the eCommerce retail and delivery space.
Companies like Amazon now offer next-day delivery, same-day delivery, and two-day shipping with their Prime membership.
Now customers expect the same from small-scale eCommerce, food, or other delivery businesses, as well.
The pandemic has also affected eCommerce shipping options. It has also resulted in more changes in consumer delivery expectations.
Nine in ten customers want the option to correct a wrong address, and 53.2% of buyers want to reroute a package in transit.
These options add up to ensure a great customer experience and client retention. But it's difficult for retail and delivery business owners to ensure 360-degree perfection in their delivery process.
So, you should streamline your delivery operations and match the changing consumer expectations with timely deliveries in 2022.
Significance of Performing Timely Deliveries
Ensuring on-time deliveries because of a robust delivery ecosystem can be of great significance for your business.
Many consumers will discontinue purchasing from a brand if they have to wait a long time for deliveries. With faster, low-cost shipping, you can increase brand loyalty and achieve positive word-of-mouth marketing results for your business.
You can also pave the way to more business and potential customer footfall, and it can improve your brand positioning in the industry.
Being a retailer, if you provide faster delivery at a low cost, you have a real chance to stand out from the competition. It can strengthen your presence in the industry and help you achieve your desired business goals in a very short time.
Managing on-time deliveries is one of the toughest challenges for online retailers and other delivery businesses. If you can achieve the target and remain consistent with your results, it will be difficult to replace you in the industry.
When you complete timely deliveries, you also increase brand loyalty and customer satisfaction. It can encourage customers to choose you over others in the future.
6 Ways to Meet Customer Delivery Expectations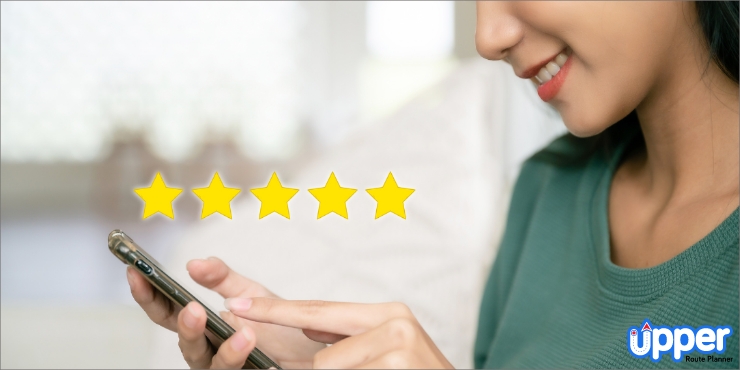 Multiple ways can be followed to meet customer delivery expectations. But we have finalized the result-oriented ways to minimize your efforts.
1. Provide them with a realistic ETA
Based on your delivery capacity and operational network, you should provide your customers with a realistic estimated date.
Providing an unrealistic date and time of arrival can cause inconvenience, put humongous pressure on your in-house business operations, and make it hard for you to meet customer expectations.
Try to create genuine customer expectations and ensure an expedited shipping process to match your promise. Use a professional route planner like Upper to get an accurate and instant estimated time of arrival and share the information with your customer for more transparency.
You can get automatically updated ETAs based on traffic which can remove unwanted surprises for your customers.
Once you promise an achievable estimated delivery date, work on your speed and ensure fast deliveries. Improving your delivery speed means high chances of customer satisfaction.
2. Effective delivery process
Apart from your fast shipping process, ensure you don't deliver damaged or broken products to your customers. Based on your business industry, improve the creation and packaging of your products.
Train your delivery drivers to drive professionally and sensibly to avoid accidents and subsequent product damage.
Shift more focus on fragile and hazardous products to avoid damage to your entire shipping contingent. Secure and safe delivery operations can help you stand out from other delivery companies that focus on expedited deliveries and neglect product safety.
Although growing demand and high expectations from your customers lean towards instant deliveries, secure product delivery is also an important customer delivery expectation.
3. Share real-time tracking details
To meet your customer delivery expectations, you should share real-time tracking information with your customers.
According to a survey, over 96% of the respondents said they would find GPS tracking useful when awaiting deliveries. Customers don't want to remain in the dark about their deliveries; they want to know what's the real-time location of the deliveries.
It can also help you remain on top of things and keep a check on your delivery drivers and their exact locations.
You can use professional software to instantly share real-time location with your customers and ensure you build solid trust and relationships.
4. Ensure effective communication
With effective communication, you can meet customer expectations and deliver a personalized shopping experience to your valuable clients.
You can delight your customers with effective smart notifications to provide them with real-time updates about their orders. Apart from GPS tracking details, you can deliver customized email and text notifications anytime.
It can further improve the quality of customer experience and increase the chances of client retention. You can achieve effective communication results using Upper Route Planner, which can help you bypass the hassles of sending personalized manual notifications.
The powerful method used by the software can help you send automated notifications to your clients once their packages are dispatched or about to be delivered.
The automation process helps you minimize the dependency on your workforce and avoid human error and inefficiencies. You can save time and effort in managing redundant processes and channel your resources toward managing core business operations.
5. Capture digital proof of delivery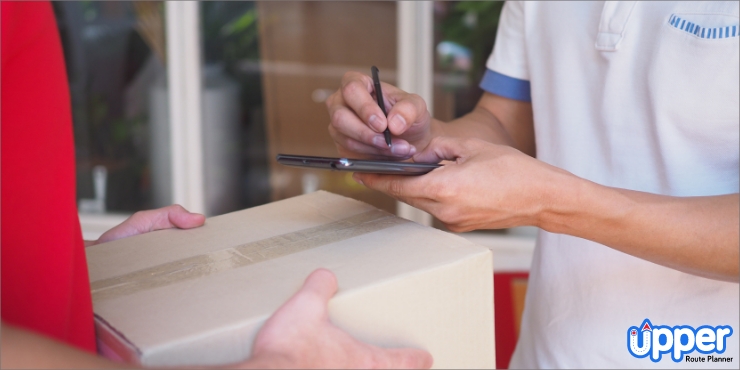 Precautionary measures are being followed by businesses and customers globally because of the global pandemic; it's important for you to adapt to the new norms.
Once a customer completes an online purchase, they want door-to-door, contactless, and safe deliveries. You must remove the manual paperwork while handling proof of delivery because customers are cautious about their and their loved ones' health.
Integrate professional software like Upper Route Planner to bypass paperwork and increase transparency with proof of delivery. It can help your delivery drivers to capture signatures and photos easily and deliver your customers the best experience.
The powerful software can help you resolve customer claims faster and also enable the drivers to add digital notes for additional information about the delivery process.
6. Effective route planning
The last effective step to fulfill your customer delivery expectations is to streamline your delivery operations using effective route planning.
You should bypass the dependency on manual route planning or using navigation apps to handle your professional delivery operations.
Integrate an advanced route planner like Upper to automate your route scheduling and planning process. The software uses an advanced route planning method to deliver instantly optimized and shortest routes for your delivery drivers.
Your dispatch managers can avoid copy-pasting additional delivery routes and can import the stops within a few clicks.
Upper enables you to import multiple delivery addresses from a spreadsheet (XLS/CSV) and add hundreds of stops in a click and save time.
Following the optimized routes, your delivery drivers can minimize shipping costs, increase business productivity, and achieve on-time deliveries.
The minimal operational cost can enable your business to offer free shipping to customers looking to shop online. You can adjust the lower delivery cost in the product pricing and ensure an excellent customer experience while matching the customer expectations.
Make Your Customers Satisfied by Offering an Excellent User Experience with Upper
Upper Route Planner is powerful route planning software that can handle different aspects of managing your delivery operations and ensure an excellent customer experience.
From route planning to taking digital proof of delivery while delivering, the software can help you meet the changing customer delivery expectations.
The software is equipped with multiple features at a highly cost-effective price to help you scale your delivery business in a competitive space.
You can create a delivery route plan by adding stops manually with details or simply using the import function.
But Upper offers more ways to simplify your task if you have multiple deliveries to the same address with the exact details.
Example: If you deliver meals to the same customers every Sunday and Wednesday. So each delivery order has the exact customer details. In this case, you can add or import your addresses. It will enable you to use these stops in the new route plan.
Upper's timeline view feature is the hidden gem for your delivery business. It enables your dispatch managers to view the routes assigned to each driver.
It also helps the team to manually change the routes, reverse a route for a driver, drag-and-drop stops between drivers, and change the position of the stops.
Try a 7-day free trial to know more about the features of Upper Route Planner.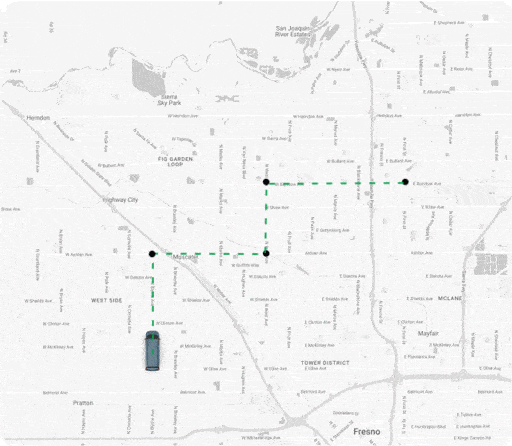 FAQs
The delivery expectations of online shoppers are constantly changing. Now customers want different options from the brand they are shopping with. The major delivery expectations are:
Fastest deliveries

Cost-effective service

Personalized experience

Real-time information
Failing to deliver to these expectations more than once can result in losing your customers.
A route planner can help you minimize delivery costs, lower the chances of shipping delays, and help you create optimized delivery routes. You can ensure on-time deliveries and increase the productivity of your workforce by automating the majority of your redundant delivery processes.
If you fail to meet your customer's delivery expectations, you can increase the chances of losing your customers to your competitors, fuel customers churn, and lower your chances of business success. It will become hard to sustain in the competitive space where businesses are focusing immensely on meeting customer delivery expectations.
Conclusion
Customers' retention is vital for businesses in the delivery industry. You must stand out to ensure you deliver excellent customer experience for better business results.
The aforementioned tips will help you focus on meeting most of your customer's expectations no matter how many deliveries you handle. Upper Route Planner can fuel your efforts in achieving faster shipping, cutting extra costs, handling more customers and streamlining your delivery supply chain.
You can also minimize your shipping cost, which can provide you with the window to offer free delivery and become a standout player in the e-commerce sales industry.
Try the 7-day free trial now.