Key Takeaways:
A job description of a driver mainly includes the necessary skills and qualifications along with driving experience.
It is important to develop better communication and problem-solving skills for delivery drivers.
Delivery drivers need to manage their work independently to overcome delivery delays.
eCommerce has become an integral and irreplaceable part of the global shopping ecosystem in recent years.
And as internet access and its usability have grown fast around the world, the number of online shoppers increases year after year.
According to reports, over two billion people had purchased products or services online in 2020, and global e-commerce sales had topped 4.2 trillion US dollars during the same year.
Now, isn't that interesting?
With the advent of eCommerce sales, there is a greater need for reliable delivery drivers to work for restaurants, courier delivery services, and logistics organizations.
The easiest approach to discover the right fit for your organization is to create a delivery driver job description that includes the following information:
Duties and responsibilities of a delivery driver
Basic job requirements
Desired qualifications, skills, and experience
To find the ideal qualified candidates for your company, read ahead to have enlightenment on how a suitable deliver driver job description template should be.
Delivery Driver Job Description Template
List of delivery driver duties and responsibilities
Delivery drivers must deliver high-quality products to our customers safely and in a courteous and timely manner.
The delivery driver needs to collaborate with the courier company's support team to offer excellent customer service and address customer concerns.
The driver must establish and maintain excellent relations with customers.
Delivery drivers must inspect and approve invoices and purchase requests to confirm the accuracy of delivery details.
The driver must collect payments from the customers at the time of shipment delivery.
The driver needs to investigate the delivery address, plan and determine appropriate delivery routes, and maintain the schedule.
The driver needs to perform a vehicle inspection before and after each delivery service trip.
The driver should drive carefully and safely and deliver products within the estimated arrival time.
The driver should notify any mishaps or accidents to supervisors immediately.
Delivery drivers must follow regional and state driving rules and road regulations.
Delivery drivers must inspect delivery vehicles and ensure the safety and security of the loading and unloading process.
The driver should inform managers about any significant repairs and maintenance of delivery vehicles.
Delivery drivers must contact clients to confirm delivery details.
Drivers need to decide merchandise placement, follow loading and unloading process protocols and safety protocols during deliveries, and also perform safety inspections.
Drivers need to stick to the company's functioning guidelines and procedures.
Delivery drivers need to maintain a driving record, prepare delivery vehicles' performance records, and complete daily paperwork.
Drivers must provide exceptional care in delivering delicate and unsafe products.
List of delivery driver requirements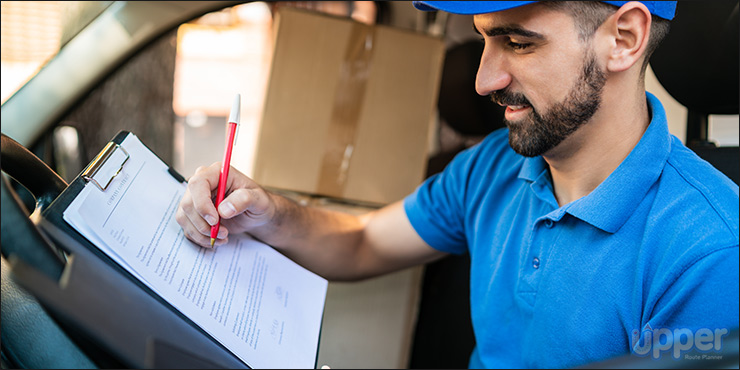 The delivery driver is required o have a high school diploma, General Equivalency Diploma (GED), or anything equivalent.
All drivers need to have an up-to-date and valid driver's license issued by the government of the state of their region.
All drivers need to have a clean driving record.
Delivery drivers need to be familiar with the preferred Radio Frequency (RF) equipment.
Delivery drivers need to obtain special driving licenses to use certain vehicles intended for delivery.
People applying for the delivery driver job position needs to have some experience.
Delivery drivers need to follow the assigned routes for delivery, schedules, transportation rules and regulations, and safety protocols.
Delivery drivers must have excellent customer service skills and a sense of time management.
Delivery drivers must be physically fit to do heavy lifting jobs such as loading and unloading process of shipments.
The drivers must be able to walk efficiently.
The drivers need to pay attention to details.
Qualifications and skills required for delivery driver job
The delivery driver must have excellent verbal communication skills and organizational abilities.
The delivery driver job seeker needs to have good social skills and the ability to solve problems to increase customer satisfaction.
The delivery driver should be familiar with the local streets and delivery routes of his region.
The delivery driver job seeker should be a responsible and dependable person who can help in increasing customer satisfaction.
The delivery driver's job description also requires the delivery driver to have the ability to work in a tight schedule in a dynamic environment.
The delivery driver must have the ability to work holistically as part of a delivery process team.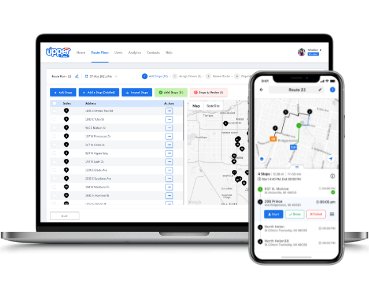 Upper Route Planner
A Simple-to-use route planner that every one is talking about.
Save up to 95% of planning time
Save up to 40% of time on the road
Plan 500 stops at once
---
FAQs
Delivery drivers pick up a range of shipment products and deliver them safely to customers along predetermined routes. They also keep track of orders, load and unload them from trucks and vans, and make deliveries in a specified timeframe. The delivery driver will create efficient routes and inspect and maintain the delivery vehicle's safety.

At times when they are unable to deliver merchandise, they assist with the maintenance of other delivery processes. Collecting merchandise from suppliers and handling accompanying documentation at stores and warehouses are instances of such tasks.

The majority of couriers work 40 or more hours each week, with some working overtime to get the products delivered.
In general, a driver must have a minimum of GCEs and GCSEs in English and mathematics to be considered for the position. Some companies might eliminate the requirement based on the candidate's driving record or further schooling.

To offer delivery services, drivers are required to have a basic education. Many firms favor qualified candidates who can drive safely and cleanly. However, some organizations could be comfortable with a two- to three-year-old clean permit that has been authorized.

Employers looking for drivers for delivery vans and trucks must require candidates to take "training" in order to obtain driver certificates (CPC).
Food delivery drivers assist with food deliveries by carrying it from the restaurant to delivering at the customer's residence.

Food truck drivers can handle a large number of orders while also being responsible for vehicle safety and providing the best customer service possible. They frequently act as a go-between for the restaurant and the customer. They must also have exceptional communication and conflict-resolution skills.
The delivery driver must have prior experience in a similar or equivalent position within a retail or logistics organization. They should also be able to operate a van or truck intended exclusively for delivery services.

Many companies are searching for applicants who have spent several years working in a customer-focused setting, and warehouse experience is an advantage.
The average salary for delivery drivers is £128. Salaries vary depending on variables such as experience, location, and job requirements, and drivers get paid either weekly or biweekly.
The delivery driver is on the road for the majority of the day. The driver must be able to navigate peak hour traffic while also determining the best routes to deliver items on time. To load and unload the items from the delivery truck or van, the delivery driver must be physically fit and able to lift a minimum bit of load.
Happy Hiring!
You need drivers who are reliable, skilled, and experienced and can help your company increase customer satisfaction.
Isn't it?
The above-discussed lists to shortlist the perfect candidates for the delivery driver job description position available in your company are certainly going to benefit you immensely.
Go through the lists to have a clear insight into the hiring process or get inspired to craft your own template for a delivery driver job description.
Once you hire a team of experienced delivery drivers for your business, all you need is Upper Route Planner to plan and optimize routes and dispatch multiple drivers in a click. This is a route planning and optimization software that saves up to 95% of your planning time and helps you serve 40% more customers by optimizing time spend on the road.
So, start your FREE Trial today and explore a range of features!