So you want to know how to start a delivery business? Good for you! It's not a bad idea at all, as we know that Covid-19 is creating an increased demand for home logistics delivery services. That being said, there's a good way and a bad way to start your own delivery service or courier service business.
This article is an ongoing series of articles on how best to start your own delivery service business. In this installment, we will look at ways for the business owner to create a competitive analysis. This will be extremely useful for any new small business that wants to make sure it will have a successful business plan, get potential customers, and ultimately create a successful business. Let's get to it!
Competitive Analysis 101
We are Upper Route Planner, and our business is to provide you with fantastic route planning technology for you as a delivery driver. We also want our users to be successful, which is why we want to add this guide. So let's great started!
What is Competitive Analysis?
A competitive analysis is a process by which a courier business owner will analyze all the competition in their service area and the business community. The purpose of the competitive analysis is to get data, information, and actionable insight to create a successful business.
You can analyze local courier services as well as the disruption by large delivery businesses like Amazon Flex, Amazon Prime, and Uber Eats.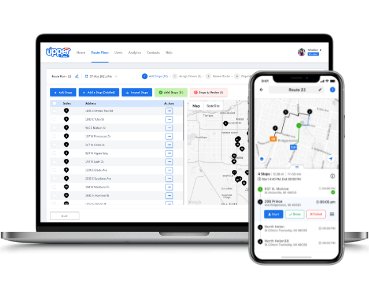 Upper Route Planner
A Simple-to-use route planner that every one is talking about.
Save up to 95% of planning time
Save up to 40% of time on the road
Plan 500 stops at once
No credit card details required
What type of information is analyzed?
Business owners want to make sure that they fully understand many factors relative to the customers. The market, the consumers, the business structure, the product, clients' needs, strengths, weaknesses, and much more.
There is also the analysis or background check of insurance policy, state permits, advertising methods, startup costs, business insurance policy, cargo insurance, etc.
What needs to be analyzed in the delivery service?
In terms of a delivery service or courier services, the questions are
Who is doing deliveries in the service area?
Do big companies have their own delivery operation wing or do they hire external delivery services?
What are the different courier services?
Are they specializing in food delivery or other packages?
What are their delivery boundaries?
How many customers do these companies have? Learn their specific customer service tricks.
Operations (equipment, delivery vehicles, etc.).
Several deliveries.
In short, you want to identify in your competitors as much useful info as you can. You want to know everything – their strategies, weaknesses, strengths, product offerings, go-to-market approach, and more.
Why Does a Delivery Business Need to do a Competitive Analysis?
No one needs to do anything. However, it is the smart thing to do! Any business that wants success will want to do one. There are many reasons why you would want to do one.
Business marketplace awareness: Understand the other businesses that are in your area, see which ones seem to have the best performance, and estimate the size of their operations.
Service offering understanding: Doing a competitive analysis will allow you to grasp what choice users have in terms of services. Is it fast? Are deliveries local? Are deliveries on the same day? Are deliveries specialized in a way? Etc.
Customer comprehension: This is about understanding the different types of customers or users who may want to use delivery services. Often, there are "segments" or niches of users. With these, you can make different customer avatars. This topic is discussed further in detail in our article on customer Discovery.
To know more:
Start a Delivery Business or Courier Service – How to Do Customer Discovery
How can Businesses Benefit from a Competitive Analysis?
There are many benefits to doing a competitive analysis, generally speaking, it will lead to the following benefits or results:
Business Preparedness – a new small business delivery service starting will want to get as prepared as they can;
Easier Acquisition of Customers – A competitive analysis will support your ability to grow your customer base by finding customers and turning them into repeat customers.
Less Time and Money Wasted – When one is better prepared with quality business intelligence, one makes much better use of all key resources – time and money
More chance of Business Success – In the end, this is what matters; as most of us know, roughly 80% of small businesses fail in the first year, so you want to ensure your delivery service and small business will be successful.
What are the Sections in a Competitive Analysis?
Here are the sections and the info you'll want to get:
Company Background and Experience
Company or business name
Boss or Exec name
Website
Social Media Platforms and Content
Facebook page
Founded (year)
Number of human resources (employees)
Estimate # of customers
Vehicle, car, pickup truck, box truck. and equipment inventory
Other admin info – liability insurance, business license
Product Intelligence
What services are they providing?
How much are they charging for each type of service?
Strength of their product (what can you copy?)
Weakness in their product (what can you exploit?)
What are the logistics requirement?
Customer Intelligence
Who are the primary users of their service?
Who are they targeting in their marketing?
What message do they use?
Do they have ads? Loyalty Program?
What experience do users have with them?
What are their requirements?
Go-To-Market Strategy
How are they finding clients?
What ultimately sets them apart?
Why do customers choose them?
How to do a Competitive Analysis for a Delivery Business?
Ok, no more time to waste! Let's get you started! Here is a step-by-step guide!
Step 1 – Create an Excel Template to track all your research.
Create an excel sheet;
In the "rows," add all the types of info listed above;
In the "column" add competitor 1, competitor 2, etc.
Step 2 – Research – Get on Google!
Start doing a google search for all competitors in your area. Add all relevant data you can find, name, the car or cargo van they use, demand, the ground they cover, equipment, food delivery, cell phone, etc.
Add all of this to the spreadsheet.
Step 3 – Talk to People
Go old school. Get on the street. Talk to people. Find existing customers if you can. Or talk to your family, neighbors. Get their experience on some of the competitors, and see what they have to say about them.
Add this to your master spreadsheet.
Step 4 – Keep Going Until You Have a Good Overview
Keep going in this fashion until you have a sufficient grasp of your region and the type of clientele you want to serve.
Step 5 – Profit
Right? ?
Plan quickly, deliver faster, delight customers and get home early.
Everyone deserves to have simple and easy route planning.
---
FAQs
This is a subjective question and requires a subjective answer. In short, there is a lot of demand for delivery businesses, so if this is something that interests you, then it has ground for exploration.
It is strongly recommended that you start by thinking about your goals and intentions first. The next area to focus on is research: entrepreneurs are to explore services, competition, and all things that can lead to a successful service offering. Next, a new business should always make a plan. And finally, business owners can then start offering their services.
---
Look at the Competition Before You Start a Delivery Service
In short, we hope that this blog is useful to you. We want you to be successful in your business. Starting a business is never easy, so any help is always appreciated. As always, let us know if we can help with anything. If not, safe deliveries!