Key Takeaways:
To avoid delays and ensure the timely completion of your construction project, you can plan and schedule your material deliveries in advance.
Collaborate with suppliers and transporters to optimize delivery routes and decrease transportation costs.
Use advanced technology software like Upper Route Planner to automate the scheduling and tracking of material deliveries.
There are over 1,300,000 delivery drivers in multiple business segments across the United States.
Still, over 50% of the businesses cannot deliver the same-day delivery service because of ineffectiveness and under pressure delivery workforce.
And when we talk about construction industry material delivery delays, it can result in severe losses for the receivers and the delivery business. Your clients can lose money, and they won't associate with your delivery business in the future.
So how can you ensure that there is a compromise in the timing and quality of your construction material delivery?
Effective construction site material delivery scheduling is one of the best measures a construction material delivery business can take to ensure on-time material delivery.
Why?
Let's understand.
Why is Construction Site Material Delivery Scheduling Important?
Construction site material delivery scheduling is important because it can help your delivery workforce stay on track with the rising client and industry demands.
With the global surge in commercial and residential construction, contractors need a consistent and uninterrupted supply of construction material, but it becomes difficult for delivery agencies to handle the workload.
But if you are focused on automated delivery scheduling, then you can:
Minimize the chances of failed and delayed deliveries

If your delivery workforce has the details and access to the delivery details of the construction site and material beforehand, it becomes it's for them to ensure a convenient and quick delivery.

They can access their delivery schedule a day before and then plan their day's work schedule to complete the assigned delivery consignments before failing or delaying the construction material at the project site.

Delivery quality client experience

Minimizing the delays can help you deliver a quality client experience to the construction contractors and help them save their money and optimize their human resources.

It can build a strong and healthy relationship with your clients and ensure that they choose you over others as your construction material delivery partner. You can stand out from the rest of the construction material delivery businesses following a professional scheduling process and ensuring on-time delivery of required material.

Scale your business revenue and profits

Once your clients are satisfied with your delivery process, you can scale your client base with positive word-of-mouth marketing. It can help your construction material delivery business increase the business revenue and profits.

With a standard delivery scheduling process, you can achieve your desired business goal and scale your business to new heights.

Minimize the workforce effort

You can minimize the workforce effort by automating the delivery scheduling process. Once the contractor places the order, the automated system can assign the delivery task to your team based on availability. It can help your management team escape the manual processing and delivery task allotment.

With automation, you can avoid errors and human intervention that can help you save your workforce time and energy. They can focus on important business delivery operations and ensure that the contractors have the best experience with your delivery business.
But how can you automate the scheduling process and ensure that your business can drive the above-listed benefits in the construction material delivery business?
There are multiple ways to optimize your delivery scheduling process. We have filtered the best ways to help you bypass the complexities involved in the scheduling process.
Ways to Optimize Construction Site Material Delivery Scheduling
1. Right workforce training
You need to train your workforce to handle the scheduling process effectively to ensure that there are no discrepancies in the delivery and the clients don't face a poor customer experience.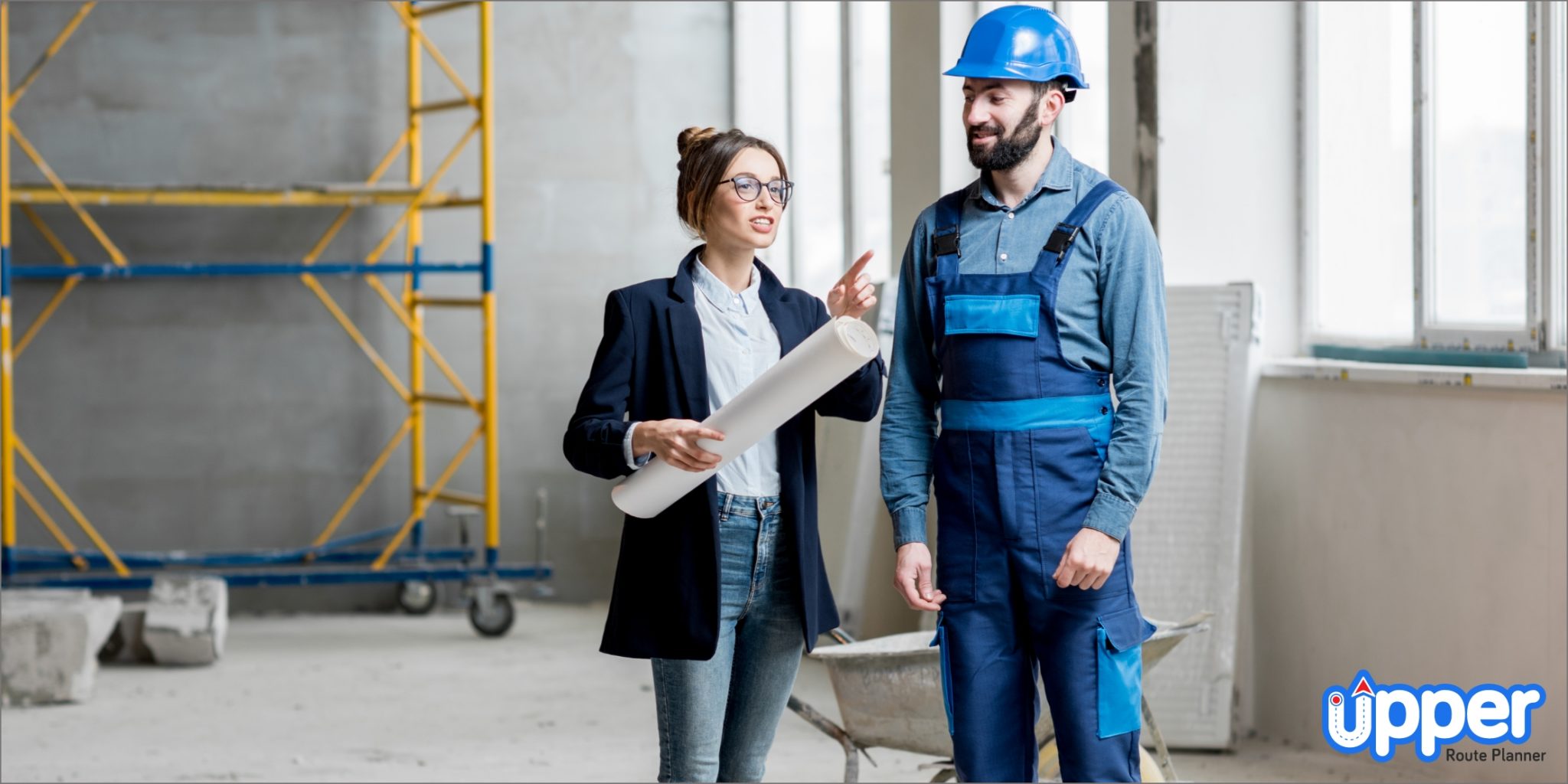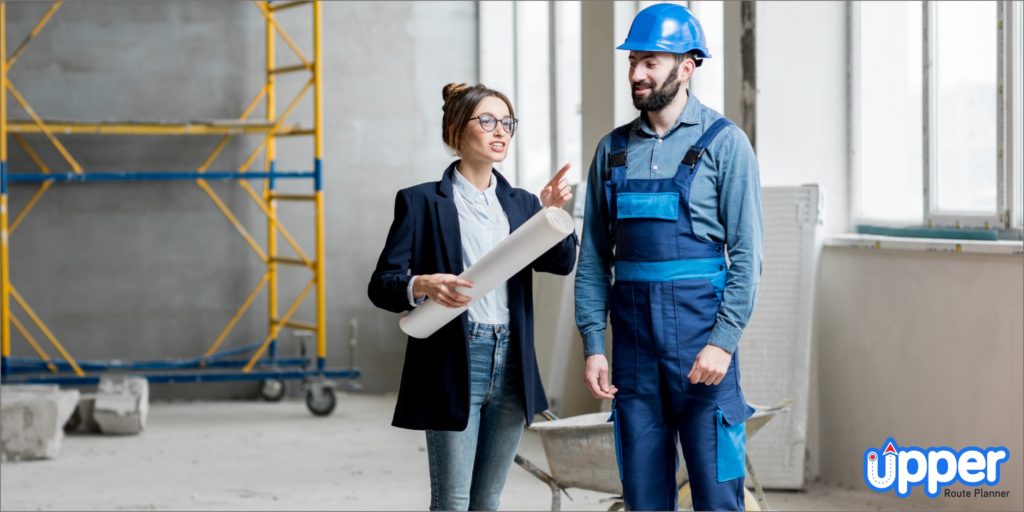 Ensuring regular lectures and conducting seminars to improve the skill set of your delivery workforce can ensure they can manage the scheduling process with finesse.
Using an automated scheduling system for your construction delivery business, you can train your workforce to get hands-on experience with the technology. It can ensure that they make optimum use of the system, and there's no hindrance in the usage.
2. Set delivery path
You need to ensure that the delivery paths are optimized to avoid delays or failed deliveries. It can help your drivers follow the scheduled pattern and stick to the promised construction material deliveries.
You can use a powerful delivery route planner to ensure that your drivers can access the shortest delivery paths to deliver the building materials to the construction sites.
A dedicated route planner can analyze different route planning aspects like real-time traffic updates, weather conditions, ETAs, and other elements to help optimize delivery paths for the delivery process.
A set delivery path can minimize the dependencies on manual route planning and ensure no guesswork is involved. Your delivery drivers can ensure smooth and hassle-free delivery to the construction projects and deliver a quality experience to your associate contractors.
3. Delivery trucks and logistics maintenance
You need to manage your resources and logistics professionals to ensure that the delivery ecosystem is on track and there are no discrepancies in the scheduled delivery process. Integrating the best logistics and resource management systems can help you get optimum delivery results in the construction business.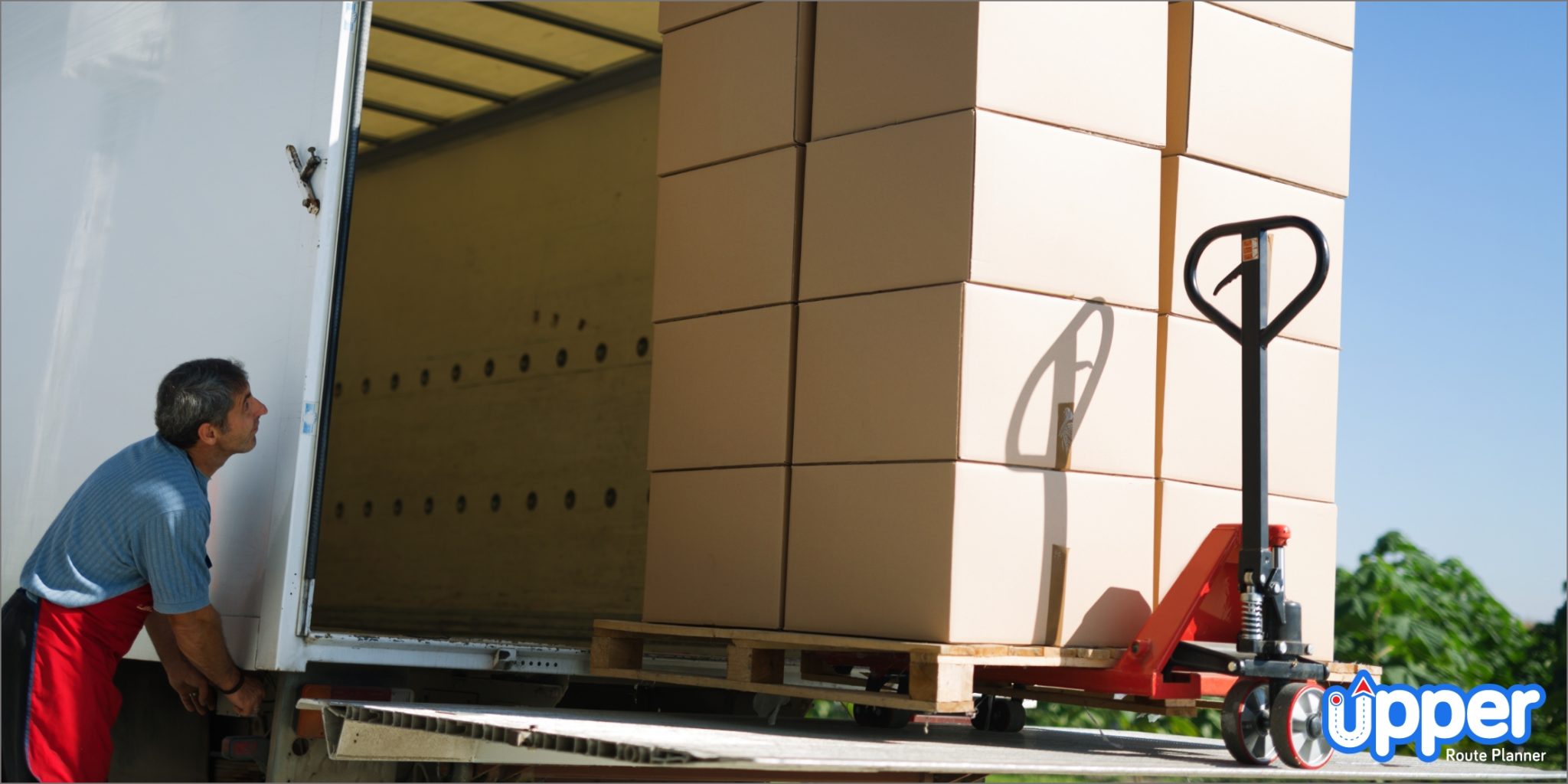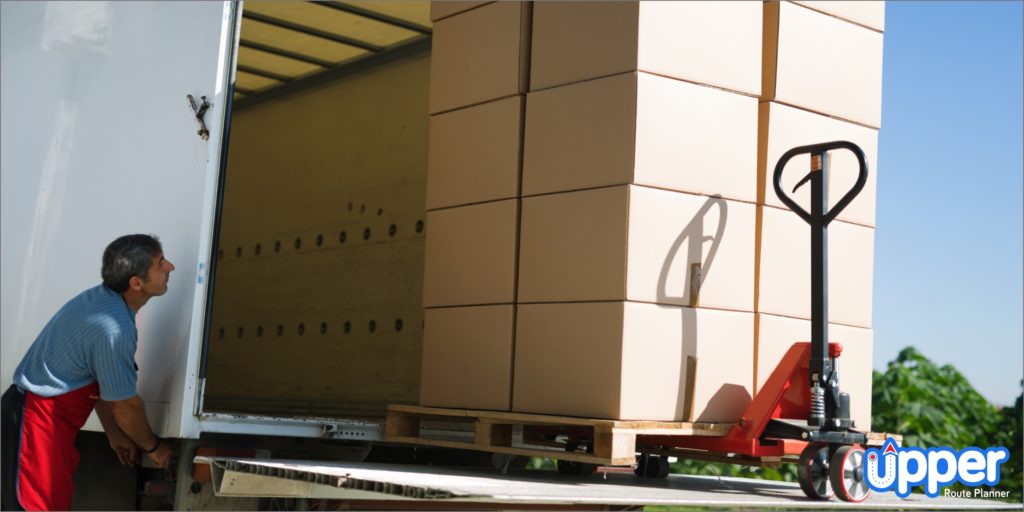 You need to manage your trucks effectively and ensure that they carry construction goods at maximum load capacity.
Proper maintenance of your warehouse and load-carrying trucks is important to ensure that you can deliver the requirement at the scheduled time.
4. Improve communication
Enhancing the communication within your business ecosystem can help your workforce match the scheduled deliveries and ensure no lag in the business workflow. You need to create a robust communication ecosystem to help the on-ground workforce bypass dynamic problems and situations that can result in delayed or failed deliveries.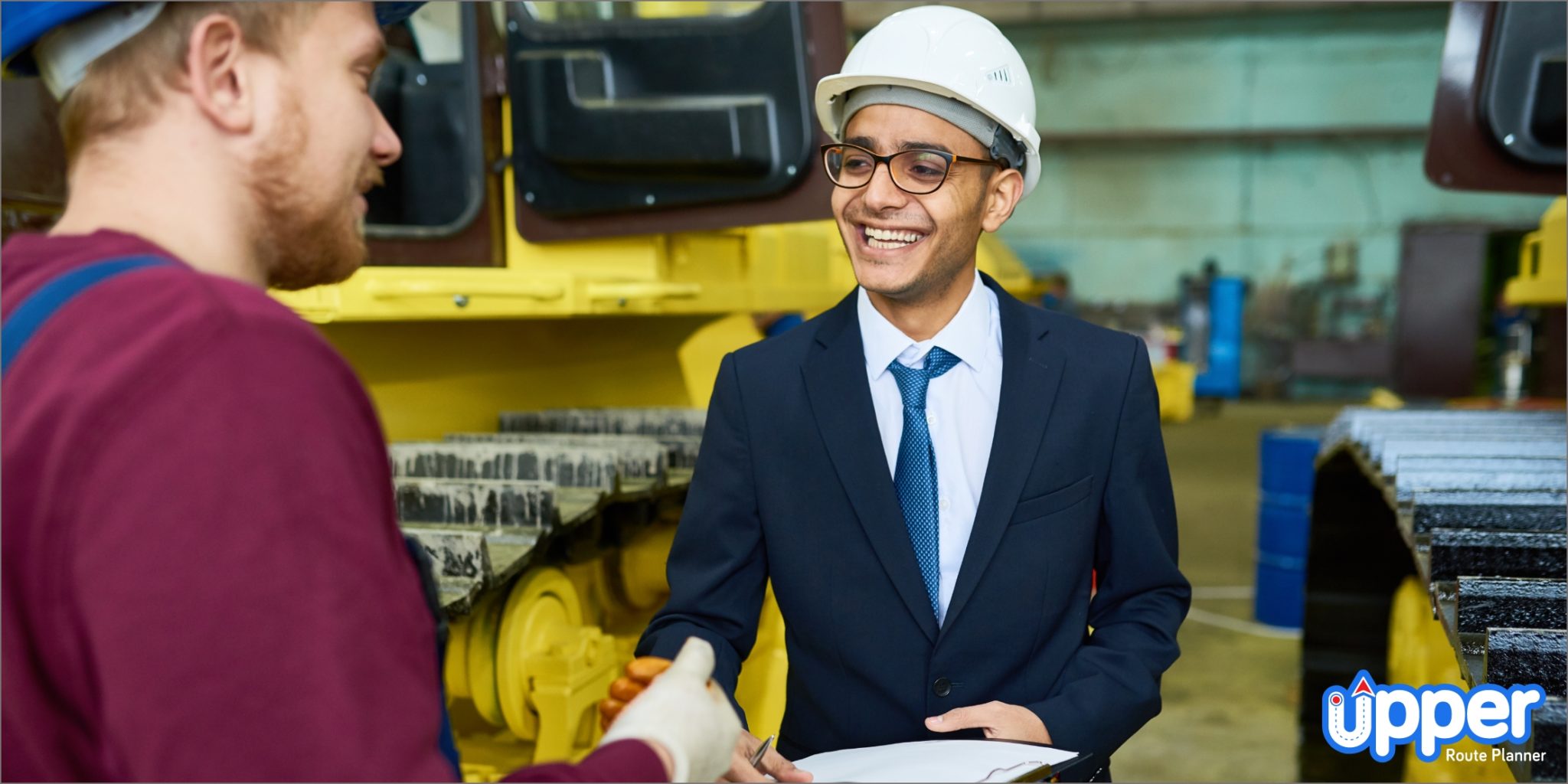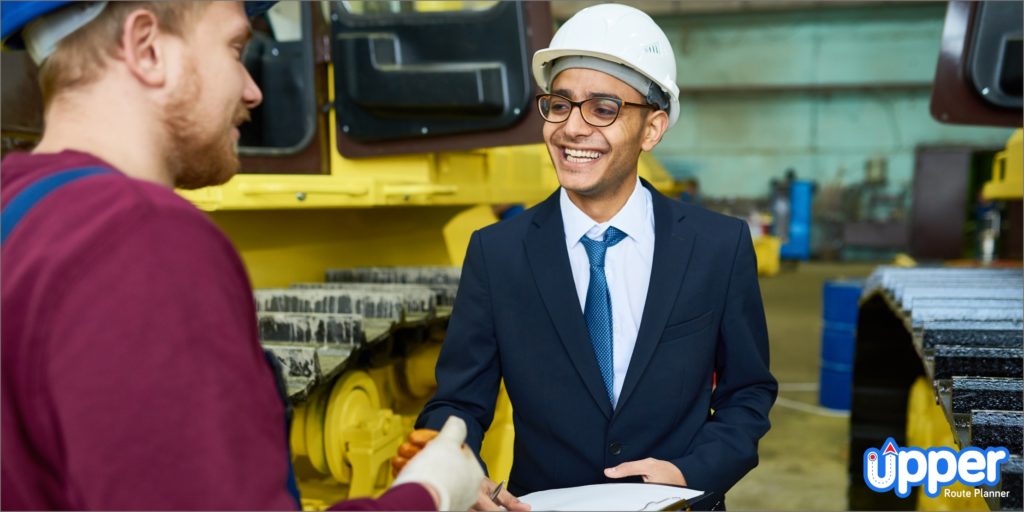 With the help of the right strategies and technologies, you can remove the friction in the communication process and streamline your delivery operations. You can also connect with the clients effectively and deliver a quality client experience.
You can provide a real-time update about the delivery process to your associate contractors to help them stay in sync with their construction material delivery.
5. Crystal clear about the client's requirements
You need to remain crystal clear about your client's requirements to ensure that you can deliver the best delivery results to the construction site. Integrating an automated system can help you store its requirements and keep it safe for future use.
The delivery members can access the details anywhere and anytime to adhere to the delivery schedule. The information can cross-check the inventory and fulfill the required delivery material at the construction site.
6. Use material and resource management software
Technology can assist you in managing your schedule in the best possible way. You can automate the scheduling process and ensure that your team doesn't end up delivering failed or delayed delivery experiences to your clients.
Having access to the right technology at the right time can minimize the effort put in by your delivery and management workforce and ensure that you can streamline your business operations.
Technology can remove the errors and hindrances in your delivery operations and ensure that your team can collaborate on different fronts and enhance their productivity for better business results.
You can use the advanced delivery business tools to access real-time information about the delivery operations and centralize the business control for better outcomes.
Talking about tools, one of the must-have tools for your construction material delivery operations is a dedicated delivery route planner.
Why?
Let's find out.
How Can a Delivery Route Planner Help you Streamline Your Construction Material Delivery Operations?
A powerful route planner can become your all-in-one business tool to streamline your delivery operations and help you scale your business while handling its complexities.
From route planning to robust communication, you can do it all with one of the best route planners available in the industry. You can automate the scheduling process within a few clicks, and all the construction material requirements can be updated in the software with no human intervention.
It can minimize errors and ensure that you deliver the best delivery experience to your clients. If you have multiple delivery teams, you can create multiple delivery paths that can be dispatched to different drivers within a few clicks.
You can get real-time updates about your on-ground workforce to assist them in bypassing different difficulties. Your fleet management team can communicate seamlessly with the delivery workforce to channel the delivery operations in the right direction.
You can create well-vetted optimized delivery route plans within a few clicks, analyzing different aspects like traffic, weather, availability, and ETA. You can send automated updates to the clients to get access to real-time updates about their material delivery.
It can help your business outshine the rest and strengthen your construction material delivery business position.
But out of numerous route planners available in the market, how can you filter the right fit for your business?
Don't worry.
We've got you covered. Our team has filtered the best route planner for your construction delivery business.
A Route Planner to Manage Everything for Your Deliveries
Upper Route Planner is all in one route optimization tool to manage everything from A to Z. Plan routes in minutes, add instructions for drivers and get detailed reports to see efficiency.
Try Upper Route Planner for Free

FAQs
There are multiple reasons behind the delay in the construction material. But one of the biggest reasons is the lack of proper scheduling of delivery tasks and integration of a powerful route planner system. These two aspects can improve the delivery business flow and help you streamline the business ecosystem to achieve better business results. You can better manage your resources and improve the workforce's productivity to deliver the best construction material delivery results.
Scheduling construction material enables your workforce to better view day-to-day delivery operations and effectively manage their operations. Scheduling can help you keep track of the client's requirements and minimize the complexities of managing multiple clients and bulk construction project requirements.
Yes, the construction material delivery business is highly profitable because of the rising demand of contractors and the industry. With more commercial, residential, and industrial buildings coming up across the country, there's no stopping the demand for delivering quick and reliable construction material. You need to polish your delivery business workflow to ensure that you grab the rising opportunity in the construction industry.
You can optimize your construction delivery schedule by automating the process and removing the manual intervention that can cause errors and roadblocks. Manual scheduling can result in delayed or failed deliveries that can cause business loss and poor customer delivery experience. Using a dedicated route planner can help you schedule your delivery effectively and ensure there's no compromise in the delivery.
Upper Route Planner Has Got You Covered
Upper Route Planner is one of the advanced route planning software that can assist you in scheduling your construction material deliveries within a few clicks and automate the process to remove the errors and troubles.
It can streamline your last-mile delivery processes and ensure that you can satisfy your client's material requirements within the promised time. You can minimize the route planning process by 95% and increase business efficiency. 
The intuitive design and powerful dashboard of the software enable you to access multiple features of the tool within a few clicks and get centralized control over your business operations.
Irrespective of the business scale, Upper Route Planner can help you bypass the complexities of the delivery operations and assist you in scaling your business with finesse.
You can upload up to 500 delivery addresses from your Excel file to ensure smooth and flawless order deliveries.
So, what's making you wait?
Get a free 7-day trial to schedule your construction material delivery and transform your business workflow.