If you are a business that makes multiple deliveries, then you know the importance of a good route planning tool. You need an app that's going to get you to where you need to be without overcomplicating a journey.
Thousands of drivers throughout the United States rely on route planners when completing an order. With a growth in the number of e-commerce deliveries due to the pandemic, the usage of cost effective route planning tools has also increased. The key question for users is: "What is the best multi-stop route planner?"
When making multiple stops, a delivery driver's primary concern is efficiency. The last thing you want to have to do is input a new address after every single successful delivery. It slows you down and potentially prevents you from meeting key targets when delivering an order.
Navigating a map when attending numerous addresses can be a highly frustrating task. Before we get into our top picks, let's discuss some of the specifics when finding the best route.
What is a Route Planner and Who Uses it?
Essentially, a route planner is a software that presents delivery drivers with multiple options for how they can best reach their location. Route optimization is the key here. How this is defined depends on the requirements of the driver. Generally speaking, this refers to the fastest routes to get you where you need to be.
A route planner, and that too a multiple stop route planner, is crucial for the modern-day delivery driver. The days of single-stop delivery are, for the most part, long gone.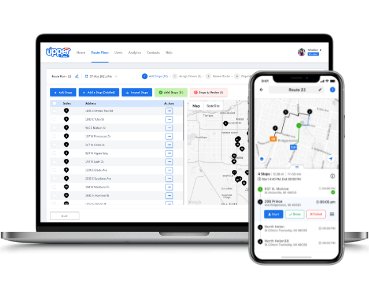 Upper Crew
A Simple-to-use route planner that every one is talking about.
Save up to 95% of planning time
Save up to 40% of time on the road
Plan 500 stops at once
No credit card details required
Online shopping has seen a burst in popularity over the past few years. This means more and more customers are choosing to have their items delivered, which means delivery drivers are required to make multiple destinations.
The predominant user-base of route planners will be delivery workers. They need to know which route will get them to their destination as quickly as possible. A route planner is a great way to answer this question. However, it isn't just employees that can make use of routing software.
Essentially, anyone who makes frequent journeys via multiple routes (whether it's for work or otherwise) can find a use for route optimization. This could be true for those who want to shorten their commute or the intrepid travelers among us.
Multi-stop Route Planner Comparison
Should Industry Professionals Use Waze or Google Maps?
Google Maps does have a feature available that allows you to add multiple destinations to one journey. However, it isn't nearly as sophisticated as some of the other available route optimization apps out there.
It is entirely free to use and can greatly assist your route planning process. This is a perfectly good feature if you are not a frequent traveler. However, if you need to visit numerous addresses, it is not your best option. Luckily, there are alternatives available, and they're all entirely free.
Waze is useful if you are looking for crowd-sourced traffic map data information on your smartphone device. It also comes at no cost.
What is the Best Free Route Planner App?
If you're looking to make a number of stops across several routes, then you need to look outside of Google Maps. Route planning software has developed past a simple map display. There are many software options for you. Regardless of what you are personally after, there'll be a route planning app in this list for you.
Google Maps Route Planner

Google Maps route planner is a popular option for route planning and turn-by-turn driving directions. It offers real-time GPS navigation, transit, and traffic information to reach the final destination in time.

Real-time ETAs and traffic conditions to reach from point A to point B.
Offers automatic rerouting based on incidents, road closures, and live traffic.
Offers offline maps on the mobile app to search and navigate if there is no internet connection.
Set route parameters to avoid highways, toll roads, and ferries.
Exploring a particular area with Google Street View.

Useful for: Road trips, public transit info, daily commute, create efficient route for delivery

Available on: Mac, PC, Android, and iOS

Upper Route Planner

Upper Route Planner is a great free route planner with unlimited stops that helps create optimized routes for multiple drivers simultaneously. Upper Route Planner is one of the most preferred tools for delivery businesses that have multiple drivers and multiple addresses to cover in a single day.

Upper Route Planner helps increase the productivity of drivers while cutting down delivery time and costs with the most efficient routes. When it comes to multi-stop routes, Upper Route Planner manages to plan and accommodate 500 stops at once.

Simple, yet powerful design and interface for both iPhone and Android devices.
Import multiple stops using Excel.
Set priorities, time windows, service time, and curbside delivery for multiple stops.
One-click driver dispatch.
Creates reports, analytics, and proof of delivery.
Syncs across all platforms in real-time.
Mobile app for drivers.

Useful for: small and medium-sized delivery businesses, independent drivers and contractors, meal-kit delivery, food delivery, flower delivery, liquor delivery, and last-mile delivery

Available on: Mac, PC, Android, and iOS

Upper Crew

A Simple-to-use route planner that every one is talking about.

Save up to 95% of planning time
Save up to 40% of time on the road
Plan 500 stops at once

No credit card details required

MapQuest

Mapquest is a popular multi-stop route planner, it has been around for quite some time now. It has worked towards adapting to the changing needs and preferences of its users. It offers several useful features for both personal and professional use.

Adding multiple addresses to your trips.
Find the quickest and most efficient order of route by avoiding toll roads, highways, and country borders.
Add an option to automatically reorder stops to find the quickest route.
Able to locate restaurants, shops, and book hotels.
Offers a maximum of 26 locations to your route.

Useful for: independent drivers, contractors, and small businesses

Available on: Mac, PC, Android, and iOS

Waze

Waze is another popular route planner to get the most efficient route and driving directions for it. It shows real-time traffic jams, reports, and other Waze users on the road around you. It works on offering a more practical solution.

Useful for: Individuals, road trips, daily commute, and recreational purposes

Available on: Mac, PC, Android, and iOS devices

Speedy Route

Speedy route is a multiple stop route planner, whether you have a single vehicle or an entire fleet of vehicles. With the most premium plan offered by Speedy Route, users can create the most efficient routes for unlimited stops.

Drag & drop scheduling.
Speedy Route re-orders locations into the best optimal order.
It can create and plan routes for any number of vehicles.
Time boxing.
Offers mileage tracking and performance metrics.

Useful for: Route optimization and time boxing for delivery drivers and small delivery businesses

Available on: Cloud, SaaS, Web, Android, and iOS

Truck Router

Truck Router is an extremely useful route optimization tool for creating trucking routes depending on vehicle capabilities. It is a route optimization software that is designed specifically for meeting the requirements of the trucking industry.

Web-based route planning service.
Truck specific routes, weight, height, width, and length restrictions.
Trip cost calculator.
Low clearances and routing preferences.
Route elevation, toll roads, and toll costs.

Useful for: Truck routes, trip cost calculator for trucking companies and independent truck drivers

Available on: Website

MyRoute Online

MyRoute Online is one of the best options for trucking and logistics companies for the purpose of route planning and optimizing routes. MyRoute offers dispatch management, work order management, fuel management, mileage tracking, and territory management.

Plans and optimizes 350 stops per route.
Allows route optimization goals like minimize distance and minimize planning time.
Save routes online.
Route animation for viewing routes.
Allows delivery tracking for each driver.

Useful for: Deliveries, sales, and service businesses
Available on: Cloud, SaaS, Web, Android, and iOS

Route4Me

Route4Me allows you to find the quickest route for a journey, entirely for free, simply by inputting the zip code. The free version of the app provides you with 10 routes per month. Any more than that and you will need to sign up for a monthly or annual plan, but this means you can access unlimited routes.

The app is exceptionally easy to use and certainly minimizes the stress of navigating a map by offering turn-by-turn directions.
Cross-platform functionality.
The app promises to plan routes in less than 60 seconds.
It can manage route customization for several drivers simultaneously.
Offers GPS tracking and collects driver data.

Useful for: Delivery & pickup drivers, and sales people

Available on: Cloud, SaaS, Web, Android, and iOS

RouteXL

RouteXL is a great route planner for multiple destinations. It helps individuals and businesses find the best multi-stop routes for pickup, delivery, and services. The free version of RouteXL allows up to 20 addresses while the paid options allow up to 100 and 200 addresses per route.

Address import from spreadsheet.
Offers GPS tracking.
WEBFLEET integration.
Export delivery routes to Google Maps and Apple Maps.
Splits multiple deliveries among multiple drivers.

Useful for: Small and medium-sized delivery businesses

Available on: Web, Android, and iOS

RAC's Mapping Service

RAC Mapping Service is a web-based alternative to AA Route Planner to plan efficient routes and receive driving directions and real-time traffic updates. RAC mapping service helps businesses and drivers put safety first.

A separate section on Traffic News and Mileage Calculator.
Offers maps and driving directions in the UK, Europe and other countries.
The map also helps users find hotels, garages, and car dealerships.
Helps you stay aware of accidents and weather along your route.
The fuel cost calculator helps you make sure you are not spending too much on gas.

Useful for: daily commute, road trips

Available on: Website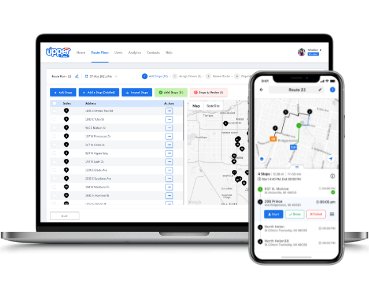 Upper Crew
A Simple-to-use route planner that every one is talking about.
Save up to 95% of planning time
Save up to 40% of time on the road
Plan 500 stops at once
No credit card details required
FAQs
The best way to plan a route with multiple locations is to use route planning apps instead of using an excel spreadsheet or another manual process. Multi-stop route planners will give you mapping, distances, steps, and the best ways to proceed to all your destinations.
Absolutely, Google Maps is part of the list of tools users frequently use with their team to handle route order logistics of sales or their delivery service. The capabilities are limited, and it is recommended that each person examine all solutions before choosing the right solution for them.
---
Fight The Delivery Challenges with a Multi-stop Route Planner
Whether you need to plan order delivery routes or are simply trying to reduce your commute time, using a multi-stop route planner app can help. Many of the most helpful ones are free and can handle the input of numerous stops. Navigating to multiple routes is now easier than ever.
But if your business and delivery demands are challenging, you must go for a paid route planner app for delivery drivers. A paid subscription can help you plot multiple locations on a route without any limitations.
If you are looking to manage multiple destinations and multiple drivers on a daily basis, then Upper Route Planner should be the best option for you and your delivery teams. If you want to know more about our multi-stop route planner, get in touch with us now or book a demo with us.