Route planning is an integral part of the delivery process. It is a step that needs to be performed carefully as the rest of the delivery process can, more or less, depend on it. A few years ago, when we didn't have sophisticated technology to help us plan our routes, we chose manual route planning methods like using a Microsoft Excel route planner.
Excel does not really serve the purpose of a route planner because it was not designed for it. It was a good way to sort out your list of addresses. But now, your route planners can sort out your addresses, and do a lot more than that.
If you are wondering how Microsoft Excel can be used to plan routes and whether it is better to choose a dedicated route planning software, you have come to the right place. So, keep reading.
How to Plan Routes Using Microsoft Excel?
Excel Spreadsheets are an integral part of the office lives. Various businesses in various industries make use of Excel Spreadsheets across different departments to facilitate business operations. For years, spreadsheets have been helping businesses by taking care of different functions ranging from accounting to sales & marketing.
One important function that spreadsheet has been offering for a very long time is route planning. Before we started using Google Maps and other sophisticated route planning technology, people used Excel spreadsheets to plan a multi-stop route.
In order to start planning routes using Microsoft Excel, you must start by creating two columns for name and address. In the name column, add a list of names you need to deliver products to. In the address column, add the correspondence address against each of these names.
The address must be complete with house number, street number or street name, city, state, and zip or postal code.
Choose to split the address into different columns for the street name, city, state, and zip code. It can be really helpful when you are trying to sort out addresses using the zip or postal code.
Once you have set up the spreadsheet and filled in all the necessary details, get on with the route planning.
Adding addresses in a spreadsheet improves the visibility of the data. Dealing with a long list of addresses? No worries, you can divide them into smaller chunks. It becomes easier to deal with when you divide them into smaller, manageable parts.
Deliveries or tasks can be identified and allocated on the basis of city or zip code. This creates a clear distinction and also makes it easier to allot a particular delivery task to a driver.
If you have already entered a long list of addresses and need it sorted, you can choose to sort the sheet by choosing the column based on which you want to classify the addresses.
After creating the smaller chunks, you can either create an order of delivery or allow your drivers to make their own route. To better manage and control your deliveries, it is advisable if you create the routes and then allocate them to the drivers.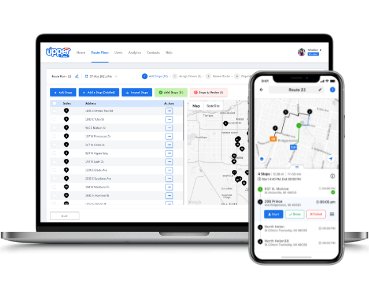 Upper Crew
A Simple-to-use route planner that every one is talking about.
Save up to 95% of planning time
Save up to 40% of time on the road
Plan 500 stops at once
No credit card details required
Route Planning Problems Not Tackled by Excel/Google Sheets
Even if you have all the information regarding the deliveries and have created the best order of stops, you will have to eventually use a GPS navigation system to calculate the best possible route and put addresses on a map. This can be a highly efficient process of determining routes for deliveries. There are certain things that cannot be done by an Excel Spreadsheet. Some of those things are:
There are no maps, to begin with
No route planning & optimization
No real-time traffic updates
Doesn't take into consideration priorities or time window
No turn-by-turn navigation
No proof of delivery
Is a Dedicated Route Planning Software a Good Solution?
One of the best things a route planning software does is create an order of stops and optimize the route depending on time constraints and priorities.
Route planning apps like UpperInc come with a wide variety of features and can serve businesses from various industries like food & beverage, field service, cleaning service, mail delivery, retail distribution, and more.
By accommodating a route planning system to support the workflow, businesses can avoid risks and uncertain situations in their daily delivery tasks. For businesses dealing in delivery like commercial transport companies, e-commerce businesses, or even independent drivers and contractors can really benefit from having route planning solutions at their disposal.
The route planning app plans the routes, provides turn-by-turn directions, can accommodate changes or additions to the route, reduce mileage, make deliveries on time, improve efficiency and customer satisfaction.
Route planning apps are also able to generate regular reports and analytics. These reports offer valuable insights into what is being done right and where the business needs to focus more.
A good route planning software will allow users to focus on other things while automating the routing functions. It not only helps you save time and fuel but also improves overall delivery efficiency. You can't expect such features out of an Excel Spreadsheet.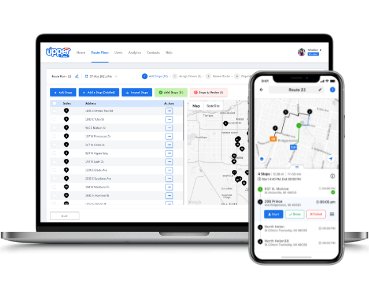 Upper Crew
A Simple-to-use route planner that every one is talking about.
Save up to 95% of planning time
Save up to 40% of time on the road
Plan 500 stops at once
No credit card details required
---
FAQs
Google Sheets is not a function or tool designed for route planning and optimization. All it can offer is a set of adjustable tables to add and store data. It is quite impossible to plan efficient routes with the help of Google Sheets. A route planning is specifically designed to offer planning and optimization functions for creating and navigating a path.
For mapping a route with multiple stops, you must find a suitable tool that can help you put all your stops in order and overcome risks or uncertainties with precise data and optimized routes. The easiest way to do this is by using a multi-stop route planner.
---
Planning Routes with Route Planning App is Easier
Route planning apps are made with the goal of enhancing your delivery process and making the tasks easier for drivers and businesses. In this article, we have tried to cover the reasons why using a dedicated route planning app makes things easier for you.
We hope the reasons have been convincing enough to make you switch from a manual to an automatic system. If you still have any questions like why you should adopt a route planning app for your business, you can reach out to us to we will guide you further.