90% of people in the United States with smartphones use navigation apps or digital maps for directions. For the most part, these digital planners are available at our fingertips on our mobile devices.
The goal for anyone planning the fastest route is to find the best fit for them and their purpose. This write-up will show the way forward and list the best free delivery route planner apps with unlimited stops. We believe it's better to know the truth upfront than to be disappointed later on.
Average user then has two options for route planning. Option #1 is a free route planner app with limited features and 10 stops (not unlimited). Option #2 is a paid version of these route planners for more robust optimization features.
So, let's get started.
Top Free Route Planner Apps Comparison
Route Planner
User Ratings
Top Features
Google Maps

4.7/5(App Store)

Comprehensive Geospatial data
Reliable turn-by-turn directions
Google Street View

Upper Route Planner

5/5(Capterra)

Multiple stops, turn-by-turn directions for multiple routes
Plan 500+ stops at once
Auto Import with Excel
One Click Driver Dispatch
Proof of Delivery
Analytics & Smart Reports
Human-centric design approach

RouteXL

3.5/5(Capterra)

Drag & drop scheduling
Add details/notes for each stop

MapQuest

4.4/5(App Store)

Smart-address input
Available on multiple platforms

Trucker Route

N/A

Web-based free routing software
Creates truck-specific routes

MyRoute

3.9/5(App Store)

Route animation to review routes
Delivery tracking for each driver

inRoute

4.6/5(App Store)

Voice-guided navigation
Export routes to Waze, Google Maps

Apple Maps

N/A

Clean & smooth interface
Playback of audiobooks and podcasts

Waze

4.9/5(App Store)

Community-based information and directions
Connects with your Spotify account

Speedy Route

3.8/5(Capterra)

Drag & drop scheduling
Timeboxing

OnFleet

4.7/5(Capterra)

Modern interface
Extremely easy to use
Create a Route With Unlimited Stops
Upper Route Planner is an advanced route planning tool to create multi-stop route in minutes. Simply optimize route with one click and dispatch routes to drivers in seconds.
Create a Multi-Stop Route

Below is the list of 11 free route planner with unlimited stops:
1. Google Maps Route Planner – Daily commute, short trips
Great for: road trips, daily commute, public transit info, walking route
Available on: Mac, PC, Android & iOS devices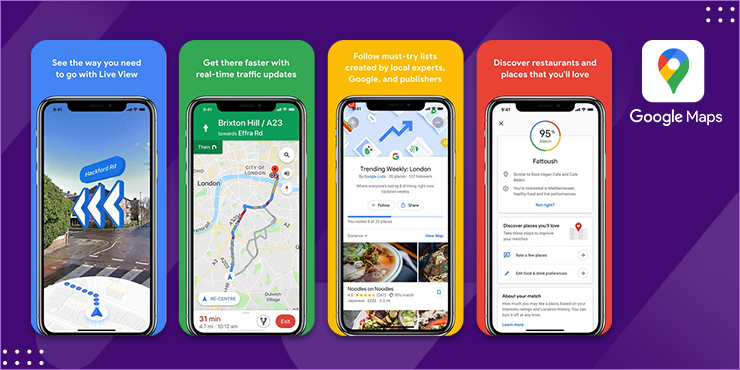 Of course, when we think of a free route planner tool, we think of the Google Maps Route planner. Google Maps not only successfully locates the location you put in, but also provides the best turn-by-turn directions in the mapping industry.
Google Map route planner helps users plan a variety of routes, whether it is for personal or recreational purposes. Google Maps has been a vital resource for users around the world.
Users can create a list of places and save frequent stops or routes. Sharing real-time start location and end location with others is also possible.
In case you are heading to an area without any internet connection, you can download the map beforehand.
Unknown localities can be explored using Google Street View, to get to know the place better.
The most important part – users can select route preferences. So you can avoid toll roads, highways, and ferries.
Pros
Available on a mobile device and web.
Offline navigation, street-view, and accurate ETAs.
Navigation for driving, cycling, walking, and public transport..
Archive routes using the "Pin" feature.
Automatically re-routes in case you miss an exit.
Cons
Collects user data.
Only creates routes with up to 10 stops.
No proof of delivery.
Doesn't consider factors like time windows, individual driver speeds, or restrictions.
2. Upper Route Planner – Multi-stop Route Planning & Optimization
Great for: Planning & optimization for multiple routes with multiple stops
Available on: Web, Android & iOS devices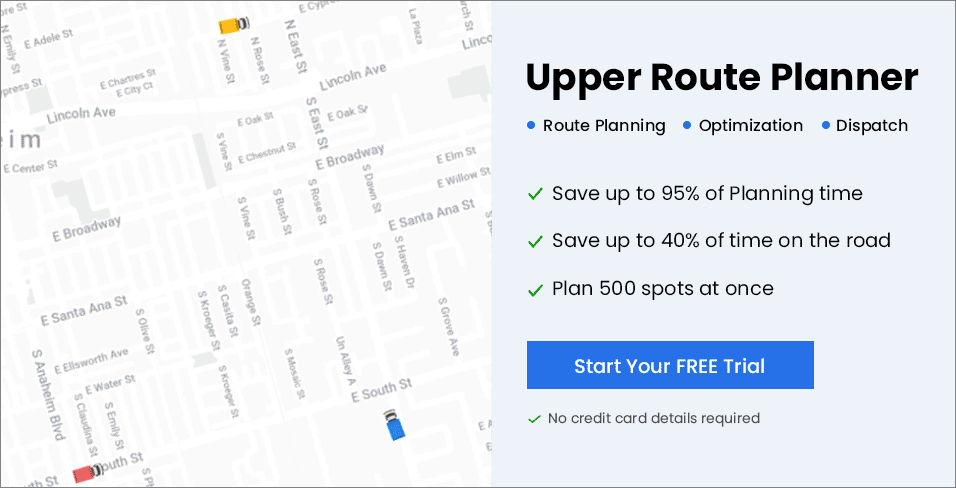 If you are running a delivery business or manage a team of professional drivers, Upper Route Planner is all you need to perform delivery operations. Upper is capable of churning out the best routes in the matter of seconds. You just need a few clicks to create a route plan, optimize routes, and dispatch drivers.
Upper is ideal for small or medium-sized businesses so that you can plan routes including hundreds of stops. Just import your Excel file into the route planner, get optimal routes and share them with your drivers.
The route planning and optimization software eliminates manual route planning in such a way that there will be no room for errors. The good thing is it reduces your working hours to minutes by using a fully automated delivery process.
Key features of Upper Route Planner:
Route optimization: Optimizes routes with hundreds of stops and divides them among multiple drivers.
Excel Import: Import multiple addresses using an Excel sheet or CSV.
One-click dispatch: Dispatch routes to all your drivers with a single click.
Analytics & reports: Generates reports and analytics to keep a tab on your daily delivery operations.
Automated notifications: Keeps your ideal customers informed about their delivery with SMS and email notifications.
Proof of Delivery: Drivers can record proof of delivery by clicking pictures or collecting customer signatures.
Pros
Quick route optimization with no manual intervention.
Allows more than hundred of extra stops in a route plan.
It has an ability to auto-assign routes and reassign routes.
Provides accurate delivery status to drivers.
Cons
It offers only a 7-day free trial.
No voice-guided driving directions.
Pro Tip: Get your hands on our 7-day free trial to get to know Upper Route Planner better.
Add Unlimited Stops to Your Route Plan
On Upper, import as many as stops you want to add to the route plan and get optimized routes instantly. Use Upper for route planning without any manual intervention.
Create a Route Plan

3. RouteXL – Deliveries, Pickups, and Services
Great for: Delivery route planning & optimization
Available on: Web, Android & iOS devices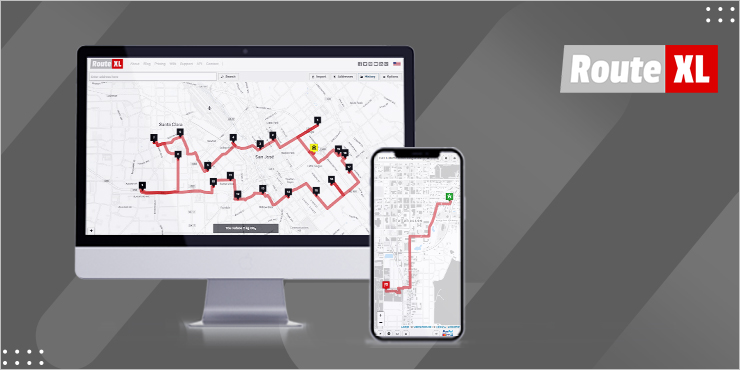 RouteXL is a web-based free route planning software based in the Netherlands. Also made available on iOS and Android, RouteXL's mapping software helps users plan actual routes using geocoding, a global positioning system, and various other features. One of the key elements that users or businesses find useful is importing or exporting via excel.
Create multi-stop routes for pickups, delivery services, and deliveries using RouteXL. Its smart algorithm arranges the addresses in a way to make the route time-efficient.
You can import up to 200 stops using a spreadsheet for quickly adding the addresses.
In addition to that, RouteXL offers geocoding, live driver tracking, data sharing, QR code scanning, and share and save routes for future use.
Pros
Users can add up to 200 stops per route.
Automatically saves previous routes for future use.
It has an in-built drag & drop scheduler.
Cons
Poor customer service.
No proof of delivery.
Tutorial and guidance for users need improvement.
4. MapQuest – Directions for Daily Commute and Road Trips
Great for: Daily commuting & route planning
Available on: Mac, PC, iOS & Android devices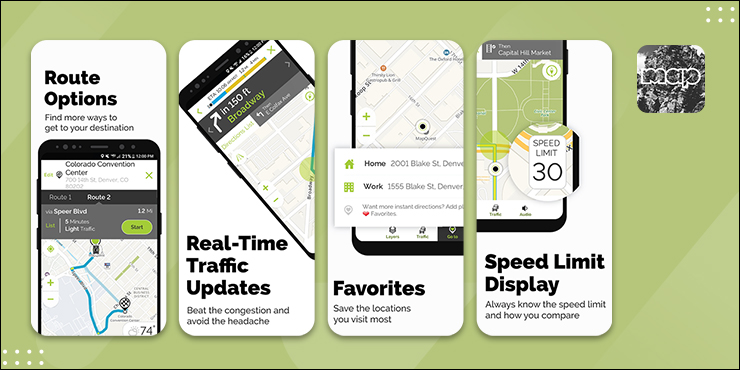 MapQuest is the "old kid on the block." It is one of the best free route planners and has been around for many years before TomTom, Facebook, Twitter, Garmin, and everyone else on this list.
This company has adapted well to users' changing preferences, and their current product is simple, intuitive, and multi-platform. MapQuest is an excellent road trip planner with multiple stops for simple travel.
It helps find the shortest time and distance by avoiding country borders, seasonal roads, toll roads, and ferries. It also locates businesses, gas stations, restaurants, shops, and book hotels.
Pros
It allows 20 stops by importing an Excel Spreadsheet.
Easy to use route planner.
Gives you turn-by-turn navigation and traffic flows information.
Smart address for creating routes.
Cons
Many drivers report inaccurate stops or directions in the app.
Offline mode not available.
Pop-up ads are bothersome to many professional drivers.
5. TruckRouter – Truck Routing & Mileage
Great for: Long-distance trucking routes, trip cost calculator, & regulation information
Available on: Website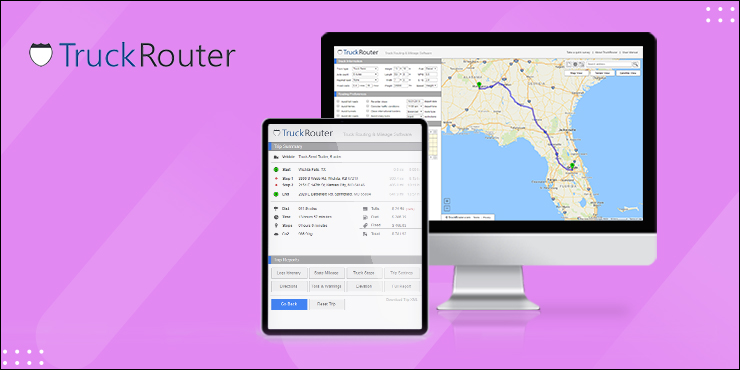 The trucking industry can be quite demanding, and it has some specific needs, unlike small or medium-sized delivery companies. TruckRoute is one of the best free route planners specifically designed to meet the challenging requirements of the trucking industry.
TruckRouter creates truck-specific routes, provides a trip cost calculator, fuel cost calculator, and offers weight/height restrictions.
Users can receive toll information along with delivery costs, route elevation information, and truck warning.
Pros
Free web-based dynamic routing service.
Very easy to use for truck drivers.
Provides accurate routes and information.
Cons
Focuses on truck routes only.
No mobile app for navigation to check routes on the way.
6. MyRoute – Trucking & Logistics
Great for: Route planning & optimization for multiple stops
Available on: Cloud, SaaS, Web, Android & iOS devices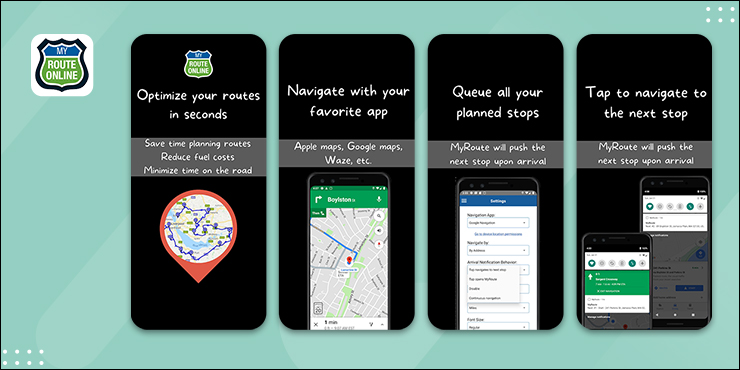 MyRoute is a great option for advanced route planning software that helps businesses like trucking, courier, deliveries, recycling, and maintenance for efficient route planning. MyRoute is an efficient route planner for trucking and logistics companies.
Along with offering apps for route planning & optimization, it offers dispatch management, fuel management, work order management, territory management, mileage tracking, and delivery driver tracking.
Drivers can use MyRoute to plan and optimize 350 routes per route. It reloads saved driving routes, imports contacts, and imports address lists from cloud storage. MyRoute Online is a paid tool with pricing starting at $29 per month and offers a free trial.
Users can set default or specific travel time for each location and make manual changes to the shortest route.
MyRoute offers optimization goals like reduced planning time, minimize distance, balance distance and driving time. Businesses can integrate their software with this free routing software.
Pros
Address import feature is really useful.
Offers delivery tracking for each driver.
Export routes to Google Maps, TomTom, and Garmin.
Cons
Cannot divide stops among multiple drivers.
Consumes more time while planning routes.
7. inRoute – Road Trips
Great for: Weather charts, exporting routes to other apps, elevation, and curviness during a road trip
Available on: iOS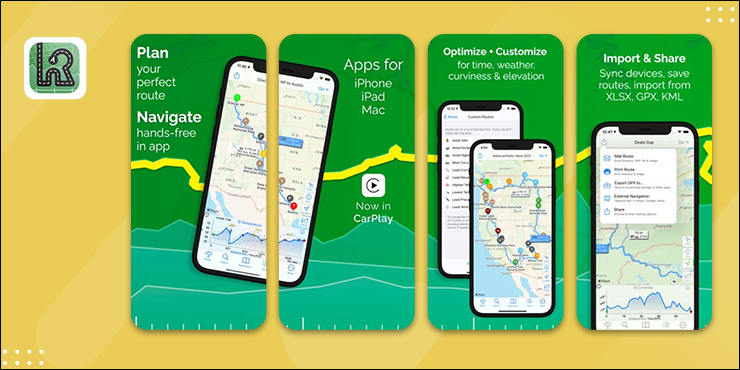 inRoute is a powerful mapping tool that uses intelligent routing to plan optimal routes using curves, elevation, and weather. It offers great navigation with voice guidance, turn-by-turn directions. The highlight of using inRoute is that it focuses on checking your route for severe weather.
Drivers can optimize waypoints & receive voice-guided directions. inRoute creates customer routes based on weather, elevation, and curviness.
Users can add departure and layover times, save their favorite spots and routes, and export routes to Waze, Navigon, and Google Maps.
Pros
Voice-guided navigation for multiple locations (mostly 150) per route.
Users can optimize waypoint order or manually reorder the route.
Allows users to set departure and layover times.
Export routes to navigation apps like Google Maps, Navigon, Waze.
Cons
Users have to buy a paid subscription to access extra features.
It has a confusing interface.
8. Apple Maps – iPhone users
Great for: Daily commuting, privacy, and Apple users
Available on: Apple devices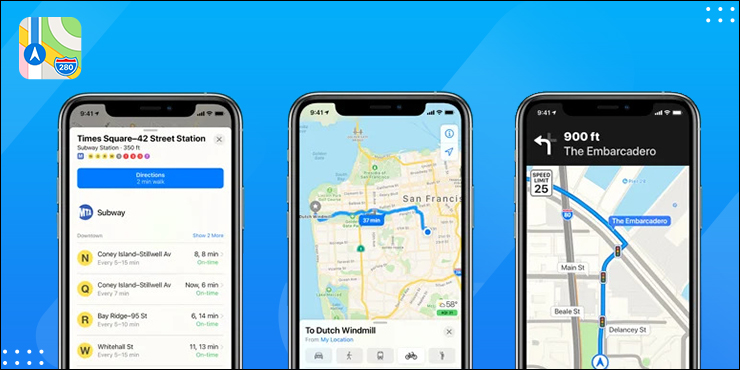 Maps by Apple is an excellent tool to use for drivers. The sense is that this route scheduling app offers fewer capabilities than other apps.
The beauty of the app falls within the details of the map, and delivery times where users may want to use this app would be if they're going to stay within the Apple ecosystem.
Users can quickly find stops for restaurants, groceries, services, shopping, and travel. Users can also send maps to their iPhone using Mac.
Exporting a map as PDF is easy with Apple Maps. Users can find stops for gas and food along the way, pause playback of podcasts and audiobooks.
Pros
Excellent map design and visual style, including 3D map view.
Prioritizes privacy and security.
Syncs between all Apple devices.
It has features of route directions and voice navigation.
Cons
It might have issues locating destinations.
Users point to incorrect information and exit directions.
It offers a maximum of two stops- not very useful for businesses.
9. Waze – Multi-purpose, Community-oriented Directions
Great for: Road trips, daily commute, recreational purposes, community feedback, real-time data, hotels, stores, & gas stations
Available on: Mac, PC, Android & iOS devices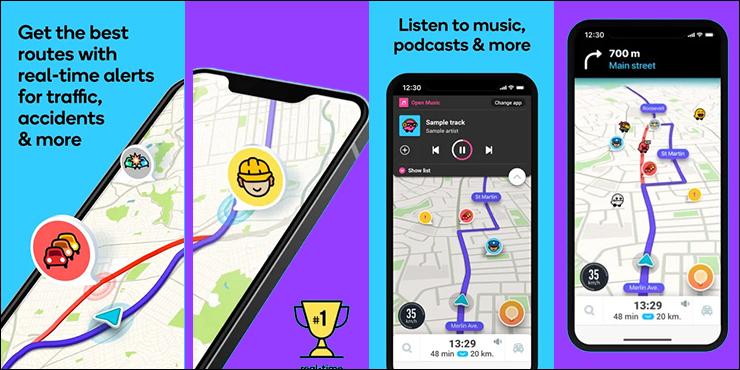 Waze is a go-to route planner for drivers after Google Maps. It offers riders and drivers efficient routes to avoid bad traffic jams. Waze aims to offer a practical solution that helps people in making better choices by collecting real-time updates from other Waze users.
Waze uses real-time data from other drivers to find stops, create routes, and get guidance on your route. Users can connect to Spotify to listen to their favorite music and podcasts.
Waze offers voice features, shortcuts, community feedback, and parking notifications, street closures, and event-specific traffic updates.
Pros
It has a game-like interface for a better user experience.
Provides information regarding restaurants, gas stations, and fuel costs.
Accessible to Facebook and Google Calendars.
Cons
The community advantage is lost on routes with less activity.
Only creates routes with two stops.
No directions for stops further than 1,000 miles.
10. Speedy Route – Delivery orders
Great for: Route optimization & time boxing for delivery drivers
Available on: Cloud, SaaS, Web, Android devices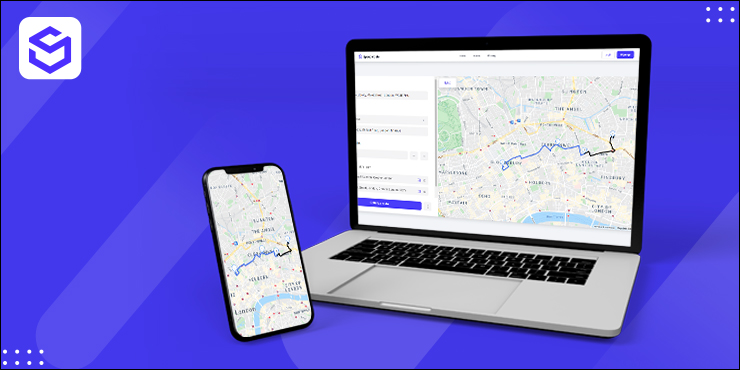 Speedy Route is one of the best free options for any delivery driver that is looking to optimize routes with multiple stops. It has been popular as a dependable app that reorders stops efficiently.
With Speedy Route, users can drag & drop addresses on the map. Traveling salesmen and business delivery drivers can get directions and also time boxing while visiting multiple stops.
Speedy Route allows dispatch management, mileage tracking, and performance metrics, and fuel management.
Pros
It is free of cost upto 10 or fewer stops per route.
Creates and calculates routes for different vehicle types.
Cons
It does not have a mobile app.
Users have to purchase a subscription for more than 3 routes per day.
11. OnFleet – Last-mile Delivery Businesses
Great for: Dispatch management, driver management, customer management, & fleet management
Available on: Cloud, SaaS, Web, Android & iOS devices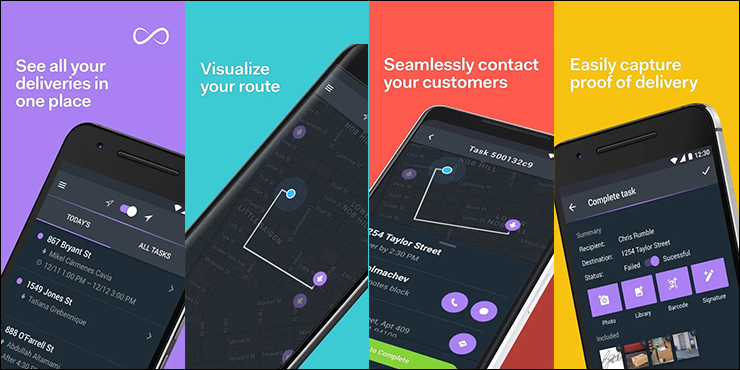 Onfleet is a modern and gratifying cloud-based route optimization software. It helps your business manage and analyze the local deliveries.
The users of Onfleet routing software belong to a variety of industries like distributors, retailers, courier service, and on-demand delivery businesses.
Onfleet allows managing routing and dispatch operations from a web dashboard. Along with route optimization and auto-dispatch, Onfleet offers real-time data and proof of delivery.
Predictive ETAs and driver chat, integrated customer communication and real-time driver tracking help improve customer experience and driver performance.
Pros
Offers a 14-day free trial.
Simple to add a stop or even just create a route plan.
Integration with third-party apps.
Cons
It does not map out locations based on traffic.
Users can't view history.
Paid vs. Free Route Planners
A free version or a free tool for planning routes always has certain limitations. While these apps might be useful for cost-cutting purposes, they are not very efficient. Here's why:
Free route optimizers can only plan routes with a limited number of stops;
Free route optimization apps can create inefficient routes at times;
Free version or free route planner offer no route optimization feature;
There are no fleet management, customer management, or driver management capabilities;
Free route planning tools will not offer customer notifications by way of SMS or email;
Any basic route planning tool doesn't offer proof of delivery either;
There are no real-time alerts for traffic;
No integrated features to support the delivery function for a logistics and last-mile delivery business.
On the other hand, a paid route planning software for delivery teams has a lot to offer:
Users can schedule and optimize multiple routes with hundreds of stops;
Has effective delivery route optimization capabilities;
Most apps support fleet management, customer management, and driver management;
Offers additional features to help improve customer experience like customer notifications by SMS or email;
Offers real-time traffic updates;
Generates reports and analytics for each route;
Paid version apps have features that are integrated to make the delivery process easier for all businesses.
Most route optimization tools mentioned in this list offer a free trial. You can sign up for the trial versions and get a better idea of the difference between free and paid route planners.
What Are Some Limitations of a Free Route Planner App?
Free delivery route planner apps with unlimited stops is a great tool for single driver and delivery businesses that deal with daily deliveries. But we have to face the truth here that the best way to get an optimal route or the fastest route, you have to rely on premium tools for planning routes.
Free tools lack specific features that make them not so suitable for businesses.
Limited Stops: Any free routing app will only allow 10-20 stops on a single route.
No Route Optimization: Even the best free route planner will not offer route optimization.
One Route at a Time: They only allow you to plan one route at a time. On the other hand, route optimization software like Upper Route Planner allows you to plan multiple optimized routes for multiple drivers simultaneously.
No Features Useful for Logistics & Last-mile Delivery: They are not built with specific fleet management and driver management features which are key for running special deliveries in a logistics or last-mile business.
No Reports & Analytics: They do not generate analytics that can help businesses gain insights into what's working and what's not working.
To sum it all up, if you are in need of unlimited stops and the most efficient route along with other integrated features, then a multi-stop route planning software with a paid subscription is the option you should be going for.

All in One Route Planning Solution

Plan routes in minutes, share with drivers in seconds, share ETAs with customers, collect proof of delivery, generate reports and much more with our advanced route optimization tool
Try Upper for Free

FAQs
It depends on your requirements. If your entire route has less than 10 stops, then you can easily get it done with the help of a free route planner like Waze, Google Maps, MapQuest or RAC's mapping service.
Every free route planner software available out there will have a limit on the number of stops it allows. Even some of the most popular tools do not allow you to plan a route with unlimited stops per day or route.
The benefit of using paid route planners is that it offers several advanced features like route optimization, unlimited stops, and proof of delivery. An ideal route planner app with a standard membership comes with good planning tools that are important for logistics. You must try out the Upper Route Planner to find the shortest route path available for your drivers.
Google Maps, Waze, RAC Route Planner, and MapQuest are the best delivery route planning software available for free. You can easily find these free tools on Google Play Store and App Store.
Yes, Google Maps does have a route planner. But it can only plan routes for up to 10 stops, including the start location and end location. Google Maps can be used when you want to use it for personal travel or commute, plan a road trip with less than 10 stops, and run a delivery business that is not logistics-intensive. It is not ideal for large businesses.
The best choice for planning a route with multiple or unlimited stops is to use a paid route planning app instead of doing manual route planning. You can try using Upper Route Planner to create the best route. Upper helps you create multiple route schedules with unlimited stops. Other basic route optimization platforms like Circuit app and Routific can help you create the best routes with as many stops and routes you like.
Final Thoughts
In conclusion, the downside is that there are no available free multi-stop delivery route planner apps with unlimited stops.
There are three multi-stop route planners that can give you up to 25 stops without cost. But for quality route optimization in the delivery process, you must opt for the right route planning software.
At Upper Route Planner, we are committed to discuss and greatly reduce the challenges faced by logistics and delivery companies. We aim to provide the best solutions to these challenges. If you have any questions, you can reach out to us