Google Maps is today being used by over 5 million live websites, and as of 2022, it has over 154 million monthly users. There is no question about why Google Maps is the most-used navigation and location-sharing app.
But what about Google Maps route planner? How proficient is it? For the logistics industry, Google Maps has created a route planner service that eliminates the need to use paper maps.
It has a perfect mapping technology to make things easy for delivery drivers and logistics companies. But this route planner by Google Maps is ideal for use only when you have a few deliveries.
It is free and user-friendly but might not be a great route planner for bigger logistics companies that deal with multiple daily deliveries.
If you intend to run a streamlined delivery business, then it is time you look for Google Map route planner alternatives, as the limitations of Google Maps will put your business growth to a halt.
Best Google Maps Alternatives
Brand Name
Logo
Features
Price
Upper Route Planner

Multi-route planning
One-click driver dispatch
Availability of timeline module
Proof of delivery
Smart reports

Starts at $31.99 per month/driver
Maptive

Variable grouping
Filter tool
Census mapping tool
Radius map tool

Starts at $250/45 days
Badger Maps

Turn-by-turn navigation
Territory mapping
Custom check-in reports

Starts at $49/month
RouteSavvy

GPS availability
Live driver tracking
Mobile access

$300/year for 3 years and $100/user/year for additional users
OptimoRoute

Automated planning
Driver and vehicle tracking
Proof of delivery
Real-time order tracking

Starts at $17.10/driver
Bing Maps

Full suite of fleet management services
High accuracy in geolocation

Free
Apple Maps

Enhanced navigation
Immersive directions
Transit updated to miss no stops

Free for Apple Users
Waze

Turn-by-turn directions
Real-time traffic reports
Toll road alerts

Free
Routific

Multi stop durations
Vehicle capacity updates
Vehicle type updates

Starts at $39 per vehicle/month
MapQuest

Guided navigation
Real-time traffic updates

Free
TruckRouter

Truck specific routes
Low clearance alerts
Trip cost estimate calculator
Optimization of route stops

Free
Google Maps has its limitations. The biggest con of it is that you are deprived of the flexibility to optimize the order of your pre-assigned delivery stops. It is on Google to calculate and present the route in the order you enter the delivery stops.
And Google doesn't optimize it properly to save you time, cost, and effort in delivering your packages. An efficient route planning tool should allow you to list multiple stops even after the route has been calculated and set. This should help with priority deliveries.
So, here are a few Google Maps alternatives for you to get rid of these limitations and more. Most of the free tools with feature limitations might not help you scale your business as per your pre-set goals. So, it is time you consider a good change for your business with modern and productive route planner alternatives, both paid as well as a few specific free ones.
1. Upper Route Planner
Ideal for: Delivery businesses and drivers who want to maximize the number of deliveries made.
Available on: Android, iOS, and Web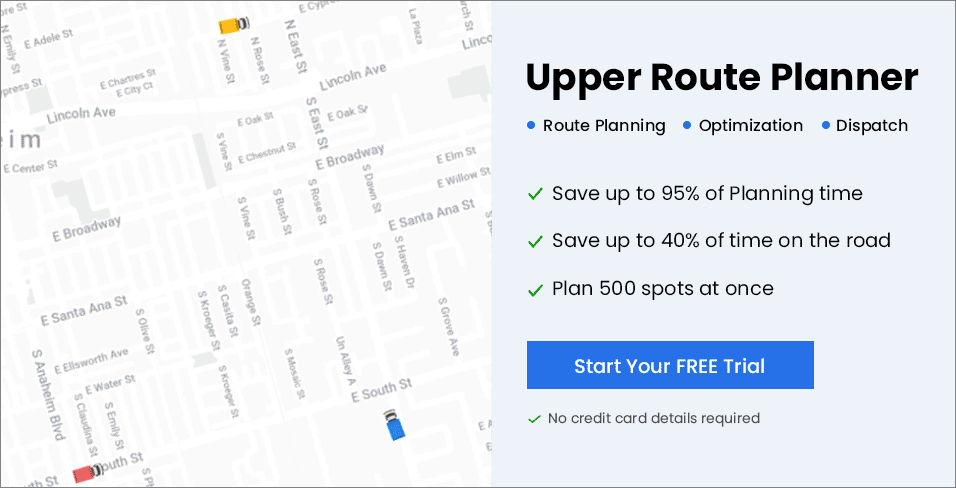 It is the best Google maps alternative for all the service capabilities that it enhances. Hence, this is the reason it has bagged the first position on this list.
The purpose of Upper Route Planner is to map your delivery route and create an optimal sequence of all the stops in your entire delivery route. It is a paid alternative to Google Maps, allowing you to create a sequence of the consumer addresses for getting faster and shorter routes.
Upper route planner software comes with proactive features which include:
Excel import
Route optimization
Route planning
API integration
Immediate dispatch
Electronic proof of delivery
With all of these features and more, Upper intends to help the delivery businesses complete more jobs in a day with proper optimization. Hence, the saved time can be utilized to plan out the next batch of deliveries on an immediate note. The profit cycle will evolve and the business will grow stupendously.
In addition, you are offered a 7-day FREE trial of Upper Route Planner to test the features before making the purchase. Upper Route Planner can be used by courier drivers, last-mile delivery, meals delivery, newspaper delivery, and flower delivery businesses as an ideal Google Maps alternative.
Pros
Real-time updates
User-friendly interface
Mobile application for the drivers
Multiple route creation for different drivers
Creates reports and collects delivery proof
Cons
The street view feature is not added
Plan a Multi-Stop Delivery Route in Minutes
Looking for a route planner to simplify planning? Upper can optimize multi stop route in minutes & dispatch to drivers in just one click
Try Upper for Free

2. Maptive
Ideal for: Small delivery businesses
Available on: Web-based platform
Maptive is a considerable Google Maps alternative that eases all complexities of route optimization, which is left unattended by Google Maps. You can add your stops over the tool, and it will optimize them all to find the shortest route.
With this free route optimization software, you get features such as radius tools and distance calculators. The interface is quite easy to use, as you can add multiple stops to the existing route by typing out addresses or clicking over the map.
Maptive offers you a 10-day trial to test all of its features and functionalities before you decide on availing it. It has built-in guides for new and small businesses to learn and utilize the potential of route optimization.
Pros
Unlimited stops
Many sharing options
Allows layering of multiple routes
Download map data in bulk to show customer details and store locations
Cons
It is made just for business professionals and not for individual delivery drivers
It has no mobile application and runs only on its web-based platform.
3. Badger Maps
Ideal for: Big and small fleets, delivery businesses
Available on: Mac, iOS, PC, and Android
If you want an ideal route optimization tool for your field sales optimization, then Badger Maps has outstanding features as an alternative to Google Maps.
Badger Maps uses real-time traffic to give you the fastest route to the specified destinations. It provides directions to your multiple stops and can feasibly integrate with almost all Customer Relationship Management (CRM) software.
It consists of a Lasso tool, which can draw lines over the selected pins or stops on the map. This allows the drivers and business managers to build routes for priority deliveries quickly.
Users can also easily add or remove stops for lunch breaks, gas refills, and any unexpected halts.
Pros
Has an in-app calendar
Seamless integration with multiple CRM portals
Real-time storage of field data
Cons
Unable to maintain notes you entered for the previous fleet
Poor customer support
4. RouteSavvy
Ideal for: Small- to mid-sized fleets
Available on: Android and iOS
RouteSavvy is another big name among the top alternatives to Google Maps. This tool is designed with more focus on delivery drivers than the sales representatives.
Their online map tool is not specific to just delivery businesses, but they cover a lot of other industries as well, such as law enforcement, septic tank cleaning, airport shuttles, and dog walking.
RouteSavvy permits the drivers to plug in several addresses, organize the routes, and find efficient options to schedule deliveries and pickups. The software does this with two pre-set features, "start-to-finish" and "round trip." You get to choose what works well for your business.
Pros
Turn-by-turn navigation
GPS tracking system
Multi-stop route planning
Cons
Data uploading process is slow
Cloud-based data saving is not available
5. OptimoRoute
Ideal for: Mobile workforces and delivery businesses
Available on: Android and iOS
OptimoRoute offers detailed maps with route planning for several industries, including waste collection, outbound logistics, field sales, and delivery fleets (big and small firms).
The primary function of this tool is to plan routes, optimize them through the software, and make them accessible through a tablet, computer, and smartphone.
OptimoRoute has over 50 features to help delivery professionals navigate their stops and prioritize the deliveries easily. The routes can be updated over the portal even at the last minute. Unlike Google Maps, updates regarding sick drivers or canceled deliveries can be updated over this portal.
Pros
Routes can be planned for weeks in advance
Last-minute route changes can be made
Consists of vehicle specifications for businesses to pick the right trucks for select deliveries
Cons
Difficult to plan multiple routes for multiple drivers at once for the same city with the automatic route generator
6. Bing Maps
Ideal for: Big and small fleets
Available on: Windows PC
Bing Maps is one of the most preferred Google Maps alternatives, but not specifically for its route planning capabilities. It is a mapping software for small delivery businesses to plan the routes mostly within city or state boundaries.
Bing Maps allow you to download maps for specific states to use offline. These offline maps can just be used over Windows 10 applications. Moreover, the drivers or businesses need to download it before starting the delivery journey.
Pros
It offers an easy-to-use interface
Maps are very detailed
Locations can be saved over the Bing library for future reference
Cons
No mobile application for Bing Maps
No trip planner
Limited tools and features
7. Apple Maps
Ideal for: Small- and medium-sized delivery businesses
Available on: Mac and iOS
Apple Maps was released in 2012 to beat its biggest competition, Google Maps, and it was intended to become the default mapping application on all mobile and computer devices. The idea wasn't a success, but over time Apple Maps has updated many features that have improved customer experience.
These features have also extended support for the delivery drivers. Many small and medium-sized businesses are using Apple Maps, making it one of the most thought-about alternatives to Google Maps. Even though it doesn't offer all of the essential services needed for optimal route planning, it is still better than Google Maps in many ways.
It allows you to save addresses, integrate priority stops, and sync customer contacts to the addresses for easy communication. But a downside is you cannot modify the set routes with Apple Maps, and that somehow impacts the overall process.
Pros
It is free to use
Saves customer addresses
3D building views and maps
Cons
Traffic information is not provided
Route modification is not available
8. Waze
Ideal for: Delivery businesses of all sizes
Available on: Mac, iOS, PC, and Android
Waze is a popular route planning application with the greatest user experience. It was purchased by Google in 2013. Waze can help businesses collect data in real-time from the users.
On Waze, you get traffic updates, shortcuts, and adjusted routes. Moreover, you can integrate this application with Spotify so you can listen to music even while getting the delivery directions.
Pros
Real-time updates through community data
Spotify integration
Cons
Multiple stops can't be added
Has distracting ads
Low availability of data in remote areas
9. Routific
Ideal for: Small fleet businesses and delivery drivers
Available on: Android and iOS
Routific is a standard tool focused on helping deliver drivers streamline the entire process of transiting packages.
It consists of multiple tools such as GPS, a physical map, and a route planner to reduce the manual operations of planning a delivery route. It offers you more detailed maps than Google Maps.
Your company's management team can download maps offline with proper routes before dispatching the order. The maps will then be sent to the driver's mobile device through the application. They can then follow the map addresses and routes to deliver the packages in time.
Pros
Notification feature for informing customers about the arrival time
Enabled with driver tracking feature
Signature capture services for proof of delivery
Cons
The interface is quite complex to understand
Route modification is not available
10. MapQuest
Ideal for: Small delivery businesses and drivers with many stops in one day
Available on: PC, Mac, Android, and iOS
MapQuest route planner is one of the many proficient alternatives to Google Maps. It matches Google Maps' clean interface and offers you easy navigation through the features.
If your delivery business makes a lot of stops in one day, then you should know that MapQuest allows you to add 26 stops in a route. They use the latest technology to keep their application streamlined and responsive.
Pros
The interface is easy to use
Use of modern technology
Info about gas stations can be updated on the routes
Cons
It has pop-up ads that might irritate the driver in the middle of navigating the routes
11. TruckRouter
Ideal for: Truck drivers and fleet drivers.
Available on: Web-based platform.
It is a free route planning map tool that the trucking industry can use to manage larger deliveries. Irrespective of whether you are a delivery driver or a management official for the delivery business, you can use this app to customize the routes to meet your priority deliveries and pick the shortest possible route to the destinations.
The best thing about TruckRouter is that it suggests the ideal routes for trucks to commute. Due to weight and height restrictions, trucks cannot always travel on the usual highways or roads. All the diversions and alternate roads are marked over the delivery route created by this software.
Pros
Truck-specific routes
Designed especially for the trucking industry
Alerts the drivers about low clearances of the road ahead of their path
Cons
No mobile applications are available
Tips for Choosing Google Maps Alternatives
Now that you know the 11 best alternatives to Google Maps, here are some tips for you to pick the best software for your route planning needs:
Number of stops: Check the number of stops a route planning tool offers. The free ones will have limited stops, whereas the paid ones will provide you the flexibility of adding more stops.
Route modification: You should check if the tool offers you modification of routes at the last minute. It might be necessary if you are running a big logistics company and have frequent delivery route change requests from customers.
Multiple route planning: A medium-sized or a large fleet business might need multiple route planning in a tool to assign all destinations at once. Without it, the sales team will have to update the route for the next destination only after completing the first.
How Upper Route Planner Helps You Plan and Execute Deliveries Better?
Upper Route Planner comes with a live map, saves routes, creates optimized routes, provides live route directions, stores up-to-date information about customers, and provides offline access.
These are just some highlighted features of Upper Route Planner that make it an ideal routing and navigation tool for delivery drivers and businesses. You can download general maps of your regular delivery routes and mark the stops for offline access.
You can take a 7-day FREE trial of Upper Route Planner to compare it with Google Maps and other alternative options to decide its efficacy over others. Check all feature and service-related information over the website for added knowledge.
All-in-One Delivery Solution
Create delivery routes in minutes, import stops, dispatch to drivers, and collect proof of delivery with easy to use delivery management system
Try Upper for Free

FAQ
Google Maps is limited with its free features and doesn't offer you the flexibility to change the order of stops in your route. It is only ideal for small delivery businesses. Therefore, a perfect alternative is crucial for delivery drivers and businesses to scale their income.
Upper Route Planner is the best alternative to Google Maps for your route planning. You get to add multiple route options to your delivery schedule for the day, which will save a lot of your time, effort, and money on conducting the business operations.
The best mapping app for general navigation for traveling purposes is undoubtedly Google Maps. But when route planning is concerned, Upper Route Planner is the perfect alternative for you to streamline your fleet business operations.
Summing Up
For a delivery business or individual drivers, it is very important to have planned routes to make all the assigned deliveries in a day on time. And there are several options out there that offer route planning for various industries and business levels.
Google Maps has always been an easy-to-go option because new businesses do the least amount of research to count on available options against it. But a free tool will always limit you with the features that it can offer.
Therefore, consider the limitations of Google Maps and prefer to go with an ideal alternative that meets your business trade and scale of operations. Upper Route Planner can be your best pick to get optimized routes for your next batch of order deliveries.