There are several businesses dealing with delivery services day in and day out. Earlier, the delivery drivers were aware of the zip codes and their locality for performing deliveries. However, drivers now depend on mobile apps for navigation and daily deliveries.
Efficient carrier route planning can improve resource utilization and ensure an efficient delivery experience for customers. It ensures on-time and smooth deliveries reducing overall transportation costs and maximizing the number of deliveries per vehicle. This means the time wastage can be reduced hence improving delivery efficiency.
As per a report, the postal service paid out approx $583 million in maintenance allowances in the year 2020, which is nearly a rise of $71 million as compared to the year 2015. There are nearly 80,000 delivery routes that are serviced by nearly 133,000 carriers across the United States.
In this blog, we will discuss carrier route mapping and why it is necessary to plan deliveries in advance. So, without any delay, let's get started.
What are Carrier Routes?
Carrier routes are a group of mailing addresses where individual US Postal Service carriers provide services. It may include city, rural, and highway routes.
There are approximately 600,000 carrier routes in the entire United States. A route mapping includes carrier route boundaries, carrier route points, ZIP code boundaries, and ZIP code points. This includes businesses, apartments, multiple-family residents, or single-family residents.
A postal courier assigns a 9-digit code (46383R018) for efficient package delivery. The first five-digit represents the zip code; the letter is for carrier route type (R for Rural), and the last 3 numbers are the route code.
Importance of Carrier Route Mapping in Last-Mile Delivery
Some of the importance of route mapping in last-mile delivery includes: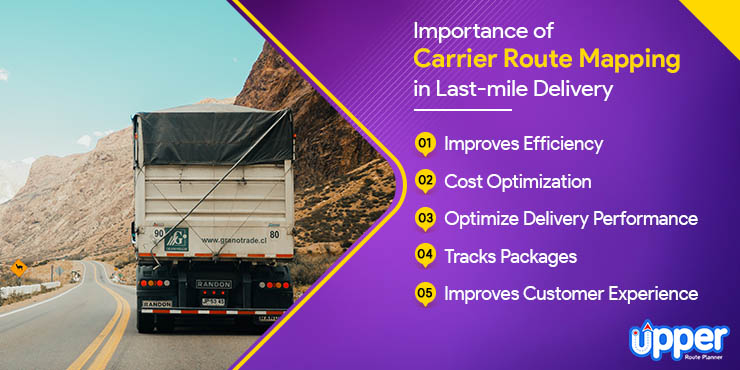 1. Improves efficiency
Creating a route map for delivery will help drivers and the delivery team plan multiple tasks simultaneously. By carrier route mapping, you can cut costs on fuel, labor, and vehicle maintenance costs.
A mapped route provides drivers with clear instructions to avoid any backtracking on the road. It gives a rough estimate for the time and fuel that will be used for performing deliveries, thus improving delivery efficiency.
2. Cost efficient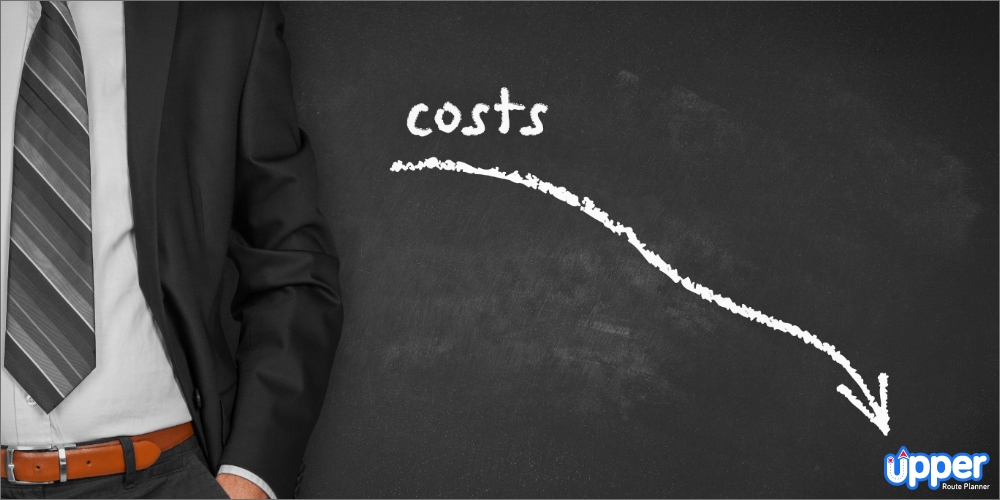 Mapping can help fleet managers to keep an eye on delivery activities from the source till final delivery. It will help arrange delivery drivers, fleets, and other aspects of delivery. When deliveries are carried out as per plan, it will help to save overall operational costs.
3. Enhances delivery performance
Mapping can help you to know the drop-off location of your drivers and make on-time deliveries. This will help to improve the delivery experience for customers and retain them in the longer run. It might look minor, but these things will help to improve the delivery performance as a carrier business.
4. Track packages
Several carrier route maps offer to track posts for the clients while tracking drivers for the fleet managers. It becomes easy for the delivery managers to manage their operations as they can check the driver's location and also know the update of the package.
Users can find out the details and forecast of the delivery through these mapping tools. It will ensure that the customer does not miss the delivery because they can track the latest updates of the package.
5. Improves customer experience
A route mapping tool with features like tracking packages, SMS and email alerts, and proof of delivery can help to improve overall customer experience. And if the companies work on improving the customer experience then no doubt their business will automatically get boosted.
Features of a Carrier Route Mapping Software
Here are some of the features that your carrier route mapping software must have.
Multi-stop route planning
When looking for route mapping software, it is important to find a tool with multi-route capabilities. This means it should allow the creation of a multi-stop route plan for more than one driver simultaneously. The software should find and arrange multiple stops efficiently.
The fleet managers should ensure that the delivery vehicles follow the most efficient route to meet the promised delivery time. This tool should help businesses in dynamic routing for pick-ups and deliveries at a time.
Due to the rise in on-time delivery demands, it should be capable of handling real-time constraints for routes or last-minute orders.
Last-mile route optimization
It is not enough for mapping software to create or assign new routes. But, it also counts to find the best multi-stop route to reach the final goal (destination) as quickly as possible.
It should consider factors like delivery time windows, real-time traffic, and weather conditions. The software should also be capable to re-route in real-time to keep the customers happy with timely deliveries.
Data import
Any delivery business handles tons of customers per day and it is difficult to manage all the details manually in the system. Therefore, as per modern technology, routing software should allow for importing data from your spreadsheet. By doing so, you don't need to manually add stops to your route plan.
Route optimization software like Upper helps you import delivery information from files such as .csv, and .xls to improve data facilitation.
Real-time accurate data
The main functionality of a route planning tool is to consider factors like priority, road incidents, and real-time traffic. This will ensure that the data and the details displayed are accurate and up-to-date.
To achieve maximum delivery efficiency, it is important to choose a route-planning app that provides real-time and accurate data.
Updated carrier route maps with ZIP code
For any carrier business or any business making deliveries, it is necessary to have the most updated route maps. Updated maps with accurate zip codes can help to make deliveries efficiently and accurately.
The software will provide up-to-date information regarding a location so that the deliveries are on-time and you get updates about the driver's activities.
Reporting and analytics
Finding the operational efficiency of routing software in the delivery business requires analyzing data. The best option to look at while choosing software is a centralized dashboard to show detailed analytics.
It will help executives and managers to make data-driven decisions. These data and analytics will help companies to look after their operational style, and performance and improve it over time.
Proof of delivery
It is a prime feature that delivery businesses often look for in a delivery management tool. A proof of delivery offers to capture a signature or photo as proof of the delivery done successfully.
Proof of delivery helps to avoid instances of missed or incorrect deliveries. This in turn reduces the frequency of customer complaints and improves customer experience over time.
How Upper Route Planner can Help Carrier Route Mapping?
Upper Route Planner is intelligent route planning software that saves time and increases business profitability. It helps almost every business dealing with daily deliveries, like independent drivers, food delivery, pharmacy delivery, flower delivery, and many more.
Upper, being a multi-stop delivery route planner, offers both route planning and route optimization. It helps to find the best route for delivery and streamlines the delivery process. With Upper, you can schedule your deliveries months in advance. It will boost your operational efficiency and help you plan for the days ahead.
Additionally, with reports and analytics fleet managers and businesses can keep a track of the success or failure of each delivery task and make important decisions based on the data presented to them.
Moreover, the proof of delivery feature helps the delivery drivers to collect e-signs and capture photos of successful delivery completion. You can sign up for a 7-day free trial with Upper in your delivery journey.
Get Upper for Carrier Route Mapping
Switch to a fully automated process for route mapping on Upper and perform deliveries in a timely manner. Experience seamless route planning and optimization using Upper.
Start Upper for Free

---
FAQs
Using any route mapping software, you can automate the route planning process. The postal routes are optimized in seconds, providing you with the shortest route for quicker deliveries. It helps the delivery drivers review and plan delivery routes, saving time.
The process of calculating the most effective way of transporting or transferring goods from one place to another, is called route planning. And route planning or a route guide is a major and the initial step in the process of logistics.
Yes, route mapping can increase the vehicle's productivity by the most optimized routes hence saving time on the road. It improves both the capacity and delivery performance of your vehicle.
Routing in the supply chain is a part of several smaller processes together in order to achieve a competitive advantage. Routing creates a basis for successful operation of the supply chain process.
---
Final Words
Businesses dealing with mail carriers and postal delivery need to route maps on a daily basis. A carrier route map helps them follow the best route for delivery. So, you should share an optimized route plan with your drivers as far as carrier route mapping is concerned.
When it comes to planning routes, Upper can churn out the optimized routes within a few seconds. The automated process minimizes your route planning time and leaves no room for manual errors as well. It helps businesses from different industries to plan delivery routes in order to streamline their delivery operations efficiently.
In case you are frequently engaged in route mapping, Upper is an ideal option for you. Book a demo with us to explore more about the route planner.