There are thousands of businesses, small and large, dealing in postal delivery. A few years ago, postmen knew each and every address in a zip code even though they took the help of a physical road map. But with the support of technology, things have changed. Postmen or delivery drivers now take the help of sophisticated mobile apps to get their daily delivery tasks and receive help for navigation on their trips.
In this article, we are going to talk about carrier route mapping and why it is important to plan in advance, and the kind of solutions that can be used to plan for the delivery tasks.
What are Carrier Routes?
Postal carrier routes are a bunch of mailing addresses or neighborhoods where individual US Postal Service carriers deliver mail. These consist of comparatively smaller routes than ZIP codes. Every postal ZIP code consists of around 15 carrier routes. There are more than 500,000 carrier routes in the entire United States. The majority of these routes represent physical geographic boundaries where mail can be delivered, while the rest are dedicated to Post Office Boxes. These carrier routes can include businesses, apartments or multiple-family dwellings, or single-family dwellings.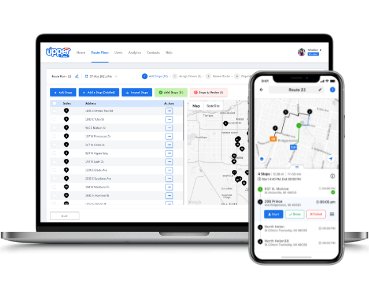 Upper Route Planner
A Simple-to-use route planner that every one is talking about.
Save up to 95% of planning time
Save up to 40% of time on the road
Plan 500 stops at once
No credit card details required
Importance of Carrier Route Mapping in Last-Mile Delivery
The following points reveal the importance of carrier route mapping in last mile delivery.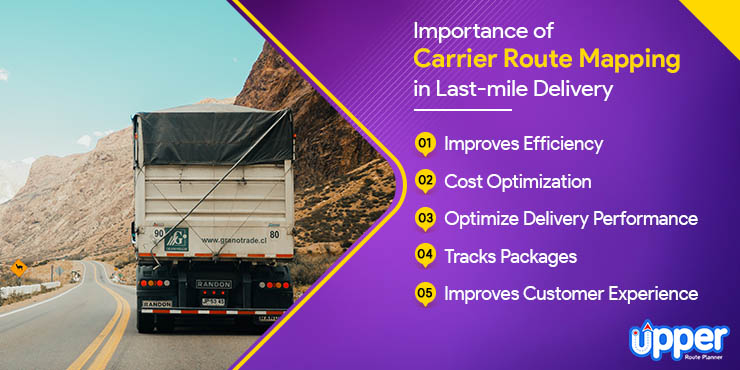 Improves Efficiency
Creating a carrier route map with all the addresses on the list represented on the map can help drivers and delivery teams in planning other tasks. It gives an estimate for the time and fuel that will be used for deliveries. With a well-defined carrier route map, the drivers have a clear route, so they do not have to go around looking for addresses, meaning, they will not waste any time. This improves delivery efficiency.
Cost Optimization
Well-defined routes offer fleet managers an objective look at delivery tasks that need to be fulfilled. They can plan and arrange delivery drivers, fleets, and other aspects of the delivery as and when required. When tasks are carried out according to a well-defined plan, it helps in saving fuel costs other operational costs.
Optimize Delivery Performance
When you save time on delivery tasks, save on fuel costs, and know the locations of your driver, it becomes easier to get a hold of your deliveries. These might seem like minor things, but keeping a check on them will help a carrier business optimize delivery performance.
Tracks Packages
Many carrier route mapping tools offer package tracking for customers and driver tracking for fleet managers. When fleet managers know where their drivers are and if the deliveries are being fulfilled successfully, it becomes convenient to manage an operation. Tracking packages for customers can help them in knowing delivery forecast information.
Improves Customer Experience
With features like package tracking, SMS notifications & emails, or alerts, and proof of delivery, there is a possibility of improving the overall customer experience. If companies work on improving customer experience, the business will automatically get a boost.
Features to Look for in a Carrier Route Mapping Software
Here are some of the features that your carrier route mapping software must-have.
Multi-Stop Route Planning
It is important to find a tool that can locate multiple stops on a map and allow you to create multiple multi-stop routes for more than one or two drivers at once. It must efficiently and accurately find the locations and Zip Codes and arrange them in the most optimal order.
Route Optimization
Being able to optimize a multi-stop route is an important feature. The tool must accommodate multiple stops and identify the best way to cover each stop and reach the final destination in the least possible time. This requires you to consider factors like time windows, real-time traffic, weather, road incidents, etc.
Real-time Accurate Data
When a route planning tool considers factors like a priority, road incidents, and real-time traffic, it is important that the data represented is accurate and up-to-date. You must choose a route planning app that provides you real-time accurate data that can help you stay on plan and achieve maximum efficiency in your delivery tasks.
Updated Carrier Route Maps with ZIP code
Having updated route maps with accurate ZIP codes is one of the important features for a carrier business or any business making deliveries, for that matter. It must offer you updated maps with all the up-to-date information regarding a location which can be helpful for drivers at the time of making the delivery.
Proof of Delivery
A proof of delivery offers signature capture or photo capture as proof of the delivery being made. This is a prime feature that delivery businesses often look for in a delivery management tool.
How Upper Route Planner Can Help Carrier Route Planning?
Upper Route Planner is a route planning app that is designed to help to independent drivers/contractors, food delivery businesses, and other businesses dealing with deliveries on a daily basis. Upper Route Planner can help carrier route planning by offering:
Route Planning & Optimization – Upper Route Planner offers both route planning and optimization on one app. You can create a list of multiple stops or import a list and create multiple routes for multiple drivers in just a few minutes.
Upper for Teams – Upper for Teams is developed specifically for creating and distributing routes to multiple drivers at once.
Mobile App – The mobile app can help drivers in navigating through each and every stop on the route. They can add specific information related to each route that needs to be remembered.
Share Routes – The routes can be easily shared with others. In addition to that, the routes can be customized and named according to specific needs.
Proof of Delivery – Drivers can get customer signatures or attach pictures of the product being delivered as proof of delivery.
Reports & Insights – With daily reports of the number of deliveries being achieved, fleet managers and businesses can keep a track of the success or failure of each delivery task and make important decisions based on the data presented to them.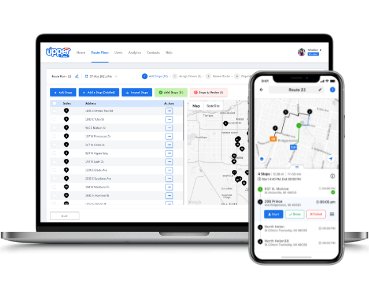 Upper Route Planner
A Simple-to-use route planner that every one is talking about.
Save up to 95% of planning time
Save up to 40% of time on the road
Plan 500 stops at once
No credit card details required
---
FAQs
The process of calculating the most effective way of transporting or transferring goods from one place to another, passing through several stops, is called Route Planning. Route planning is a major and the most initial step in the process of logistics.
Routing in the supply chain is a part of an overarching process that links several smaller processes together in order to achieve a competitive advantage. Routing is only one small part of a large process but creates a basis for the successful operation of the supply chain process.
---
Pick a Carrier Route Mapping Solution
Businesses dealing with carrier and postal delivery need to create carrier route maps on a daily basis. There are a bunch of suitable solutions with varying features to support the operations of postal businesses. We hope the information provided in this article has been helpful to you if you are looking for a route planning solution.