Key Takeaways
Grocery delivery software is essential for online grocery businesses to streamline their delivery process.
Switching to automated software can reduce the workload of dispatch managers and delivery crew as they spend less time planning routes.
Here are top grocery delivery software that are loaded with must-have features like route planning and optimization, one-click dispatching, and route scheduling.
The advent of technology has revolutionized people's way of shopping for groceries. From spending hours in going out places in the market for choosing and buying groceries to getting it delivered at their doorstep by ordering it online, technology has come a long way. Getting groceries in this way has been made possible by grocery delivery businesses.
But, these businesses face many constraints while planning and fulfilling deliveries like spending hours in route planning, inaccurate service times, incomplete deliveries, and many more. To overcome these constraints, grocery delivery software is introduced.
To meet the growing demand in the market, many companies have developed software solutions to streamline the delivery process. In this blog, we will have a look at 7 best grocery delivery software that you should rely on in 2023 to make your grocery delivery business more efficient.
What is Grocery Delivery Software?
It is a software solution for online grocery businesses that makes their delivery operations smooth and hassle-free. These solutions have become popular as they are very much helpful to a range of businesses, from small grocery stores to big supermarkets.
One of the main constraints of grocery businesses is planning their daily delivery routes. Most admins or dispatch managers spend hours in planning delivery routes manually. Despite spending such a long time, they end up making errors and inaccurate routes.
On the contrary, Grocery software offers a wide range of features, like route planning & optimization, one-click dispatching, report & analysis, and API integration. Basically, grocery delivery software automates the businesses' manual efforts by eradicating time-consuming techniques and paperwork.
Try Upper Route Planner To Boost Your Grocery Delivery Orders
Upper Route Planner helps you scale your deliveries while optimizing multiple routes and managing multiple drivers at once.
7 Best Grocery Delivery Software to Use 2023
In this section, we will enlist 7 top grocery delivery software including their features, benefits, and pricing.
1. Upper Route Planner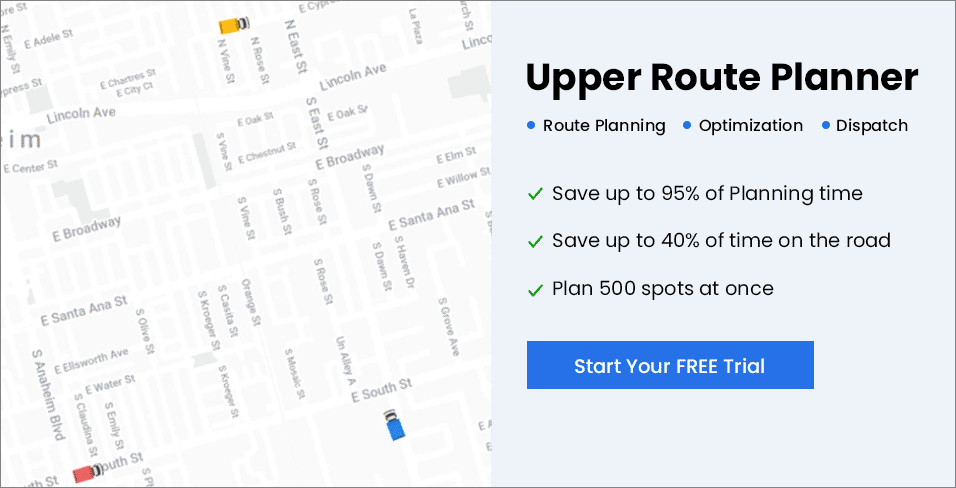 When it comes to delivering groceries, efficient route planning and optimization is a key to ensure on-time deliveries and minimizing costs. In this regard, there is no better way than to find an ideal grocery delivery software to deliver their orders in a timely manner.
Upper lets you schedule multiple routes for multiple drivers, that too, under a minute. All you need is a list of stops and drivers. After importing addresses, you can add additional information like service time, and break time.
Upper will then automatically optimize and give you the most efficient route possible. These pre-planned routes can be directly sent to your crew. In fact, you can do one-click dispatch to carry out grocery deliveries. With a bundle of features, grocery delivery software is a one-stop solution for major delivery-related problems.
Key Features
Easy route planning and optimization at your convenience
It lets you import data directly from your existing software
Dispatch routes to assigned drivers in a single click
Swap routes anytime among the drivers if required
Do reports and analysis considering various factors like past deliveries, time taken for each delivery, revenue generated, and drivers' performance
Enables you to send customer notifications with accurate ETAs
Record proof-of-delivery to ensure transparency between the sender and the receiver
Now, let's check out what you can avail of after adopting the Upper Route Planner into your daily routing checklist.
Benefits
Reduces delivery costs by minimizing fuel consumption
Reduces wear and tear of the delivery vehicle
Saves up to 90% of your route planning time
Cuts off extra time taken for doing different business tasks
Helps you with best routes for faster grocery delivery
Pricing
Starts at $80/month
Sorted! Your Routing Hassles for Grocery Delivery
No matter what type of delivery business you run, getting the best routes assures you reach location on time. Hop on Upper and get the most efficient routes in a matter of seconds.
Start a Free Trial

2. Instacart
Instacart is an on-demand grocery delivery platform that allows users to order groceries and other household essentials online and get them delivered at their doorstep. Found in 2012, this app became popular quickly and now has millions of active users in the United States and Canada. It is now one of the most popular and preferred grocery delivery services providers.
Key Features
With simple and intuitive interface, this app is easy-to-use
It has partnered with multiple retailers including Walmart, to provide users a wide range of products to choose from
Instacart offers contactless delivery to ensure hygiene and safety of customers is well-maintained
Benefits
Saves time and energy of customers by delivering them goods at their doorstep
Provides convenience and comfort to customers
Helps save money by providing various discounts and deals to customers
Pricing
Subscription model of Instacart starts from $9.99/month or $99/year
3. Blinkit
Blinkit, previously Grofers, is another grocery delivery software that offers a wide range of products at competitive prices. It offers customers a unique and convenient way to shop groceries, sitting at their homes. Users can access Blinkit by both means, mobile app and website.
Key Features
Customer can choose from over 500 brands
Innovative model that combines both online and offline channels
It has tied up with local retailers and supermarkets to to provide faster deliveries
Many payment options available including debit/credit card and cash on delivery options
Benefits
Affordable prices compared to other platforms
Faster delivery times
Offers great deals and discounts
Pricing
4. Dispatch Science
Dispatch Science is a cloud-based delivery management software that helps grocery delivery businesses streamline their delivery process. It is designed and developed to automate various aspects including routing, dispatching, and customer communication. It helps grocery delivery businesses enhance their delivery experience.
Key Features
Keeps customers updated about their order status
Easily integrable with other systems
Benefits
Increases delivery efficiency and reduces fuel consumption
Good customer support
Pricing
Basic plan starts at $650
5. Growcer
Growcer is an online platform that helps grocery shop and supermarket owners to set up and manage their own online stores. It provides a range of features and tools to make this process possible and boost sales.
Key Features
By updating product availability as goods are added or sold, Growcer enables store owners to manage their inventory in real-time.
Store owners can manage and track orders, handle payments, and complete orders using the platform's centralized dashboard.
Growcer offers editable templates and themes to assist store owners in designing an unique and professional-looking online store.
Benefits
Grocery companies and supermarkets can reach a larger audience and boost sales by providing an online store.
Customers can shop conveniently and flexibly online, which enhances their whole purchasing experience.
Pricing
6. Walmart
Walmart is the leading company that offers a wide range of products including household essentials and groceries. In the last few years, the company has started online grocery delivery services that bring great convenience to its customers. Walmart has adopted a hassle-free way to deliver groceries at customers' doorstep.
Key Features
Walmart offers a variety of products including fresh vegetables, fruits, packaged food, seafood, meat, and household essentials
In some areas, walmart offers same-day delivery which enables customers to get their order delivered in a few hours
Walmart offers flexibility to customers to choose their delivery time and even they can schedule their delivery one week advance
Benefits
Customers can manage their busy schedule by ordering groceries online from Walmart
Ordering online enables customers to skip standing in long billing ques
Walmart is a affordable option for customers on a budget because of its competitive pricing on groceries
Pricing
Walmart+ membership at $12.95/month
7. FreshDirect
Founded in 1999, FreshDirect has become one of the largest online grocery suppliers in the USA. Customers can order groceries, fresh produce, prepared meals, and other items online. One of the convincing policies of FreshDirect is the zero-waste goal, which means any unused and unsold food is donated to local food banks and charities.
Key Features
Customers will obtain fresh and best-quality products because of the company's direct sourcing of its goods from farms, fisheries, and specialty producers.
Customers can quickly locate what they're looking for because of the user-friendly and intuitive online platform.
In some places, FreshDirect offers same-day delivery as one of its flexible delivery choices.
Benefits
The prices of FreshDirect's items are very reasonable, and the business routinely provides promotions and discounts.
Customers can also simply track their orders and get real-time delivery updates.
Customers can feel good about their environmental effect by minimizing trash and assisting local farms.
Pricing
The basic version is free
Benefits of Using Delivery Software for Your Grocery Delivery Business
1. Optimized route planning
In order to speed up deliveries and increase customer satisfaction, delivery software can help you select the most effective routes for your drivers. Also, this can lessen the impact of your deliveries on the environment and lower fuel expenses.
2. Real-time tracking
With delivery software, you can stay updated on the status of your deliveries in real time. this enables you to promptly address any issues that may emerge and keep clients updated on the progress of their orders.
3. Customer data management
Your ability to manage customer information, such as delivery addresses, payment options, and order histories, is enhanced by delivery software. Using this, you can better your customer relationships and personalize your services.
4. Inventory management
You can control your stock levels and keep track of them with the use of delivery software. This can assist you in avoiding stockouts and ensure that you always have the products that your customers need.
5. Analytics and reporting
Delivery software can give you useful information about your delivery operations, such as delivery times, driver performance, and customer satisfaction. You can make better decisions and streamline your business operations with the use of this information.
6. Cost savings
Delivery software can help you cut costs on labor and fuel by optimizing routes and enhancing delivery times. Your profitability can rise as a result, and your company can expand.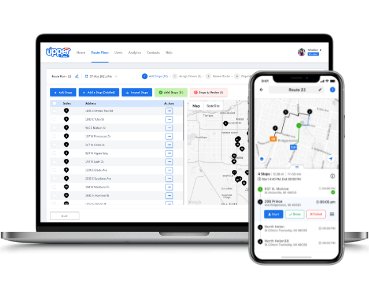 Upper Route Planner
A Simple-to-use route planner that every one is talking about.
Save up to 95% of planning time
Save up to 40% of time on the road
Plan 500 stops at once
FAQ
Some important features to consider when choosing grocery delivery software include:
Customizable ordering interfaces
Real-time inventory tracking
Route optimization for drivers
Customer management tools
Integration with popular payment gateways.
After opting for grocery delivery software, your business will get benefits like:
Automating route planning and scheduling process
Saves time spend on manual route planning
Saving in fuel costs
Saves delivery time
Generate proof-of-delivery
Generate reports
There are many grocery delivery software available in the market, but here are a few best:
Upper Route Planner
Walmart
Instacart
Conclusion
Software for grocery delivery has grown to be a significant tool for companies engaged in online grocery delivery. It is crucial to have the appropriate technology in place to optimize routes, manage orders, carry out on-time deliveries, and maintain customer relationships effectively given the growing popularity of online grocery shopping.
In this blog, we have explored the top 7 grocery delivery software solutions that offer features, pricing, and benefits suitable for businesses of different sizes and needs. There is a grocery delivery software that can match your needs, whether you're wanting to scale your business, improve customer experience, or optimize your operations.
Using reliable and user-friendly delivery software will help you save time, cut expenses, and maintain your position as a market leader. Hence, making an investment in grocery delivery software can do wonders for your company. Start a 30 days free trial to know more about Upper.