Are you looking to optimize the logistical operations of your business?
Do you want to optimize the work done by your vehicles and drivers?
If so, you need to implement solid route planning and route optimization software solution in place.
But what is route planning and route optimization software?
If you run a logistics department or business, you know that there are slim delivery timelines, and you can't afford to spend hours in traffic.
Your transportation channel needs to follow the most efficient routes to minimize the shipping cost, match the strict delivery deadlines, and deliver better customer service.
And thanks to the latest and advanced route optimization software, you can streamline sophisticated logistics and transport tasks with no hassles.
But, what is this delivery route optimization software?
And how can they benefit your fleet management?
We'll discuss the nitty-gritty elements that can help you make the most of route planning and route optimization software to optimize your delivery process.
So without further ado, let's dive into the learnings by highlighting the basics first.
What is Route Planning and Optimization?
Route optimization builds a foolproof transport plan using external software or apps to save time, cut costs, and make available resources. It helps bypass the hiccups of manually crunching and analyzing numbers.
With the advancements in technology, you can minimize human error and maximize the productivity of your logistic and delivery teams with the help of routing software for route optimization and planning.
Talking about software, let's understand how route optimization software helps you find the most optimized route and help you with route optimization.
What is Route Planning and Route Optimization Software?
When you own logistic and last-mile delivery business, your employees are responsible for efficient and timely deliveries to deliver a quality customer experience.
But what if there's a last-minute update or change in the route? There's a massive traffic jam on the delivery route?
Traffic congestion costs Americans $1,348 and ​​97 hours each year. Now imagine the impact on your business.
Also, the lack of real-time communication and agile decision-making can result in delivery delays and a horrible customer experience.
That's where route optimization software comes into the picture. The software's algorithms can help you plan the most-efficient route for delivery, enable your logistic and transportation teamwork in sync, and transform your delivery process. It helps to create routes with multiple route combinations to deliver better results.
The use of advanced technology in these software minimizes the risk of human errors, increases accuracy and prediction, and can put your logistic ecosystem on automation.
But you might think that your drivers use Google Maps, so how come a route optimization software can be more effective than that?
Google Maps can be a handy tool if you have a limited supply chain and want to keep your business stagnant with no vision of scaling.
But when it comes to the scalability of logistics and transportation, Maps can't handle route planning for multiple-stops routing. It doesn't collect user data for optimized deliveries. There's no process of optimizing routes and no proof of delivery collection.
Do you think you can scale your business without these core features in your logistics and transportation business?
Of course, not.
Now that we have discussed the downsides of using Maps for your business's delivery element, let's look at the benefits of dedicated route optimization software.
5 Benefits of Route Planning Software
1. Meet customer expectations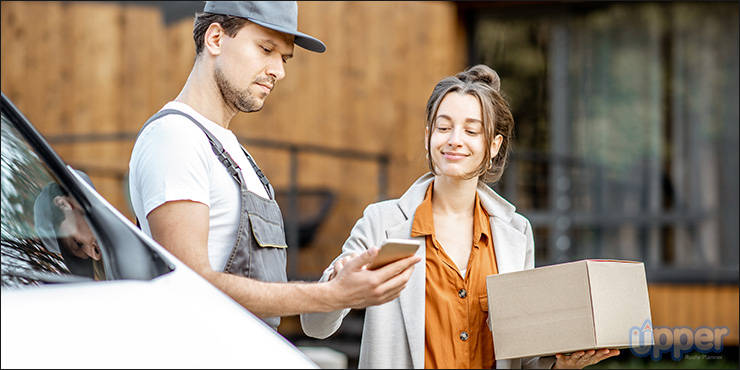 With the changing consumer behavior, it is becoming more important to deliver timely and accurate deliveries. With the help of a route optimizer, you can streamline your delivery process and achieve your desired goals.
Route planners use geocoding to generate final routes based on traffic movement, and ETAs are communicated to enable businesses to deliver at the correct address within minimal time.
Also, the real-time tracking feature enables customers to link their email/WhatsApp/SMS to track the delivery for a holistic customer experience. The overall functionalities of route optimization software are tailored to enable you to meet customer expectations with every delivery.
2. Reduce fuel costs
Proper route planning is done by the route optimizer by monitoring the efficiency of the vehicles to minimize the fuel cost by finding the most efficient routes. Irrespective of the number of deliveries your team has to make in one go, the route optimization software got you covered.
You can reduce the overall operational cost and maximize the profit bracket while ensuring no compromise in the customer experience.
3. Real-time visibility on operations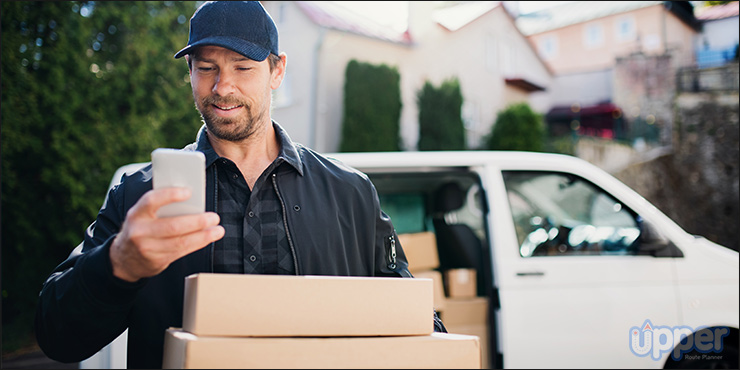 Your fleet managers can have a firm hold over the fleet operations with the real-time order tracking features provided by the route optimization software.
Your transportation and logistic ecosystem can work in sync and make well-informed decisions with real-time data tracking. Every driver in your fleet can be supervised to ensure delivery operations are on schedule and align with the rules and regulations of your organization.
Any deviation or challenges can be easily tracked and dealt with by the proper guidance and necessary actions to ensure the overall delivery operations are not hindered.
4. Reduces manual intervention
The final path processing done by the route optimization software takes multiple advanced and sophisticated touchpoints into account that can't be done manually. For efficient routing, aspects like weather/season and traffic conditions are clubbed together.
In case of dynamic changes, the software tweaks and adjusts fleet management and minimizes the errors caused by humans in a hurry. The integration of AI-based software automates several redundant processes in delivery management and enhances the delivery field service.
5. Leverage data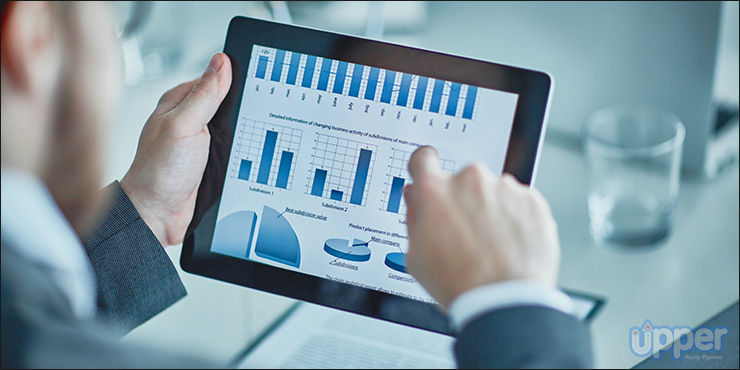 Data is the new oil. Modern-day businesses can deliver a tailored experience to their target audience because they have valuable data to optimize and make well-informed decisions. A route optimization software lets you leverage your logistic and transportation data and improve your delivery service calls with great route management.
You can make well calculative decisions with the help of a data set about the impact on your business growth, fuel costs, delays, average delivery time, cost per delivery, and consumer insights.
These are the top benefits a top route optimization software can deliver to your transportation and logistic operations.
But the learning doesn't end here.
Want to decide which is the best route planning software for your business? Let's help you find one.
3 Best Route Planning and Optimization Software for Your Business
Our team has finalized the three best route optimization and planning software available and highlighted the strengths and weaknesses to help you filter one for your business.
1. Upper Route Planner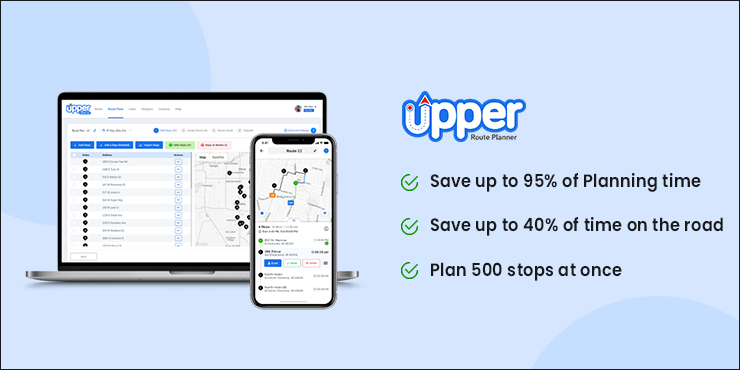 Great For: Planning & optimization for multiple routes with multiple stops
Available on: Web, Android & iOS devices
With an average 4.4-star rating on the Apple App Store, our Upper Route Planner stands out from the rest and is one of the leading route planning software. With an easy-to-use interface,
simplified route optimization, and planning, you can streamline your logistic and transportation process and optimize routes.
It's an advanced web and mobile-based route optimization solution for industries like Pharmacy delivery, food delivery, courier delivery, and retail delivery.
You can import up to 500 delivery addressesusing Excel and enhance the sync between the ground workforce and the fleet management team. Route optimization using Upper Route Planner can save your business 40% fuel cost to skyrocket your business savings.
You can add advanced parameters like service time windows, driver priorities, and breaks for a tailored route mapping.
Pros
You can create cost and time-effective routes
Detailed delivery and analytics reports
Enticing and smooth UI/UX
An affordable route planner
Available with a 7-day free trial
Cons
You don't get live driver tracking features
There are no voice directions available for the driver
2. TourSolver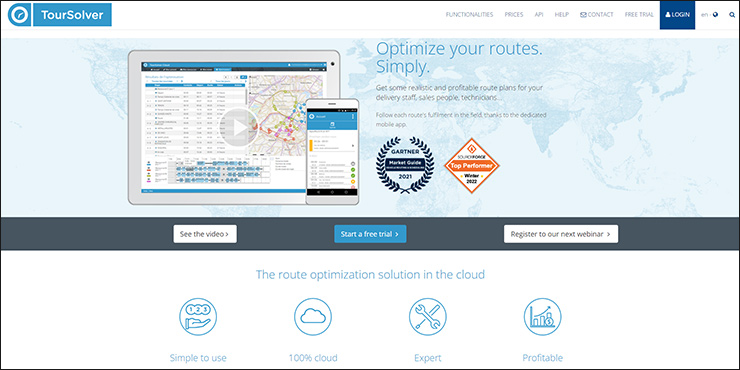 A cloud-based fleet management delivers businesses' optimized and tailored delivery routes. It offers routing, dispatching, mileage tracking, and employee management, making it an end-to-end agile planner.
It is designed for businesses of different scales and industries. The tool offers a simulator that gives businesses the freedom to assess time, cost improvement results, mileage, and optimize their decision-making.
You can even export agent schedules and itineraries in the form of PDF, iCalender, or Excel to share with your logistics and transportation team. The software company offers excellent support with documentation and online communication to help you bypass troubles easily.
Pros
It offers a plethora of functionalities
With a few clicks, you get an optimized route plan
A quality route optimization tool for enhanced delivery and logistic operations
Cons
Ideal for larger organizations
Subscription can be costly
It takes time and effort to configure
3. MyRouteOnline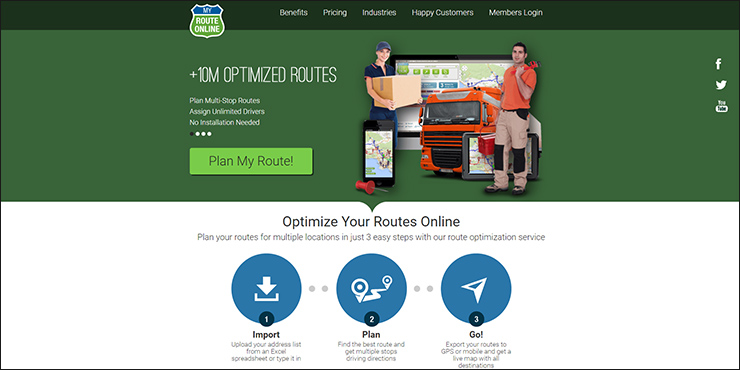 Founded in 2010, the tool offers quick conversion of Excel files into an optimal route. It can create optimized routes effectively and enable sharing via GPS or mobile. It offers both paid and free route optimization software plans to help you get hands-on experience before purchasing the paid version.
You can create multiple routes at once with maximum stops and maximum durations. Your drivers can get turn-to-turn driving instructions to fulfill overnight trips for better driving performance. With MyRouteOnline, you get detailed insights to manage your entire fleet effectively and make calculated and risk-free decisions to deliver a quality customer experience.
You can export the routes to excel, reload and save routes online, and print maps of territories and routes for an enhanced delivery experience.
Pros
It offers a user-friendly and intuitive interface
It gives crystal clear directions and has a robust navigation system
A powerful GPS tracking with accurate real-time updates
Delivers results in an agile and effective manner
Cons
You don't get the feature to edit the address
A lot of reformatting is required with Excel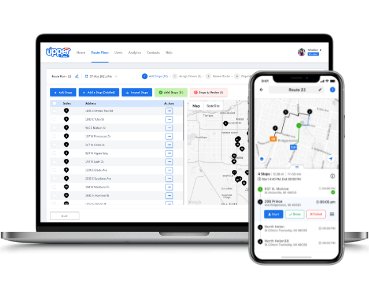 Upper Route Planner
A Simple-to-use route planner that every one is talking about.
Save up to 95% of planning time
Save up to 40% of time on the road
Plan 500 stops at once
No credit card details required
---
FAQs
The software plans out the sequence of the delivery stop that your driver can follow to improve the delivery efficiency and customer experience. It analyzes different elements like traffic updates, weather, delivery deadlines and creates structured route planning and optimization solutions for your business.
You get detailed insights into your logistics and transportation processes using any one of the best routing software. You can monitor the performance of your teams, vehicles, drivers, and fleet managers. The software enables you to make well-informed decisions and optimize your existing delivery projects.
The route optimization and planning software is ideal for the delivery segment of your business. Irrespective of the sector and scale you operate at, you need the integration of powerful tools to assist you in solving and streamlining your business workflow troubles. It can help you scale your business and deliver a quality customer experience. Some of the businesses that require it the most are food, courier, eCommerce, pharmacy, flower, among others.
Google Maps has zero route planning and optimization features. You need to calculate the route plans manually in multiple delivery routes. It can give you the shortest path from point A to B, but what if you plan your delivery journey with multiple points? You also don't have the features to sync your Excel sheets with maps. Also, fleet management is not holistic.
Route planning gives you the extra edge over your competitors to streamline your delivery process and improve the overall fleet management ecosystem. You get detailed reports to make data-driven decisions. Your different logistics and transportation teams collaborate effectively, and you can scale your business delivery numbers to drive great business results.
---
Ready To Choose Your Route Optimization Software?
Route optimization and planning can help you streamline your logistics and transportation workflow. You can deduct your delivery costs and maximize your profits while delivering the best customer experience to your target audience.
But it's all possible with the help of the professional tool integrated into your logistic ecosystem.
To choose the test routing software for your business, you need to understand your requirements and align with the listed top three tools in the industry.
If you want to maintain the balance between the features and the price, Upper Route Planner got you covered.
We offer value-packaged route optimization software for businesses to scale and optimize their delivery workflow to reach new business heights.
Select the affordable route optimizer and transform your delivery process with finesse. Avail of the 7-day trial period now.