The Bureau of Labor Statistics predicts that employment for delivery drivers will rise at a rate of 12 percent by 2029, which is faster than the average rate for all occupations. Consumption of more products and services delivered directly to their homes was spurred by the epidemic, which increased the demand for drivers.
Because of the increase in online shopping, the need for multi-drop drivers has surged, resulting in many job opportunities.
Only in the USA the average delivery driver earns $216,000 per year or $111 per hour. Entry-level occupations start at $192,000 per year, with the most experienced professionals earning up to $600,000 per year.
Continue reading the blog to determine how much delivery drivers make in the United States.
Who Are Delivery Drivers?
A Delivery Driver is a gig worker who is responsible for bringing packages and other commodities from a mail facility to a customer's home or workplace. As part of their job, they load cargo, use navigational aids to find their way to their destination, and then deliver it to the designated recipient.
What Does It Take To Become A Delivery Driver?
The first and foremost thing you need to become a delivery driver is a high school diploma or equivalency, including a GED and a valid driver's license issued by the state where they work alongside a clean driving record.
What are the responsibilities of Delivery Drivers?
Delivering a wide range of items to different places and on various routes.
Follow the routes and set a time.
Make sure the delivery vehicle is ready to go and that it is safe to drive.
Ask for feedback on your services and try to solve your customers' problems.
Collect the money.
New products and services should be told about to customers.
All the logs and reports.
Follow the rules set by the DOT and safety standards.
How Much Do Delivery Drivers Earn In the US
As per the Indeed report, the average salary of the delivery driver is $17.54 per hour in the United States and $50.00 tips per day.
Illinois, Mississippi, Kentucky, Missouri, and Idaho are the highest paying states in the US.
Let's know these places one by one:
Highest Paying States In The US For Delivery Drivers
Illinois
Average annual wage: $67,605
Average hourly wage: $18.31
Illinois has plenty of countrysides for truck drivers to haul supplies from, Chicago also has plenty of food delivery options. In this enormous American city, millions of citizens await the delivery of meals, wine, and groceries.
Mississippi
Average Annual Wage:- $38,600
Average Hourly Wage:- $13.40
Although Mississippi lacks megacities where food delivery customers congregate, it has a thriving trucking business. Truck drivers regularly earn salaries well above the national average, with some earning over $100,000 annually.
Kentucky
Average Annual Wage:-$63,339
Average Hourly Wage:- $17.16
Bourbon is a signature product of Kentucky. As a result, each distillery will need a fleet of delivery drivers to transport its products to customers in their state and across the country and the rest of the world.
Missouri
Average Annual Wage:- $64,055
Average Hourly Wage:-$17.35
Delivery driver in Missouri is responsible for delivering farmed goods to school districts for student lunches. However, due to the shortage of drivers, some schools are unprepared to serve their students and leave the state with the opportunity to fill the delivery spot.
Idaho
Average Annual Wage: $15.67
Average Hourly Pay: $57,838
Idaho is seeing a rise in people opting for home delivery of groceries. Due to increasing demand, businesses in the state have established two new warehouses, which will benefit the state's food delivery drivers.
These are the top 5 highest-paying states in the US for the delivery driver, and you can see how the average base salary of the delivery driver vary as per the states and requirement.
Name Of The Highest Paying Cities In The US
Here are the names of the highest paying cities in the US, and you can see how much variation is there in the average and hourly salaries. The variation in salary structure of each city depends upon the location, time of day, and how busy each particular service is.
| City | Average Salary | Hourly Salary |
| --- | --- | --- |
| Fargo, ND | $52,437 | $25.21 |
| Boston, MA | $49,982 | $24.03 |
| Minneapolis, MN | $45,954 | $22.09 |
| Chicago, IL | $45,904 | $22.07 |
| Richmond, CA | $44,767 | $21.52 |
| Baltimore, MD | $44,437 | $21.36 |
Name Of The Top Paid Companies In The US For Delivery Drivers
Give below the name of the top paid companies in the US and assess which company paid the most when it comes to the job of the delivery driver.
| Top Companies | Salary |
| --- | --- |
| Amazon Logistics | National Average Salary:- $386B |
| DHL | National Average Salary:-$77B |
| DoorDarsh | National average salary: $45,555 per year |
| GrubHub Courier | National average salary: $47,378 per year |
| Uber Eats | National average salary: $62,339 per year |
How Much The Truck Delivery Drivers Make In The US
The average delivery truck driver's salary in the US is $44,323 as of March 29, 2022. Still, the range typically falls between $36,710 and $53,087.
Salary ranges can vary widely, depending on many important factors, including education, certifications, additional skills, and years you have spent in your profession.
Which Is The Best-Paying City For Delivery Truck Drivers
The metropolitan cities that pay the highest paying job are:-
| Metropolitan Cities | Salary |
| --- | --- |
| San Francisco, California | $52,420 |
| San Jose, California | $51,890 |
| Anchorage, Alaska | $51,590 |
| Waterbury, Connecticut | $50,700 |
| Abilene, Texas | $40,422 |
These are the names of the best-paying cities for the delivery truck driver.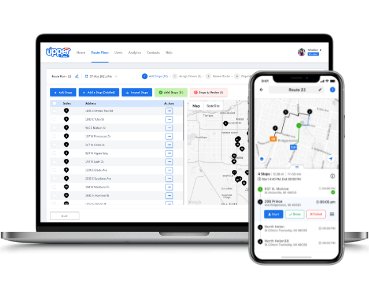 Upper Route Planner
A Simple-to-use route planner that every one is talking about.
Save up to 95% of planning time
Save up to 40% of time on the road
Plan 500 stops at once
No credit card details required
FAQs
The average salary for a delivery driver is $22.60 per hour in the United States and $50.00 tips per day.
If you are unsure what salary is appropriate for a delivery driver position, Indeed's Salary Calculator can help you. You can get a free, personalized pay range based on your location, industry, and experience.
The payment of the delivery driver depends on which state you are working a job. The answer to your question is that the amount occurs weekly and bi-weekly.
Conclusion
Delivery driver has become an integral part of the delivery business services, and since the advent of pandemic and the rise of e-commerce platform, the role of delivery drivers has increased. Due to this high demand, the Upper Route Planner comes in handy for all delivery business owners.
Upper Route Planner is route planning and optimizing software that helps businesses of different industries to plan and optimize routes in just a few clicks.
With Upper Route Planner, the delivery service providers can make the work of the delivery driver easy and simple by providing them with the best-optimized route for their delivery. Help your drivers by reducing fuel costs and saving time while serving more customers at the same time.
Get Upper Route Planning software and schedule your delivery! Start a free trial today!