Are your dispatchers struggling to add multiple destinations to a route? Are you spending way too much time on route planning and optimization activities? It could be a failure to innovate and consider real-time constraints like traffic.
If your query is regarding how to plan the quickest route with multiple stops, you've landed at the right page.
As we move forward in this article, we will see different ways to create routes in the delivery industry. You probably know about the major ways of planning delivery routes. The choices always depend on your needs and affordability.
Let us look at the solution to figure out the best way to plan the fastest route with multiple stops.
What is Multi-stop Route Planning & Optimization?
The process of determining the most efficient and fastest route for going from one location to another while covering a bunch of stops on the way is known as multi-stop route planning.
It requires you to plan a logical order of all your destinations to maximize productivity and minimize travel time and fuel consumption.
Planning Multiple Stops With Google Maps Route Planner
Google Maps is a free tool to plan an optimal route with multiple destination route planner. But there is a catch. You can only add limited stops (up to ten stops) per route, including the starting location.
But is it really good?
The thing about Google Maps is that it is a great navigation app, perfect for receiving turn-by-turn driving directions on your route as well as real-time updates.
People are often found relying on Google Maps to find the best way to reach a destination or plan a perfect road trip locally. It is more suitable for a one-time trip than a multi-stop trip.
For advanced trip planning like delivery or pickup of goods or meeting clients for sales, you must use a route planning software.
Let's take a step-by-step look at how you can plan multiple stops with Google Maps Route Planner:
Step-1: Open Google Maps on your mobile device or desktop.
Step-2: Enter a starting point.
Step-3: Add the first destination in the search bar.
Step-4: Click on "Add Destination" to add other stops in the list.
Step-5: Now manually drag for rearranging addresses according to the urgency.
Step-6: Click on "Direction" to get turn-by-turn driving directions for all the stops on the route.
Step-7: Click on "Start" to begin the navigation.
When to Use Google Maps to Plan Routes for Your Delivery Business?
Google Maps is suitable to plan the most efficient route in the following situations:
When you have a single driver in your company
When you have less than 10 deliveries throughout the day
If you do not have to consider delivery constraints like time windows, priority orders, service time for each stop, etc.
When you don't need the most optimal order of route for deliveries
If you do not need additional features like proof of delivery, customer notifications, reports, and analytics.
When you want to receive real-time traffic updates.
Does Google Maps Optimize a Multi-stop Route?
Google Maps is often considered a free alternative to the fastest route optimization software. But in reality, Google Maps does not offer any route optimization capabilities necessary for larger companies.
Unlike most route optimization software, Google Maps is not designed specifically to create the most optimal order of routes. If you end up planning a route with Google Maps, you will have to manually plot addresses on Google Maps.
So, no, Google Maps doesn't optimize routes with multiple locations.
What are the Limitations of Using Google Maps App For Planning Multi-Stop Routes?
To plan routes with Google Maps isn't a great idea for businesses, here's why:
Can't Create Multiple Routes

Google Maps can only allow users to create one route at a time. For businesses making multiple deliveries throughout the day and having multiple delivery drivers, an app like Google Maps is not really the most efficient way to plan routes.

Can't Add More Than 10 Stops

It not only limits the number of routes, but also puts a limit on the number of stops you can add to a route. Users can only add up to ten stops per route. Businesses always have routes with more than ten stops for deliveries. It's not enough for businesses whose focus is to deliver goods throughout the day.

Can't Add Priority Stops

If there's no fixed order of stops you need to follow, then Google Maps app is a good option. But if you have to focus and prioritize on certain stops over others, Google Maps wouldn't allow you to do that. All your destinations will be given the same importance by the algorithm on Google Maps.

No Way to Record Proof of Delivery

Another critical aspect for a delivery business is the ability to record electronic proof of delivery. Google Maps doesn't offer a way to capture electronic proof of delivery through the mobile app.

Doesn't Offer Key Analytics

There's no way to generate daily reports related to your delivery tasks when using Google Maps. So there is no way for a business to know the number of successful deliveries or failed deliveries.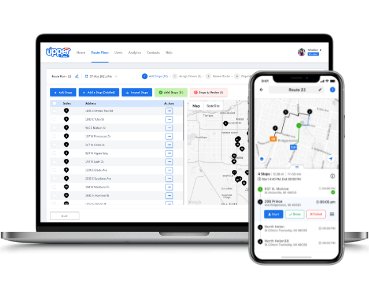 Upper Route Planner
A Simple-to-use route planner that every one is talking about.
Save up to 95% of planning time
Save up to 40% of time on the road
Plan 500 stops at once
No credit card details required
What is the Best Way to Plan a Multi-Stop Route
The best way to plan a cost-effective route efficiently is by making use of route planning solutions like Upper Route Planner.
Upper Route Planner is a route planning and optimization solution that helps individuals, contractors, delivery people, and businesses offering delivery service by creating the most optimal delivery routes. It works as a route planning and navigation app for delivery drivers.
Here is a step-by-step working of planning a route using Upper Route Planner:
Step-1: Click on "Upload File" to add up to 500 stops by simply importing an Excel sheet, GPX, or CSV file.
Step-2: Once all the stops are uploaded, you can edit the stop or add more information like delivery time window, service time, parcel info, or urgency of the delivery.
Step-3: Click on "Next" to choose from the available delivery drivers from your team.
Step-4: Click on "Optimize and Assign Routes"
Step-5: Click on "Next" to choose how to dispatch the fastest route to your driver, which can be done either by sending routes to the mobile device by email or text.
Step-6: Click on three dots under "Action". You can choose to export route, print route, send by email, send by text.
What are the Features of Upper Route Optimization Software?
Upper Route Planner offers some key features like:
1. Multi-stop Route Planning & Optimization
Upper Route Planner makes it possible for businesses to plan and optimize multiple routes with up to 500 stops. The planning and optimization of multiple destinations takes less than 5 minutes with Upper Route Planner. It takes away the load of manually planning routes from the back office team.
2. Import Excel
The Import Excel feature makes it possible for dispatchers to import addresses in a single click. Dispatchers simply have to line up the stop details in their respective columns in an Excel sheet or CSV file and import the sheet to Upper Route Planner. In less than two minutes, multiple addresses will be uploaded and ready to be optimized, an ideal feature for companies that already maintain such sheets.
3. Route Navigation using Google Maps API
When using Upper Route Planner, drivers can start navigating using navigation apps like Google Maps, Apple Maps, Yandex, and Waze for navigating their routes. This feature is very helpful as your company does not have to invest time and resources in training drivers for a new navigation app.
4. Delivery Constraints
Dispatchers can optimize routes on the basis of several delivery constraints. The multiple destinations can be optimized on the basis of time/distance, time windows, priorities, driver availability, and curbside delivery.
5. Parcel Info
Parcel Info for every stop helps drivers find the exact physical location of the parcel in the back of the van. When they have the details as to where the package is placed in the van, they do not waste time looking for it.
6. Customer Notifications
Customer notifications feature helps a field salesperson or a delivery driver in keeping their customers informed with real-time delivery updates.
7. Driver Tracking Feature
Driver tracking gives your customers more visibility into the process and keeps them aware of where their package is in the delivery process. Studies have shown that this ability to track parcels increases customer satisfaction.
8. Proof of Delivery System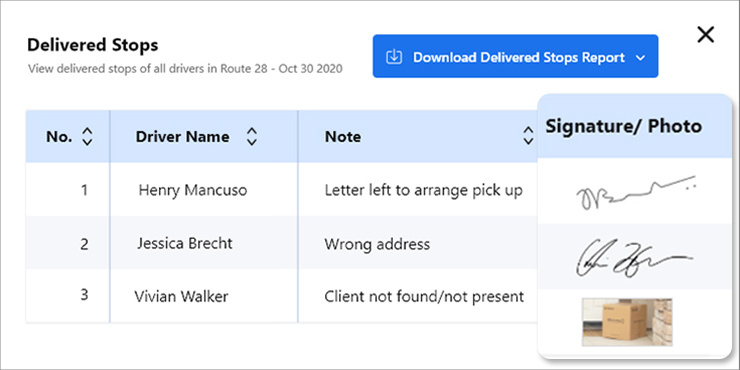 Drivers can capture electronic proof of delivery using Upper Route Planner. Recording proof of delivery is a must-have for any business that takes the responsibility to deliver packages. Delivery proof improves accountability, communication and helps avoid false claims. Upper allows you to generate proof of delivery by either clicking pictures or taking signatures, minimizing physical interactions with customers.
9. Reports & Analytics
Dispatchers and admins can create daily, weekly, and monthly delivery reports and analytics to understand the progress of each route and delivery task. It helps them keep a track of how the drivers and the business are progressing and handling each delivery.
Benefits of Planning Routes Using a Multi-stop Route Planner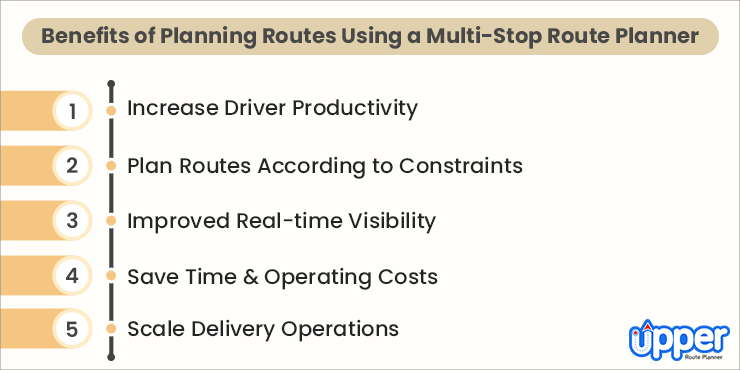 Increase Driver Productivity

A route planner creates the most optimized routes for drivers. Drivers simply have to follow the shortest routes without having to worry about finding a particular address or verifying whether the driving directions are correct. When stops are accurately optimized, drivers can cover more addresses in less time than usual, improving their overall productivity.

Plan Routes According to Constraints

It is extremely difficult to take time windows or priorities into consideration when optimizing routes manually. But with the help of the quickest route optimization software, dispatchers can easily optimize routes according to delivery constraints like time windows, driver availability, and priorities.

Improved Real-time Visibility

A route optimization software helps keep track of the drivers and their sales routes in progress. The current location of the driver is updated in the software. So the dispatchers can plan new drop-offs and pick-ups accordingly. Having real-time visibility in the progress of the routes allows businesses to take more control over the routes.

Save Time & Operating Costs

A route planning and optimization software help automate the entire route planning process for the dispatchers which usually takes about 2-3 hours each day. It not only reduces the back office load by cutting down manual work and saving 2-3 hours each but also reduces fuel costs and labor costs. Businesses can allott their resources for more pressing needs.

Scale Delivery Operations

With an automated route optimization system, the back office team saves time and reduces overhead costs and your delivery teams have improved productivity with more orders delivered on their regular routes. It helps businesses scale their delivery operations with the help of the most efficient routes.
Take a look at how Nathan used Upper Route Planner to plan multiple routes for their meal-kit delivery company.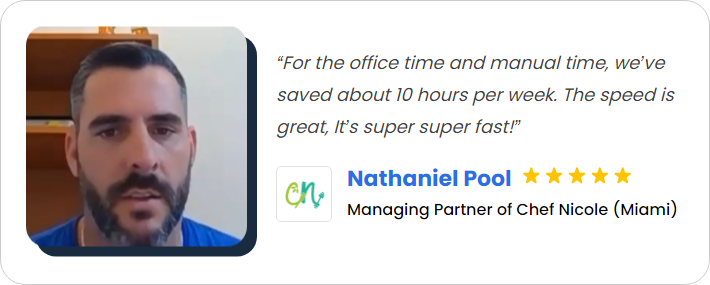 FAQ
The best way to plan a route with multiple stops for free is by using apps like Google Maps, Mapquest, and Waze.
To plan the fastest route with unlimited stops, you must use a paid route planner like Upper Route Planner. Upper Route Planner web-based app allows you to create optimized routes with up to 500 stops.
Route planner apps better than Google for to create route with multiple destinations are as follows:
Upper Route Planner
Mapquest
Badger Maps
Circuit Route Planner (Circuit for Teams)
Routific
Speedy Route
These are some very popular tools for automatic route optimization to optimize multiple routes at once.
Upper Route Planner is the Best Way to Plan a Route with Multiple Stops
With apps like Google Route Planner and Waze, dispatchers will end up wasting time and resources by adding a list of addresses manually and not being able to create the most efficient route according to their requirements.
But with a web-based multi-stop route planner like Upper Route Planner, businesses can plan the fastest route with multiple stops, cut down time, deliver more packages, and scale overall delivery operations.
Are you interested in learning more about how Upper Route Planner and its route optimization capabilities? Book a demo with us today to learn more.