Key Takeaways:
Google Maps is a helpful tool for multi-stop route planning as it allows you to add up to nine extra stops per route.

It can help find the shortest and fastest distance between stops, but still you may not have optimized route.

When preparing a delivery route with multiple stops, it's crucial to take into account real-time factors like traffic and road closures.

Google Maps' customization capabilities are limited, therefore businesses need more advanced software like Upper.
Are you tired of driving for hours and making multiple stops while navigating through traffic queues? Then, you need an optimized route to save a significant amount of your valuable time and money.
That's right!
Route planning and optimization have become an essential part of the courier and local delivery service industries.
However, route planning can be a major hassle to perform for businesses. This is where navigation apps or route planners come into play, making the task of planning routes with multiple stops more effective and cost-effective.
So, in this blog, we'll be discussing the step-by-step procedure for how to plan a route with multiple stops on Google Maps.
How to Use Google Maps for Route Planning with Multiple Stops
So, you have to make deliveries to a bunch of stops and want to plan your route as effectively as possible? No issue, pal! We'll demonstrate how to accomplish it with Google Maps.
For desktop version:
1. In your web browser, open Google Maps and log into your Google account.
2. In the upper left corner, click the "Directions" button.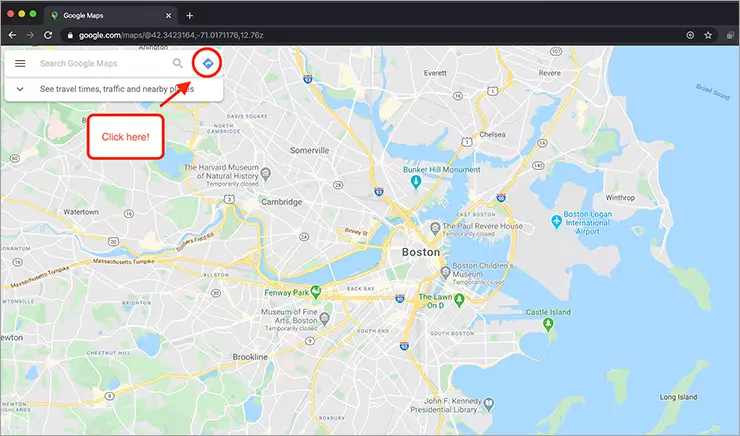 3. Enter your starting location in the "Choose starting point" field. Then, fill in the "Choose destination" field with the name or address of your first destination.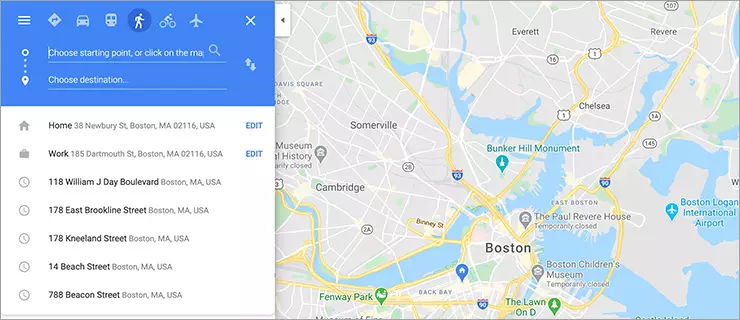 4. Now, click on the "+" button to add more stops. Repeat this procedure for each stop you need to add (up to a maximum of nine stops).
5. Let's now plan your route in such a way that you go along the fastest or shortest route. To get started, simply tap the "Directions" button. The best route for you will be determined automatically by Google Maps, taking into account things like traffic, road closures, and other potential variables that can slow you down.
6. But, what if you now need to change the order of the delivery stops? No problem at all! All you have to do is tap and hold the stop, drag it to the desired position, and drop it there. The order of your stops will be changed; easy peasy, right?
7. Google Maps can help you if you wish to avoid specific regions with a lot of traffic. Simply press the "Options" button and choose "Avoid tolls" or "Avoid highways." This will provide you with alternative routes that could be a little bit more time-consuming but will save you money on tolls or enable you to escape the stress of congested highways.
8. Now, select a method of transportation (car, bike, public transit, or walking) and Google Maps will give you the most efficient directions.
9. Now, to get on the road, send the directions to your mobile device. To receive directions, click "Send directions to your phone" and then select a method from the pop-up menu.
10. Now tap the notification that will show up on your phone's screen, and your route will appear along with navigation options.
For mobile app:
1. Start by opening the Google Maps app on your smartphone and logging into your Google account.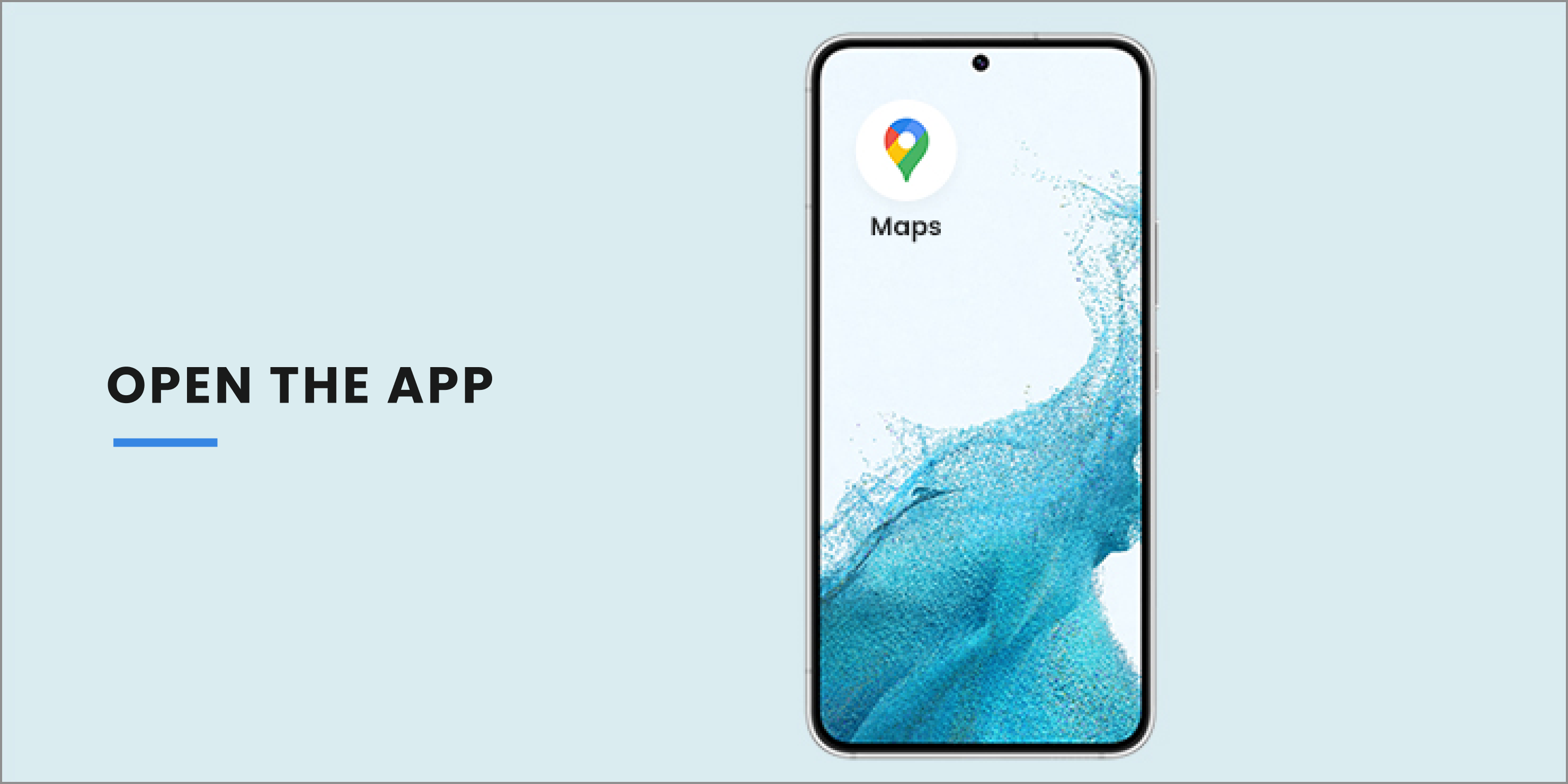 2. Now tap on the "Directions" button on the screen's bottom left-hand corner. In the "Choose starting point" field, you will be required to specify your starting address.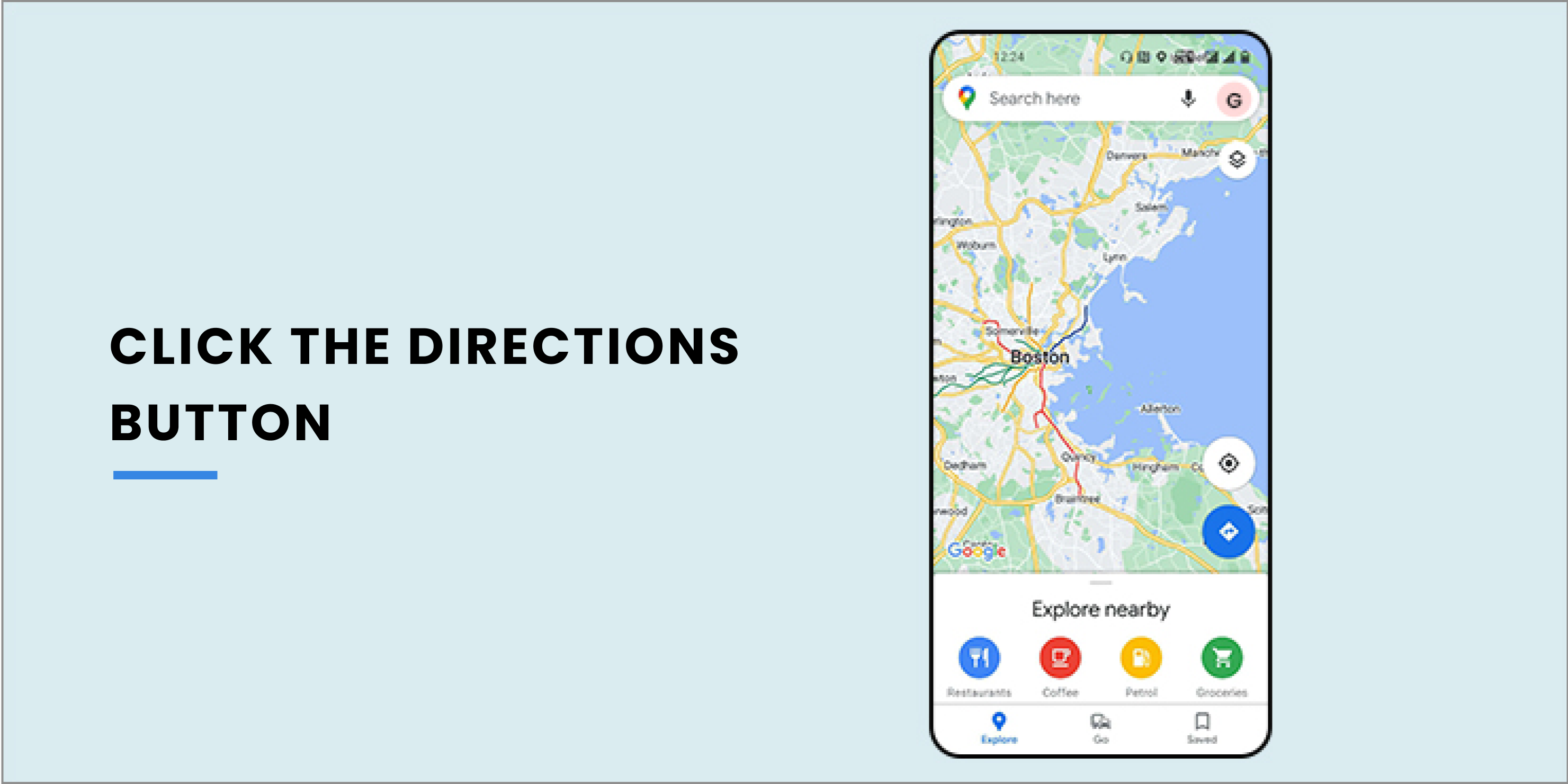 3. Next, use the "+" button to add your first stop. You just need to input the destination's address in the "Choose destination" field, and you're good to go!
4. By tapping the "+" button and inputting each stop's address, you can keep adding stops.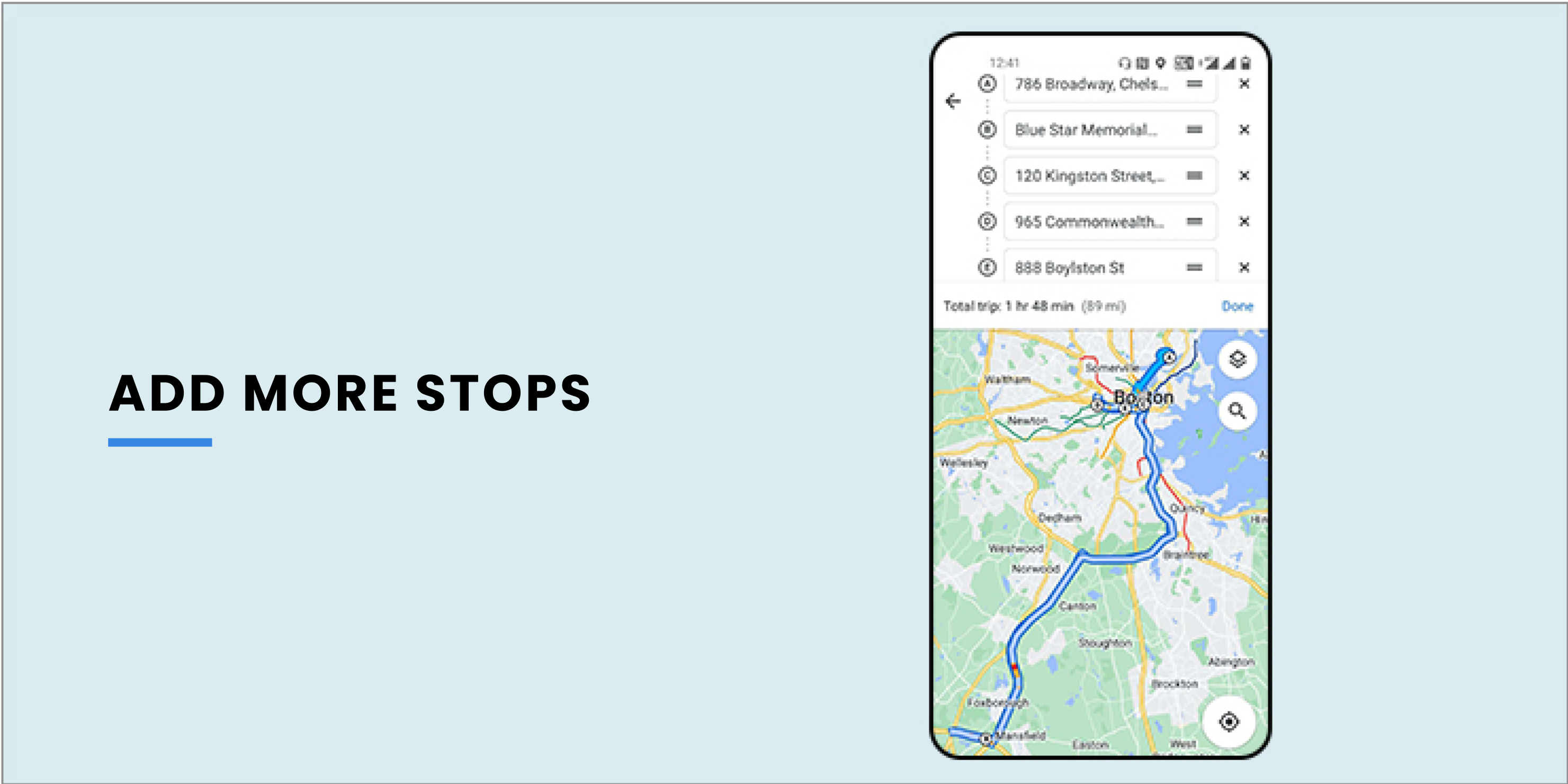 5. You may tap and hold a stop while dragging it to the new spot if you want to change the sequence of your stops.
6. At this point, if you want to set preferences. Just tap on "Options" and enter your desired route criteria if you wish to avoid tolls, highways, or ferries.
7. When you're done, click the "Done" button to finish. To get you where you need to go, Google Maps will provide you with the most efficient directions.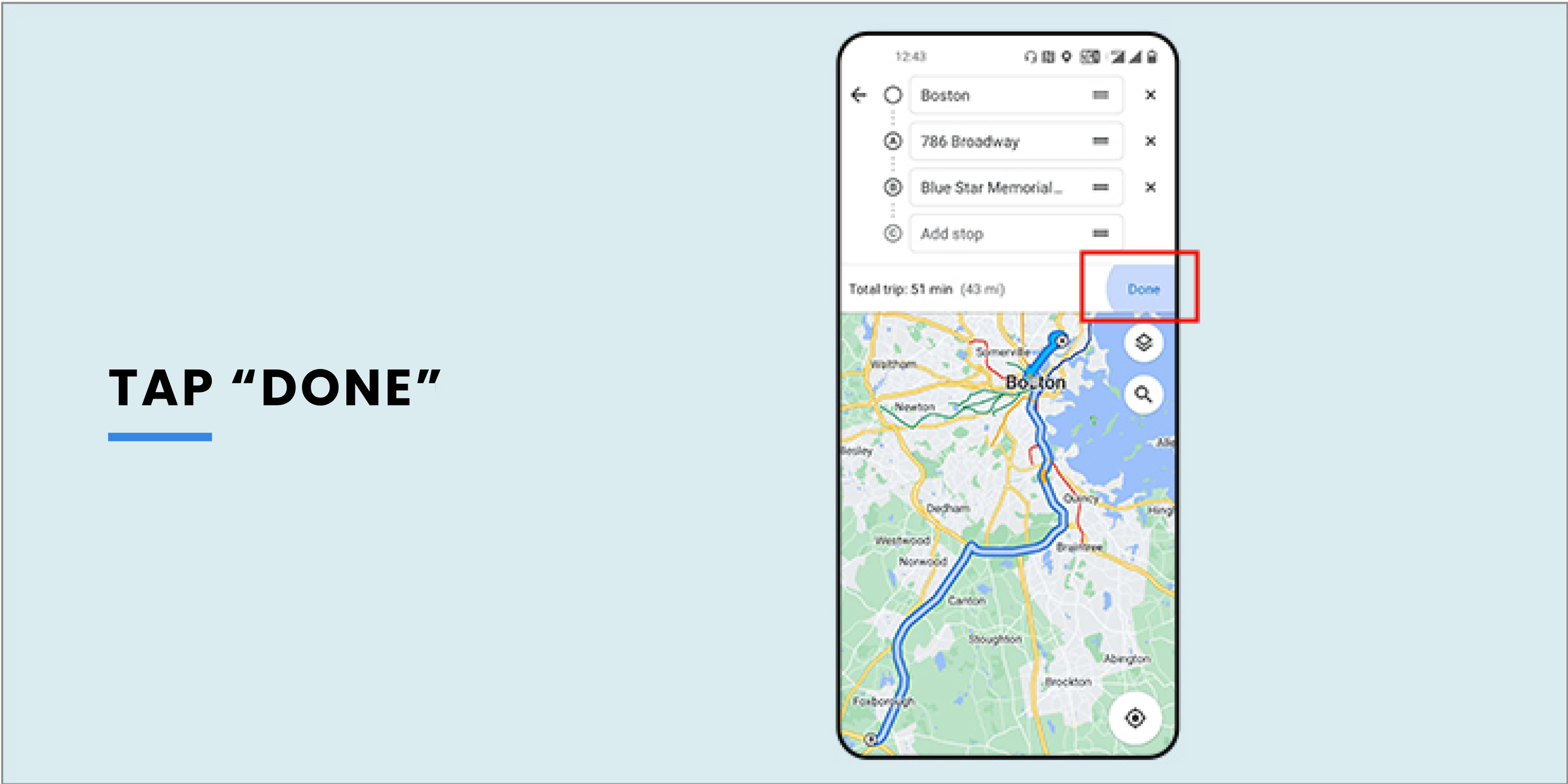 8. And don't worry if you're concerned about getting lost or missing a turn! Turn-by-turn voice directions are available on Google Maps so you can listen to the app while keeping your eyes on the road. Without having to enter anything, you can even add stops to your route or search for locations using voice commands.
9. Oh, and did we mention that Google Maps can be used offline as well? When you're in places with weak or no internet connectivity, this is really helpful. You can look at the map even when there is no data connection by simply downloading it in advance for the area you will be traveling in.
Is Google Maps Ideal for Multi-Stop Route Planning?
Google Maps is a great choice to take into consideration if you're seeking an easy-to-use, dependable, and free route planning app with multiple stops. But, it may not tick all the boxes right.
In addition to the fact that it is freely accessible for desktop, Android, and iPhone, here are some of the primary features of utilizing Google Maps for route planning with multiple stops. But, on the negative side, it has some limitations, and that's why you need to look beyond Google Maps.
7 key features of Google Maps
Add multiple destinations

The ability to add multiple destinations is one of Google Maps' primary features for route planning. Google Maps is a great route planner tool for planning multiple deliveries or a multi-stop route because it lets you enter up to 10 destinations in your planned route.

To add more than 10 stops and for advanced route planning and optimization requirements, you need to use alternatives to Google Maps.

Real-time traffic updates

Real-time traffic updates is another benefit of utilizing Google Maps for route planning. You can get the most precise traffic updates from Google Maps since it continuously monitors traffic conditions. This feature enables you to create the most efficient route while avoiding traffic congestion, accidents, or road closures.

Alternative route options

Alternative routes are also offered by Google Maps, which is useful when planning a route that includes multiple stops. This route planning app gives you the ability to select the route that best matches your needs by offering some alternative route options based on the quickest route, the shortest route, and other factors.

Driving directions and navigation

Google Maps also offers turn-by-turn directions and navigation, making it simple to follow your route. To make sure you reach your location on time, the app gives thorough information about each turn, lane change, and street name.

Voice navigation

With Google Maps' voice navigation, you can follow directions without having to take your eyes off the road. Voice GPS navigation is a feature of this route-planning app that lets you follow along while keeping your eyes on the road.

Offline mode

The offline mode in Google Maps enables you to download maps and utilize them later without an internet connection. This function is particularly useful when traveling to locations with poor or weak cell phone service. Before you start your trip, you can download maps of the locale and utilize them afterward without worrying about losing connectivity.

Integration with other Google services

Planning and managing your trips is made simpler by Google Maps' integration with other Google services like Google Calendar and Google Drive. For instance, you could add an appointment to your calendar and then, use Google Maps to plan the route or save them to Google Drive for the future.
How does it calculate the fastest route?
When determining the fastest route between multiple stops, Google Maps employs sophisticated algorithms that take into account a number of variables, including distance, traffic, and road conditions.
To provide you with the most recent information on road conditions, it takes into consideration traffic data from a variety of sources, including real-time data from mobile devices and the Waze app.
In order to determine the most efficient route, Google Maps further takes into account the number of stops and the priority of your planned stops. It combines time-based and distance-based algorithms to make sure you reach your destination as quickly as possible.
Limitations of using Google Maps for route planning
While Google Maps is an excellent tool for planning routes, it's crucial to be aware of its limitations so you don't encounter unanticipated issues when driving. When using Google Maps route planner to plan a route, keep the following factors in mind:
Limited stops can be added

Google Maps is a terrific tool for multi-stop routes with a limited number of locations to visit. But, it's not the ideal choice for bigger businesses like delivery or courier services that make hundreds of deliveries each day. This is due to Google Maps' limit on the number of stops you can add at once. Only ten stops, including your starting point, can be added.

Lacks route optimization capability

One of Google Maps' most significant flaws is the lack of route optimization capabilities. Before you set out, you have to manually map out the most effective route, which might increase the risk of more time consumption, increased fuel costs, and customer dissatisfaction.

Limited customization options

Google Maps route planner does let you customize your route to some extent, but there are limitations. You can decide to avoid tolls or highways, for instance, but you can't pick and choose which specific routes you wish to travel. If you have a particular route in mind that you know will be better than others, this might be frustrating.

Can't prioritize stops

If there's no fixed order of stops you need to follow, then the Google Maps app is a good option. But if you have to focus and prioritize certain stops over others, Google Maps trip planner wouldn't allow you to do that. All your route destinations will be given the same importance by the algorithm on Google Maps.

No proof of delivery

Another critical aspect of a delivery business is the ability to collect electronic proof of delivery. It can be collected by taking a photo of the delivered parcel and getting a digital signature from the receiver. Google Maps doesn't offer a way to capture electronic proof of delivery through the mobile app.

No report analysis

There's no way to generate daily reports related to your delivery tasks when using Google route planner. So there is no way for a business to know the number of successful or failed deliveries.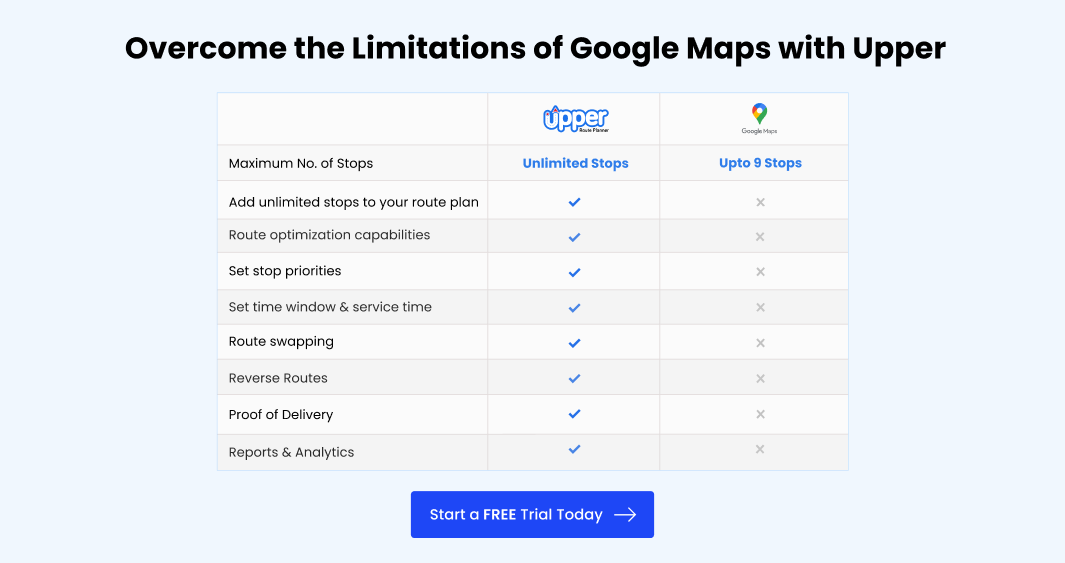 Is There Any Reliable Route Planning Software to Plan a Route with Multiple Stops?
Upper is a route planning software, designed specifically for businesses with multiple routes and stops, that can help you optimize deliveries with a route planning feature. In contrast to Google Maps, Upper has tools and features designed with delivery personnel, courier services, and sales fleets in mind.
Upper is simple to use and intuitive, and it provides the functionality to add unlimited stops to a route. By streamlining the overall process, it can help businesses save time and money and set them free from hassles.
Here is a step-by-step tutorial on how to use Upper to plan routes with multiple stops:
Step 1: Create a route plan
Log into your Upper account and select the "Create Route Plan" option to get started. By doing this, a new page will open up where you can enter your stops and start creating your route.
Step 2: Import stops
Next, you need to import an Excel file or add stops to create routes. You can add stops manually by clicking on the "+ Add Stops" button and entering the address or by importing an Excel file.
If you have a ready CSV or Excel file, click on "Upload File" or just drag and drop to let the software fetch the data.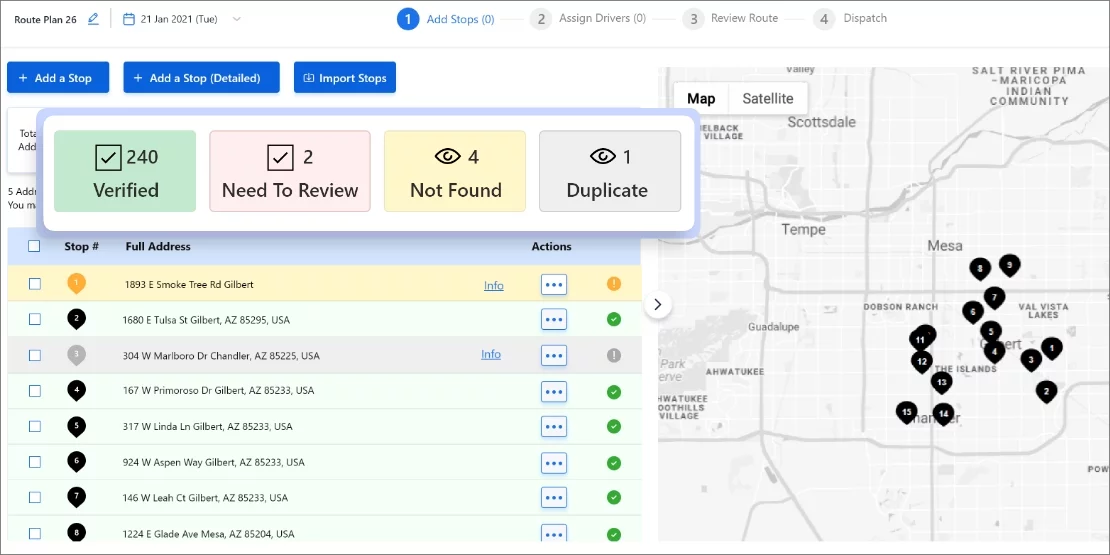 Step 3: Optimize routes
Click "Next" to create optimized routes after adding all the stops. In contrast to Google route planner, which lacks route optimization capability, Upper will determine the most effective route based on variables like traffic, distance, and time, helping you to save time, money, and fuel costs.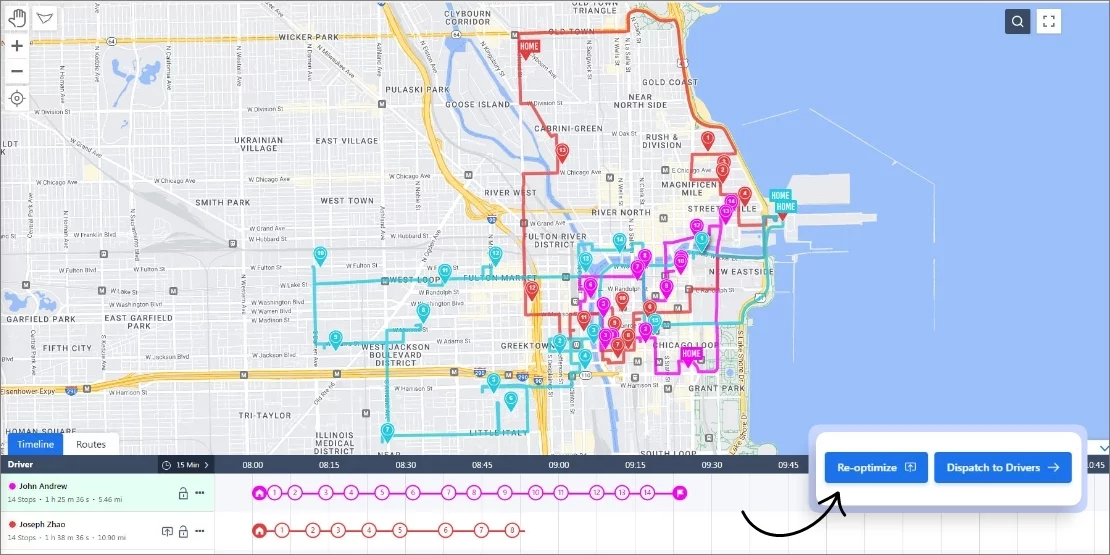 Step 4: Set preferences
Using Upper, you can customize your delivery options according to your requirements. You can set up recurrent routes, schedule deliveries for specific times, and designate particular delivery drivers or vehicles to handle specific deliveries. With this level of customization, you can have perfectly planned routes to meet your specific delivery needs.
Step 5: Review your routes
To make sure everything is in order, you need to review the optimized routes. Here, you have the option to swap the routes or reassign them to other delivery drivers. While reviewing the routes, be sure to take into account the driver's and customer's preferences.
Step 6: Share routes with drivers
Once you are done reviewing and finalizing routes, it's time to assign the routes to drivers. You can quickly send drivers the optimized routes with a one-click dispatch feature.Your drivers can receive the routes immediately on their mobile apps or through email or text messages. The route can additionally be exported in CSV or XLS format, printed, and given to your delivery driver as a hard copy. Also, you may export the route to navigation applications like Waze, Google Maps, and Apple Maps.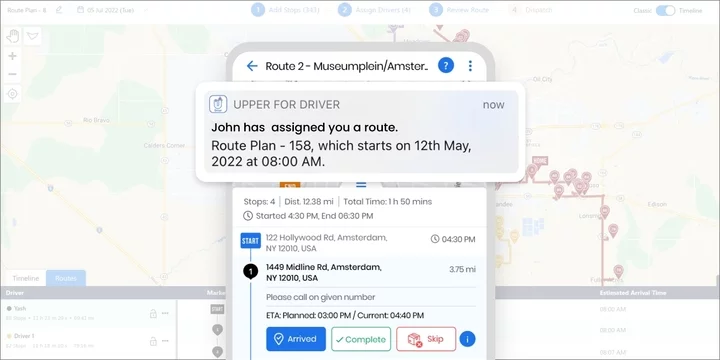 Planning Multi-stop Route is Easier with Upper
Now no need for manual intervention while planning the best routes with unlimited stops on Upper. Get optimized routes in less than a minute.
Start a Free Trial

FAQs
Although Google Maps' estimated travel times are mostly accurate, they could vary due to traffic, road closures, and other unexpected circumstances.
No, there is a cap of nine stops per route in Google Maps. Use a different route planner tool if you need to plan a driving route with more than nine stops.
No, Google Maps does not have the capability for multi-stop route optimization. A route can contain up to nine stops, but you will need to organize them in the most efficient order manually.
In Google Maps, you may change the mode of transportation for a route with multiple locations. You have the option of driving, walking, biking, or using public transportation.
Your multi-stop delivery route can be saved on Google Maps for later use. After creating your route, just click the "Save" button, and it will be saved to your "Your Places" section.
No, the ability to plan routes with specific timing is not a functionality of Google Maps. You might have to deal with a different dispatch system or a different route planning tool to get this capability.
Google Maps may not be appropriate for commercial delivery or sales routes because it is made for personal use. It's possible that you'll need to employ specialized route optimization software, like Upper, or other route planning apps that have capabilities made specifically for businesses.
Summary
A multi-stop route planner is an essential tool if you want to automate your delivery processes. While Google Maps is a popular choice for navigating to multiple destinations, it has its limitations too. This can lead to inefficient route planning, lost time, and dissatisfied customers.
That's where the role of Upper comes in. The route planner is designed keeping in mind the businesses with multi-stop route planning requirements. Upper improves the delivery process and makes sure that your packages are delivered on time with features like route optimization, customized notification, and proof of delivery.
So, why not use Upper to improve your delivery game by taking a 7-day free trial?