Are your dispatchers struggling to plan multiple deliveries? Are you spending way too much time on the route planning and optimization activities? It could be a failure to innovate and consider real-time constraints like traffic.
This brings us to our next question – How do you plan multi-stop routes?
As we move forward in this article, we will see different ways of creating routes in the delivery industry. You probably know about the major ways of planning delivery routes. Some are efficient while some are not so efficient. The choice depends on your needs and affordability.
Let us look at the solution to figure out the best way to plan a route with multiple stops.
What is Multi-stop Route Planning?
The process of determining the most productive and efficient route for going from one location to another while covering a bunch of stops on the way is known as multi-stop route planning.
It requires you to plan a logical order of all your destinations to maximize productivity and minimize travel time and fuel consumption.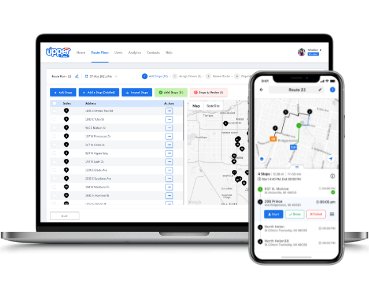 Upper Crew
A Simple-to-use route planner that every one is talking about.
Save up to 95% of planning time
Save up to 40% of time on the road
Plan 500 stops at once
No credit card details required
Planning Multiple Stops With Google Maps Route Planner
Google Maps route planner is a free tool to plan an optimal route with multiple stops. But there is a catch. You can only add up to 10 stops per route, including the starting location.
But is it really good?
The thing about Google Maps is that it is a great navigation tool, perfect for receiving turn-by-turn directions on your route.
People are often found relying on Google Maps to find the best way to reach a destination or planning trips locally.
But again, you can only add up to 10 stops.
Google Maps creates a route based on distance. It works really well for a simple route with less than 10 stops per route.
Limitations of Using Google Maps App For Planning Multiple Stops
Planning multi-stop routes with Google Maps isn't a great idea for businesses, here's why:
Can't Create Multiple Routes

Google Maps can only allow users to create one route at a time. For businesses making multiple deliveries throughout the day and having multiple drivers, an app like Google Maps is not really the most efficient way to plan routes.

Can't Add More Than 10 Stops

It not only limits the number of routes, but also puts a limit on the number of stops you can add to a route. Users can only add up to 10 stops per route. Businesses always have routes with more than 10 stops for deliveries. It's not enough for businesses whose focus is to deliver goods throughout the day.

Can't Add Priority Stops

If there's no fixed order of stops you need to follow, then Google Maps app is a good option. But if you have to focus and prioritize on certain stops over others, Google Maps wouldn't allow you to do that. All your destinations will be given the same importance by the algorithm on Google Maps.

No Way to Record Proof of Delivery

Another critical aspect for a delivery business is the ability to record electronic proof of delivery. Google Maps doesn't offer a way to capture electronic proof of delivery through the mobile app.

Doesn't Offer Key Analytics

There's no way to generate daily reports related to your delivery tasks when using Google Maps. So there is no way for a business to know the number of successful deliveries or failed deliveries.
The Best Way to Plan a Multi-Stop Route
The best way to plan a cost-effective multi-stop route efficiently is by making use of route planning solutions like Upper Route Planner.
Upper Route Planner is a route planning and optimization solution that helps individuals, contractors, delivery drivers, and businesses offering delivery service by creating the most optimal delivery routes. It works as a route planning and navigation app for drivers.
Upper Route Planner offers some beneficial features like:
Multi-stop Route Planning & Optimization

Upper Route Planner makes it possible for businesses to plan and optimize multiple routes with up to 500 stops. The planning and optimization of multiple stops takes less than 5 minutes with Upper Route Planner. It takes away the load of manually planning routes from the back office team.

Import Excel

The Import Excel feature makes it possible for dispatchers to add up to 500 addresses to a route in a single click. Dispatchers simply have to line up the stop details in their respective columns in an Excel sheet and import the sheet to Upper Route Planner. In less than two minutes, multiple addresses will be uploaded and ready to be optimized.

Delivery Constraints

Dispatchers can optimize routes on the basis of several delivery constraints. The multiple stops can be optimized on the basis of time/distance, time windows, priorities, driver availability, and curbside delivery.

Proof of Delivery

Drivers can capture electronic proof of delivery using Upper Route Planner. Recording proof of delivery is a must-have for any business that takes the responsibility to deliver packages. It improves accountability, communication and helps avoid false claims.

Reports & Analytics

Dispatchers and admins can create daily, weekly, and monthly delivery reports and analytics to understand the progress of each route and delivery task. It helps them keep a track of how the drivers and the business are progressing and handling each delivery.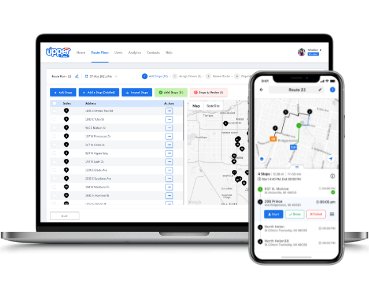 Upper Crew
A Simple-to-use route planner that every one is talking about.
Save up to 95% of planning time
Save up to 40% of time on the road
Plan 500 stops at once
No credit card details required
Benefits of Strategically Planning Routes Using a Multi-stop Route Planner
Increase Driver Productivity

A route planner creates the most optimized routes for drivers. Drivers simply have to follow the routes without having to worry about finding a particular address or verifying whether the directions are correct. When stops are accurately optimized, drivers can cover more addresses in less time than usual, improving their overall productivity.

Plan Routes According to Constraints

It is extremely difficult to take time windows or priorities into consideration when optimizing routes manually. But with the help of route optimization software, dispatchers can easily optimize routes according to delivery constraints like time windows, driver availability, and priorities.

Improved Real-time Visibility

A route optimization software helps keep track of the drivers and their routes in progress. The current location of the driver is updated in the software. So the dispatchers can plan new drop-offs and pick-ups accordingly. Having real-time visibility in the progress of the routes allows businesses to take more control over the routes.

Save Time & Overhead Costs

A route planning and optimization software helps automate the entire route planning process for the dispatchers which usually takes about 2-3 hours each day. It not only reduces the back office load by cutting down manual work and saving 2-3 hours each but also reduces overhead costs. Businesses can allot their resources for more pressing needs.

Scale Delivery Operations

With an automated route optimization system, the back office team saves time and reduces overhead costs and your delivery teams have improved productivity with more orders delivered on their regular routes. It helps businesses scale their delivery operations with the help of the most efficient routes.

Take a look at how Nathan used Upper Route Planner to plan multiple routes for their meal-kit delivery business.

FAQ

The best way to plan a route with multiple stops for free is by using apps like Google Maps, Mapquest, and Waze.

To plan the most efficient route with unlimited stops, you must use a paid multi-stop route planner like Upper Route Planner. Upper Route Planner allows you to plan and optimize routes with up to 500 stops.

Upper Route Planner is the Best Way to Plan a Route with Multiple Stops

With apps like Google Maps and Waze, dispatchers will end up wasting time and resources by adding addresses manually and not being able to create the most efficient route according to their requirements.

But with a multi stop route planner like Upper Route Planner, businesses can plan the fastest route with multiple stops, cut down time, deliver more packages, and scale overall delivery operations.

Upper Route Planner brings to you the most sophisticated route optimization technology to scale your delivery operations and reach new heights in your delivery business.

Are you interested in learning more about how Upper Route Planner route planning and optimization software helps you achieve efficiency and profitability? Book a demo with us today!