Google Maps is one of the most downloaded and used applications globally. In 2021, Google Maps crossed a mark of 1 billion downloads.
Using Google Maps is a part of our everyday life. Also, it is helpful in many businesses like logistics, food deliveries, couriers, etc. Delivery drivers can plan their delivery routes and carry out deliveries.
Google Maps app allows users to search for locations based on their addresses or phone numbers. You can also search for hotels near your location or show directions from point A to point B using the GPS tracking feature available in this app. If you are planning a multi-stop road trip, head to this page to get a detailed guide to plan the best route using Google Maps.
If you are a delivery driver struggling to add multiple stops on Google Maps, this blog is for you. In this blog, we will guide you on how to add multiple locations on Google Maps.
Steps to Plan a Multi-Stop Route in Google Maps
Planning a simple route with multiple stops in Google Maps is easy. You can add multiple destinations in Google Maps in 2 ways: Application in Mobile Device and Google Maps website.
Using mobile application
You'll need to follow the below-given steps to add multiple destinations to Google Maps App on your mobile device.
Step 1: Enter your initial destination
After opening the Google Maps app, select your starting point from where you will be starting your journey. If you are heading from where you are standing right now, click on "current location." Now, to locate your initial destination, a search box will appear at the top of your screen, click on it, enter your destination name, then select one from the dropdown list of stops. You can also manually pin the place by finding it on the map, and the location name will be automatically set.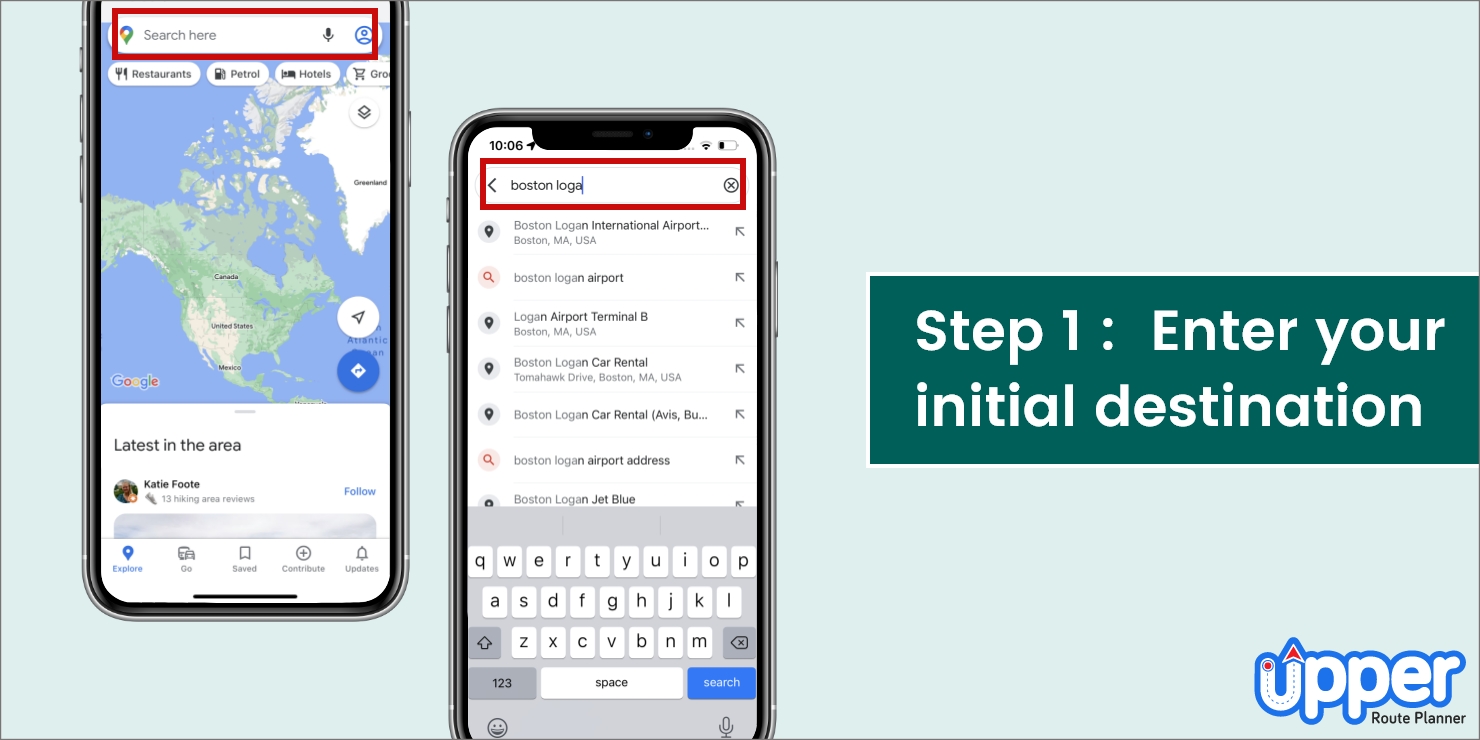 Step 2: Get a route
In the bottom left corner, you'll see a blue "directions" button. When you tap it, it will create a new route from the first to the last destination. You will be presented with a number of route possibilities that consider traffic and distance variables, and you can select any of them. Also, select one of your modes of transportation, whether it's a vehicle, a bike, or public transport, to receive the most exact directions.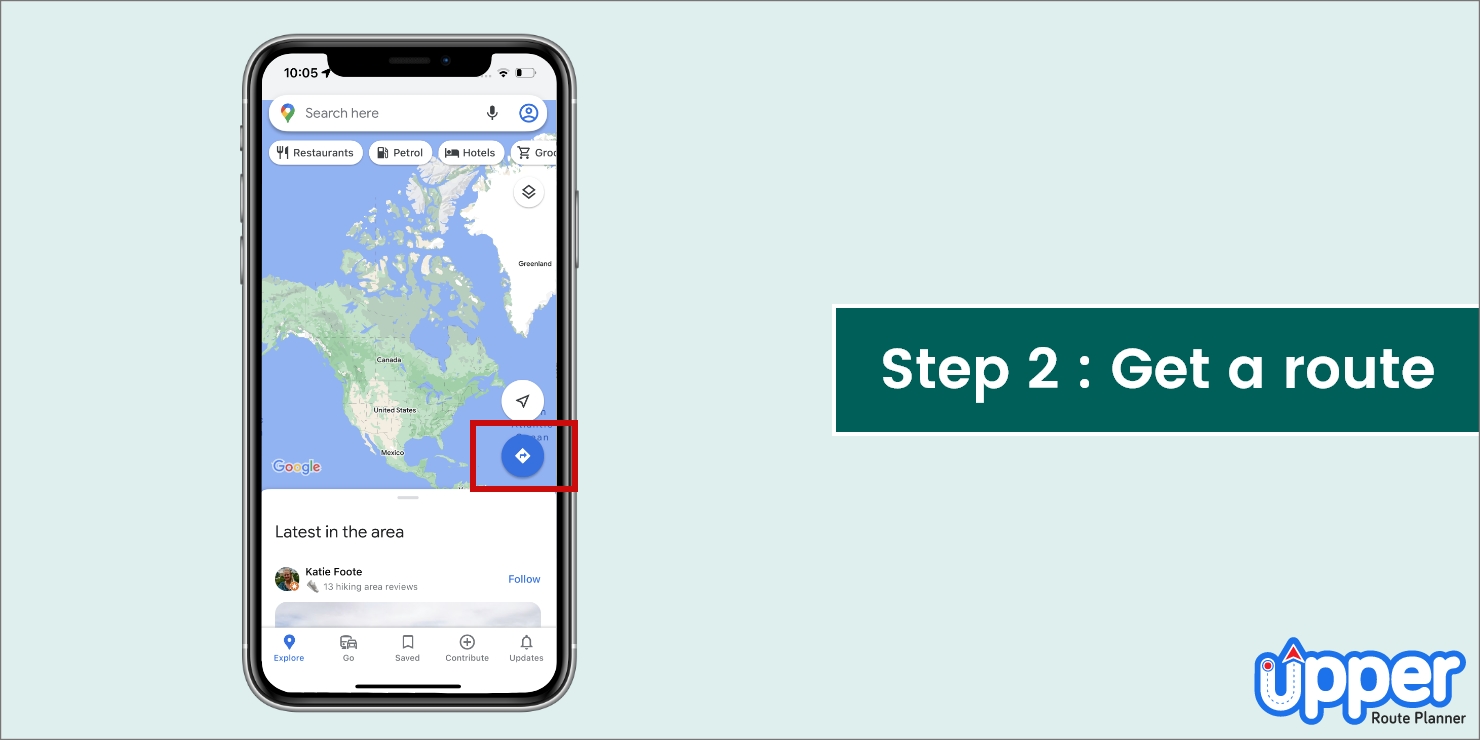 Step 3: Add more stops
Now, tap on the three dots icon and select "Add stop" if you want to add more stops. A new search bar will appear; enter the location name or manually pin the location from Google Maps, as you did before. You can only add up to nine stops this way. You can't add more than 10 stops to the Google Maps app (including your initial point).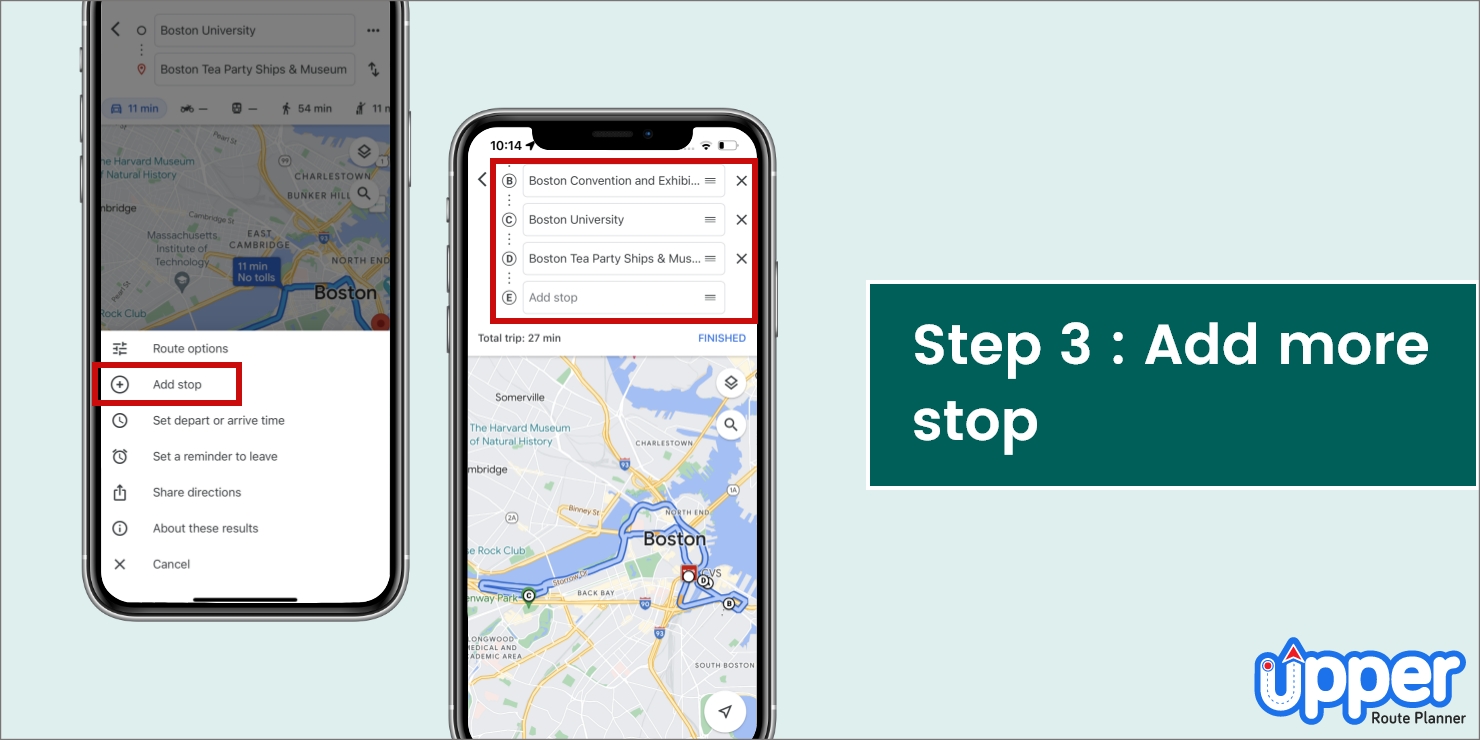 Step 4: Rearrange the stops
After adding all the stops using the search field, use "=" to hover up and down and rearrange the stops.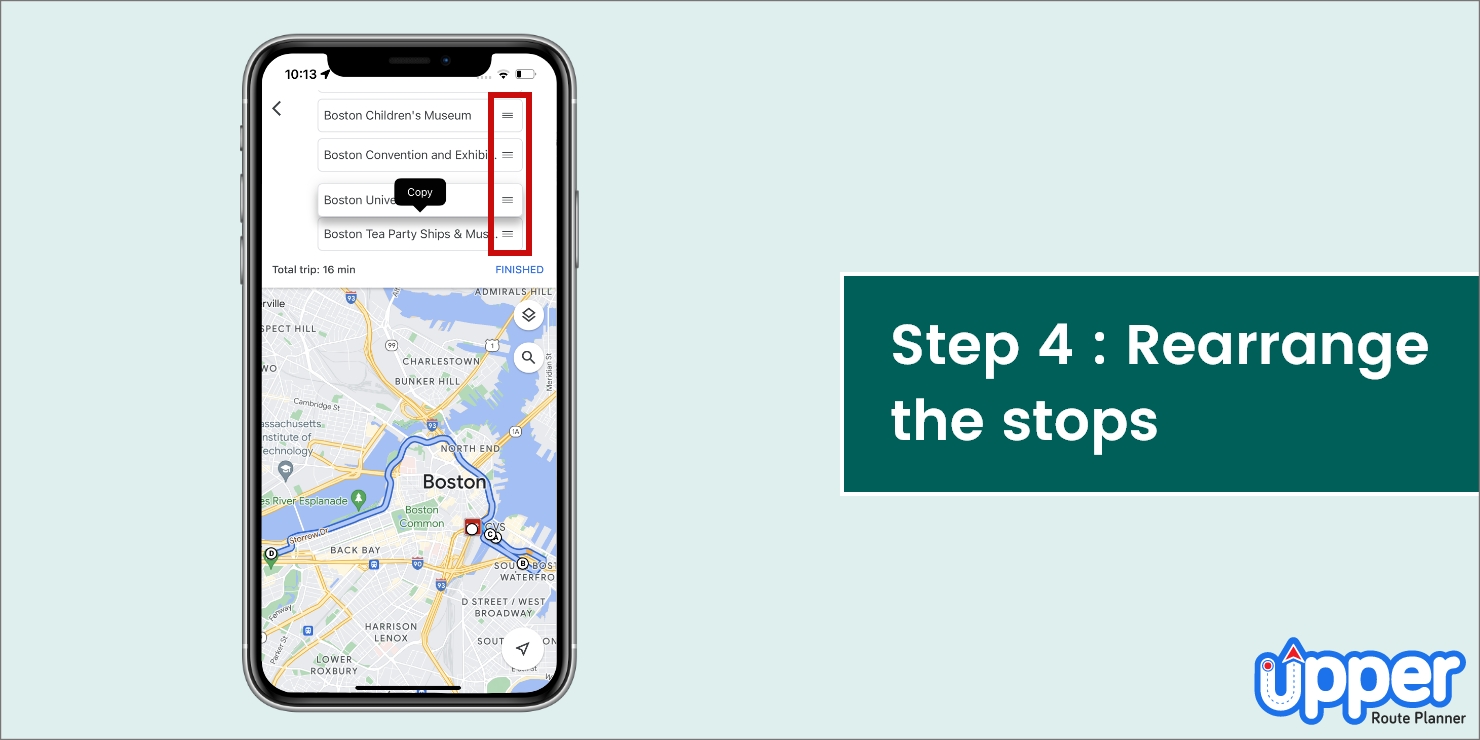 Step 5: Finish adding stops and start your journey
When you are finished adding stops, tap on "finished" (for iOS phone) or "done" (for Android phone) so it will create an entire route with multi-stop driving directions, and tap on "preview" (for iOS phone) or "start" (for Android phone) to start your journey.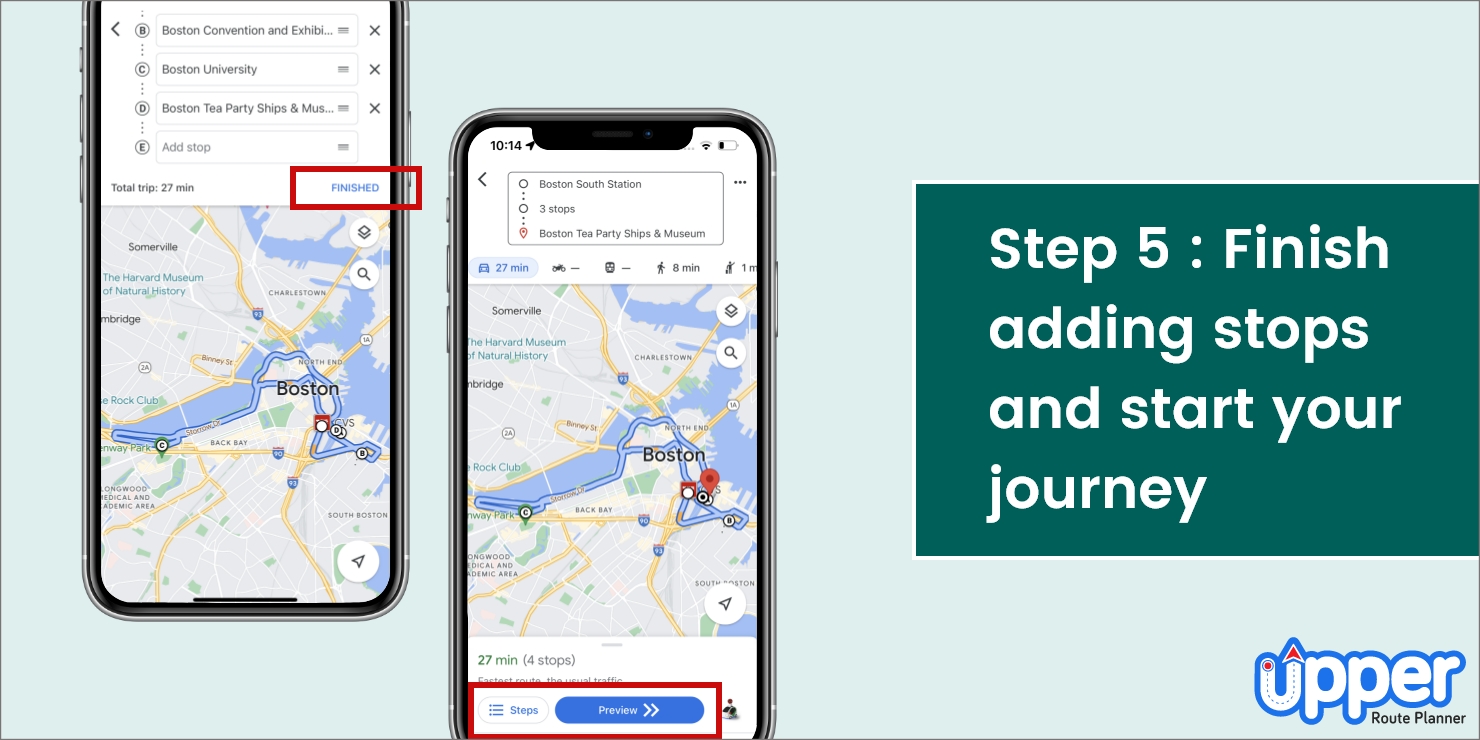 Using Google Maps website
You can plan routes with multiple destinations using the Google Maps Website also.
Step 1: Open Google Maps
Visit the Google Maps Website from the browser of your mobile device or desktop.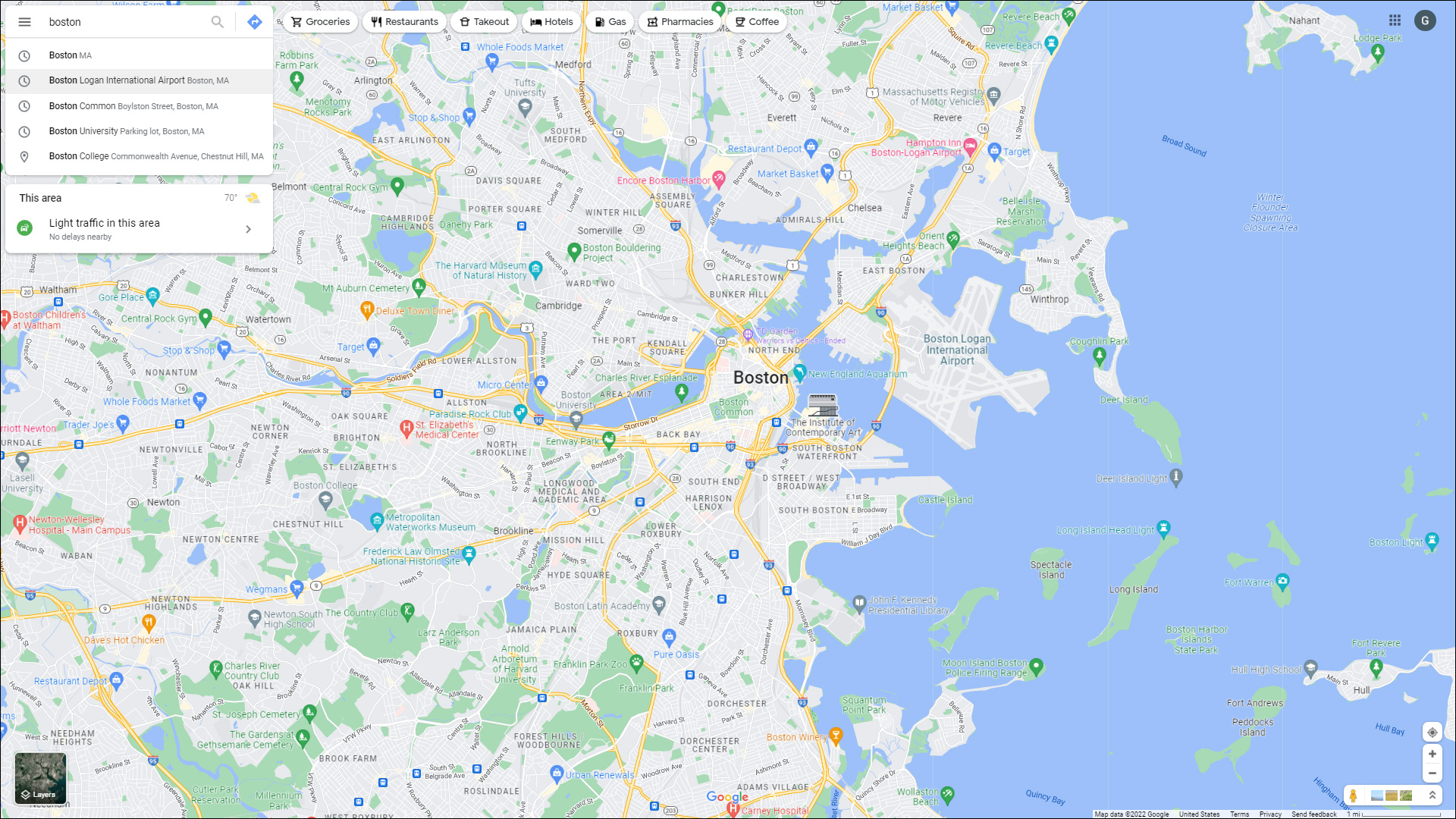 Now implement steps 1 to 5 of "Using Mobile Application." Generally, using Google Maps on a browser is less convenient than using a mobile app.
Downside of Using Google Maps in Delivery Route Planning
Google Maps provides one of the best navigation among all other apps. But it lacks in some areas when it comes to multi-route planning and optimization.
One of the major drawbacks of using Google Maps as a route planning tool is its limitation of adding the number of stops. It allows you to add 10 stops, including your initial stop, so you can add up to nine stops only.

So if you want to plan a trip or delivery route with more than 10 stops, you have to plan multiple routes in the batches of 10 stops, which is less convenient.

Also, you can only plan but not optimize the route using Google Maps app. So it does not create the most efficient route. If you follow the route made by Google Maps, there's a possibility you might not save on fuel charges because Google just navigates you in the sequence of stops you have added.

If you want to optimize the route manually, you can tap and drag the "=" button and arrange the stops as per your convenience.
Alternative of Google Maps
As discussed above, the Google Maps route planner lacks some major parts in planning a route with multiple destinations. To prevent this issue, you should use a Google Maps alternative like Upper Route Planner that helps you with route optimization and not just route planning.
If you are a delivery business owner, Upper Route Planner can be helpful in several ways.
1. Add multiple stops
You can add multiple destinations to help your delivery person.
Contrary to Google Maps, you can add up to 500 stops per route.
Also, it takes only a few minutes to plan and optimize the routes of your entire trip using the Upper Route Planner.
2. Optimize your delivery routes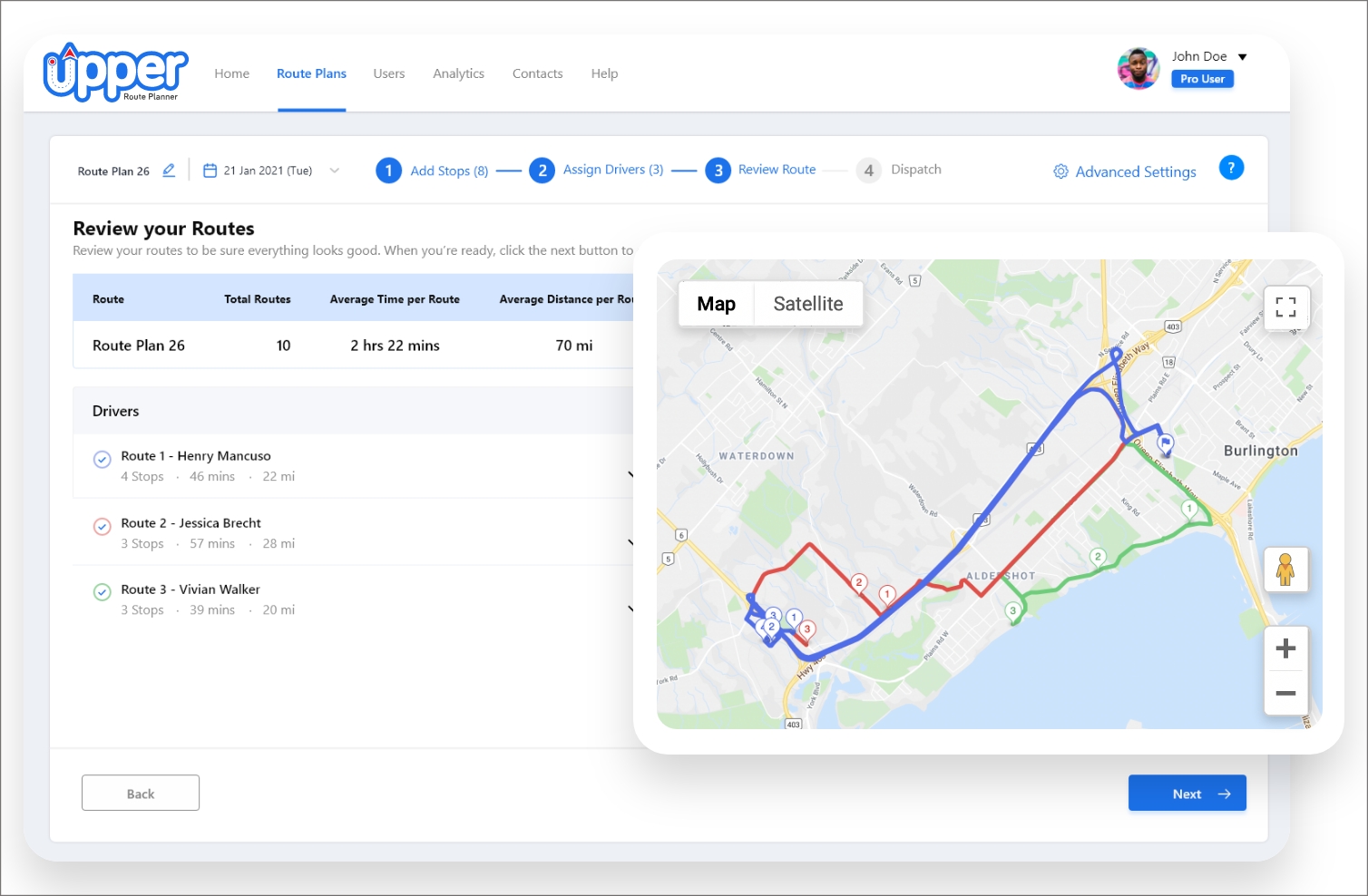 The route optimization feature of Upper Route Planner helps you optimize routes with multiple stops.
All the stops are covered in the shortest route so you can cover the whole route in the least time.
Thus, it helps you reduce single trip time so you can reduce multiple hours spent on road finding addresses of your customers.
3. Save time and money
You can reduce hours of route planning and job assigning time and can utilize that time for other productive work.
Fuel cost is reduced as optimized routes give you a clear idea of each of your delivery addresses.
So, it reduces the cost per delivery and eventually helps you in increasing your business revenue.
Planning a Long Route for Your Delivery Business?
Optimize your delivery routes with Upper Route Planner to get the fastest route and save hours spent in route planning.
Start a FREE TRIAL

FAQs
You can only add up to 10 stops (including your initial point) in Google Maps. But, if you want to plan a route with multiple destinations, it is preferable to use a multi-stop route planning software like Upper Route Planner that lets you add up to 500 stops at once.
No, you cannot optimize a route in Google Maps as it is an everyday navigation app. So, it only creates the route in the sequence of the stops you have added. Basically, Google Maps help you plan routes and not optimize them.
Yes, you can rearrange the stops on Google Maps by moving the list of stops up and down using the "=" button.
To Sum Up
In Google Maps, planning a route with multiple stops is easy yet complicated as there are some drawbacks of using Google Maps. So, it is necessary to carry out improvisations in the methods of multi-stop trip planning and so route planner software.
If you are seeking a route with less than 10 stops, Google Maps is enough. But, if you are planning to add multiple destinations to it, go for Upper Route Planner and ease your work.