Key Takeaways:
Before starting a paper shredding business, it is important to conduct extensive market research and discover possible clients.
For secure and effective shredding services, it is crucial to invest in dependable shredding machinery like cross-cut shredders or mobile shredding trucks.
Providing extra services, such document storage or recycling, might help you stand out from the competition and boost sales.
For the protection and confidentiality of shredded papers, it's essential to hire trustworthy personnel who have completed background checks.
The paper shredder market revenue is forecasted to reach $2.86 billion by 2025. So, this might be the right time to start if you have been thinking about a paper shredding business. Document shredding services are crucial for business security as there are chances of identity theft.
As companies need to maintain document security, they're choosing to shred and recycle office paperwork. A shredder is used to cut down company papers to pieces before dumping them off. Individuals, private companies, government offices, small and big businesses are using it to get rid of their sensitive documents.
To help you understand in detail, we have explained the benefits of owning a shredding service and the steps to get started. Read on to find out how route optimization can be a savior if you opt for a mobile shredder business.
Why Should You Start a Shredder Company?
You can start any business as long as it is growth-oriented and beneficial for everyone. However, when you provide a shredding facility, you don't just make lives easy for companies or individuals. It opens up an opportunity to help the environment.
You can start an industrial paper shredder service and make the recycling paper easier. Recycling helps make different paper-based items and minimizes the usage of fresh paper in producing new products. Thus, you can reduce the environmental damage and help businesses who recycle the shredded material.
It is also a great way to save energy on a big scale. With the help of your shredding company, loads of document shreds can be directly sent for pulp formation to recycle paper. This eliminates the entire shredding process, thereby saving energy used in this step.
Not to forget, shredding is eco-friendly as it helps reduce the number of trees used in making fresh paper. Thus, it helps nature and gives time for the renewal of tree-cover.
Apart from these environmental safety benefits, a shredding business offers a great return on investment. It is one of the best options for startups as it doesn't need more employees and requires low operating costs.
Paper shredding is also a stable and sales-driven industry that has shown growth consistency. Buying the right equipment such as mobile shredders can broaden the chances of reaching a wider customer base.
How to Start a Document Shredding Business?
The requirement for paper shredding services will continue until we are so advanced that there are paperless offices!
But where to find your target market and generate revenue? Market analysis will help you understand the key areas and potential clients that use enough papers to use your service. In addition to this, here are the 8 effective steps that will help you begin your journey to shredding papers.
Step 1: Decide your shredding business model
You can either have one or both of these options in your shredding business:
Mobile shredder

Mobile shredding service one is an option wherein you need a shred truck with the necessary equipment. In this setup, customers can book an appointment so you can take your shredder truck or van to their premises. A route planner can help you find the best routes to reach offices or industrial areas on time.

You can also hire a shredding technician to transfer the documents into the shredder and do the job. In this method, the customers can remain secure as their confidential documents would be shredded in front of them.

In-house shredding company

Here, you can offer pick-up or customers can drop-off their paperwork to be shredded at your business workplace. This option is cheaper when starting a new business as it doesn't require you to reach the customer's location and waste fuel. However, you may need storage space to ensure smoothness of operations on your service site.
While both these options are viable, there will be a lot of bags filled with shredded paper. Hence, you'll need to take the shredded documents to a recycling center on a regular basis, so that they don't occupy more space in your trucks or workplace.
Step 2: Come up with a shredding business plan
A workable business plan is required for any new or established entrepreneur. Your planning must include the below factors to get started:
Objective or goal behind starting a shredding business
Target customers and where you can find them
Startup costs to buy vehicles, machinery, hire staff, and cover promotional expenditures
Funding from any financial organization (if required)
Transportation costs
Strategic planning to promote your business
Once you have a clear picture of the above factors, you can set pricing packages that meet your expectations. You can also consult experts to form an excellent business plan.
Step 3: Buy or rent the required workspace
Depending on your business model, you may need a commercial location to keep your equipment and carry out secure shredding services. Here are some of the key points to note down while selecting the property:
If you're shredding confidential material on the site, the space must be secure and well-ventilated.
You'll need an area for sorting before carrying out document shredding.
The layout must be designed in a way that keeps loading docks and other areas nearby for easy handling.
Keep the work location close to your target clients.
Ensure that you have a space to keep carts or pallets used for moving the documents within the work location.
Determine whether you would need more space in case your services grow in the future.
Step 4: Register your paper shredding business
After you decide on a unique business name and logo, you will need to register your shredding services business. You can register your business as an LLC, partnership, or corporation. A legal advisor will explain things in detail and help you with the setup process.
You would also need a business checking bank account to keep track of your business finances. This also helps organize your business and increase credibility as you can properly pay taxes on time.
Step 5: Secure your shredding services
Destroying confidential documents would need you to comply with legal requirements. As you would be providing a shredding service for business documents, you may need a license and permit.
There will be tons of confidential information that you will shred. So, in order to be out of trouble, you will need to protect yourself. To do this, you may need to get the right liability insurance. Additionally, keep a surety bond with your customers, which is a financial guarantee so they can remain secure about their paperwork.
Step 6: Purchase shred truck and related equipment
For the office setup, you will need equipment including a shredder, paper baler, disposal bags, and pallets. Moreover; you may need shred bins that usually come with a locking lid and are in the form of wheeled carts. Choosing the type of shredder is also important, so you can choose from:
Shredder
Pierce-and-tear
Grinder
Disintegrator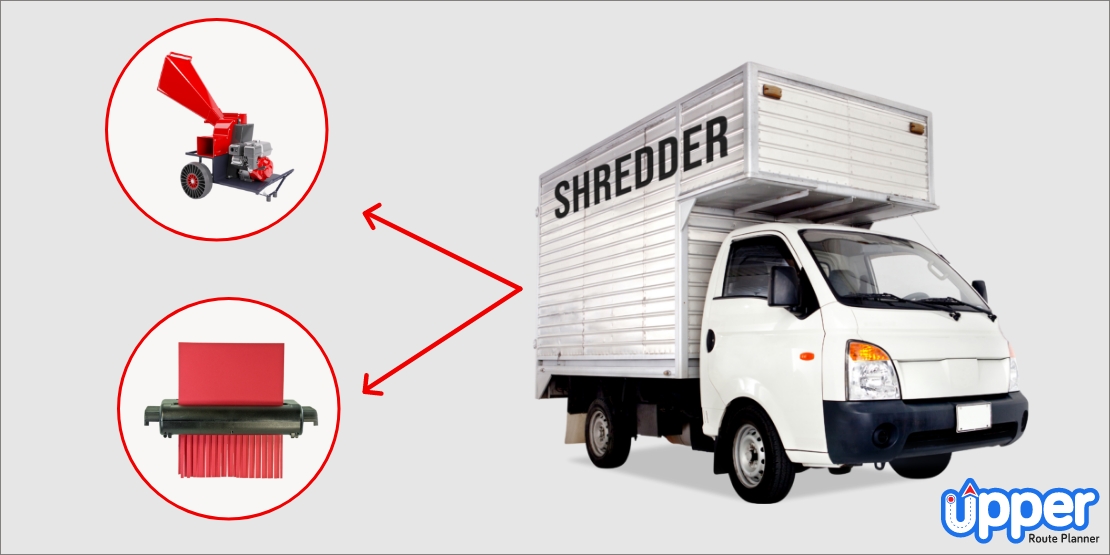 Clients feel the most secure when you shred papers to small fragments. However, these shredders are slower and expensive than the ones that only strip-cut papers.
You can choose from the industrial shredding machines as per the output you want. Ensure that you check previous clients' testimonials and warranty periods before purchasing.
If you are starting a mobile shredding business, you will need one or more shred trucks depending on your requirement. These must be equipped with an industrial paper shredder and a power supply unit.
Step 7: Take training on shredder usage and maintenance
Using huge shredders and the associated tasks needs practical training. Getting into a training program will teach you various techniques for using the shredder safely. You can check with the supplier if they are offering training programs for you and your employees.
It is strongly recommended that you carry out regular maintenance of the shredding machine. You can refer to the service contract that your supplier provides. This will ensure that you use the machine with utmost reliability while offering shredding services to your clients.
Step 8: Market your shredder business
Your ideal clients are businesses like law firms, insurance companies, and administrative offices that need regular document shredding services. They are always looking for secure solutions to destroy their confidential information on a weekly or monthly basis.
Building a website and marketing your services through social media campaigns can help you get clients for your shredding services. You can also target customers by sending promotional emails to big and small businesses.
Offering monthly or yearly subscriptions to your customers is a great way to get repeat orders. Customers can visit your office or you can take your shred trucks to them on the scheduled date and time. This will ensure that you have repeat clients and their positive testimonials will increase your customer base.
Start Your Mobile Shredding Journey with Upper Route Planner
Starting a shredder company can help you go a long way in generating revenue and establishing your brand name. If you go for a mobile paper shredding business, you will be burdened with a lot of manual work to plan routes. To surpass these challenges, you need something extra.
With Upper Route Planner, you can create highly optimized routes and assign them to yourself or your shredding truck drivers in a single click. Such a process takes only a few minutes, thus reducing your hours of route planning. You can do this for multi-stop shredding services by importing your customer's addresses from an excel spreadsheet.
Such a powerful route planning companion also comes with a facility to take proof of delivery on successful shredding completion. This will naturally enhance your reputation as you would be able to take e-signatures, add photos and notes once the job is done.
Let Upper Handle Your Shredding Business Route Planning
Got a shredding service order after a month? No problem! Upper lets you schedule routes for your mobile shredding services in advance.
Try Upper for FREE

FAQs
A paper shredding business owner can shred the following:
Clean paper
Newspapers
Magazines
Brochures
Blueprints
Mails
Photographs
File folders – you don't need to remove paper clips, small binder clips, staples, or rubber bands
As a shredding company owner, you need an AAA certification from the National Association of Information Destruction (NAID). This is because you would be destroying sensitive information. Under this, a shredding service business must adhere to strict protocols and conduct regular audits to handle confidential documents safely.
The lifespan of a shredder can be between 5 to 10 years based on its usage and the type of machine you buy. But you need to use it with utmost care and maintenance. The instructions and guidelines provided by the manufacturer will help you take proper care of it.
Conclusion
A paper shredding business needs a lot of focus and proper handling of documents. To keep running your paper shredding business smoothly and securely, you must automate the various processes associated with delivery. If you are offering mobile shredding services or picking up loads of documents from clients, leave your route planning burden to Upper.
By providing optimized routes, it reduces your fuel wastage as you don't have to search for routes in the middle of the road. Your drivers can simply get going with the routes assigned for each stop. Not to forget, it cuts down the amount of paperwork used in your back office. Start using Upper by signing up for a 7-day free trial.