Key Takeaways:
Providing specialized waste management services can help set your business apart from competitors.

Offering environmentally friendly solutions can help you stand out from the competition and draw in clients.

You can increase your consumer base and develop your brand by developing a strong online presence.

Collaboration with other businesses in the industry can lead to new opportunities and growth.
The global market for waste management is expected to grow at a CAGR of 3.4% between 2021 to 2030. To have a safer environment, modern society needs responsible disposal of waste generated by businesses, households, and individuals.
And with the increasing revenue of the waste management industry, there are a lot of business ideas that this field offers. So, this blog will help you check out some brilliant waste management business ideas so you can make an informed decision.
Whether you're an entrepreneur looking to start a new business or an established business wishing to expand your horizons, you are at the right place. This section will provide valuable insights on how to start a waste management business, giving you the necessary knowledge to succeed in the waste management industry. You will get valuable insights that can help you establish and grow your venture in this crucial sector.
What is Waste Management?
Waste management is the process of handling, controlling, and disposing of waste materials in a responsible and efficient manner. In this process, the waste material is divided into different categories, such as recyclable, biodegradable, and hazardous waste.
With the trash on the globe piling up, organizations and businesses must step forward to clean the mess.
On that note, let us check out the top ideas for developing or launching a new waste management business in the next section.
Top 12 Ideas for Waste Management Business
It is essential to start a waste management business and implement effective practices, including technology for waste management, to reduce the negative impact of waste on everyone. There are a lot of options when it comes to moving ahead with the waste management business. Here are the top 12 ideas:
1. Paper recycling business
Paper can be recycled into reusable materials such as recycled paper products and paper pulp. This type of business is profitable, as there is a rising demand for recycled paper products in offices and households.
Scrap paper is the main raw material needed to recycle paper, which comes at cheap prices. The equipment used in this process comes in different sizes and specifications. You can also purchase the entire set-up that is economically suitable for a small-scale business.
Recycled paper can help create new materials including:
Tissue papers
Cardboard boxes
Paper plates
Egg cartons
Newspapers
Magazines
2. Plastic recycling business
The plastic waste management market is forecasted to grow to $41.39 billion by 2026 at a CAGR of 4.09%. With such a growth rate, it is a profitable business idea, which can help you bring sustainability as well as success.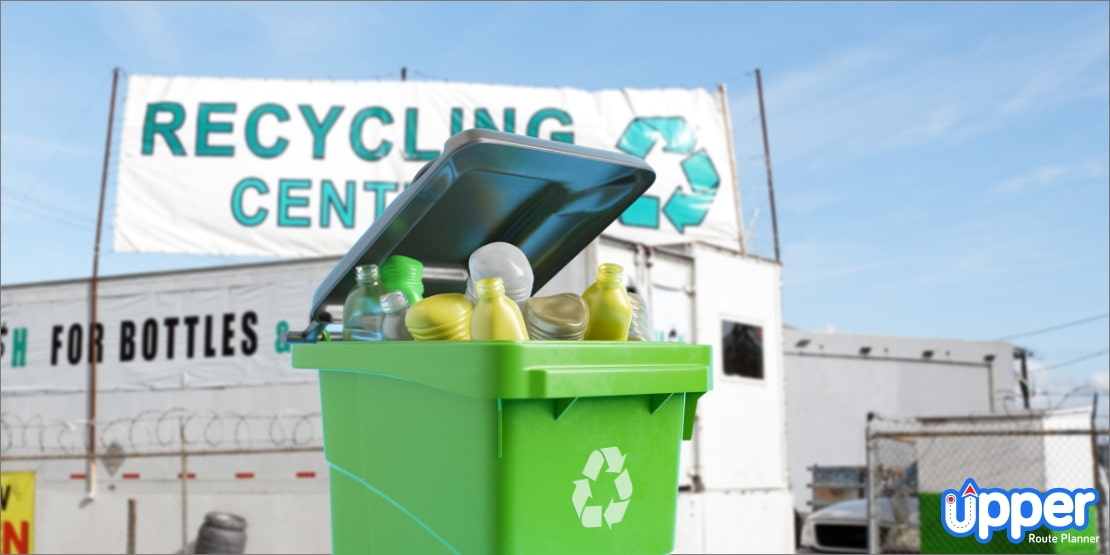 Plastic recycling involves gathering, sorting, and processing of plastic material into reusable items. So, if you are thinking of starting a plastic waste business, your potential clients will include plastic manufacturers, shopping bag producers, and the like.
It can give various recycled products including the below:
Polythene
Cans
Plastic bottles
Buckets
3. Rubber recycling business
Rubber recycling plays an essential role in the waste management process. The process helps reduce the amount of rubber resulting in landfills or a natural environment wherein it can harm the ecosystem.
Rubber can be recycled into a range of products. The business needs you to secure a steady supply of waste rubber, setting up a processing facility, and looking for markets. A rubber recycling center can be used to collect trashed rubber and sell it to companies that can pay enough for them.
4. Glass recycling business
The demand for recycled glass is growing, driven by increasing consumer interest in sustainability and efforts to reduce waste. The business idea is rewarding, however, it may need you to have proper capital. So, opting for a franchise with an established industry leader can be your best bet.
Recycling glass is a multiple-step process that includes collection, sorting, cleaning, crushing, and melting. So, as a glass recycler, you must ensure that the resulting glass product is high in quality and meets industry standards.
The resulting glass items include:
Refined jars
Glass bottles
Glass containers
Crockery
Fiberglass insulation
5. Scrap metal recycling business
The scrap metal recycling market is forecasted to grow at a CAGR rate of 7.20% and reach around $83.77 million by 2028. Looking at this data, recycling scrap metals can be a worthwhile and rewarding business idea.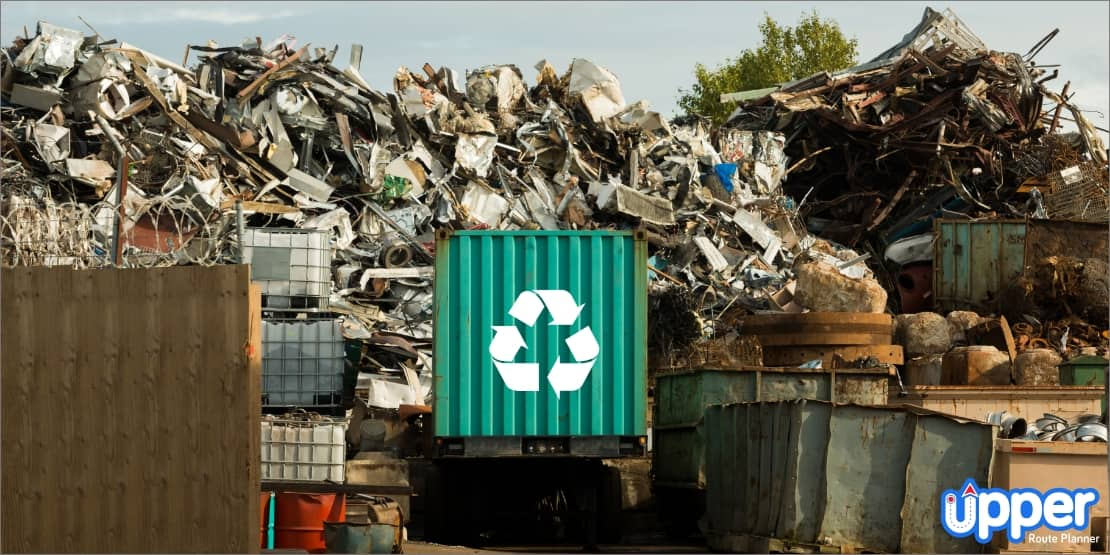 Scrap metals are rich in elements including iron and aluminum. These, when recycled, can be used to make essential products that can be sold further. Scrap metals are sourced from manufacturers, individuals, construction sites, and demolition sites. However, starting this business needs sound knowledge of scrap metal and connections with markets for recycled metal.
After recycling them, you can sell the processed products to metal-using industries. You can also manufacture and sell recycling equipment such as shredders, balers, and separators to businesses that make use of them.
6. Composting business
A composting business involves a collection of organic waste including food scraps and yard waste, and processing them into compost. The nutrient-rich compost thus formed can be used to enhance soil health, thereby improving fertility in agriculture farms, gardens, and landscapes.
The process of composting requires you to carefully balance the ratio of organic materials, moisture, and the amount of air. This is needed to create optimal conditions for microorganisms to disintegrate waste into compost.
The business is comparatively easier to establish than others, but it still needs you to check for your state laws and regulations. It is a large-scale business that serves commercial clients such as landscaping companies and food processors. On a smaller scale, it can serve community gardens and residential clients.
7. Recycling construction waste business
The construction industry produces a lot of waste starting from bricks and floor tiles to metals. The job of construction waste recycling businesses is to collect and sort waste materials including metal, concrete, wood, and other building materials. Then they process them to form new products.
Some of these materials can be reformed into the same product. Whereas, others can be recycled into other useful materials. Many usable waste materials found in construction sites are also donated to non-profit organizations.
To avoid landfills and build a healthy environment, the construction waste recycling industry is booming. Hence, you can try your hands on this particular idea once you have proper knowledge of all the requirements and documentation.
8. E-waste management business
With a lot of waste management companies being established, this business idea is worth giving a shot. E-waste management handles the collection, processing, and disposal of electronic waste, such as old or broken electronics, such as phones, computers, televisions, and others.
E-waste is a growing problem as it accounts for above 50 million metric tons globally every year. As electronic devices become quickly outdated and are often replaced with new models, a large volume of waste is created. It can be a profitable business, as there is an increasing demand and awareness for recycled materials.
It contains a variety of toxic materials, such as lead, heavy metals, and flame retardants. These are harmful to the environment and human health, so they need to be disposed of properly.
9. Furniture recycling business
Furniture recycling is a continuously growing business that promotes sustainability by giving new life to discarded furniture. The method of furniture recycling consists of collecting, cleaning, repairing, and selling products that are of no use. Products are then sold to individuals or organizations for furniture use. This process helps to reduce waste from landfills and conserve resources.
On the other hand, the demand for new furniture is also reduced, which can positively impact our environment. Furniture recycling businesses can stimulate local economies and simultaneously promote a circular economy where resources are stored.
10. Medical waste recycling business
Picking medical waste can be another lucrative business to consider in today's world. The medical waste recycling process covers collecting, transporting, and disposing of medical waste in a safe manner.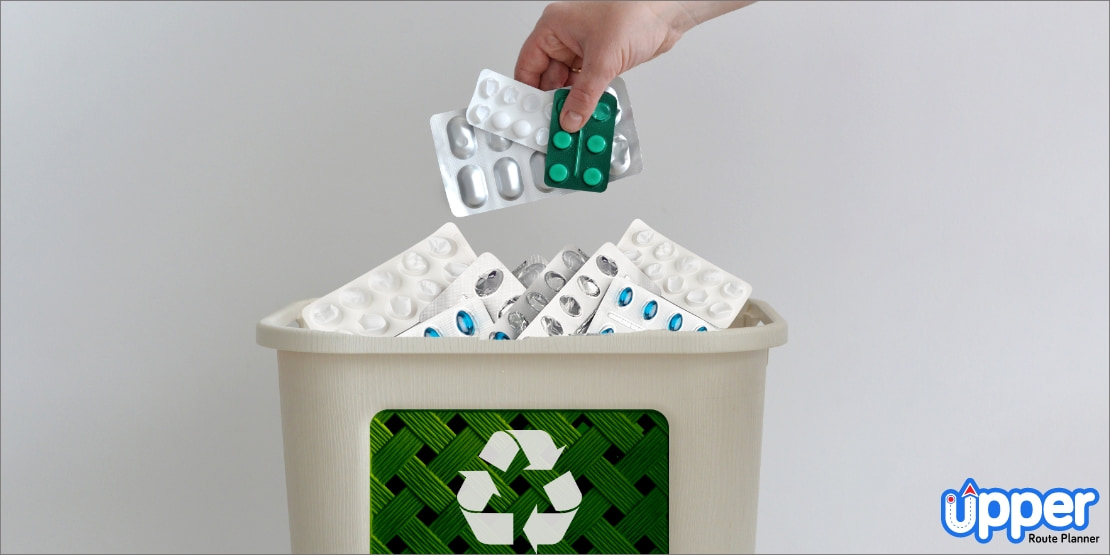 Such waste from medical companies includes items such as sharps, laboratory waste, pharmaceutical items, and contaminated materials. This waste may lead to bad health and adversely affect the environment. Just like other waste management businesses, medical waste recycling helps to minimize waste sent to landfills or conserve resources.
Recycling all of such medical waste can be utilized to create valuable resources like reusable medical items, plastic, and metals. Since the medical waste recycling business needs strict adherence and guidelines, you may need highly trained and experienced personnel to manage waste disposal.
11. Waste-to-energy facility
Waste-to-energy is a technological process that transforms waste into usable energy, such as electricity or heat. The waste materials are burnt at high temperatures in a specialized facility referred to as a waste-to-energy plant. The equipment used here captures the heat formed and converts it into electricity.
Waste-to-energy is trending in the waste management industry as it is a form of renewable energy. It offers a worthwhile solution to manage waste while also helping with electricity generation. It is mainly beneficial for communities that dump large amounts of waste, which can be converted to energy.
Waste-to-energy businesses mostly design, build and operate waste-to-energy plants. They also work with various waste management organizations and local governments. This helps secure a steady supply of waste for plants and distribute the produced energy to the local grid.
12. Mobile toilet rentals
As the name suggests, this business idea involves providing portable toilets for rent and offering cleaning services for the units. This can include regular maintenance, pumping out waste, and restocking supplies for proper sanitation.
Mobile toilets play a significant role in the waste management industry. They offer an efficient, hygienic, and environmentally responsible way of handling waste. Thus, you can help reduce the chances of disease transmission and water pollution.
Starting a mobile toilet business requires you to have the right equipment, such as toilets, tanks, pumps, and trailers. You must ensure that you have all the information on waste management regulations and best practices.
Also Read: Waste management industry trends for 2023
Negate Delays in Your Garbage Collection Process with Upper
Ensure highest productivity and reduced costs in your daily garbage collection process with efficient route planning. Use the best routes and reach your destination 3x faster.
Start a Free Trial

FAQs
Here are the best practices for managing waste efficiently and sustainably:
Sorting waste at the source
Treating hazardous waste in an environment-friendly manner
Reducing waste
Reuse and recycling
Using renewable energy sources
The costs associated with starting a waste management business can change based on the type of business, the scale of operations, and location. Starting costs of a waste management business can roughly range between $36,00 to $73,000.
The process of starting a waste management business involves the below strategies:
Market research
Devising a business plan
Obtaining the necessary licenses and permits
Securing funding
Acquiring equipment
Hiring employees
Partnering with waste generators and disposal sites
Conclusion
Starting anyone of the above businesses may need a lot of organization and strategic planning as there are various complex tasks associated with it. Plus, you need equipment and heavy machinery to be placed at your waste management plant based on the type of idea you choose. In this process, manual route planning can add to your overload. Thankfully, your routing chaos is sorted with Upper.
While you may have multiple addresses to serve and collect waste from, you don't need to waste hours in finding the best routes to reach your client's location. With Upper Route Planner, you can schedule pickup routes for weeks and months in advance. As a result, you can save hours of your work by utilizing automated processes. Try our 7-day FREE TRIAL today!