If your small business depends on a dispatch team to manage drivers or field service workers, you know how important it is this process is efficient and error-free. In short, the efficiencies realized through service software can help small businesses cut costs, grow more rapidly, and retain customers. The issue is choosing the right software.
There are long lists of dispatch software on websites like Capterra. The critical question is always, "how to the best dispatching software for small business?" In this article, we'll explain what a dispatch solution is and who can benefit from using it. We'll also discuss the many benefits to companies. Furthermore, we'll also identify the key features to include in every good quality dispatch software solution. By the end of this article, you'll be well-versed in what to look for when shopping for a dispatch SaaS and how it can benefit your small business.
The Basics of Dispatch Software
What is the Dispatch Software?
This type of field service management software is a SaaS tool used by businesses to automate and optimize transportation-related operations such as vehicle tracking, route planning, and driver's schedules.
The platform is typically used by dispatchers to more effectively manage the workflow of inbound customer orders and outbound vehicles/drivers that are performing fieldwork or making deliveries.
Field service management software includes a suite of features that assist in increased service efficiencies, cost reductions, and improved customer service. The key benefits and attributes of such a management solution are discussed below. First, however, we'll look at who should be using software for service dispatch.
Who Should Use Dispatch Software?
This type of field service software can benefit small to medium-sized businesses as well as large enterprises that have a management component to their operations. In other words, any enterprise that manages the dispatch of vehicles, drivers, and technicians to customers' homes or businesses should consider using field service management business software.
Small and medium businesses will benefit from using dispatching software to improve efficiencies in their workflow, enabling them to fulfill more customer orders each day. A management solution can help reduce costs (e.g., fuel consumption) and enhance user satisfaction (through increased job response times by technicians/drivers). Ultimately, an early investment in this type of solution can enable a small business to grow more rapidly and retain a base of satisfied customers.
Medium and large-sized enterprises will also see returns from investing in software. Notably, however, they may see more significant benefits from using industry-specific software solutions à tailored to their needs.
Many fleets also require this type of fleet management solution or transportation management software. Many of them have fleets of hundreds, if not thousands of truckers, depending on the company size. They have a great need for trucking dispatching (or truckers dispatch). Therefore this type of software for dispatching is critical to these types of operations.
For more information, check out:
What is Fleet Management?
What are the Main Benefits of Dispatch Software?
The importance of tools for dispatching is evident, as Market Watch mentions in their report, the demand for such services will rise significantly between 2021 and 2025. There are many benefits for businesses to adopt a service dispatch software, mainly by automating and optimizing critical operations such as route optimization, job scheduling, work orders, and vehicle tracking, irrespective of the company size. As a result, dispatchers and drivers have access to real-time data and can communicate with each other and with customers more effectively. The software can also help cut fuel costs, improve response times, reduce human errors, and enable drivers/technicians to complete more jobs in a shift. Here is a shortlist of those potential benefits: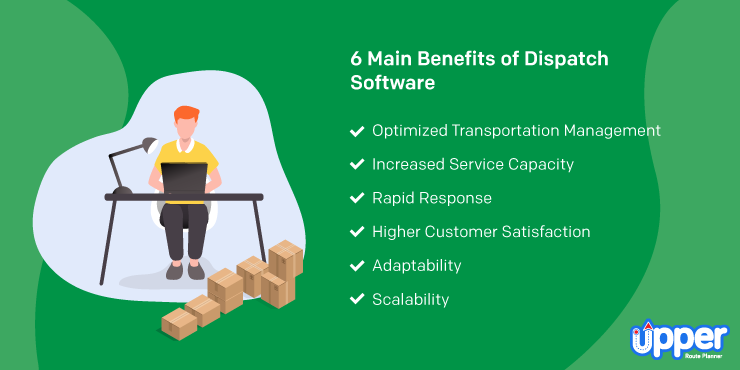 Optimized Transportation Management
Dispatch software allows you to manage every aspect of your business's transportation processes in real-time and with the aid of GPS technology, interactive maps, video tutorials, and direct communications with your drivers/field technicians. Having access to up-to-date information about your field workers/drivers through driver tracking allows you to optimize routes and identify processes that can be improved.
Increased Service Capacity
This benefit flows from the optimization of the business's transportation management. Automated planning of routes and the use of real-time GPS information regarding traffic delays and detours enables dispatchers to optimize a driver/technician's course. As a result, they may be able to complete more jobs within a shift than they could with manual dispatch management. As a result, small businesses can better manage their human resource costs or grow their customer base more rapidly.
Rapid Response
Historically, one of the critical limitations of manual dispatch management was the dispatcher's inability to respond to unexpected issues in the field or on the road which can usually come through a phone call or email address. Without access to real-time information as the situation unfolded, it was often difficult for dispatchers to assist their drivers in managing the issues. Real-time data provided eliminates the dispatcher's 'blind spot' and allows them to respond quickly to problems that arise, thereby mitigating the damages/costs related to the issue.
Higher Customer Satisfaction
In today's business environment, customer satisfaction must be front and center for every business. Having a positive customer rating or user reviews for your app and can change a lot of things. It is important that you get as many 4 or 5-star ratings as possible. Many customers will jump ship if a business fails to meet their expectations, which have evolved alongside rapid advances in technology and growth in online companies. Today, customers expect fast and efficient deliveries. They also expect free or low-rate shipping. As noted above, these mobile apps can assist clients in meeting these expectations through optimized transportation management and cost reductions that can be passed on to the customer.
Adaptability
Today's sophisticated business tools are designed to adapt to the specific needs of your business. This is important when you consider the varying needs of enterprises across a broad spectrum of industries that benefit by implementing these tools. And if your company decides to pivot or introduce new in-field services, you can be assured that your dispatching operations will be able to adapt quickly with the assistance of a solution. Solutions can include an ERP style integrated solution or a solution that links with existing accounting software or trucking software.
Scalability
Alongside adaptability, an excellent tool is also designed to scale along with your business, so you don't have to worry about encountering limitations or errors as you grow.
Of course, the benefits of the tools are outlined above assume a baseline of quality. Another critical factor is the integration of key attributes into the platform. In the next section, we'll look at the key features that are useful in any solution designed to benefit small businesses.
Key Features of Dispatch Software for Small Business?
One of the responsibilities of a small business owner is to find the best systems and products to do all the jobs. From tech support to invoices to projects, appointments, as they say, "There's an app for that." Ideally, you want to have a few tools as possible to meet all the challenges. As you explore the solutions for small companies available on the market, be on the lookout for these key features: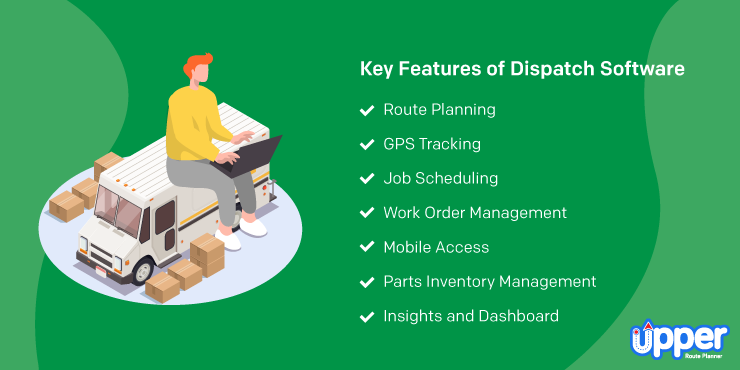 Route Planning
Automated and optimized route planning can help a small company or a supply chain management business cut costs and increase their ability to fulfill more job orders in a day. Specifically, an optimized plan for routing can result in reduced fuel consumption, less wear and tear on fleet vehicles, improved response time, and increased capacity of the driver/field technician to complete more jobs within their shift due to decreased time spent driving from job to job.
Plan quickly, deliver faster, delight customers and get home early.
Everyone deserves to have simple and easy route planning.
GPS Tracking
Real-time tracking and mapping with GPS technology allows dispatchers to monitor the location of drivers and communicate up-to-date information regarding traffic conditions, detours, etc. The platform also enables the dispatcher to track drivers' speed and monitor their stops to ensure they are not driving at unsafe speeds or making unauthorized stops.
Job Scheduling
Your field service industry solution should enable you (or the dispatcher) to easily assign jobs to specific drivers or field technicians/employees based on real-time and historical information such as the workers' skill level. For example, you can match more challenging jobs to your most experienced technicians and availability. The platform should also allow you to add new assignments to a workers' schedule as they are received. For example, if a technician is out in the field and you receive a new job request that is very urgent, the platform can assist you in adjusting your technician's schedule and re-routing them to the next job immediately. The employee scheduling software component is key to improving efficiency, productivity, and ultimately improving the customer experience.
Work Order Management
This feature of dispatch software enables you to create work orders, quotes, dispatches, document management, and track their status from start to finish. This feature may sound simple, but it's an incredibly powerful way to bring order to an often complex workflow system. The savings in human resources and reduction in errors will ultimately result in reduced company costs through an affordable price range and improved customer satisfaction. A service company also wants to keep the customer relationship management (CRM) database as they schedule jobs for their on-site service operations.
Mobile Access
Perhaps it goes without saying in 2021, but your on-site service management solution should be deployed on a mobile device such as the iPhone and Android, as well as the Cloud. A mobile app allows for easy communication between your dispatchers and mobile on-site service drivers/technicians. It is imperative to keeping both informed of issues and up-to-date information (e.g., traffic delays, customer updates, etc.). Mobile access also provides your drivers and technicians with all the information they need on-site – from an optimized route plan to customer information on a simple mobile device. At the same time, mobile access also enables them to update data along their route and keep the dispatchers fully informed of their job status. Some users may also require a desktop application to meet the demands of companies that work in remote areas. This group of users includes construction and landscapers.
Parts Inventory Management
If your business's field service work involves the use of parts, equipment, and materials, you'll want to ensure your dispatch software includes capabilities relative to parts inventory management. It can track the parts inventory in each of your vehicles and as a whole. This will help ensure your drivers/technicians are always using a vehicle that has the parts/materials they'll need for their assigned jobs. You'll also be able to re-order parts and materials in a timely fashion so that you are never out of inventory necessary to maintain your workflow. This situation is especially real for the service department of trucking companies, HVAC technicians, or plumbers, where the enterprise has so many expenses relative to parts.
Insights and Dashboard
More business operations want up-to-date and real-time performance insight on their whole workforce and activities. An excellent reporting system for the entire field service team is critical for crews who want to differentiate themselves. Ideally, a manager can use functions reports, employees timesheets, maintenance schedules at any time. Different solutions offer flexibility in devices and platforms. These options include the tablet, web-based tool (website), smartphone, or phone support (iOS / Android). A dashboard must also have the necessary customer service tools, be it a mobile or web dashboard
Choosing the Right Dispatch Software Solution
There's no 'perfect' dispatch software solution that will fit the needs of every small company. By now, however, you should have a handle on how this type of platform can benefit your business and what key attributes to seek.
It's also worth noting that some industry-specific solutions may be the best fit for your business, especially if you anticipate substantial company growth. For example, there are dispatch software solutions designed for the trucking industry, specific field service industries (e.g., HVAC, landscaping, painting, etc.), taxi dispatchers, and emergency service managers. You must also check out the product reviews for this software on sites like Capterra.
---
FAQs
There are three key factors to consider. First, some of the transportation dispatch software is specialized for certain types of field service companies. Second, your specific business needs, in other words, what phone support and options do you need for your clients and users like web-based or mobile-based. The third factor is pricing, how much money is required to invest. The bottom line is the feature and support of the software and whether it is affordable. See if you can get your hands on a free trial before you actually pay the price.
This is specialized software for a service business with dispatch technicians. It allows a field service business to schedule service calls, assign service contractors, track job details, overall job management using a web-based app, inventory control, phone support and a comprehensive management system for the manager.
---
Make Field Service Management Easier with a Dispatching Software
In short, there are many requirements to consider when selecting your field service scheduling software (or service management software). Whether it's managing people, trucks, results, financials, or checklists, there is a lot to do. This type of job transportation dispatch software for service businesses is critical for business success for all small business owners and organizations anywhere. We hope this guide has been useful to the many field service businesses and service technicians, and we Hoppe it helps choose the best business management software system that will be the most valuable for your needs. As always, if you have further questions, recommendations, or comments, we invite you to contact us with any feedback you may have. Until then, may your project management and dispatch board be simple and easy!