Key Takeaways:
Badger Maps is one of the popular sales route optimization software for field salespeople.
This software helps to streamline the sales route, offer precise mapping, and enables easy scheduling and calendar management.
Some of the top Badger Maps substitutes are Upper Route Planner, Map Business Online, OptimoRoute, and Map My Customer.
While choosing the substitute for Badger Mpas it is important to take team size, financial constraints, and particular requirements into account.
Being a delivery business, you must have definitely heard all praises about Badger Maps. It is essentially a route planner app for sales reps and teams to manage their territory by combining schedule planning, route optimization, CRM data, lead generation, and Google Maps. Badger Maps helps you easily spot your clients on a map and efficiently creates the fastest routes to their locations.
While all this is great, Badger Maps may still not be the best choice to make when looking for route planning software. And that is because there are a plethora of Badger Maps alternatives available in the market that do a much better job of route planning and route optimization.
While Badger Maps might be good for big players in the industry, it is not meant to efficiently cater to the specific needs of small and medium enterprises. Plus, because of its pricing structure, it is an uneconomical financial commitment for new business owners. And lastly, because Badger Maps was initially focused on helping sales reps generate new leads, it comes with several redundant features that you might never use but end up paying for.
Through this article, we take a look at the disadvantages of Badger Maps, Badger Maps alternatives that are probably more suited to your needs, and finally one software application that is the best choice among the lot.
Why Should Delivery Businesses Look for an Alternative to Badger Maps?
Sales reps and sales teams mainly use the Badger Maps application to manage their clientele and improve lead generation. They use it to handle sales routes and schedules, focusing on the right customers. But some of the drawbacks of the application involve cost-effectiveness and redundant features.
Here are a few reasons why alternatives to Badger Maps are more robust and functional compared to Badger Maps.
Alternatives are more suitable for small businesses

Badger Maps is ideal for companies that have been in the industry for quite some time. But it may not be an exemplary commitment for a business in its starting stages. We recommend trying other options before financially committing to this software solution. This is especially easy nowadays since most software options offer a free trial.

Uneconomical for new business owners

Badger Maps' basic plan for outside sales teams begins at $49 per user per month, billed annually. Compared to many other economic alternative vendors, badger maps can be a steep expense, especially for new businesses planning to set foot in the industry.

Feature-rich can also lead to redundancy

Initially built to target sales teams, Badger Maps helps sales reps effectively generate leads. This means that some features could be redundant or serve as overkill for businesses operating in completely different niches, particularly if the business is brand new.
4 Best Alternatives to Badger Maps
Upper Route Planner

The first on our list of software is Upper Route Planner. Upper Route Planner is an all-in-one route planning software made to improve the delivery efficiency in a business.

With Upper Route Planner, you will get a plethora of features, including route optimization that can improve productivity by helping your drivers to do more deliveries and increase profit your business by reducing cost-per-delivery.

In addition, you will be able to save time, deliver more orders, serve your customers with 100% satisfaction, and skyrocket profit margins with Upper Route Planner.

Best Features:

The ability to dispatch multiple drivers with the one-click driver dispatch feature. Perfect for growing teams of small and medium businesses with multiple drivers.
Import up to 500 stops through an Excel sheet for just a single delivery route plan.
Generate and customize reports anytime for better analysis, insights, and research. Businesses can better analyze the drivers' performance and make necessary changes to increase delivery efficiency using daily, weekly, and monthly reports.
Notify customers about delivery status details through message notifications to keep them updated, improve transparency, and build trust along the way.
Accurate ETAs for establishing a more transparent process with Upper Route Planner. Transparency is improved when each of your customers receives accurate ETAs for delivery.
Getting proof of delivery helps improve accountability. Drivers can record proof of delivery by clicking pictures or collecting customer signatures.
Generate daily, weekly, and monthly reports. Data helps you keep a tab on daily delivery operations, so you can make better, informed decisions.

Great For:

Businesses operating in the delivery niche like Meal-kit Delivery Services, Flower Delivery Services, Grocery Delivery Services, Pharmaceutical deliveries, eCommerce deliveries.

Pricing Model:

Essential plan: Starting from $80 per month for up to 3 drivers
Growth plan: Starting from $160 per month for up to 5 drivers
Enterprise plan: Contact for more details

Available on: Web, Android & iOS devices

Upper Route Planner

A Simple-to-use route planner that every one is talking about.

Save up to 95% of planning time
Save up to 40% of time on the road
Plan 500 stops at once

Map Business Online

Map Business Online is a cloud-based route mapping software suitable for a wide variety of businesses that handle sales daily.

Best Features:

Provides advanced geographic analysis tools for competitor mapping, searching for (prospects) businesses in the target industry, and marketing campaigns for lead generation.
Optimized route planning for delivery is easily achievable by easily importing Excel spreadsheets into your CRM software. Interactive maps built into the software allow for smoother collaboration with team members and delivery drivers.
Territory mapping allows you to easily create, manage, and update sales territories to reflect your business operations geographically.
Improved efficiency in route planning that helps to reduce fuel costs and other overhead expenses. It also allows for driver performance analysis in multiple stop scenarios.

Great for:

Medium to large business enterprises managing a large team, Medical Equipments Sales, Pharmaceutical Sales, Insurance Sales, Transportation, and Logistics Services.

Pricing Model:

Three different pricing models exist with Map Business Online.

The Standard version for a single user comes with a steep annual price of $600.
The Pro version for a single user is marked at $1,050.
And the Standard Team version for a minimum of 5 users is marked at $2,850

OptimoRoute

OptimoRoute allows business owners to plan and schedule routes and tasks efficiently. The software is also a catalyst in reducing the driving time by optimizing delivery routes. The quick and simple automation of delivery workflow also means less stress and minimal planning efforts, in addition to saving time and money.

Best Features:

Optimizes delivery route by considering factors like window time, order priority, reverse logistics orders, personnel availability, and more.
Proof of delivery is easily achieved by collecting digital signatures, photos, and delivery notes.
Improved driver performance by considering allowed work hours and driver costs. This quickly reduces costs like overtime by improving efficiency during working hours.
Access to real-time tracking of delivery orders en route helps increase transparency and keeps everyone in the loop about the order status. Efficient tracking also allows for leeway in last-minute order changes without affecting the delivery process.

Great for:

Businesses offering eCommerce Service, Healthcare Services, Cleaning Services, Retail and Distribution Services, HVAC Services, Inspection Services, Postal and Courier Services.

Pricing Model:

The first pricing model offered by OptimoRoute is the Lite version billed annually at $35.10 per driver per month.
The second Pro version is billed annually at $44.10 per driver per month.

Map My Customer

A sales mapping software, Map My Customer, enables field sales teams to improve their business with daily optimization in route mapping.

Best Features:

Integration with major CRM applications like Salesforce, Hubspot, Zoho, and more is easy. More manageable and smoother syncing of business customer data.
Reduces weekly planning time up to 50% by saving common routes and locations.
Grouping and filtering of geographical areas to apply a better sales strategy for businesses targeted in that area.

Great for:

Sales focused businesses like Financial Services, Insurance Services, Medical Technology Services, Furniture Sales, Industrial Equipments Products and Services.

Pricing Model:

The Personal Version of the pricing plan offers $60 per month for individual sales reps.
The Team version comes at $105 per month per user, billed annually for a sales team.
Why is Upper Route Planner the best alternative to Badger Maps
Here are a few reasons you should choose Upper Route Planner over other platforms
Route Planning and Optimization

With the best route optimization algorithm, you can reduce substantial business expenses like fuel costs up to 40%. You essentially save a significant amount of time spent on route planning and deliver remarkably more orders in the same amount of time.

Priority Scheduling

By setting priority on delivery orders, you can assure that a delivery route is optimized around that order ensuring faster delivery times and better customer satisfaction.

Proof of Delivery

Improve the process of driver reporting and offer improved proof of delivery to customers through digital signs and pictures of successful deliveries.

Increase Productivity

You can divert more focus to improving other business operations to reach better profit margins, thanks to the improved productivity achieved through proper route planning and optimization.

Simplify route planning through an uncomplicated interface

A simple interface helps remove complications and gets more work done with minimal to no training or previous experience.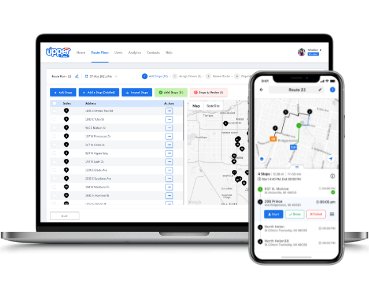 Upper Route Planner
A Simple-to-use route planner that every one is talking about.
Save up to 95% of planning time
Save up to 40% of time on the road
Plan 500 stops at once
Conclusion
Thanks to the technological advancements of this day and age, plenty of intelligent solutions exist to serve your specific business needs. If you manage a small team or a small to medium-sized business, then cost and efficiency may be your top priority when picking route planning software to plan and optimize routes.
After careful consideration, choosing the right software can change the game for your company. By making smart business choices in the right technology, your organization can also rise above the industry standard and serve as a rightful leader to your competitors.
All you can do is give Upper Route Planner a try by starting a 7-day free trial and exploring how it benefits your business in route planning, optimizing, and dispatching.