Top Features
MyRouteOnline
by MyRouteOnline
4.2

Planning & Scheduling

4.1

Route Optimization

3.9

Analytics

4.1

Team Management

4.4

Support
Overview
The last-mile delivery market is booming because of the constant rise in the end-user verticals. E-commerce services, on-demand food deliveries, retail FMCG deliveries, ride-hailing, and taxi services are some of the end-user verticals.
To ensure efficient and timely deliveries, adopting route planning and optimization software like MyRouteOnline is a must.
This software allows you to either import multiple addresses or map multiple locations to plan the best possible delivery route online.
MyRouteOnline has a simple, easy-to-understand, and intuitive user interface. It is a mobile and web-based route planner software that offers credits-based pricing with various plans that focus on meeting your routing needs.
Using MyRouteOnline, users can set either the default service time for all of their deliveries or they can manually enter the service time for specific deliveries. The route planner considers specified service time or stop duration time during route planning.
Along with all these functionalities, users can even share the planned or scheduled routes with drivers and clients. The route can even be exported to various navigation platforms, including Google Maps andGarmin.
MyRouteOnline Review
Positive
Add multiple addresses in two different ways. First, import the address file in Excel, CSV, or TXT format from cloud storage apps like Dropbox and Google Drive or directly import the contacts for planning deliveries.
Time wastage and fuel costs can be saved when service time and time window are preferably given.
The entered stops get validated, and if found misleading or incorrect, you cannot go ahead without correcting it from the given suggestions.
Routes are optimized based on 4 optimization goals set. Those goals are minimizing the distance or time individually or balancing them both, or keeping the routing sequence as it is.
Can review the optimized route before dispatching it to the driver through the animate directions feature.
With MyRouteOnline, you will be able to save your existing routes and reload them. Also, you can modify them anywhere and anytime you want in the future.
The ability to upload the planned or scheduled route to Garmin GPS makes it easy for users to plan routes in advance, modify them as needed, and avoid missing appointment windows.
Last-minute changes have been simplified. Either manually click on the address you wish to move to the different route or click on the polygon icon and draw lines around the moving addresses, followed by manually changing them.
Get live updates about the deliveries that your drivers are completing. Plan a route, save it online, and email it to your driver with a request asking to view tracking progress and arrival reporting.
Swapping single or multiple stops between the existing routes can help you at the time of any emergency or when the specific route is to be given priority.
Negative
Cannot save and reload the routes for future reference under the basic plan; you need to upgrade the plan to get facilitated with this feature mandatorily.
Detailed analytics through summary or detailed reports is not available. This results in a lack of knowledge about the overall performance of your business.
Options to avoid tolls, bridges, tunnels, and dense & congested routes are not available while planning and optimizing the routes.
Once the address file gets imported, it does not allow you to re-upload it again. Instead, you need to go to the first step and add multiple stops manually.
Limitations over entering the addresses in one run (350 addresses) as well as restrictions over the character limit (240 characters) while entering each address bind users.
The option of duplicate routes is lacking. This is essential in the case when the same addresses are to be revisited multiple times in the future. You need to import and create the same route every time.
It doesn't allow you to map more than 50 addresses if you are in your free trial period. You need to get the paid plan mandatorily.
The option of adjusting the pickups in between, before, or after your deliveries is not available.
Basic
$24.00
PAY AS YOU GO
Features
24/7 customer support
Import Excel, Drive, and Dropbox
Export & email routes
MyRoute driver's app
Single user, limited access**
Classic
$59.00
Pay as you go
Basic Features +
Save & reload routes
350 addresses per run
Live tracking
Multiple users
Full access
Premium
$109.00
Pay As You Go
Classic Features +
API integration
Unlimited users
Full access
Professional
$399.00
Pay As You Go
Premium Features +
500 addresses per run***
Full access
Business
$799
PAY AS YOU GO
Professional Features +
Monthly reports upon request
Customized integration
1000 addresses per run
Full access
Other important terms and conditions
Limited Access**: Save & Reload Routes feature is not included under the basic plan.
1000 Addresses***: This option will get activated only when you contact their support team.
Recurring Billing plans get auto-renewed every 30 days until explicitly canceled.
Recurring Billing plans can be stopped at any time, with credits remaining valid until the 30 days period ends.
The pricing plan of Pay As You Go is valid for 12 months.
Full refund within 7 days if the user is dissatisfied with MyRouteOnline service; check the refund policy stated here*.
You need to contact their customer support team for a special rate under enterprise usage.
Nonprofit organizations can get 50% extra credits on any of their plans.
Note: Their refund policy mandates that if a user is not entirely satisfied with the service, then within the first 7 days, either they will assist the user or provide a refund at their request. However, the refund will be processed only if no more than 50% and less than 100 address credits have been used.
Price Plan For Team
Upper
Essential
$80/month
Unlimited stops
Growth
$160/month
Unlimited stops
Enterprise
Contact for pricing
Customized API integration Custom reports
Free Trial Available
MyRouteOnline
Premium
$109/Pay As You Go
1200 credits (stops)
Professional
$399/Pay As You Go
6000 credits (stops)
Business
$799/Pay As You Go
15000 credits (stops)
Free Trial Available
---
Price Plan For Solo
MyRouteOnline
Basic
$24/Pay As You Go
50 credits (stops)
Free Trial Available
Assessing the Worth: Is Your Investment Worth the Price?
Getting access to all the required features can unlock your business's hidden potential, resulting in streamlined routing operations and higher profitability.
However, there are cases where your investment turns out to be huge, and the return you get is minimal. So, let's have a look at what you are paying against what you are getting back.
| | | |
| --- | --- | --- |
| Data Import | | |
| Addresses (credits) | Limited | Unlimited |
| Service Time | | |
| Time Windows | | |
| Curbside Delivery | | |
| Route Scheduling | | |
| Pickup & Delivery Options | | |
| Parcel Location & Info | | |
| Driver's App | | |
| One-Click Driver Dispatch | | |
| Proof of Delivery | | |
| Reassigning Routes | | |
| Export Routes | | |
| Stops Priority via Color Coding | | |
| Reports & Analytics | | |
| API Integration | | |
| Expected Time to Arrive | | |
Features MyRouteOnline Upper

Data Import

Addresses (credits)

Limited

Unlimited

Route Optimization

Service Time

Time Windows

Curbside Delivery

Route Scheduling

Pickup & Delivery Options

Parcel Location & Info

Driver's App

One-Click Driver Dispatch

Proof of Delivery

Reassigning Routes

Export Routes

Stops Priority via Color Coding

Reports & Analytics

API Integration

Expected Time to Arrive

Try Upper for FREE No credit card required
What People Say About Upper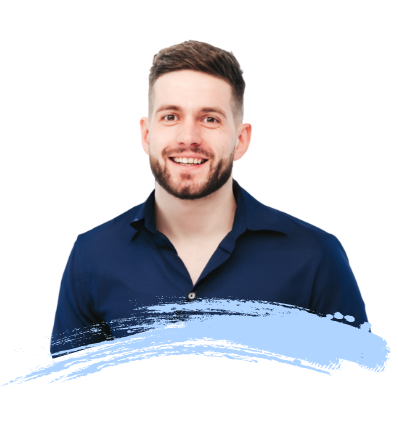 Saved 10 hours per week & delivering 3x more meals with Upper. It's easy to take proof of delivery, the speed is great, it's super super fast!

Ben Parker,
Delivery Manager of Flavors2Go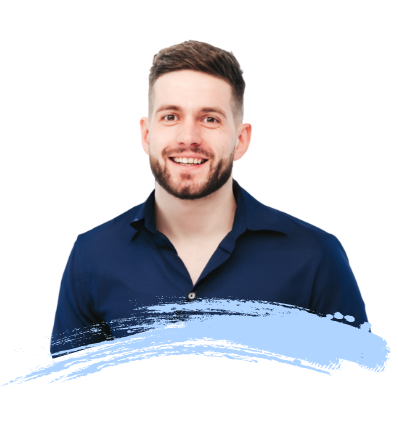 MyRouteOnline Features
1. Data Import:
MyRouteOnline offers two options to import data, such as addresses and contacts. You can import the data you want from Cloud Storage platforms like Google Drive and Dropbox or from Excel, CSV, and text files, making data import very convenient for those that have customer data stored in multiple formats.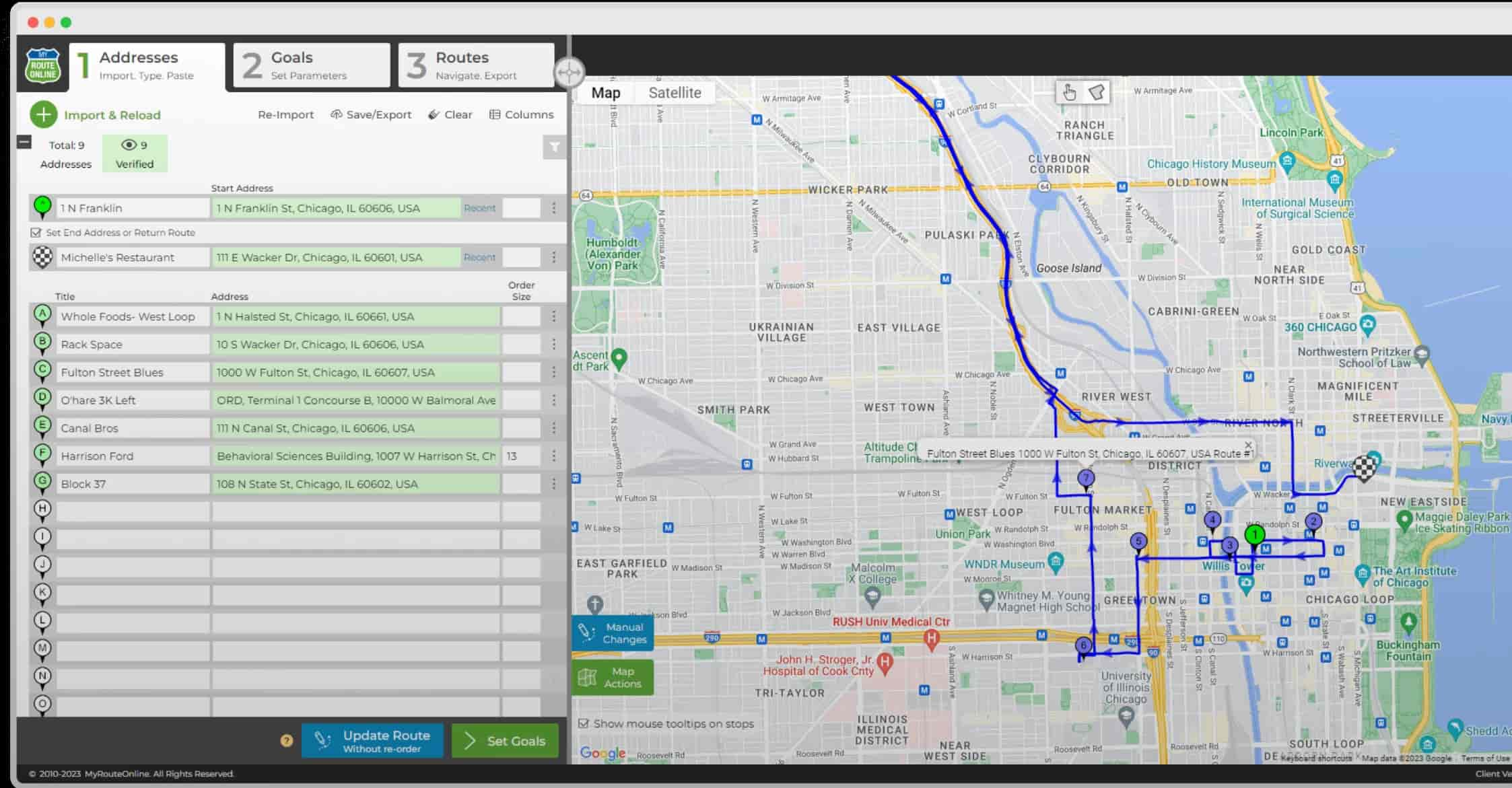 2. Route Optimization:
MyRouteOnline is capable of optimizing routes as it can plan a route with up to 1000 stops. It also allows you to customize your optimization process by adding additional parameters such as service time, pickups, and minimizing time or distance.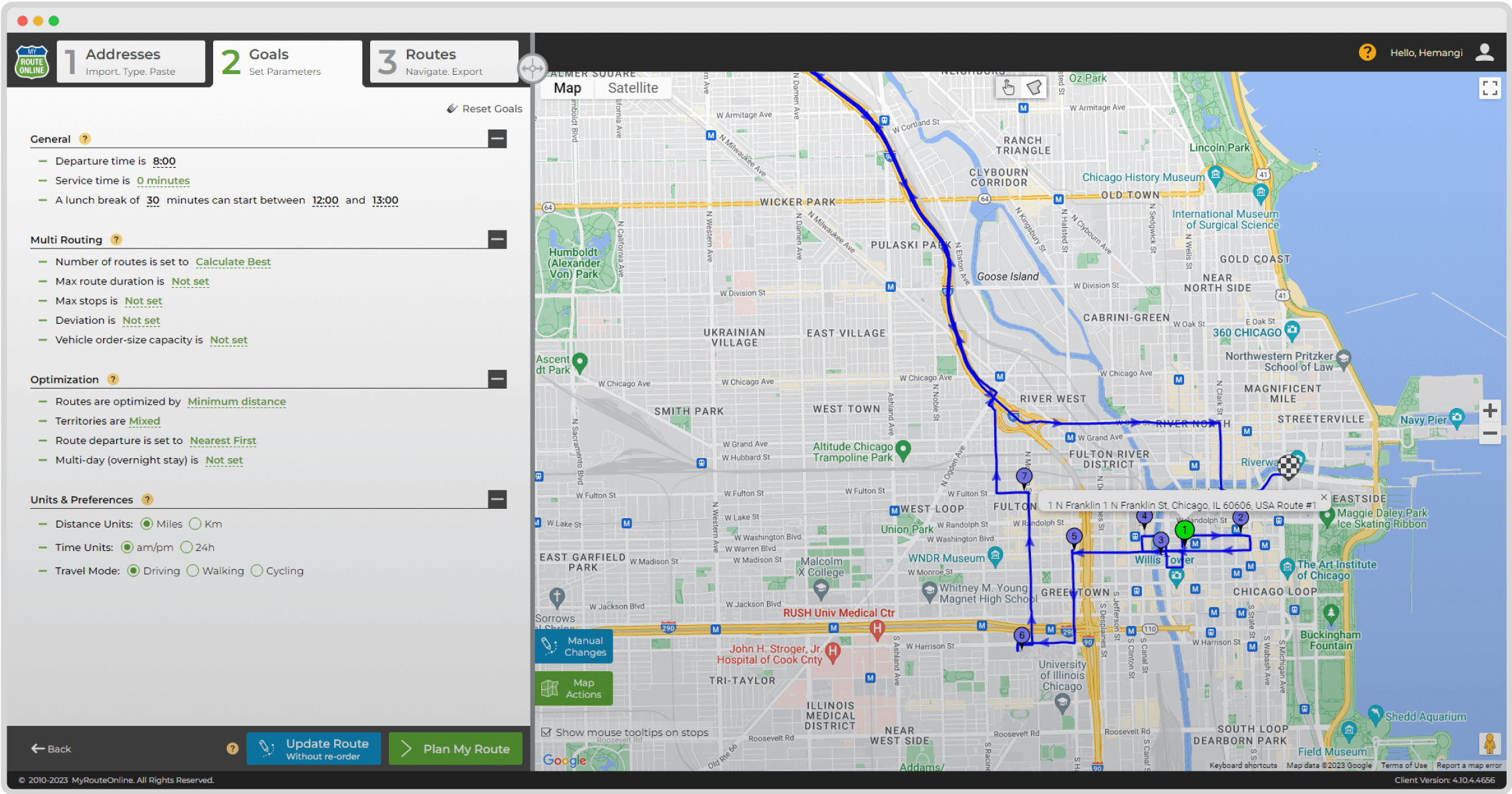 3. Drag-and-Drop Editing:
The software offers a user-friendly interface that allows you to edit and adjust the routes easily. You can manually rearrange the sequence of stops by dragging and dropping them on the map, providing flexibility to accommodate changes or unexpected events.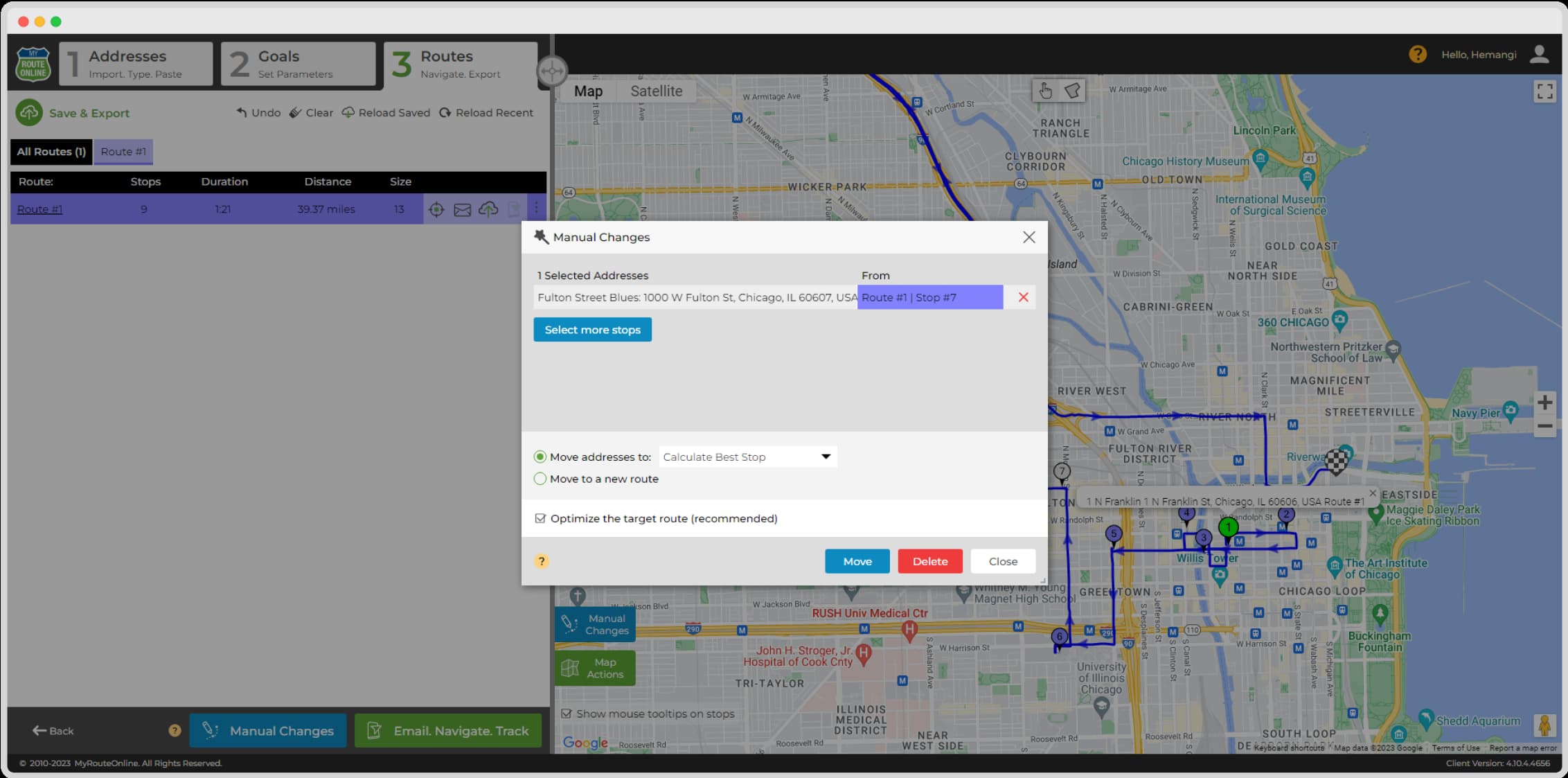 4. Delivery Tracking:
You can get delivery tracking as an additional add-on when using MyRouteOnline. This, however, does not show you the real-time locations of drivers. But instead, it shows you their progress based on the stops they have reached and completed.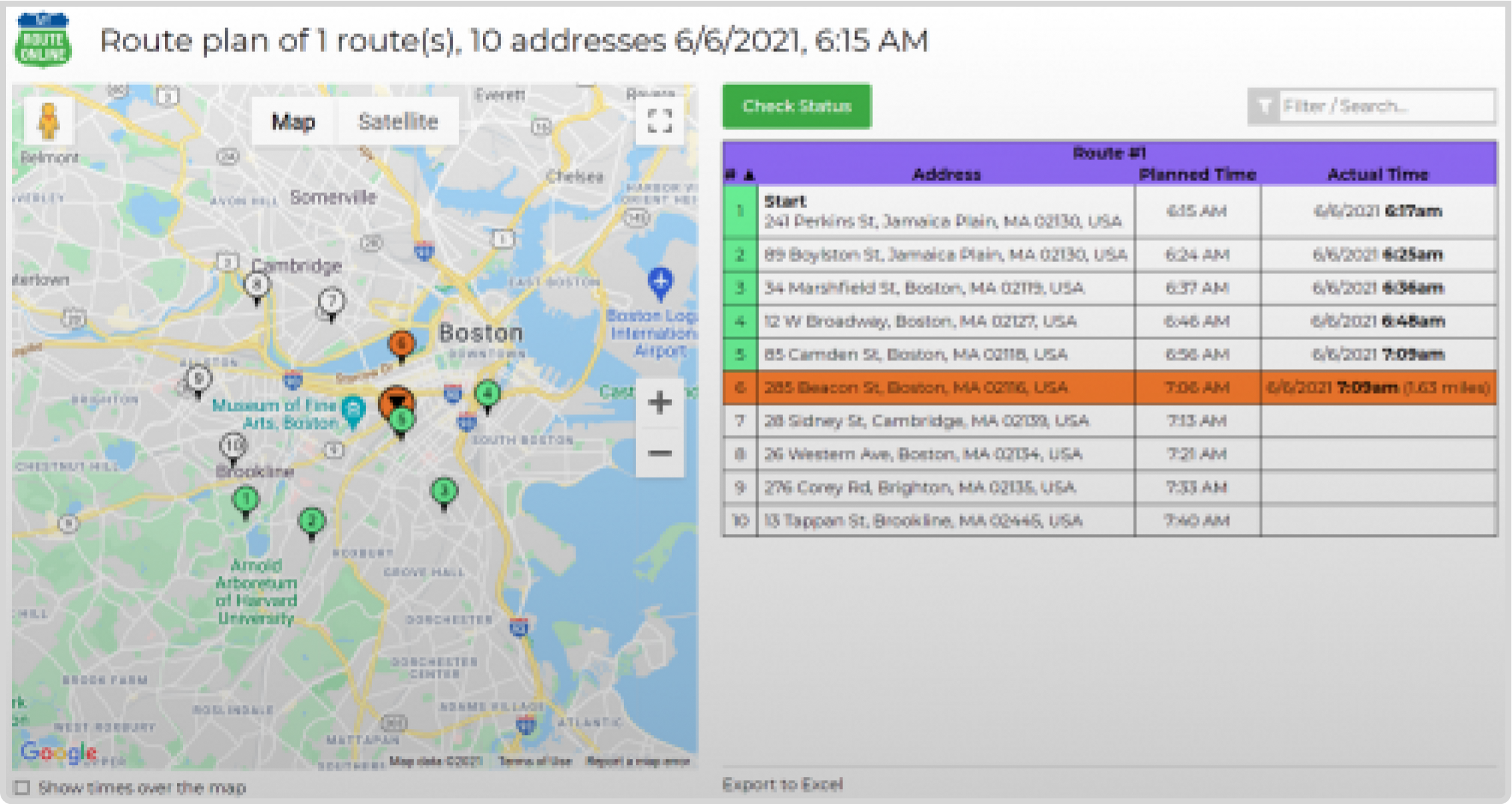 5. Route Export Option:
Most route planning solutions let you export your routes to your contacts via email. MyRouteOnline takes it a step further by allowing you to export it as an Excel file and even to Garmin, TomTom, and Google Maps for seamless data sharing and navigation.
6. Zapier Integration:
If you are looking to integrate the MyRouteOnline route planner with any of your business platforms, then it should not be difficult at all, as they have integration from Zapier. Basically, with Zapier Integration, MyRouteOnline can be integrated into 5000+ online platforms.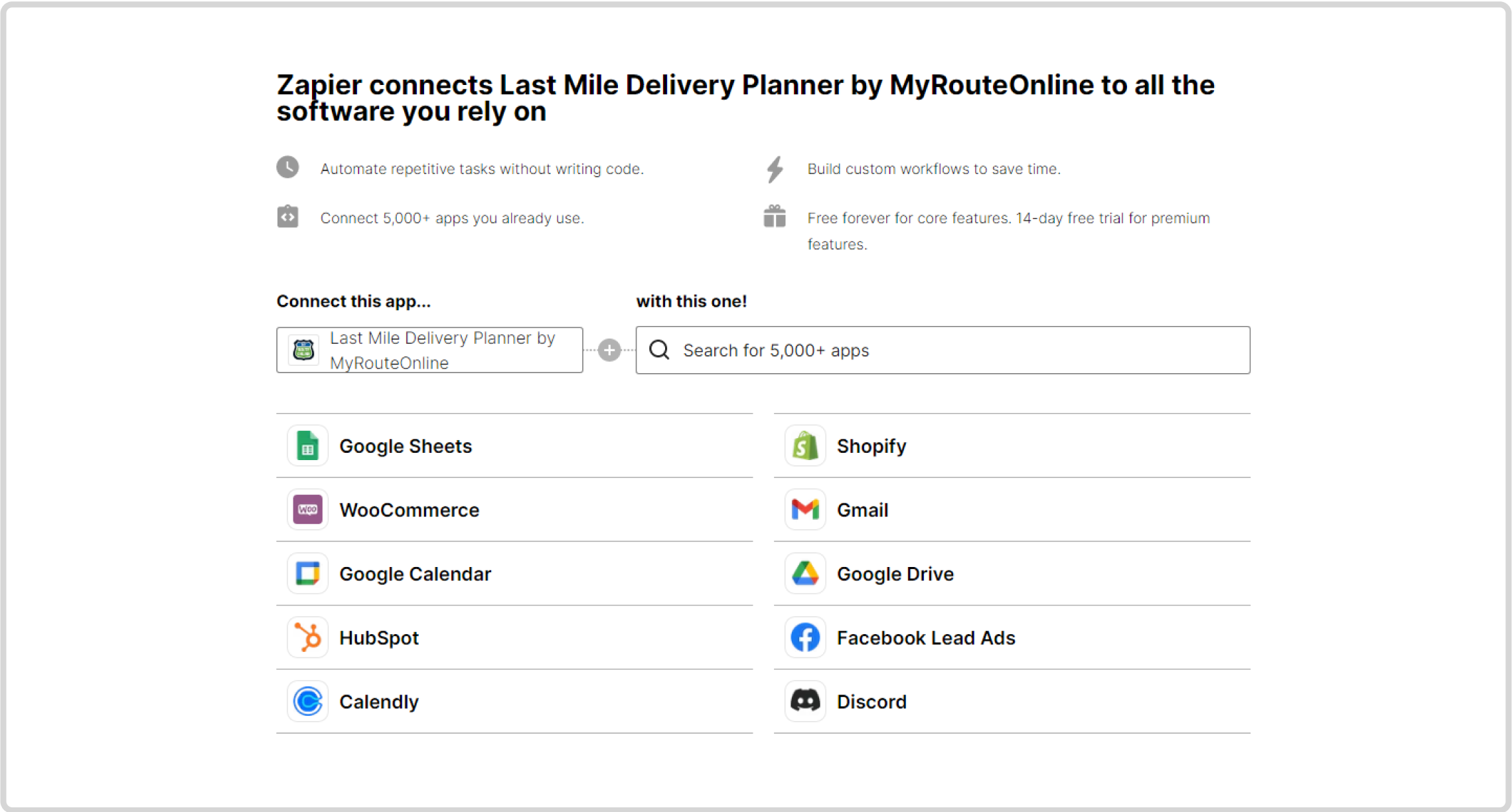 Is MyRouteOnline Right for Your Business?
Limitations restrict the user's comfort. For instance, the limited access to saving and reloading the existing route feature is not available under the basic plan. This mandates the user to go for a high-pricing plan even if it is not in his affordability.
To add more addresses per run, contacting their support team is necessary, which may end up causing additional delays and communications. Other than this, some essential feature options like reports and analytics, proof of delivery, creating duplicate routes, adjusting pickup options, and entering parcel info is not available.
Higher prices and limitations over the use of features cannot go hand in hand. If you're charging high, you are liable to get rewarded accordingly, right? Doing the opposite of this can never turn out to be profitably good.
MyRouteOnline
$399/Pay As You Go
Stops per run

500

Stops Limit 6000 Credit (Stops)
Upper
$200/month
Save 20% with annual billing
Stops per run

500

Unlimited stops
Get more by paying less
Planning multiple routes and dispatching them in a click has now been easier with Upper.
Route optimization has now been streamlined with such user-friendly and reasonable software available.

Go and grab the one that can help you feel worthy for every penny you paid.
A Perfect Alternative for You
Designed specifically to curb the challenges coming in the way of delivery businesses, field service technicians, and logistics, Upper is definitely one of the right alternatives to choose from.
Acknowledging the fact that MyRouteOnline has a variety of features though restricted in some or the other way, Upper provides full flexibility over the use of some of the basic yet crucial features.
Here are the key features of Upper that are better than MyRouteOnline:
One Click Dispatch:Send routes to drivers in one click. They can get the scheduled delivery route via emails, texts, or URLs that you share. In case of unavailability or busy status of one driver, you can easily re-assign the same route to another available driver. However, this is not the case with MyRouteOnline, firstly, you cannot share the routes via text as well as you are not facilitated with the option to reassign the routes, which can halt your business operations.

Proof of Delivery: The evidence of the successful completion of the deliveries can be captured via proof of delivery signatures and photographs. Drivers can even add relevant notes as additional information relating to deliveries. On the other hand, MyRouteOnline is not supporting the user with this feature. This can end up causing disputes over the deliveries in the future.

Time Windows:Upper allows you to enter the preferred time windows helping you to determine when your customers will be available and when not. On the other hand, MyRouteOnline does not offer you such an option enabling you to end up spending high fuel costs and unnecessary waste of time.

Pricing Plans: Upper has 2 different pricing plans i.e. starting from $80 per month if billed annually to $160. In both plans, users are able to add unlimited stops, whereas MyRouteOnline offers 5 pricing plans ranging from $24 to $799, having limitations over the address credits, addresses per run, and some essential features as well (One example of this can be the saving and reloading feature).

Live Driver Tracking: Live driver tracking enables dispatchers or delivery companies to track the status of ongoing pickups or deliveries. They can know the whereabouts of drivers and ensure whether the scheduled tasks are being done as planned or not. This avoids the chances of missed or delayed deliveries resulting in improved customer satisfaction.
Conclusion
Acknowledging the fact that every coin has two sides, you might get indecisive while selecting which software to integrate into your business. However, this in-depth review on MyRouteOnline can help you determine whether you should go for it or not. 
However, there are alternatives available, like Upper, which you can compare with MyRouteOnline directly in terms of features, functionalities, pricing, and user experience. Then, you can go with one that meets your requirements. To experience Upper, start a 7-day free trial and explore this software end-to-end.
Frequently asked questions
Is there any option for duplicating the routes available in MyRouteOnline?

No, the user cannot duplicate the existing route once completed. However, there are other route optimization software solutions in the market, like Upper, that facilitate the user with such functionalities. The duplicate route feature can be very useful for pharmacies or technicians involved in the field service business who schedules the same completed routes at regular intervals.

Can I get detailed insights into the overall performance of my business?

Many route planning and optimization software offers in-depth reports and analytics to get insights on how well their daily business operations and their overall business are performing. However, MyRouteOnline has not yet offered such functionality to its users.

Can I use MyRouteOnline on my mobile phone or tablet?

Yes, MyRouteOnline is a web-app route planner that is also available on Android, iPhone, and iPad.

How much does MyRouteOnline cost?

The pricing plans of MyRouteOnline are different based on different address credits. For instance, the basic plan starts from $24/Pay As You Go with 50 address credits, followed by $59/Pay As You Go with 500 credits, and so on.

Is it worth paying for MyRouteOnline?

Considering MyRouteOnline's pricing plans, it may not be worth paying for it as the pricing seems to be relatively high, especially for businesses that have limited delivery requirements or are just starting out.

Additionally, the features offered in the different pricing tiers by MyRouteOnline may not justify the cost, especially when compared to other alternatives like Upper.

Which is the best alternative to MyRouteOnline?

If you are considering the switch from MyRouteOnline to the other best alternative in the market, then Upper can help you here. Wide range of feature sets, affordable pricing options, and excellent user reviews, Upper can turn out to be a strong contender as an alternative to MyRouteOnline.

Upper offers comprehensive route planning and optimization features that can streamline your delivery operations. It provides efficient route optimization algorithms, real-time tracking, a dedicated driver app, and intuitive user interfaces.