Top Features
3.9

Route Planning & Scheduling

4.0

Route Optimization

3.8

Reports & Analytics

3.5

Team Management

3.9

Customer Support
Overview
Route4Me is an automated route planning, scheduling, and optimization software that resolves your early morning routing chaos. It is suitable for businesses seeking a cloud-based fleet management solution and those indulged in the delivery business and field services.
Right from planning routes to optimizing and scheduling with quick dispatch to drivers, Route4Me is giving it all. Because of the route planning and mapping capabilities offered by Route4Me, anyone from anywhere can plan, schedule and share the optimized route plan among the team.
The software has the flexibility to add thousands of customer addresses simultaneously, along with adding service times and time windows, reassigning the routes among drivers, and tracking route progress in real-time, which makes it an approachable route planning and optimization software.
Routes are optimized focusing on sustainable and carbon-neutral last-mile optimization. Moving ahead, the data visualization and reporting functionality are capable of providing effective and deep insights into businesses' overall performance.
This route-planning app is available on iOS and Android. Because of this, users can collect eSignatures, take pictures of the deliveries/pickups or any service tasks performed, and can add customer notes conveniently from any smartphone device.
It also facilitates customer notifications and alerts that will update customers instantly in case of any modifications or last-minute changes. It will ultimately result in saving your team members time spent on making and answering customers' calls, avoiding miscommunication, and raising your customers' satisfaction.
Route4me Review
Positive
Stop files can be imported in many ways. First by interactive map editor, second by simply copying and pasting the addresses from the file, uploading the address file either from Google Drive, Dropbox, or Box.net, or simply by importing it in Excel or CSV file format.
Easy intuitive software with advanced and patented route optimization algorithms helpful in planning, scheduling, and optimizing efficient routes, saving up on time and fuel costs.
While optimizing the routes, businesses can add as many users and vehicles as possible for better usage of resources and successful completion of tasks.
Real-time GPS tracking of vehicles on the field can be tracked and monitored in order to manage the fleet effectively and make the most of your resources.
Re-assigning both the drivers and vehicles in case of unavailability or the rise of sudden emergencies can be possible for the successful completion of the scheduled tasks.
The existing routes can be either reversed entirely or even stop-wise as per the need and requirements of the users.
Swapping of the routes internally can be possible from one route to another or from one driver to another.
Route4Me is connected with the mobile app that can update customers as well as your drivers instantly as and when you modify any of the routes or any part of it.
With a customer base of over 2M people since 2008, Route4Me has made it possible to cater to the needs and wants of its industrial audience.
Because of the accurate estimated time of arrival, dispatch managers and their respective customers to whom deliveries are to be done can get informed about the arrival of their scheduled products.
Negative
Color coding the stops for easy identification as well as categorization is not available. This may resist you grouping the map based on state, zip code, salesperson, or any other custom attribute.
Sometimes navigating through delivery completion steps is slow.
Already the pricing plans are comparatively expensive, additional costs in the form of add-ons to use certain features of Route4Me might increase the overall cost for normal users who are price sensitive.
The notes section could be improved for better input of notes.
Customer support is available conditionally. Free support is available only to certain users then, if you wish to continue, you need to pay additional costs per user every month to avail them.
The customer flexibility provided through the curbside delivery feature is highly expensive flat at $499/month per company.
The pricing plans are limited to the use of 10 members only. If you have more than 10 members, you are required to pay an additional amount of $69/month per driver.
Duplication of the routes cannot be identified. Even if your customer list has duplicate addresses, you will not be informed or corrected. This may result in undue waste of time, energy, and fuel costs.
Route Management
$199.00
PER MONTH + ADD-ON
Features
Smoothly operate your route operations
Easily collaborate across the company
Integrate Route4Me into any app
Quick and real real-time business insights
Ability to track your company's people live on a map
Route Optimization
$249.00
PER MONTH + ADD-ON
Route Management Features+
Can automatically optimize single-driver route
Enterprise
–
PER MONTH + ADD-ON
Route Optimization Features+
Can automatically optimize multi-person routes
Set your own business rules and inculcate them in route optimization (specify time windows, no of people in the team to plan routes, etc.)
Price Plan For Team
Upper
Essential
$80/mo
3 users included
Growth
$160/mo
5 users included
Enterprise Contact for pricing
Free Trial Available
Route4me
Route Management
$199/mo
Upto 10 team members only*
Route Optimization
$249/mo
Upto 10 team members only*
Route Optimization +
$349/mo
Upto 10 team members only*
Free Trial Available
---
Assessing the Worth: Is Your Investment Worth the Price?
Selecting the best delivery software requires a thorough analysis of the features and capabilities offered. In this section, we present a comprehensive comparison table that sheds light on the key attributes of the different platforms.
By closely examining the features side by side, you can gain valuable insights into the value each solution brings to the table. This assessment will enable you to make an informed decision that aligns perfectly with your business requirements.
| | | |
| --- | --- | --- |
| Data Import | | |
| Route Optimization | | |
| Real-time Driver Monitoring | | |
| Proof of delivery | | |
| Add-ons | | |
| Color coding for easy stop identification | | |
| Driver app | | |
| Customer Notifications | Not functioning properly | Can easily send up to 2,500 SMS |
| Reporting and Analytics | Add-on (pay the additional cost) | |
Features Route4me Upper

Data Import

Route Optimization

Real-time Driver Monitoring

Proof of delivery

Add-ons

Color coding for easy stop identification

Driver app

Customer Notifications

Not functioning properly

Unlimited

Reporting and Analytics

Add-on (pay the additional cost)

Try Upper for FREE No credit card required
What People Say About Upper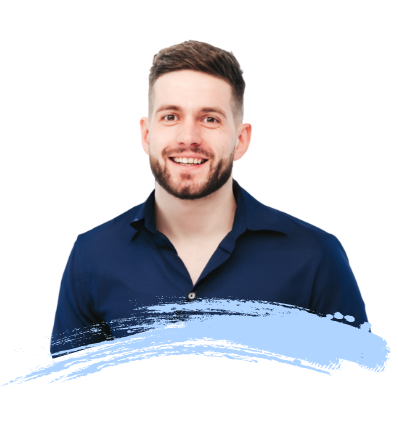 Saved 10 hours per week & delivering 3x more meals with Upper. It's easy to take proof of delivery, the speed is great, it's super super fast!

Ben Parker,
Delivery Manager of Flavors2Go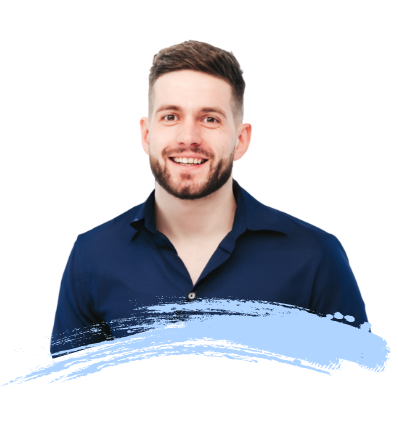 Key Features of Route4Me
1. Data Importing:
With AI-driven route planning and optimization from Track-POD, businesses can streamline their transportation processes and use their resources more efficiently.
The system takes into account various preferences, like those of the customer, the driver, and the vehicle, in order to come up with routes that are efficient and cost-effective. This cuts down on fuel consumption, boosts productivity, and makes customers happier.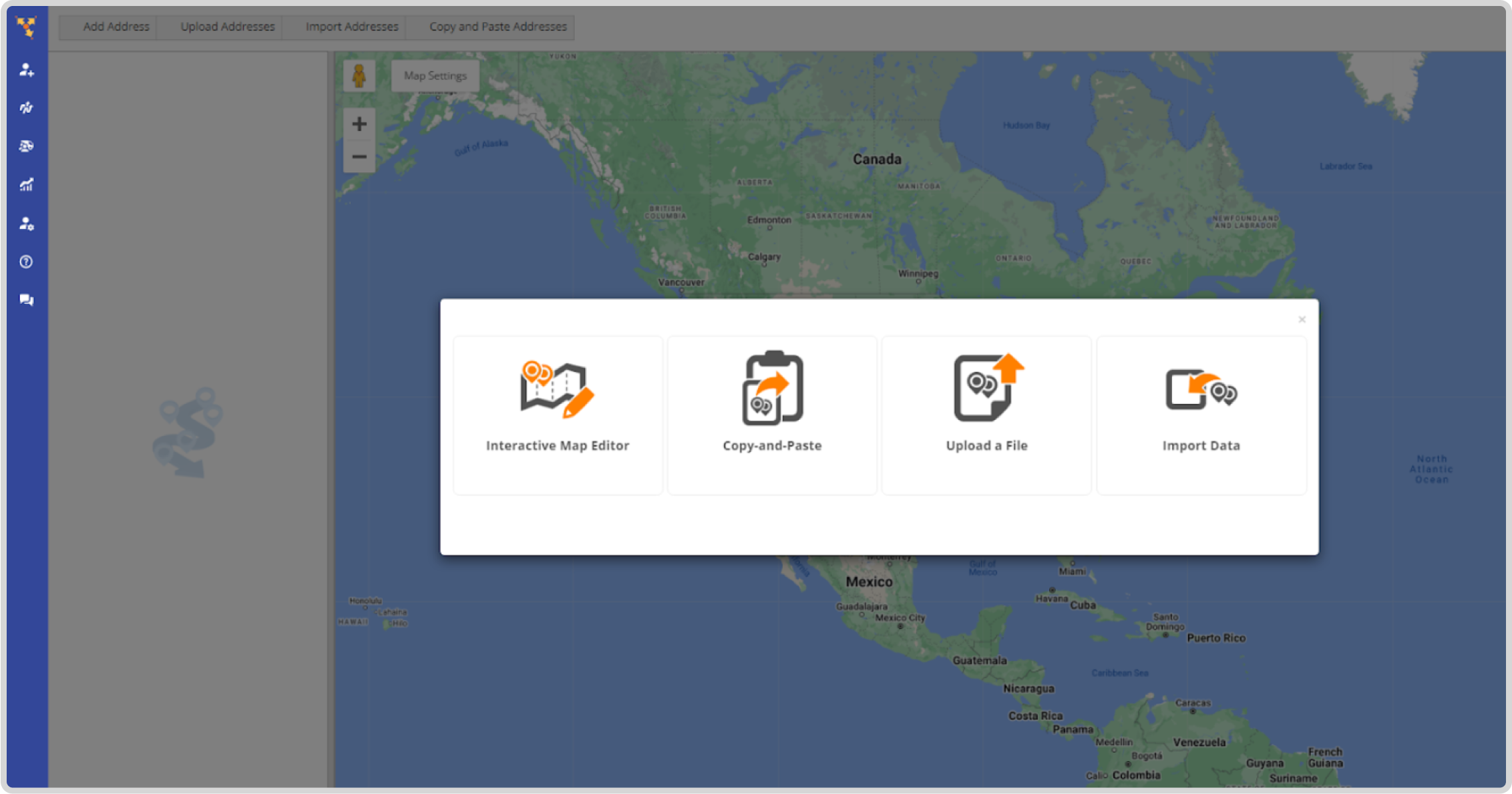 2. Route Optimizations:
Route4Me allows delivery businesses to plan multi-stop routes by considering real-time factors like time windows, predictive weather, avoidance zones, and priority orders. It grants quick access to single as well as multiple drivers after optimizing the routes. Also, because of global mapping capabilities, it can optimize the biggest routes considering single regions, multiple regions as well as multi-national fleets.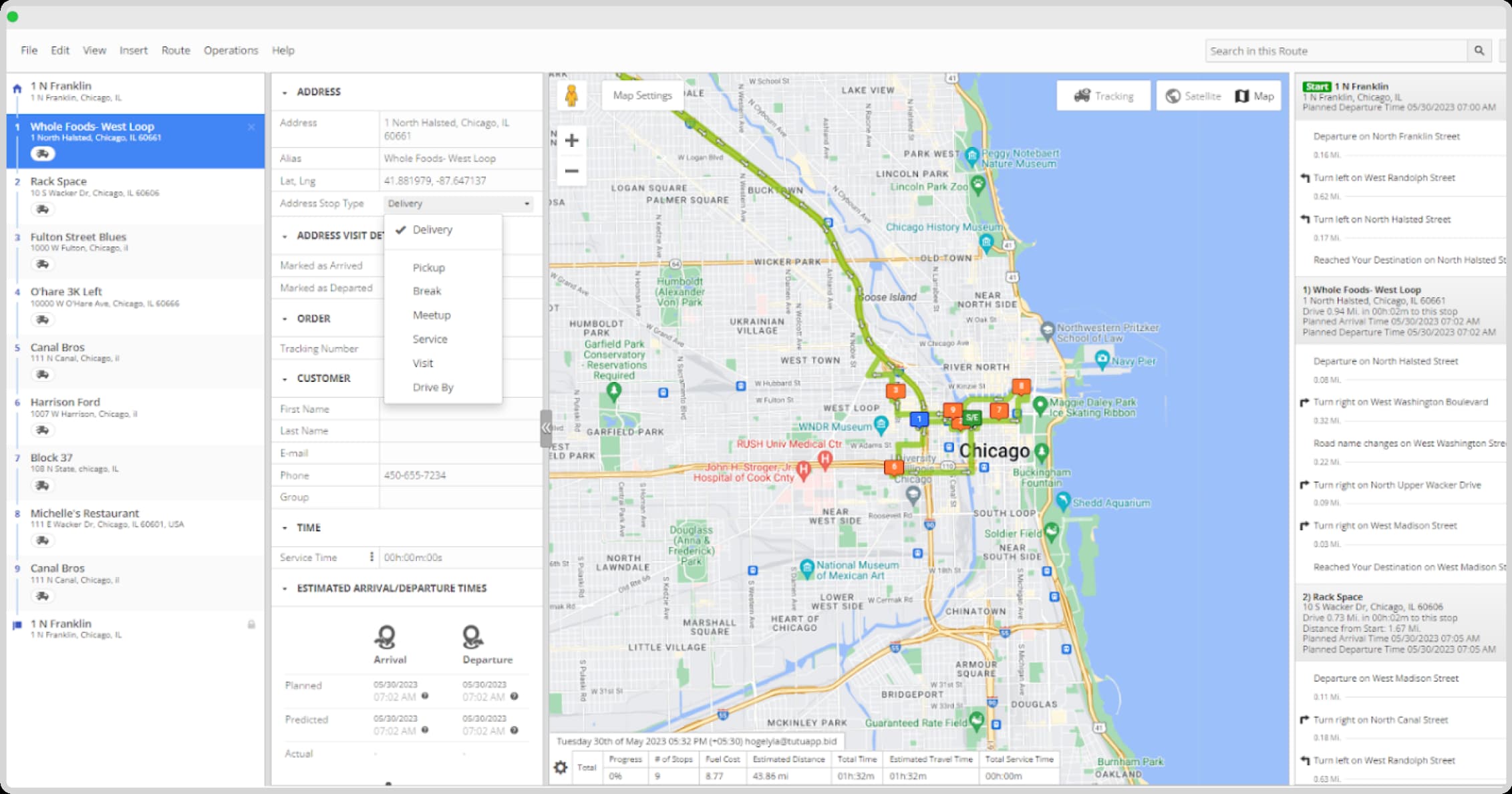 3. Customer Notifications:
It is a must to keep the customers informed throughout the delivery process on whether their delivery has been scheduled or completed or whether they are next. Notifying them about their scheduled pickup/delivery or services enhances customer satisfaction and reliability towards your business. In case any delays or mishaps occur, they are the first ones to get informed, and hence integrating this feature is a must.
However, a business interested in using the customer notifications and alerts feature of Route4Me is required to pay an additional monthly fee (add-on) to keep all its customers informed.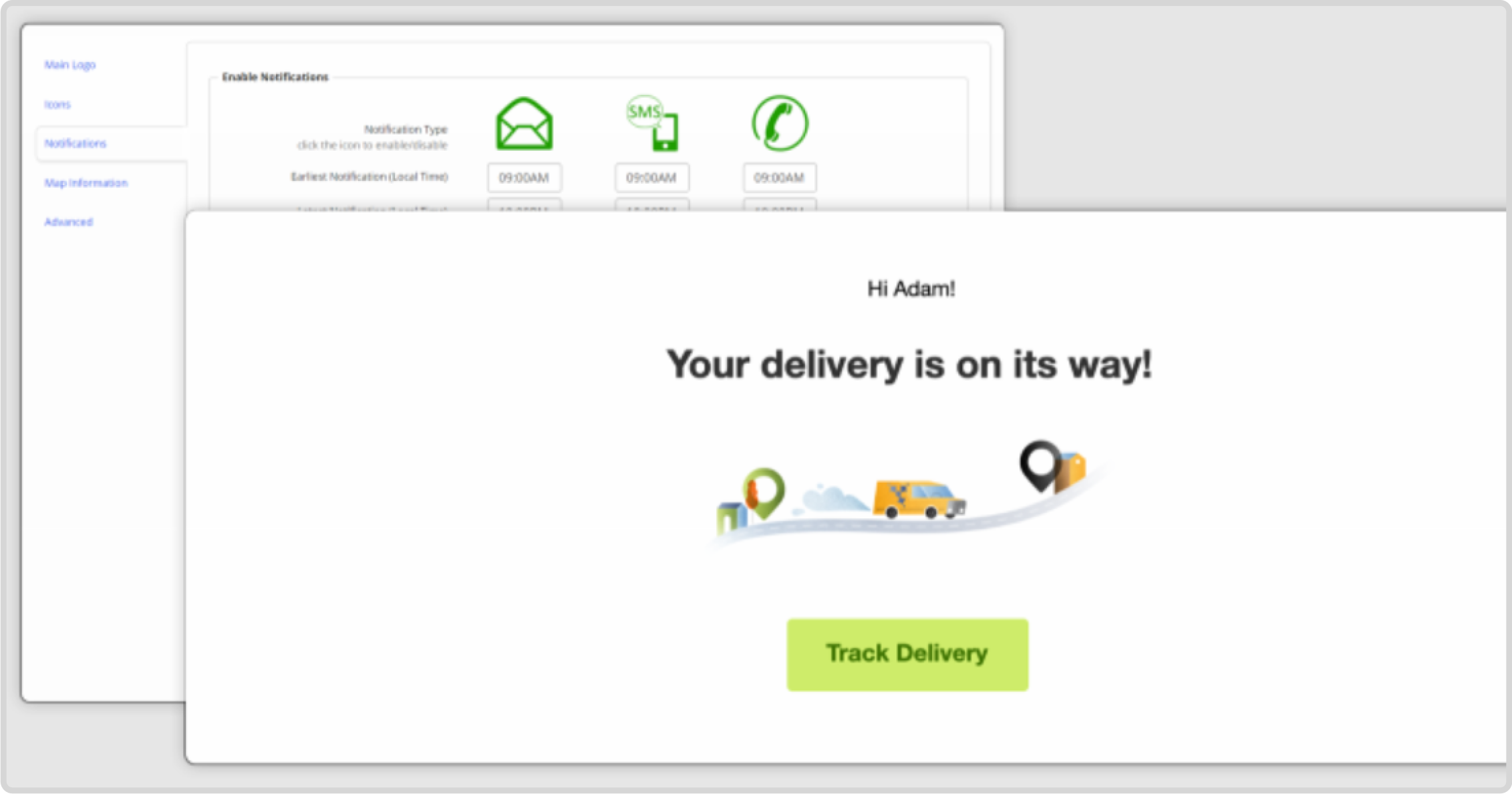 4. Real-time Data Tracking:
Real-time driver tracking enables users to track driver progress as well as can get acknowledged with the status of the shipment. This can help dispatchers and managers to have a real-time view of their entire fleet, including each driver's current position, route progress, and the estimated time of arrival (ETA) at each destination.
Additionally, informed decisions about assigning new orders or tasks based on the current location and availability of drivers can be taken flexibly. They can even optimize routes by assigning jobs to the nearest or most suitable driver, reducing overall travel time and increasing operational efficiency.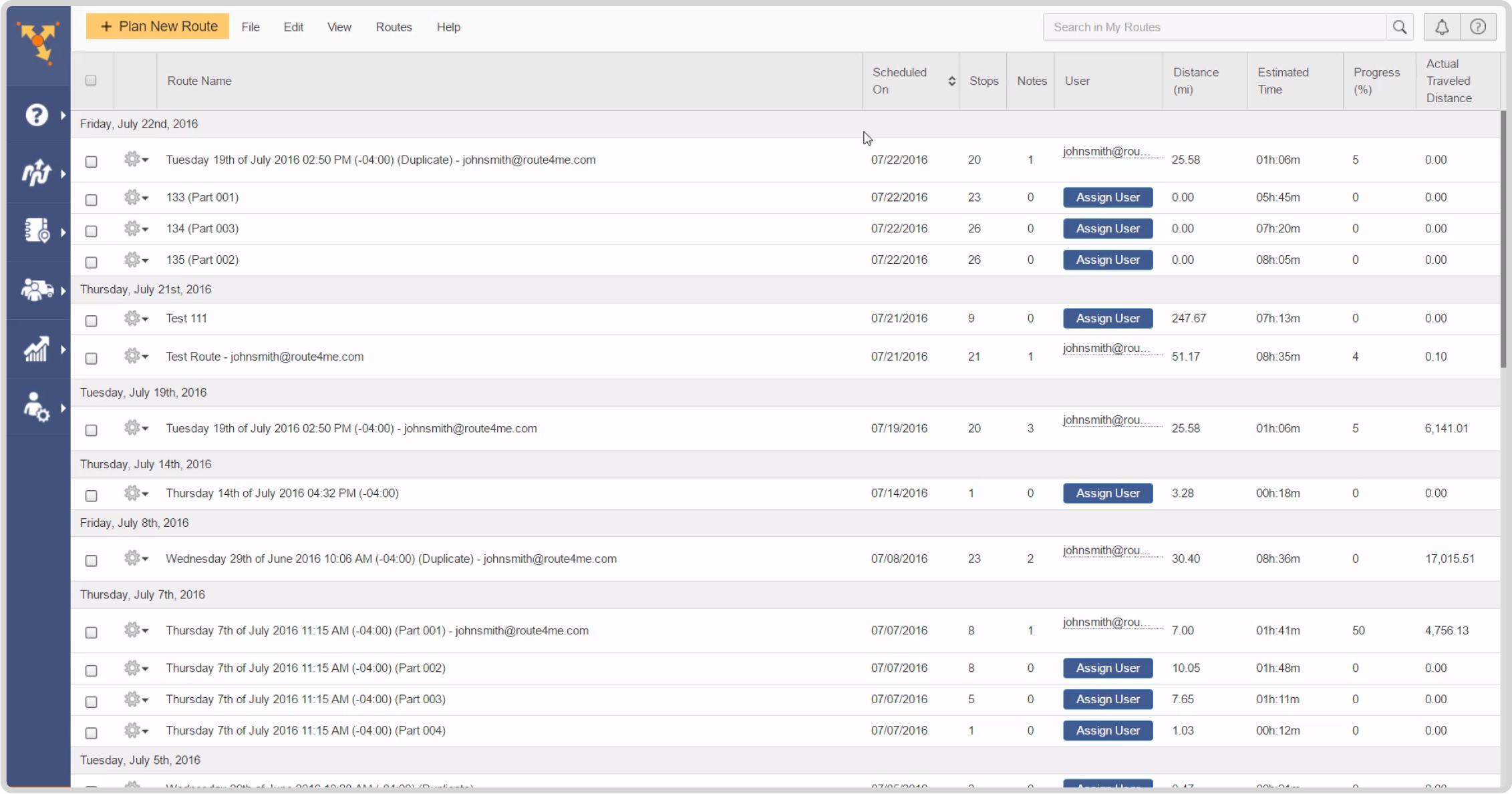 5. Advanced Geocoding:
Advanced geocoding offered by Route4Me enables businesses to set up geographic boundaries around areas that need to be monitored. The geofencing capabilities help create automatic virtual parameters around dispatch destinations to record driver arrival and departure. Drivers can use their mobile devices equipped with Route4Me's app to capture and upload images, audio recordings, or videos to share any last-mile progress during the process.
Last Mile Geofencing contributes to a positive customer experience. Businesses can provide customers with accurate ETAs, real-time updates on driver progress, and proof of delivery or service completion. This level of transparency and communication enhances customer satisfaction, builds trust, and can lead to repeat business and positive reviews.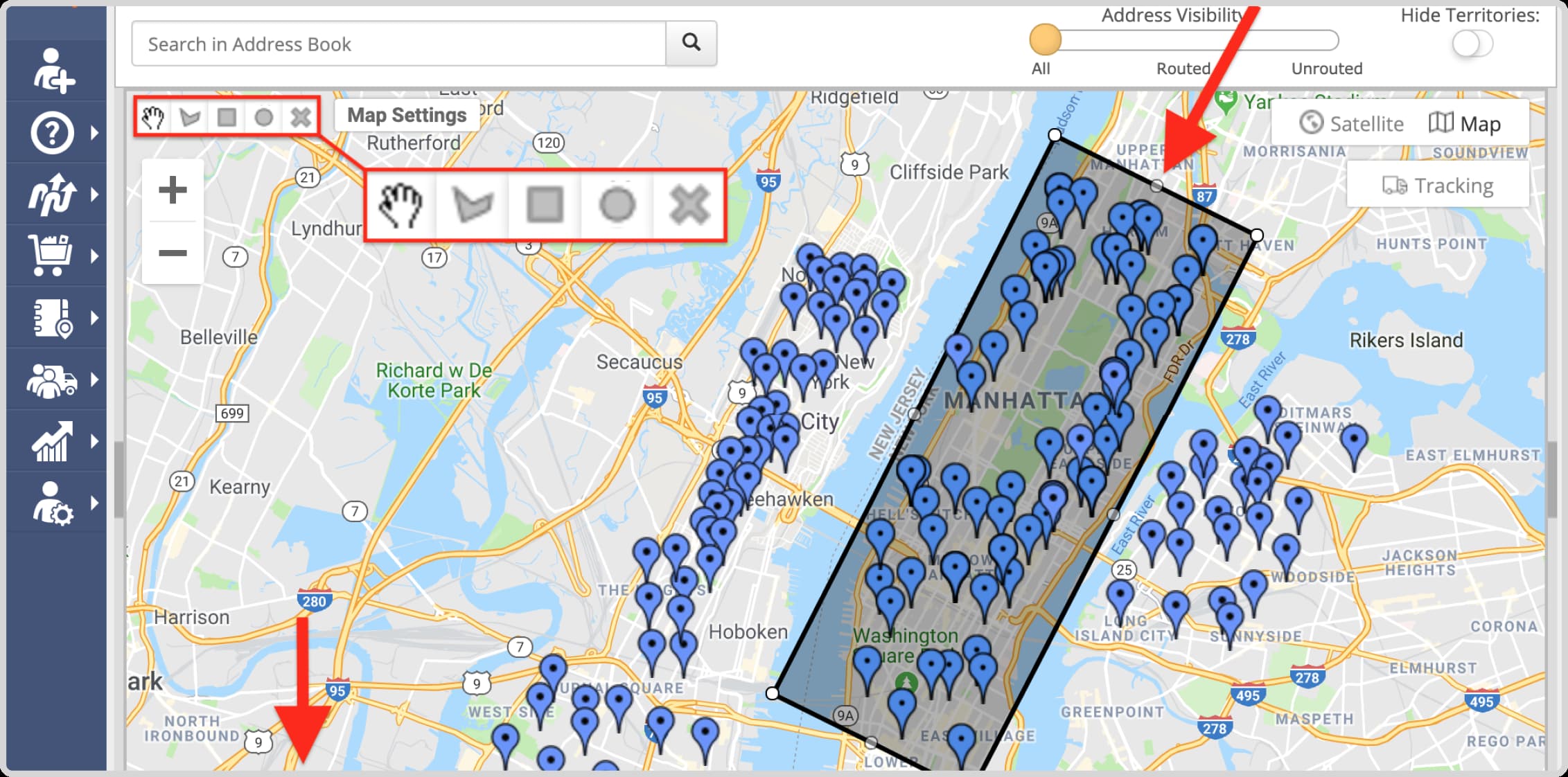 6. Dynamic Route Planning:
Route4Me is the first among all of its industrial competitors to adapt dynamic route planning for its users. It is the first company to release mobile route planning apps on the iPhone, iPad, and Android mobile. This feature of Route4Me facilitates the user to plan and optimize the routes considering the individual user's specific business requirements as well as business constraints. It basically helps users to transform obstacles into opportunities for the users when routes are optimized considering the constraints.
Is Route4Me Right For Your Business?
Analyzing the features offered by Route4Me, it can be seen that there are other industrial competitors in the market offering the same array of features. Irrespective of the fact that Route4Me is serving customers with a wide range of features, the biggest hurdle coming its way is the complicated pricing plans.
You can use multiple functions in order to make your routing operations streamlined. However, you need to pay add-ons for every feature you wish to use. This might not be suitable for small businesses involved in delivery operations or field service businesses.
Here is a glimpse of why Route4Me can't turn out to be a good option economically for your business.
| Route4Me | Add-on Features |
| --- | --- |
| Curbside Delivery | $499/month/company |
| Ultra High-Resolution Route Mapping | $399/month/company |
| Avoidance Zones | $299/month/company |
| Right Turn Avoidance | $20/month/user |
| Left Turn Avoidance | $20/month/user |
| Geofencing Analytics | $199/month/company |
| Recurring Routing | $99/month/company |
| SmartZone Routing | $99/month/company |
| Advanced Team Management | $99/month/company |
| Pickup & Dropoff | $49/month/company |
| In-app GPS Truck Navigation | $20/month/user |
| Driver Breaks | $5/month/user |
| Predictive Weather | $49/month/company |
| Commercial Vehicle & Truck Routing | $10/month/user |
| Customer SMS Alerting and Notifications – Scheduled | $20/user/month |
| Customer SMS Alerting and Notifications – Completed + Driver Ratings | $20/user/month |
| Customer SMS Alerting and Notifications – You Are Next | $20/user/month |
A Perfect Alternative for You
You need to strengthen your hands over the research part. To your amazement, we have an example here. Upper is similar to Route4me. With its advanced routing algorithms and modernized automated techniques, it can help you plan routes on the map within seconds. Not just this, all the features that you will find are far way affordable over the research will see the examples of the alternatives available you will find that they are almost the same. It differs from business to business.
Not just this, all the features that you found above are freely available under Upper with ease and convenient. Isn't its amazing?
Why would anyone be interested in paying additionally when they are getting the same functionalities in the overall pricing of some other route planning and optimization software?
An example of this can be pickup and deliveries. Upper enables the user to plan the pickups and deliveries in a single route, saving up on time, energy, and fuel costs. On the other hand, Route4Me charges an additional cost of $49/month for using the same feature. Similarly, to enable curbside delivery, Upper allows you to use it free without any additional costs, whereas, in the case of Route4Me, you need to pay an additional $499/month/per company.
DON'T MISS OUT! LIMITED OFFER
Upper's Growth Plan now available @
$160/mo
Get the Best Cost-Effective Route4Me Alternative & Speed up Your Deliveries by 3x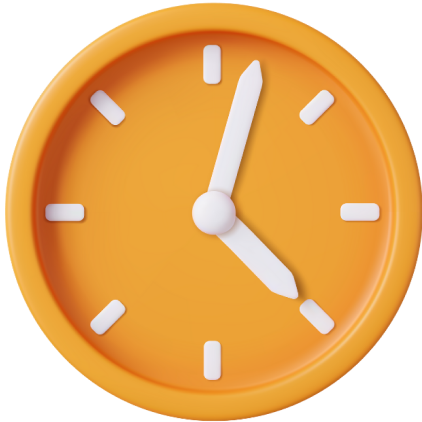 Conclusion
The whole product review comes to an end here. Each and every feature and functionality offered, along with the pricing plans and add-ons applicable, has been explained. Now it's totally up to you on which software needs to integrate into your business. Considering the other alternatives available in the market, offering the same array of features with less pricing is the best way to make an informed decision.
An example of this can be Upper. You can 30 days free trial of Upper of Upper and can get to know how Upper features help you to smoothen your route operations.
Frequently asked questions
Route4Me is a modern-day route planner and offers a platform for businesses to create, share, and manage optimized route plans. Users can use global mapping data to get an optimal route for a list of addresses.

How much does Route4Me cost?

The most basic plan starts at $199 per month. It offers a 7-day free trial on all its plans, allowing users to explore its features.

Which is the best alternative to Route4Me software?

Upper is the best alternative to Route4Me software when it comes to route planning and optimizing for your daily delivery/pickups and services.