Route4Me is a cloud-based fleet management solution that claims to solve the daily routing chaos for delivery businesses. Designed for small, midsize and large businesses, the basic features include route planning and routing guides.
Route4Me allows users to type in or upload customer addresses and instantly plans a route for them. Tracking driver progress on routes in real-time is also made possible. Dispatchers can manually move customers from one route to another.
But what is the software like? Is it worth a paid subscription?
Let us find out how the software can help you. We've tested the app and gathered Route4Me reviews from actual users to give you a comprehensive look at how Route4Me functions and whether or not it is suitable for you.
Overview of Route4Me Route Planner
Route4Me is a route optimization software that puts route planning on auto-pilot. Businesses can automatically plan routes and dispatch them to their drivers' mobile app.
Route4Me helps boost delivery efficiency by providing real-time routing and GPS. It substantially improves time and money-saving for large businesses that serve thousands of clients each month.
Product Details
Here's all the information you need to know about Route4Me.
Features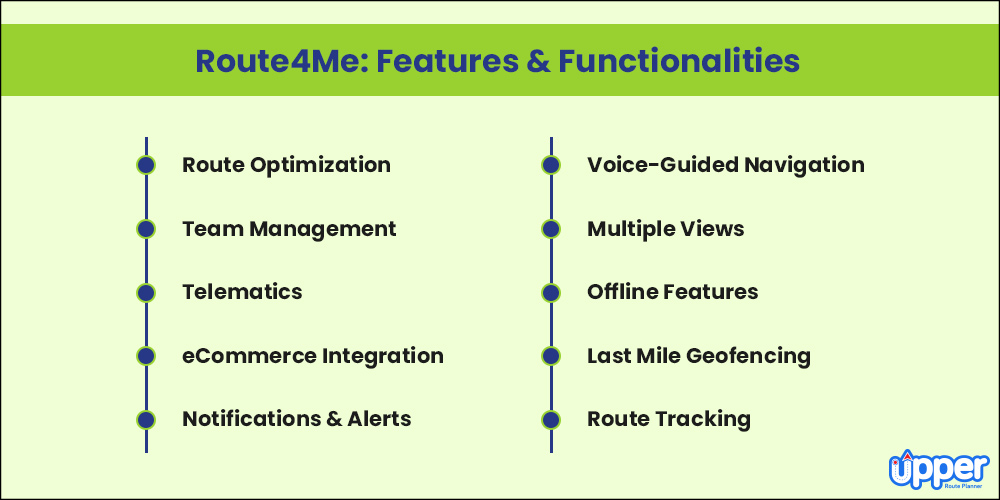 Route Optimization: Route4Me allows businesses to plan multi-stop routes by considering real-time factors like time windows, predictive weather, avoidance zones, and priority orders.
Team Management: Route4Me offers team management and operations features like audit logging, activity streaming, operational assessment. This helps in streamlining their team activities and managing their team better.
Telematics: The app has telematics features like smartphone app GPS tracking and geofencing analytics.
eCommerce Integration: Another significant Route4me component is eCommerce integration. The software can integrate with existing platforms built using technologies like Shopify, Woocommerce, and Magento.
Notifications & Alerts: Businesses must keep their customers informed throughout the delivery process. Businesses can use the customer notifications and alerts feature of Route4Me with a monthly fee to keep all their customers informed.
Voice-Guided Navigation: Route4Me offers turn-by-turn audio directions to make driving without distractions possible for your drivers.
Multiple Views: Businesses with multiple users can utilize Route4Me to allow multiple users to have login control. Administrators are in control of what users see and share.
Offline Features: Offline features is one of the best things about Route4Me. These features make it possible to check, route, map, and navigate without internet connectivity. Drivers are able to text and share images, signatures, and additional notes in better signal strength.
Last Mile Geofencing: Creates automatic virtual parameters around dispatch destinations to record driver arrival and departure. Allows your mobile workforce to capture and upload images, audio recordings, or videos to share any last-mile progress during the process.
Route Tracking: Offers GPS-enabled route tracking capabilities accessible from anywhere. It supports Android and iOS devices. Moreover, it helps keep vehicles and drivers under check.
NOTE: Route4Me offers all its features as an add-on. This means businesses will have to pay a monthly fee to use features like time windows, telematics, customer notifications, and advance team management.
Best Used For
Route4Me is suitable for professional drivers, field service, field sales, field marketing, territory management, and every business requiring last-mile optimization.
Pricing Details
Route4Me has three pricing plans for its route planning and optimization functionalities:
Route Management – Priced at $199 per month.

Running and managing business operations with real-time business insights and driver tracking.

Route Optimization – Priced at $249 per month.

Offers route management features and includes automatic optimization of single-person routes.

Route Optimization Plus – Priced at $349 per month.

Offer route optimization features for multiple users.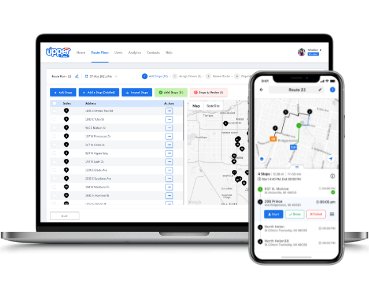 Upper Route Planner
A Simple-to-use route planner that every one is talking about.
Save up to 95% of planning time
Save up to 40% of time on the road
Plan 500 stops at once
Review of Route4Me Route Planning Software
Route4Me is a powerful route planning software to help save its users a tremendous amount of money, time, and effort. It is one of the most used route planning and optimization apps.
Anyone who has to drive around the city looking for multiple addresses daily can easily benefit from Route4Me.
But since a recent update, Route4Me skips any address you didn't go to first. It can cause you to have to go to each skipped address and manually unskip them.
Even though Route4Me is an excellent software for creating efficient route schedules, it needs to work on certain things like:
For instance, it needs more efficiencies; it must inform you if there are duplicate addresses on the route.
It needs more flexibility in managing notes.
It doesn't always create the most linear route.
The users must transfer optimized routes to Google for accurate location and directions.
It Doesn't always work well on Android.
What Are People Saying? – Customer Reviews and Comments
We have curated a bunch of customer reviews and comments from platforms like Capterra and App Store.
Positive Comments
Here is a list of positive comments for Route4Me from users:
Easy to optimize a route and find stops on the map.
Assigns boundaries that vehicles are supposed to avoid while scheduling the route.
Offers quick data input.
The reporting abilities of this app are quite useful.
API integration is really useful.
Criticisms
Here is a list of criticisms for Route4Me from users:
Unable to color code business, residential stops, or any other types of stops for easy identification.
Navigating through delivery completion steps is slow.
The postal code accuracy is not great.
There are many additional costs, and they add up very quickly.
The notes section could be improved for better input of notes.
Is There a Better Alternative?
Sometimes even the most popular option does not satisfy the requirements of all businesses. This is why it is good to have alternatives.
Upper Route Planner – An Affordable and Useful Alternative
In this case, the most suitable alternative to Route4Me is our very own Upper Route Planner. It is a user-friendly route planning and optimization software that helps businesses plan the most optimized route in minutes.
It offers all the necessary features to run a successful delivery operation and at a much more affordable pricing plan to fit the budget of businesses and any company on a budget.
Upper Route Planner aims to make planning and optimization for businesses with a team of drivers. Businesses from various industries have been making use of Upper Route Planner to streamline their delivery and service operations like: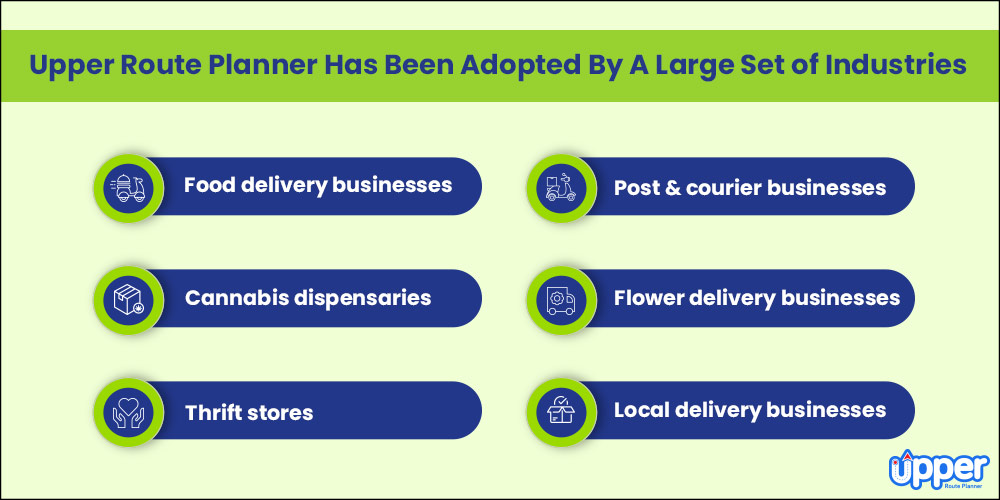 How Does Upper Route Planner Help My Business?
The automated route optimization software saves a lot of time. You can add multiple stops to a route without any hassle. But that's not it. There's a lot that Upper Route Planner can do for you. Let us tell you how.
Quick Route Planning & Scheduling: Planning and route scheduling capabilities allow businesses to plan hundreds of routes months. At the time of delivery, simply pull out the route and get to work.
Instant Route Optimization: Powerful route optimization makes it possible to plot 500 stops at once and find the most optimal way to cover the stops.
Consider Delivery Constraints: Optimize your routes according to constraints like time windows, service time, driver availability, priority level, and driver shift timings.
Considers Latitude-Longitude Coordinates: Upper's smart algorithm identifies the exact location of an address on the map if you simply provide the latitude and longitude coordinates.
Allot Service Time for Each Stop: Allot specific service time for a stop to optimize the route accordingly.
Driver Tracking: See where your drivers are on the map.
No Need for a Driver App: Your drivers don't need to register with a separate driver app. They can simply open the route on their web browser and operate from there.
Keep Your Customers Informed: Customer notifications through email and text make it possible for you to keep your customers informed.
Capture Delivery Proof: Drivers can capture images or collect customer signatures for recording proof of delivery.
Pricing Details
Essential plan: Starting from $80 per month for up to 3 drivers
Growth plan: Starting from $160 per month for up to 5 drivers
Enterprise plan: Contact for more details
Timely Service Requires Accurate Route Optimization, Something Upper Route Planner Can Help You With
Start your free trial to make it happen.
FAQs
Route4Me offers a platform for businesses to create, share, and manage optimized plans. Users can use global mapping data to get an optimal route for a list of addresses.
The most basic plan starts at $199 per month. It offers a 7-day free trial on all its plans, allowing users to explore its features.
Conclusion
Going through all the information that is mentioned above, you are better informed and thus better positioned to know which product is more suitable for your needs.
Our goal with this blog was to put out information that is useful to a business and helps them in making an informed decision, along with saving their time and money.
If you are looking for a more affordable solution, you must definitely try out Upper Route Planner. Don't just believe our words; you can start your free trial and experience its exclusive features and functionalities and know how it benefits your business.