Top Features
Optimoroute
by OptimoRoute
4.6

Driver Managemen

4.5

Dispatch Management

5.0

Live Driver Tracking

4.8

Drag & Drop
Overview
If you want to make your delivery planning easier, you might have stumbled upon the name OptimoRoute. This is because OptimoRoute is one of the most known and reputed route planning and optimization software solutions.
It is used by various industries, from food delivery businesses to field service businesses, on a regular basis to meet their routing needs.
Much like other competing products in this segment, OptimoRoute does come with all the basic route planning and optimization features. Many businesses, however, have unique needs that cannot exactly be met by OptimoRoute.
To see if OptimoRoute is the best routing solution for your business or not, you might want to look at some OptimoRoute Reviews to gain additional clarity that aids your decision-making ability.
Making sure that a software solution is right for you before investing in it. This is why we will be reviewing OptimoRoute by looking at its features, pricing, customer testimonials, and alternatives like Upper.
OptimoRoute Review
Positive
OptimoRoute offers multiple route customization options that allow you to create a route that is specifically tailored to your operations.
Drivers can capture proof of delivery using their mobile app to authenticate a successful operation.
Automatic customer notifications are sent to reassure them regarding the progress of their delivery, leading to greater customer satisfaction.
OptimoRoute allows users to plan routes that span over the course of days or even weekly planning.
Ability to set working hours and service times to account for all possible service downtimes when planning routes.
The live driver tracking feature allows users to track the location and progress of all their delivery drivers.
Get reports and analytics for a detailed look at the efficiency and performance of previous shipping operations.
Negative
OptimoRoute restricts you to having only one depot location, which may interfere with operational plans and procedures.
An inefficient routing algorithm that frequently creates routes in a non-optimal manner.
Customers report that the maps from OptimoRoute are outdated and frequently misinterpret geographic structures as roads.
OptimoRoute customers report that the software does not instantly recognize addresses from rural areas.
The software has been reported to have multiple glitches when planning and dispatching routes to drivers.
Lite
$39.00
Per month Per driver
Features +
Mobile App for drivers
Route history
Export to Excel, Garmin & More
Plan as often as you like
Upgrades included
Up to 700 orders
Live Tracking
Web Service API
Live ETA & Breadcrumbs
Pro
$49.00
Per month Per driver
Lite Features +
Analytics
Weekly Planning*
Realtime Order Tracking
Proof of Delivery
Customer Feedback
Custom
Contact for pricing
Pro Features +
Pickup and Delivery
Multi-day Long-haul Routes
Access to advanced features
Technical consulting
Expert support
Price Plan For Team
Upper
Essential
$80/month
3 Users included
Growth
$160/month
5 Users included
Enterprise Customized API integration Custom reports
Free Trial Available
OptimoRoute
Lite
$117/Mo
3 drivers included
Pro
$245/mo
5 drivers included
Custom Contact for pricing
Free Trial Available
---
Assessing the Worth: Is Your Investment Worth the Price?
Getting access to all the required features can unlock your business's hidden potential, resulting in streamlined routing operations and higher profitability.
However, there are cases where your investment turns out to be huge, and the return you get is minimal. So, let's have a look at what you are paying against what you are getting back.
| | | |
| --- | --- | --- |
| Data Import | | |
| Route Optimization | | |
| Service Time | | |
| Time Windows | | |
| Curbside Delivery | | |
| Route Scheduling | | |
| Pickup & Delivery Options | | |
| Parcel Info | | |
| Driver's App | | |
| One-Click Driver Dispatch | | |
| Proof of Delivery | | |
| Reassigning Routes | | |
| Export Routes | | |
| Stops Priority via Color Coding | | |
| Reports & Analytics | | |
| API Integration | | |
| Expected Time to Arrive | | |
Features Optimoroute Upper

Data Import

Addresses (credits)

Limited

Unlimited

Route Optimization

Service Time

Time Windows

Curbside Delivery

Route Scheduling

Pickup & Delivery Options

Parcel Location & Info

Driver's App

One-Click Driver Dispatch

Proof of Delivery

Reassigning Routes

Export Routes

Stops Priority via Color Coding

Reports & Analytics

API Integration

Expected Time to Arrive

Flexible Pricing

Multiple Dispatcher Suppor

Try Upper for FREE No credit card required
What People Say About Upper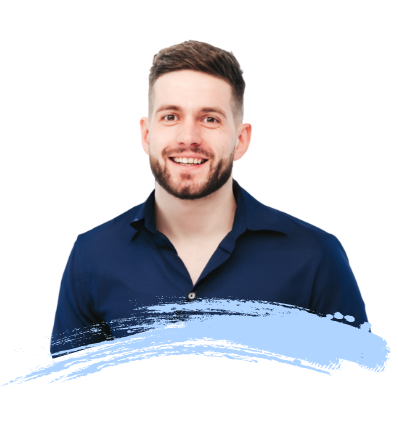 Saved 10 hours per week & delivering 3x more meals with Upper. It's easy to take proof of delivery, the speed is great, it's super super fast!

Ben Parker,
Delivery Manager of Flavors2Go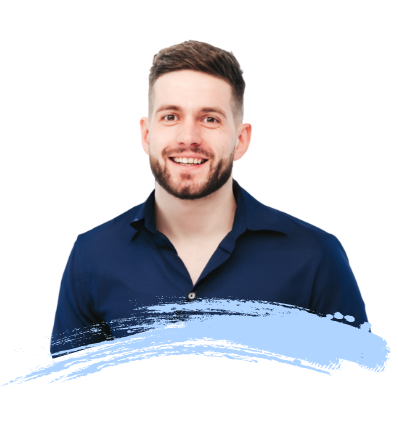 OptimoRoute Features
1. Route optimization:
A standard core feature found in all route planning software is route optimization, as it is what mainly reduces delivery times and driving expenses. OptimoRoute is no different, as it will automatically optimize the routes that you have planned.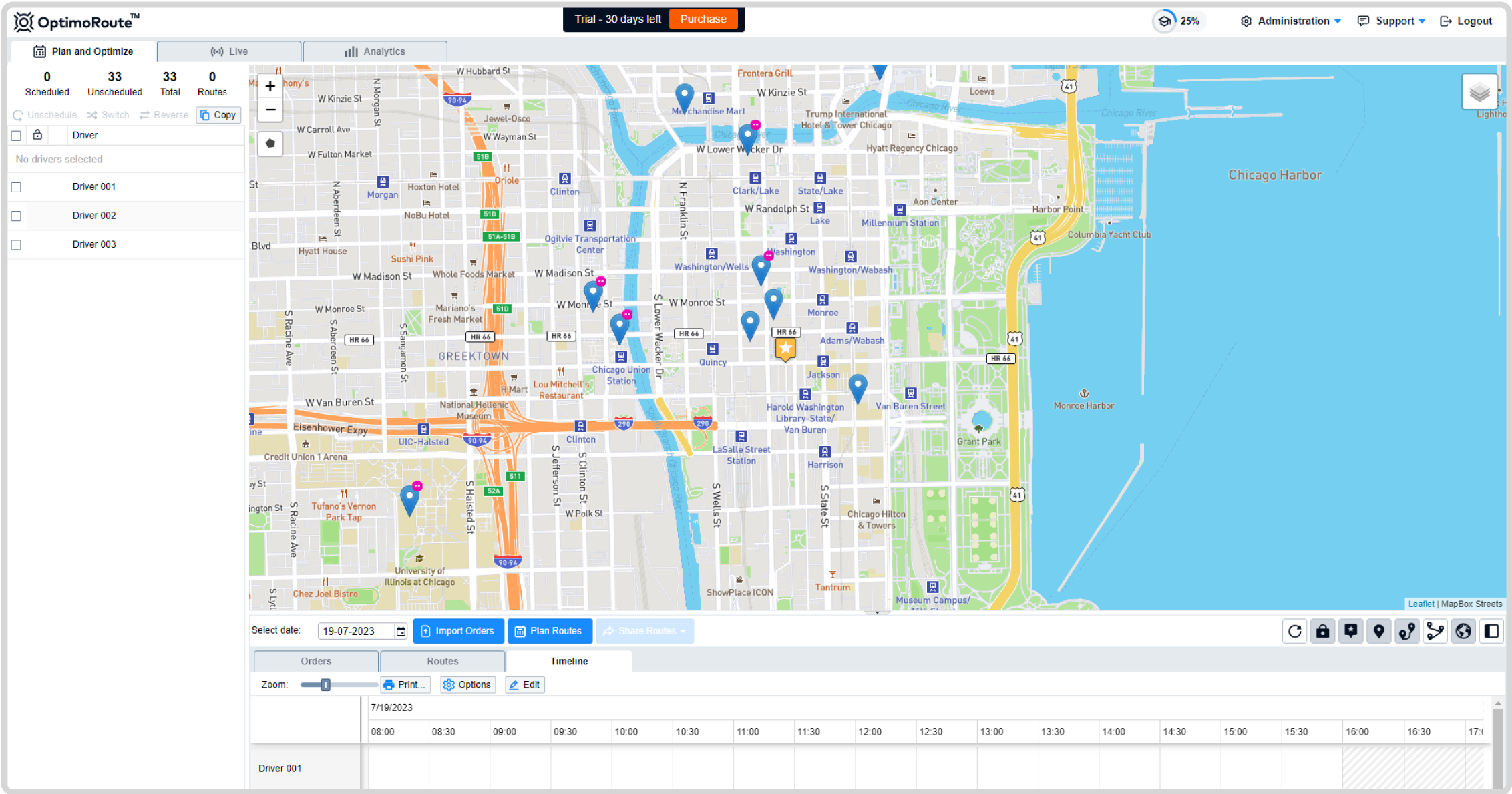 2. Automatic workload distribution:
All of the stops in your route plan are automatically distributed to your drivers in a manner that equally divides the workload. This eliminates the need for manually dividing and dispatching routes to multiple drivers, which saves a lot of time.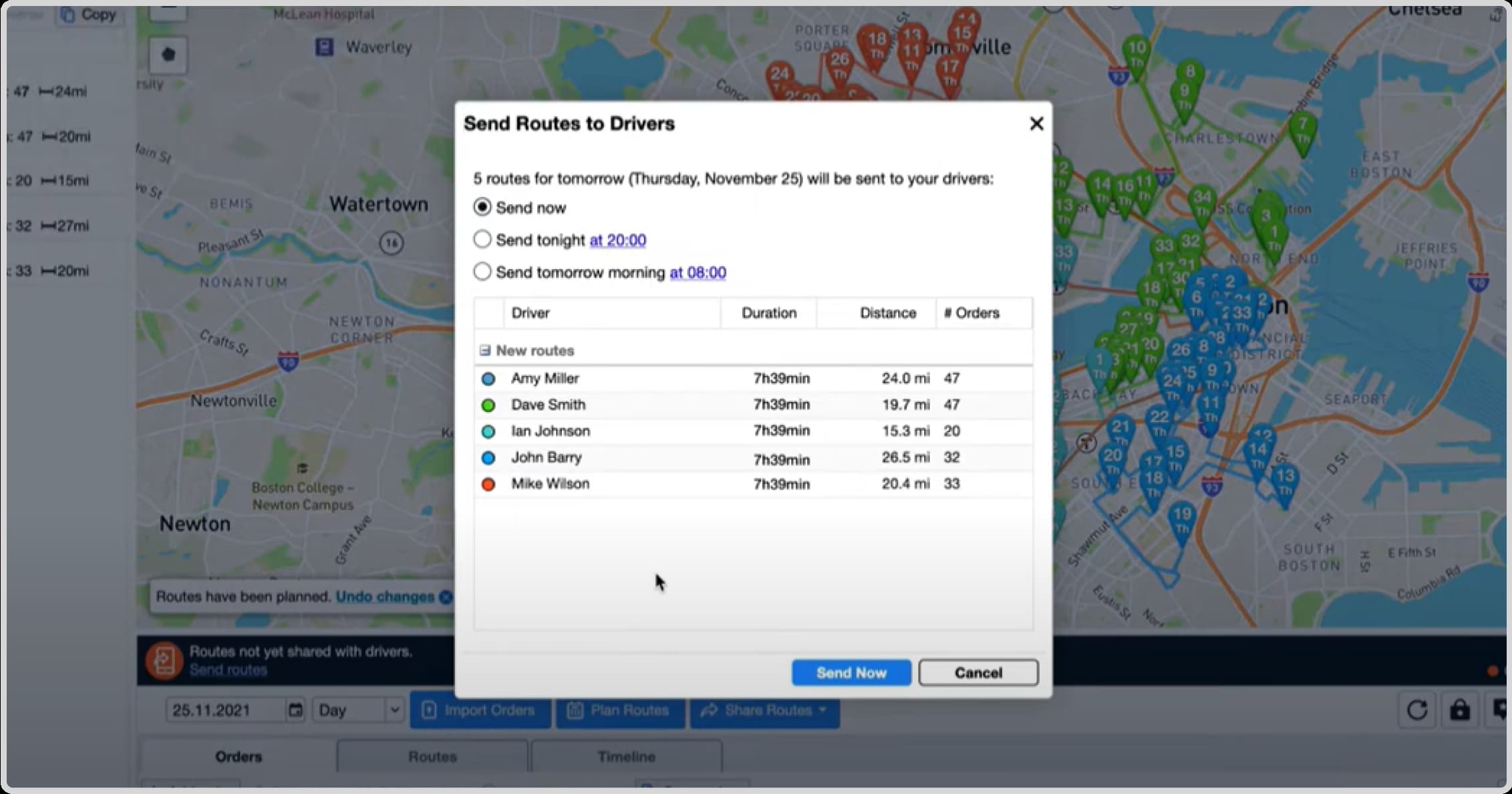 3. Custom routing parameters:
OptimoRoute offers a lot of customizable routing parameters that help you fine-tune your route planning process. These parameters include vehicle type, time window, and service time to help you allocate the correct stops to drivers.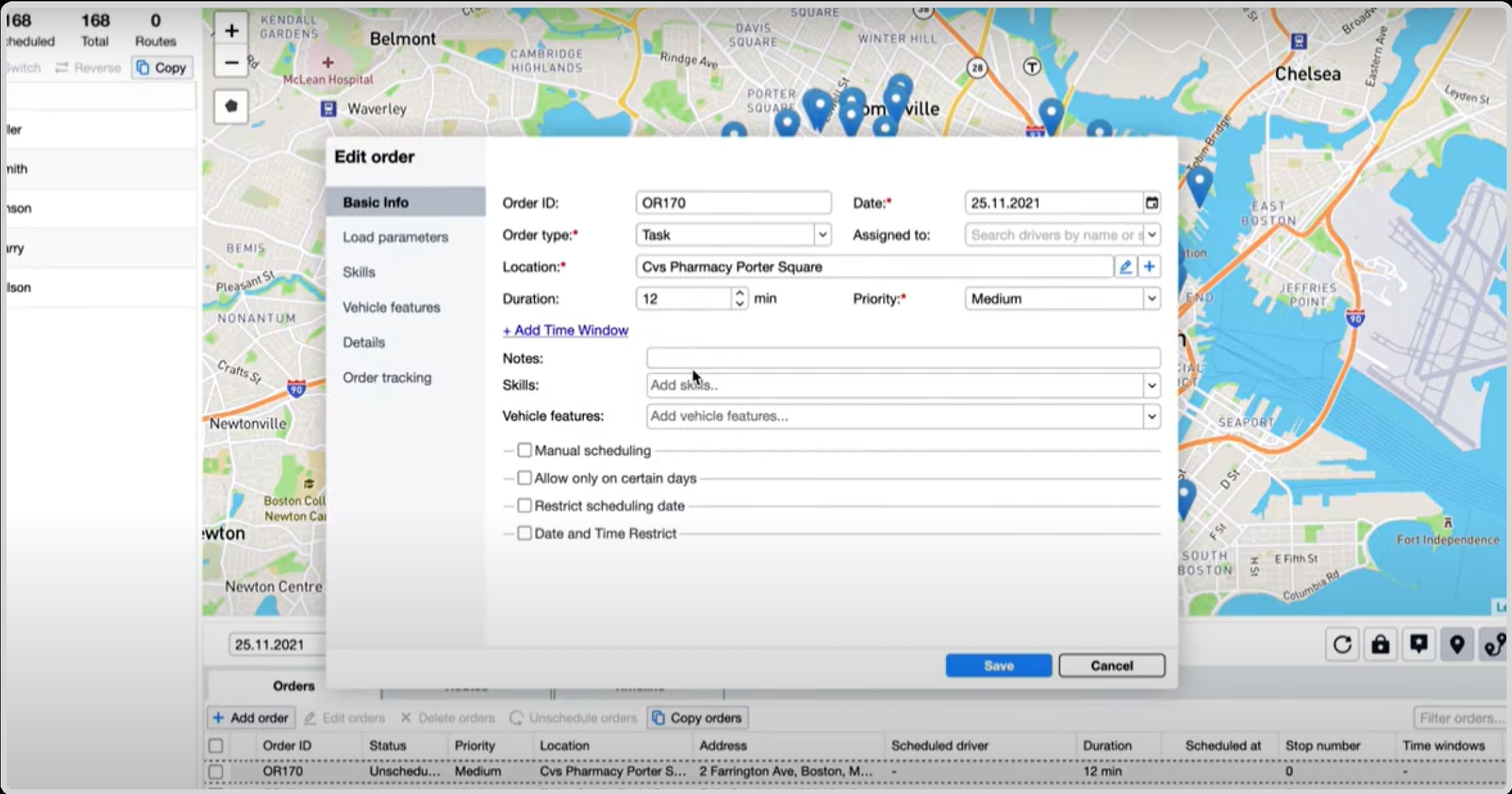 4. Customer feedback:
To boost engagement and evaluate the quality of your services, OptimoRoute gives you an automated solution to collect reviews from customers. After the completion of delivery, customers will receive a message where they are able to submit reviews of your service quality.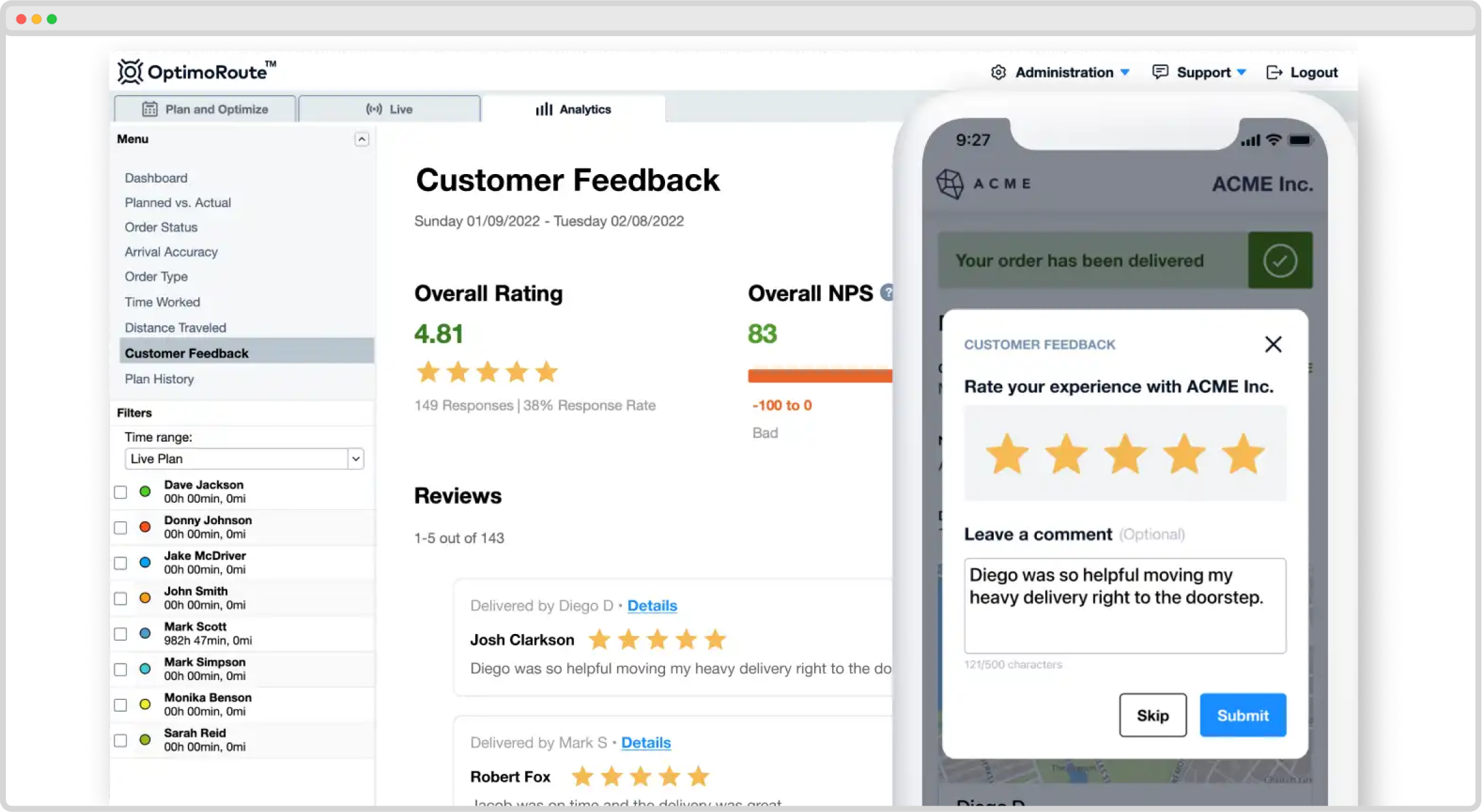 5. Reports and analytics:
You can get detailed reports and analytics from OptimoRoute that show you all the details of your previous service or delivery trips. This helps you gauge the performance of your fleet and look for new ways to improve your overall operational efficiency.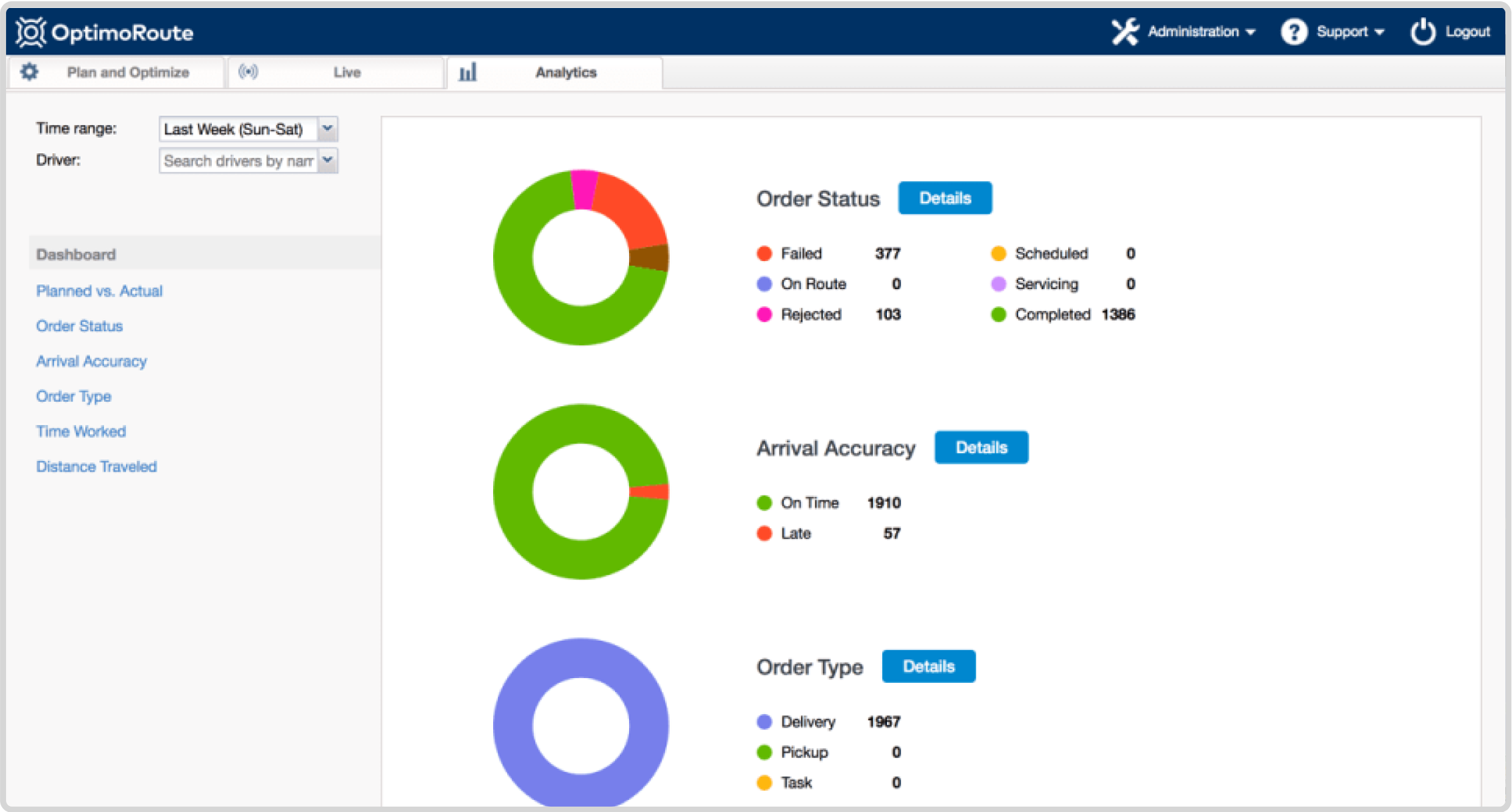 6. Live driver tracking:
OptimoRoute's live driver tracking feature allows dispatchers to get a birds-eye-view of their operations as it shows them the real-time location of all of their drivers. Customers also get notifications whenever the driver is at a particular checkpoint, notifying them of the progress.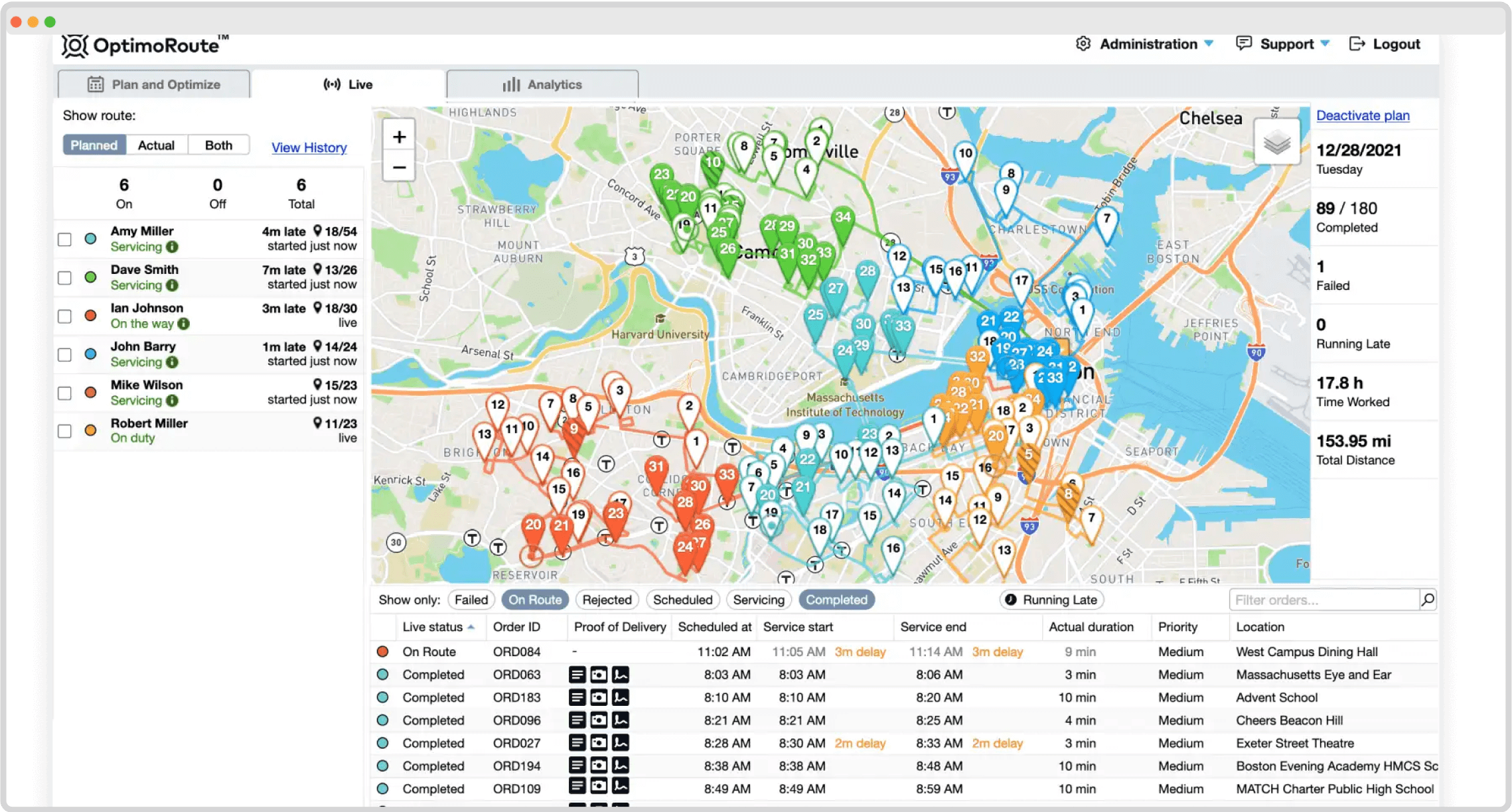 7. Proof of delivery:
To prevent or resolve any disputes regarding delivery, you might want to use OptimoRoute's proof of delivery feature. This allows drivers to capture proof of delivery with e-signatures, photographs, and notes via their mobile driver app.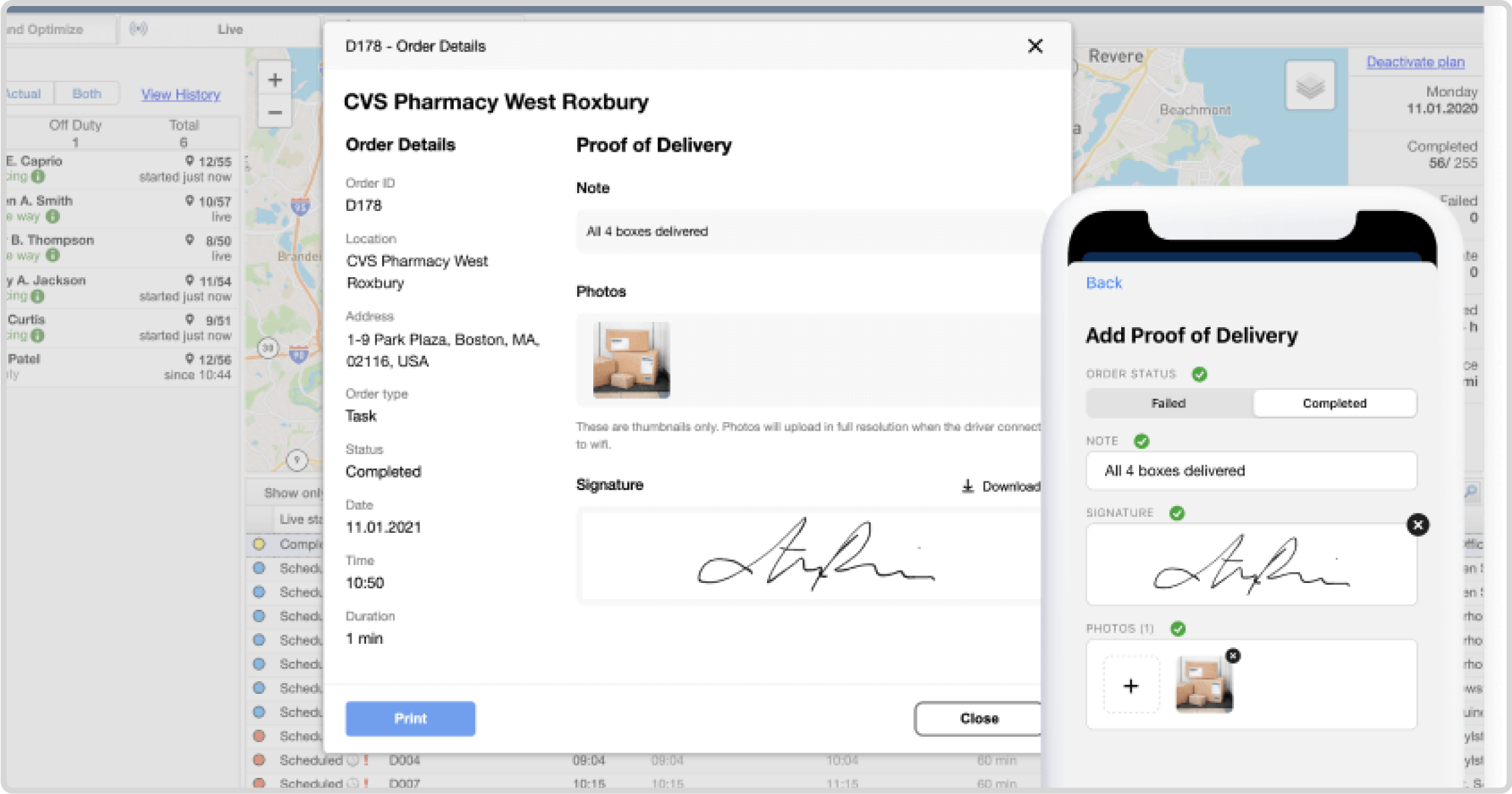 7. Mobile driver app:
OptimoRoute has built a dedicated app for drivers that facilitates live tracking on both Android and iOS. With this driver app, drivers can not only collect proof of delivery but also use the app for navigation to reach their destination quickly.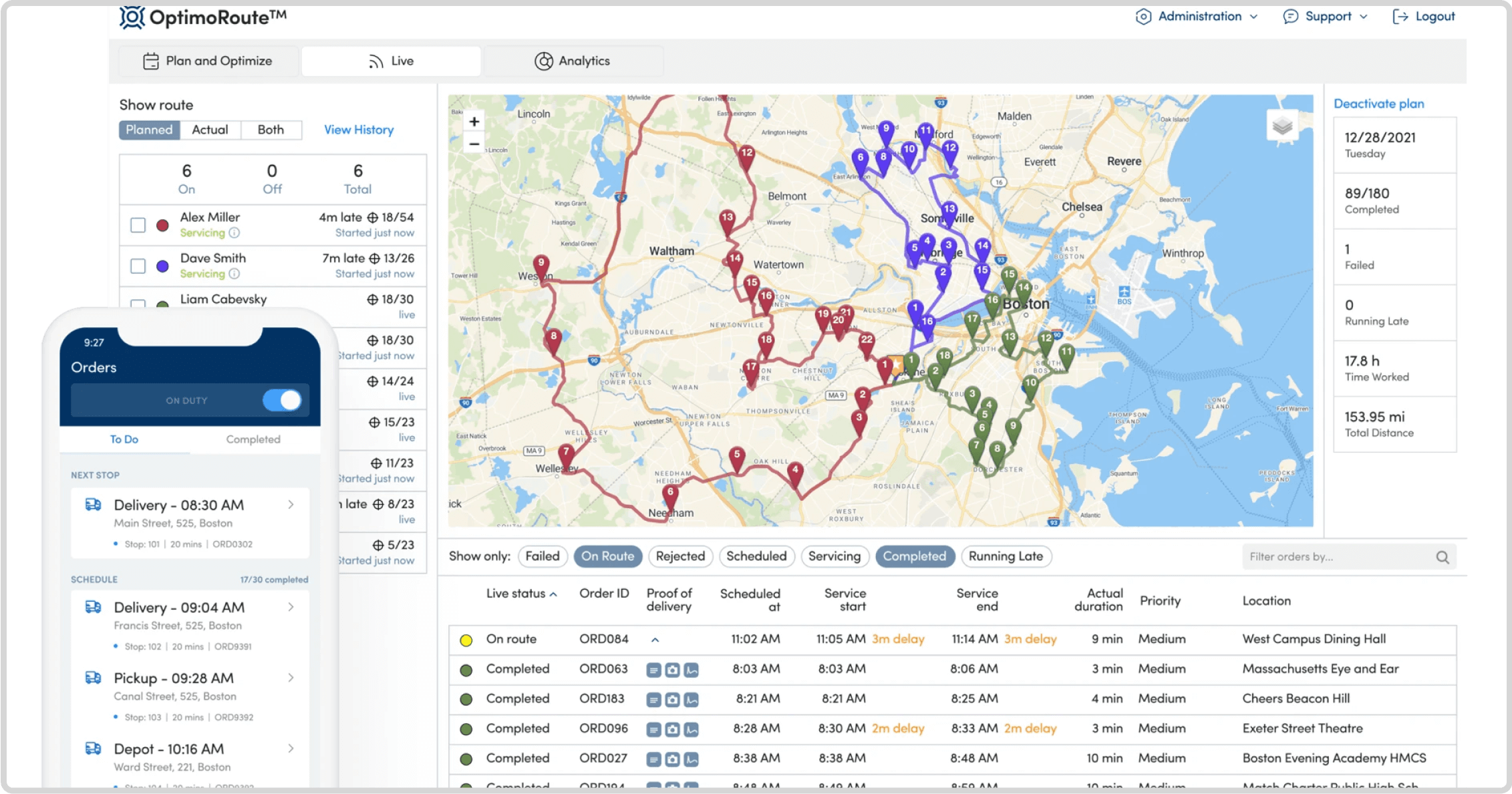 8. API integration:
If you want to integrate OptimoRoute's route planner with any other web platform, then you can use its API integration ability to pair it with any popular business platform. API integration allows you to transfer data to make route planning easier and seamless.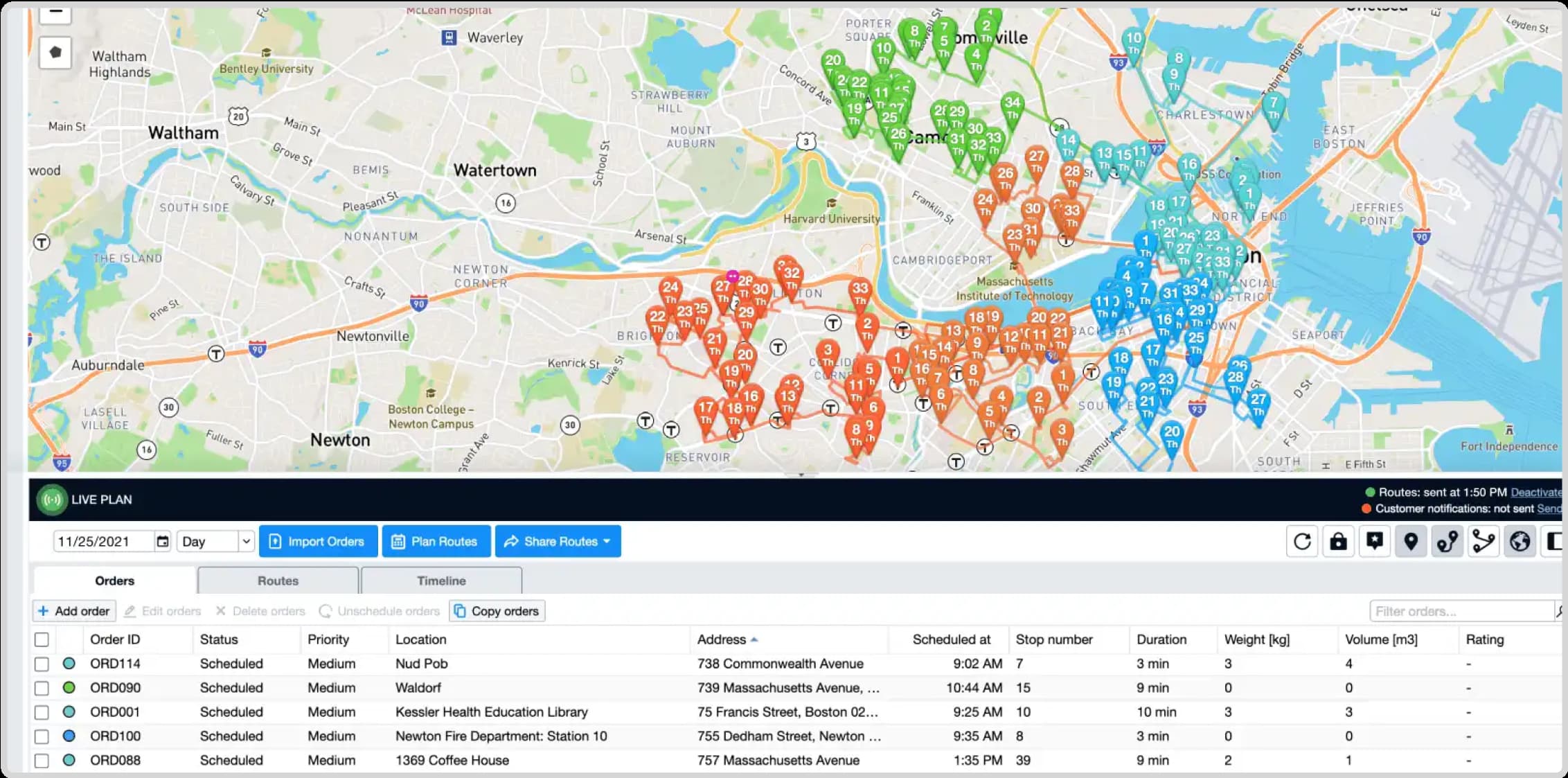 Should You Consider Using OptimoRoute for Your Business?
Knowing what the features and pricing of OptimoRoute are, it is very easy to say that OptimoRoute is one of the finer route planners on the market with its strong value-for-money proposition. You will often see options in the market that are priced far higher than OptimoRoute.
But, this does not mean that there are no affordable options to replace OptimoRoute. All of these alternatives more or less provide the same features, which makes pricing the most important deciding factor.
OptimoRoute
$117/mo
Stops per run

500

3 drivers
Upper
$80/mo
Save 20% with annual billing
Stops per run

500

Unlimited stops
Amazing feature range with a flat discount. WOW!
Automated route planning can now be done with Upper, saving upon time and cost both.
Use a brilliant route planner to maximize operational speed and capacity.

Empower your workforce with efficient routes to their destinations.
Is There an Alternate Route Planner?
Among all the OptimoRoute alternatives, Upper rises up on top with its affordable pricing and diverse set of features. Using Upper, dispatchers and business owners are able to do more than just plan optimal routes thanks to its advanced features.
Upper sports advanced yet convenient features such as Excel import, proof of delivery, route scheduling, one-click dispatch, live driver tracking, API integration, and more. Exploring alternatives is a surefire way to instantly understand which route planning solution is the best for your business needs.
Here are the reasons why the Upper should be your go-to routing solution.
Pricing:Upper keeps the needs of business owners in mind to decide pricing. Which is why it is one of the most affordable solutions with premium features on the market. Getting started with an affordable routing solution that gives you all the features that you need is a surefire way to have a great experience of efficiency.

Parcel information: Knowing where each and every package is, is no longer a challenge for drivers as Upper allows dispatchers to add package information. This feature greatly improves operational clarity and speed for ground personnel, enhancing overall productivity and profitability for your business.

Route customization: Reversing, rescheduling, and reassigning routes is no longer an arduous process, as Upper allows you to perform all of these actions with just a few clicks. Making such quick modifications to your route can be especially useful in cases of emergencies where you need to make immediate changes to your shipping plans.
DON'T MISS OUT! LIMITED OFFER
Upper's Growth Plan now available @
$160/mo
Get the Best Cost-Effective OptimoRoute Alternative & Speed up Your Deliveries by 3x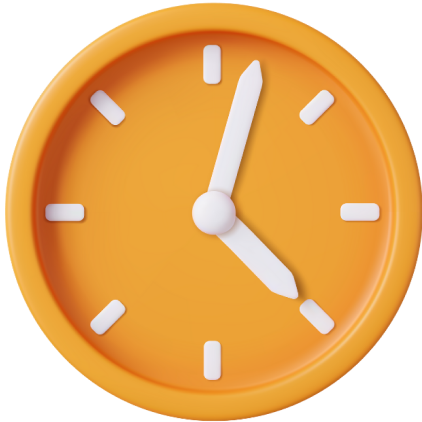 Conclusion
On paper, the features offered by OptimoRoute come at a very competitive price point and do beat most of its competitors in this regard. Over the years OptimoRoute has garnered a large user base that often gives praise to its performance and ease of use.
However, even with these perks, OptimoRoute is not the ideal option for every single user, which is why you must take a look at other route planners in the market. Going through this process of comparing route planners is sometimes cumbersome, but in the end, it is very rewarding.
If you do not want to go through the bothersome comparison process, you might as well go with Upper, which brings you sophisticated routing features and performance at an affordable price. Try the brilliance of Upper today with our 7-day free trial!
Frequently asked questions
Can I integrate OptimoRoute with other software solutions?

OptimoRoute facilitates the integration of its software solution with other programs with its API integration. This makes it possible to streamline operations by having two software solutions work in tandem without any errors.

How does a route planning solution like OptimoRoute help businesses?

Because route planning software optimizes routes to be shorter, it benefits businesses by making their operations faster and reducing their fuel costs. Not to mention the time savings from not having to spend hours planning a route manually.

What industry can benefit from using route planning software?

Any industry that regularly conducts business operations by traveling to multiple destinations can benefit from using a route planner. This includes industries such as pest control, waste collection, and even real estate agents that visit multiple properties in a day.

Does OptimoRoute offer a free trial of their software?

Yes, OptimoRoute does offer a free trial of its route planning software solution. The free trial from OptimoROute is also very generous as it spans the course of 30 days. This gives you a lot of time to test the software to see if it is fit for your needs.

Are there any alternatives to OptimoRoute on the market?

Indeed there are a lot of alternatives to OptimoRoute that are priced fairly and even provide better features. These alternatives include the Upper, Route4Me, Onfleet, MyRouteOnline, RouteXL, and more.