Top Features
1.8

Routing

3.3

Live Driver Tracking

2.0

Team Management

4.0

Customer Support

3.5

Likelihood to Recommend
Overview
If you are looking to optimize your route in tandem with a fleet management solution, then Samsara can be the right choice for you. Not only do they offer enterprise-level fleet management solutions for monitoring fleet health, but they also have in-house solutions for optimizing your operations.
Samsara provides a comprehensive fleet management solution that encompasses various features and capabilities to help businesses effectively monitor and manage their fleet of vehicles. Moreover, Samsara's fleet management solution provides route optimization features that help businesses plan efficient routes for their vehicles.
The software can generate optimized routes that minimize driving distance and time which reduces costs. The route planning algorithm is capable of considering different factors like vehicle capacity, delivery time windows, traffic conditions, and other variables too.
Samsara's fleet management solution integrates with GPS tracking devices installed in vehicles. This integration allows for real-time location tracking and communication between the software's route optimization capabilities and the actual vehicle positions.
Samsara Review
Positive
Allows drivers to capture proof of delivery.
Samsara's asset optimization abilities allow you to your vehicles and equipment in a highly optimal manner.
AI-powered camera systems help you detect any violations of company protocols.
Fleet management systems come with both hardware and software solutions.
Ensures compliance with ELD and traffic regulations.
Excellent reporting and driver management platform.
Real-time sync with cloud storage systems for backing up recorded data.
API integrations for seamless connectivity with other business platforms.
Live telematics and location tracking of fleet vehicles.
Negative
Previous and existing customers have reported that the pricing of Samsara is very high for what it offers.
Vast and complex product ecosystem that negatively affects the ease of use.
Unethical sales practices and customer service support team, as reported by former customers of Samsara.
Only long-tenure contracts are made available by Samsara.
Problems occur with the hardware devices and software frequently that are hard to resolve.
There are no free trials of Samsara's fleet management software solutions.
Is Samsara Worth What You Pay?
While the all-encompassing nature of Samsara is very desirable, it is very important for Samsara's lineup of features to justify its price.
To understand how Samsara stacks up in terms of value, we will compare it against an alternative routing solution that just costs $80/month for three drivers.
| | | |
| --- | --- | --- |
| Data Import | | |
| Route Optimization | | |
| Service Time | | |
| Time Windows | | |
| Curbside Delivery | | |
| Route Scheduling | | |
| Pickup & Delivery Options | | |
| Parcel Location & Info | | |
| Driver's App | | |
| One-Click Driver Dispatch | | |
| Proof of Delivery | | |
| Reassigning Routes | | |
| Export Routes | | |
| Stops Priority via Color Coding | | |
| Reports & Analytics | | |
| API Integration | | |
| Expected Time to Arrive | | |
Features Samsara Upper

Data Import

Route Optimization

Service Time

Time Windows

Curbside Delivery

Route Scheduling

Pickup & Delivery Options

Parcel Location & Info

Driver's App

One-Click Driver Dispatch

Proof of Delivery

Reassigning Routes

Export Routes

Stops Priority via Color Coding

Reports & Analytics

API Integration

Expected Time to Arrive

Try Upper for FREE No credit card required
What People Say About Upper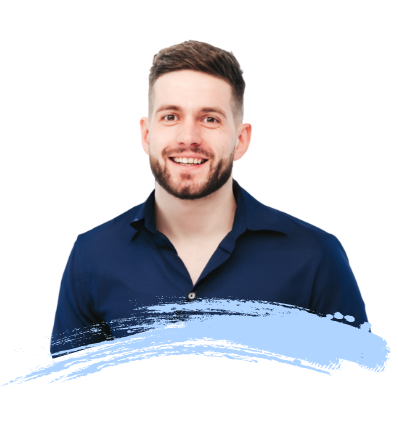 Saved 10 hours per week & delivering 3x more meals with Upper. It's easy to take proof of delivery, the speed is great, it's super super fast!

Ben Parker,
Delivery Manager of Flavors2Go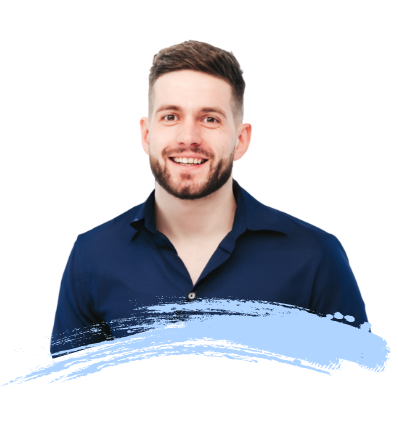 Samsara Features
1. Real-time GPS tracking:
One of the key features that make Samsara so widely used is its sophisticated GPS tracking system that is hardwired to your fleet vehicle. The real-time tracking abilities afforded by Samsara allow fleet managers to actively view the progress and status of any shipment.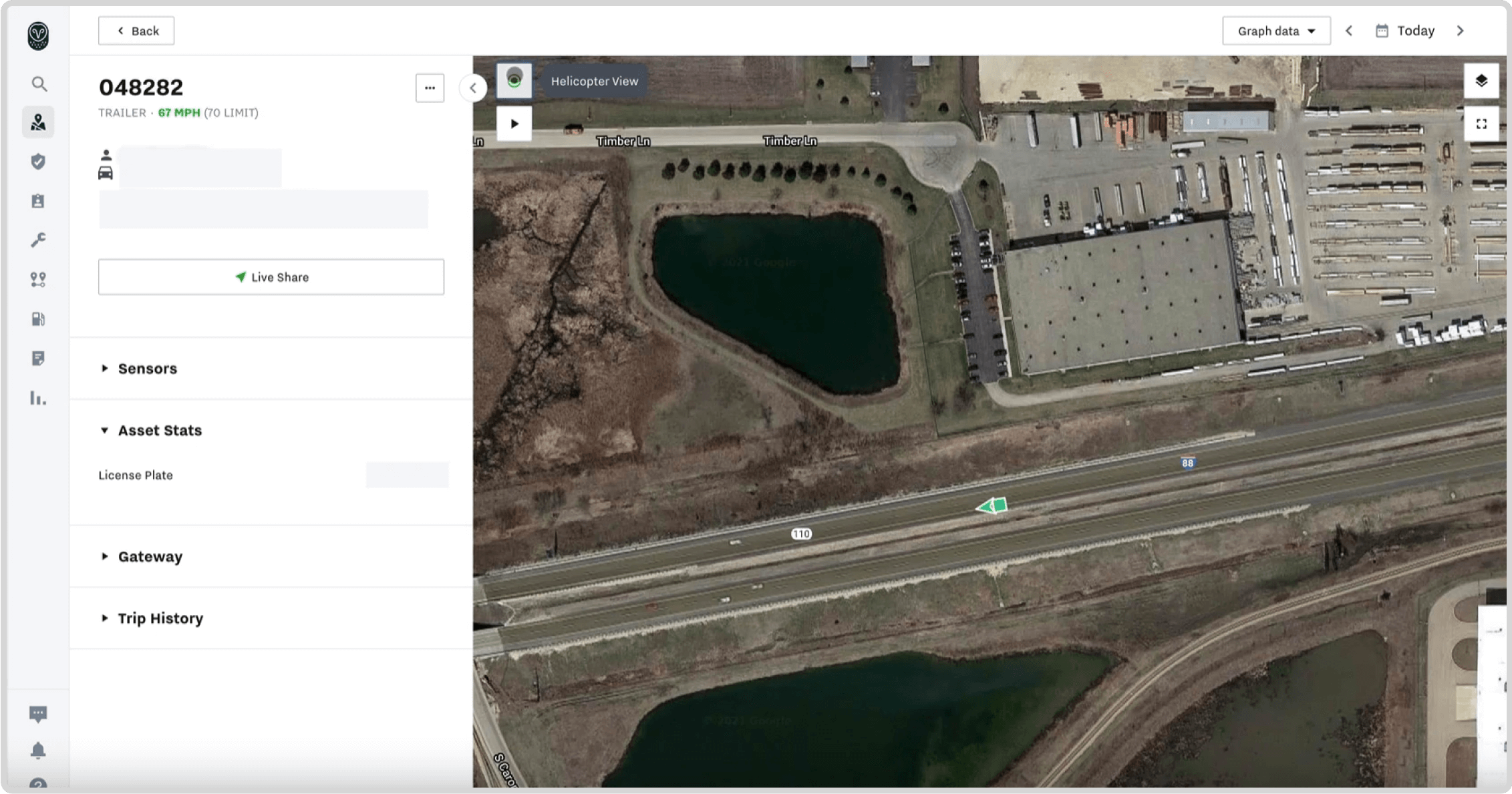 2. Driver safety and compliance:
Samsara offers ELD systems so that your fleet stays in compliance with laws that may mandate fixed driving hours and driving behaviors. This feature helps you avoid traffic infractions by actively discouraging unsafe driver behavior when on the road.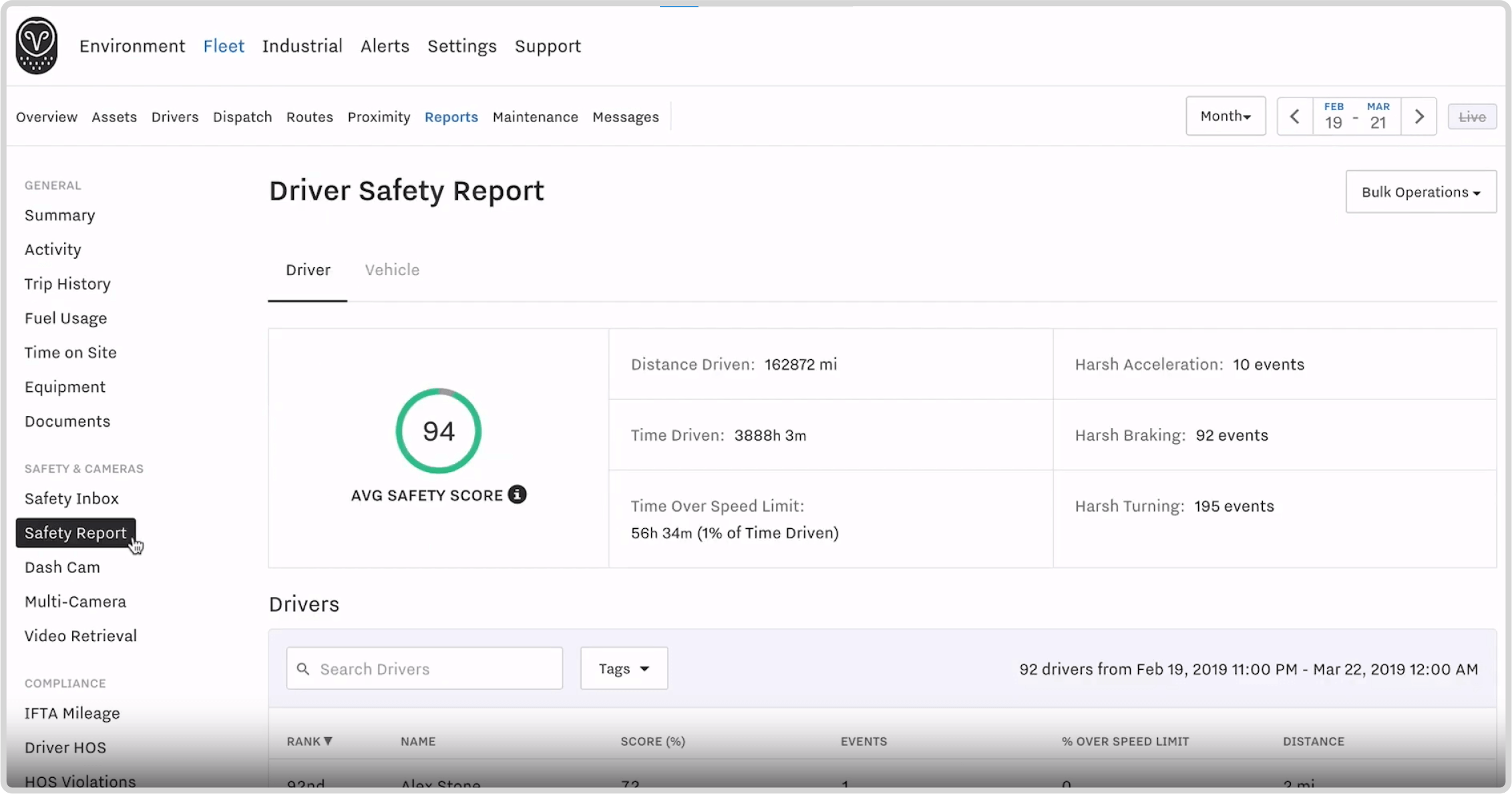 3. Vehicle maintenance tracking:
Because Samsara's fleet management solutions are constantly collecting data from your vehicle, they can transmit data regarding the maintenance cycle too. Their systems can also warn you of impending mechanical issues as they are connected by the OBD-II or J1939 port.
Once you have gone through the key performance indicators (KPIs), you can work on methods to improve areas where your performance may be lacking. Accurate reports do provide a data-based method to map out your business's strengths and weaknesses quickly.
4. Fleet analytics and reports:
One of the best features of Samsara is its detailed reports and analytics regarding your fleet's overall performance. These reports highlight all the areas where you could potentially improve your operations to gain overall efficiency.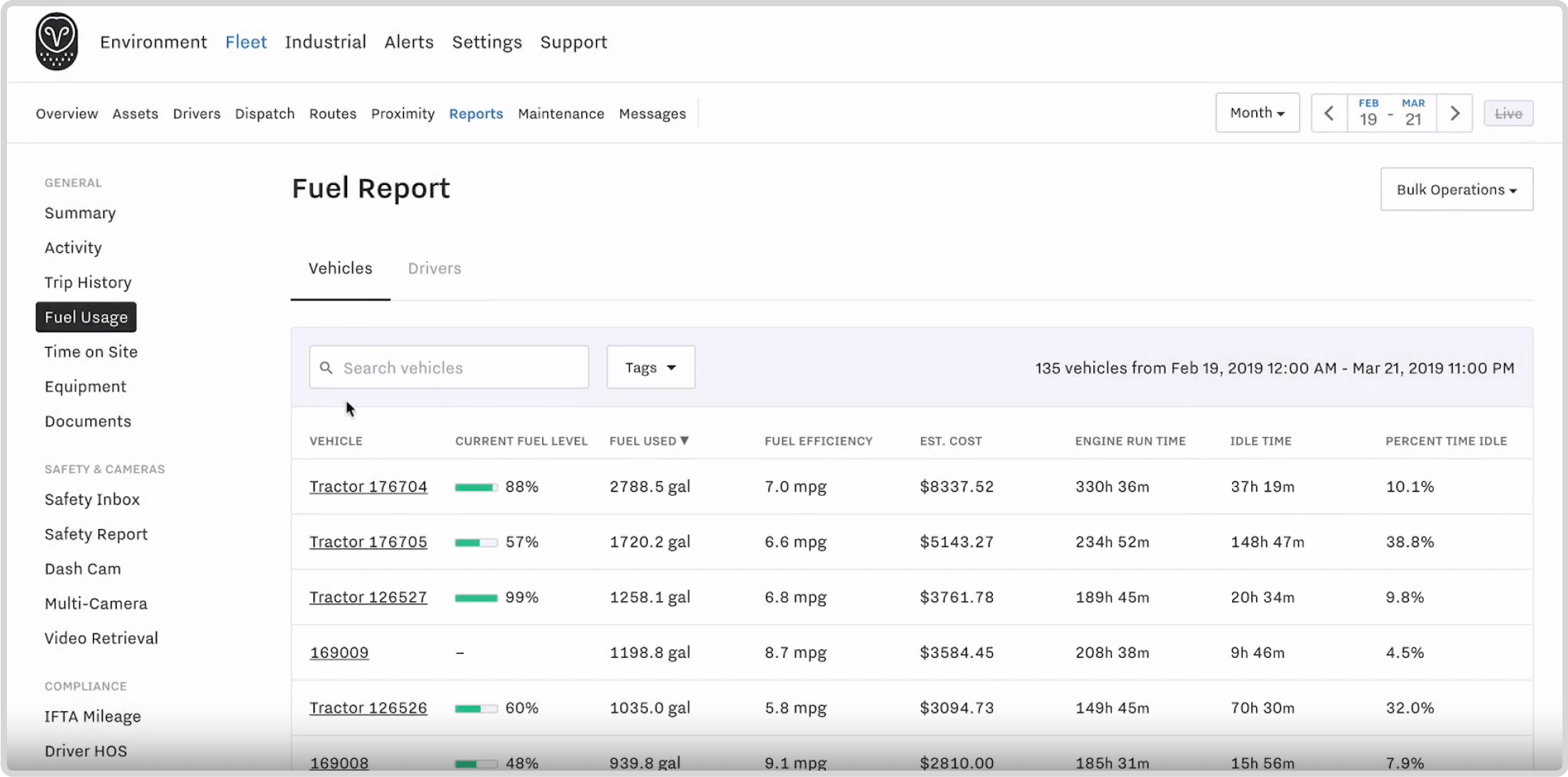 5. Proof of delivery :
The proof of delivery options that are facilitated by Samsara allows you to deliver excellent customer service by capturing digital proof of successful delivery. The Samsara mobile app lets your workers on-site record proof of delivery by either capturing images or e-signatures.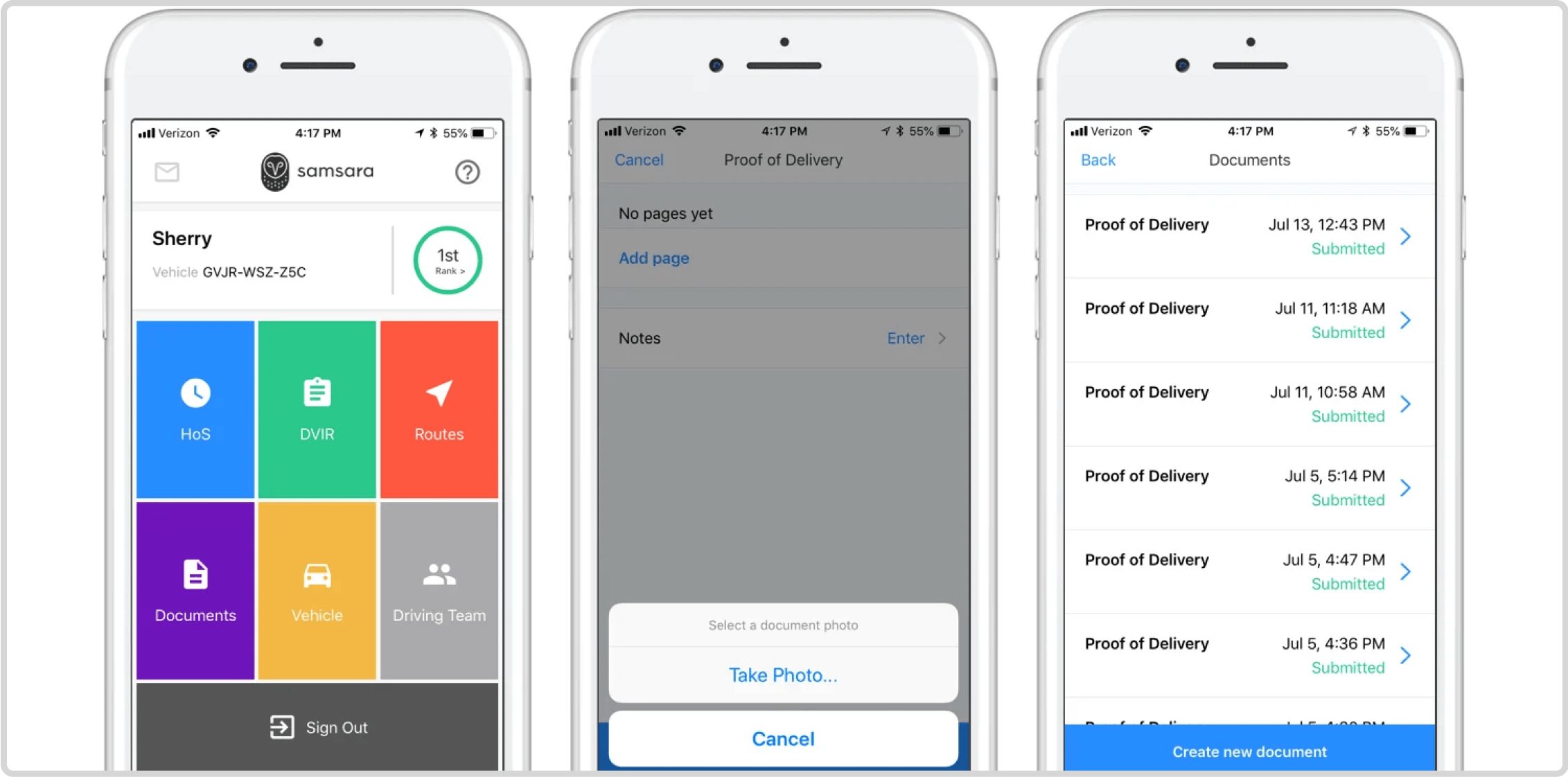 6. Pre-built API and Integrations:
If you are in need of fleet management software such as Samsara, you are likely also using other CRM, maintenance, and tracking solutions. This is why Samsara provides ready-to-go APIs and integrations to help you merge your software solutions for a better user experience.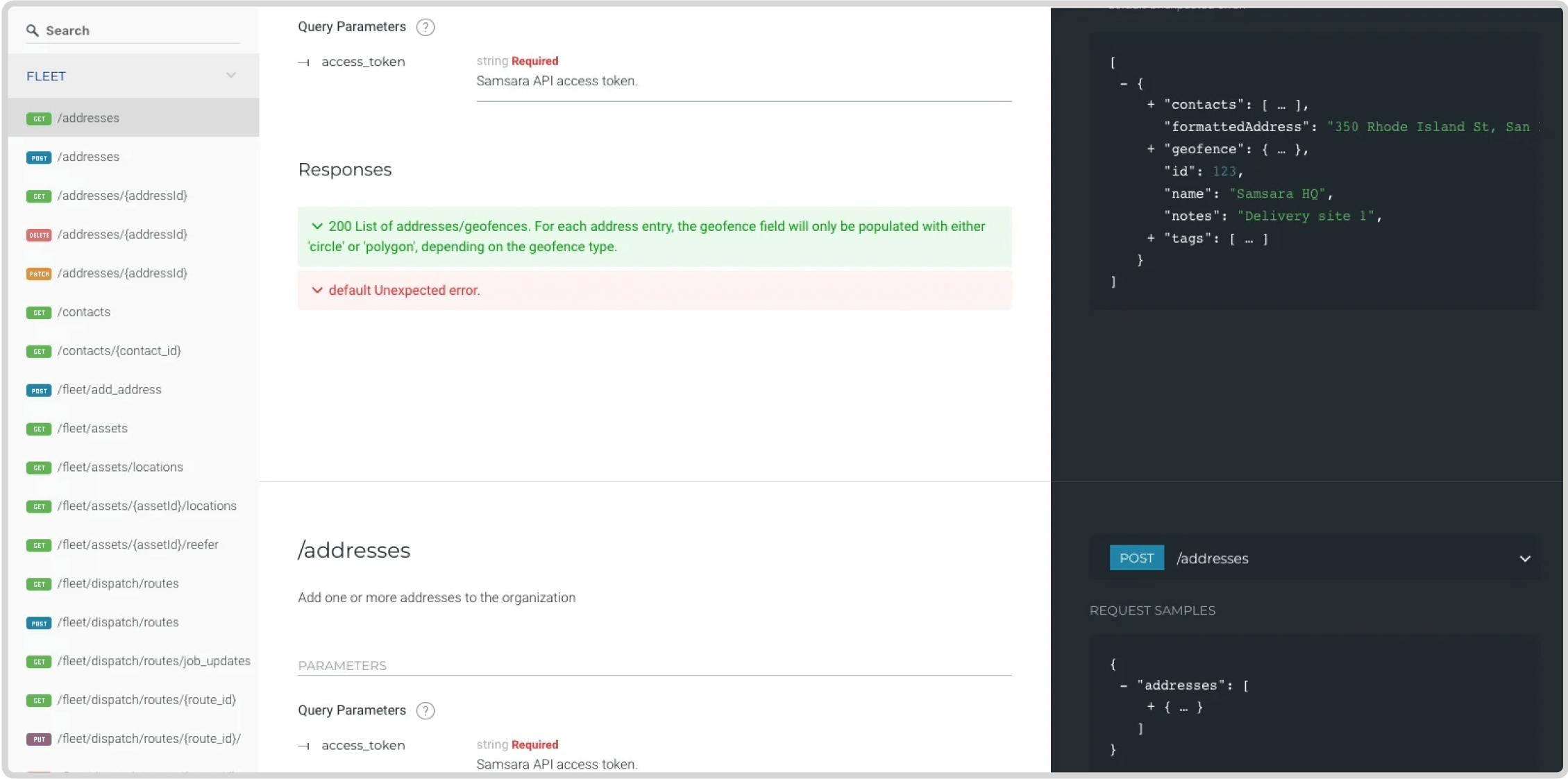 7. Asset optimization:
The asset optimization capabilities of Samsara boost vehicle performance and lower fuel consumption across your fleet. Samsara automatically structures your workflow to be as efficient as possible by optimizing the movement of all your assets, such as trucks and trailers.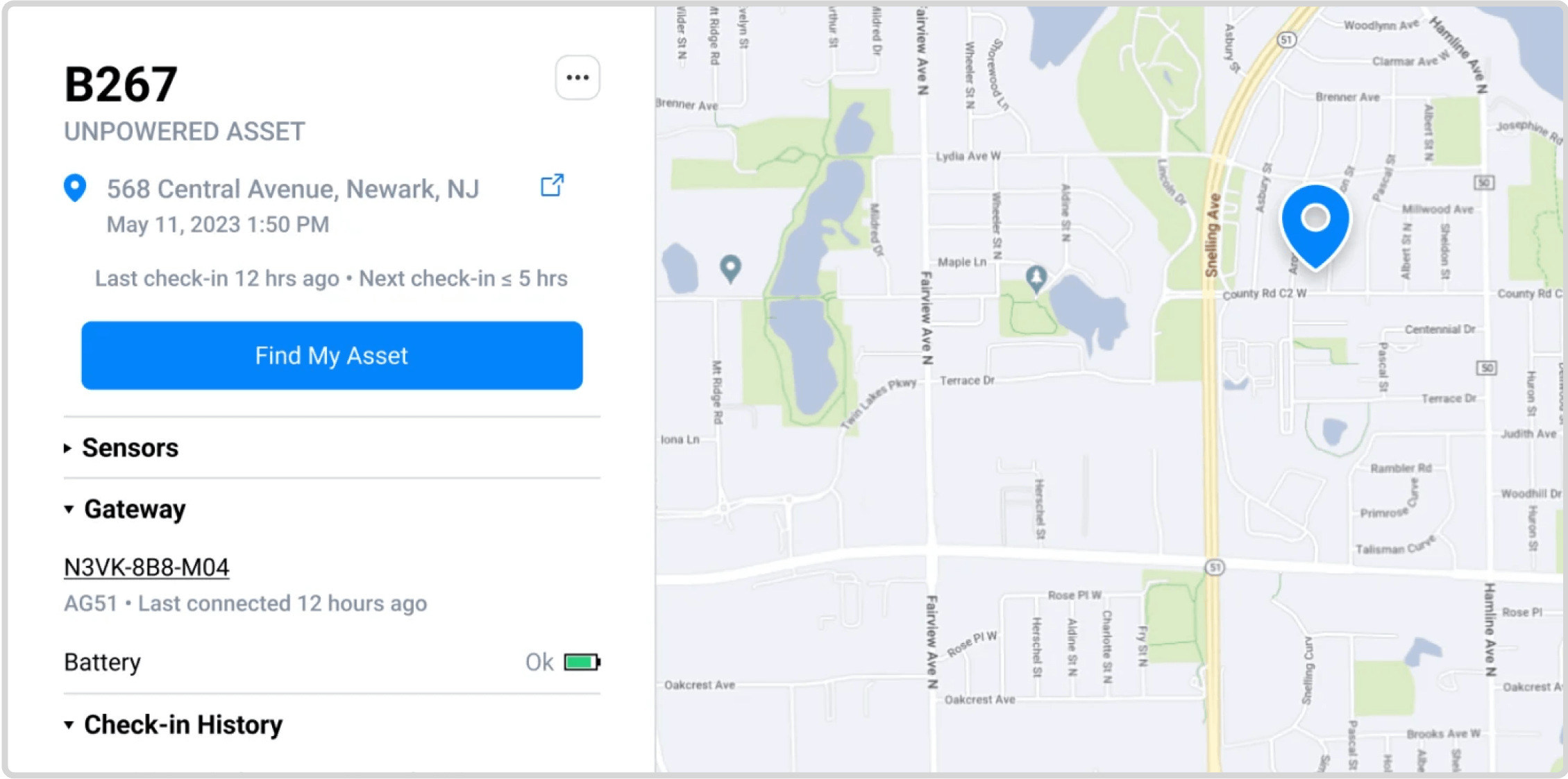 8. Mobile applications:
The mobile applications developed by Samsara are very comprehensive and allow managers to gain real-time visibility of on-site operations. The apps for workers are no less capable as they can help them capture proof of delivery and help them navigate in the most optimal manner.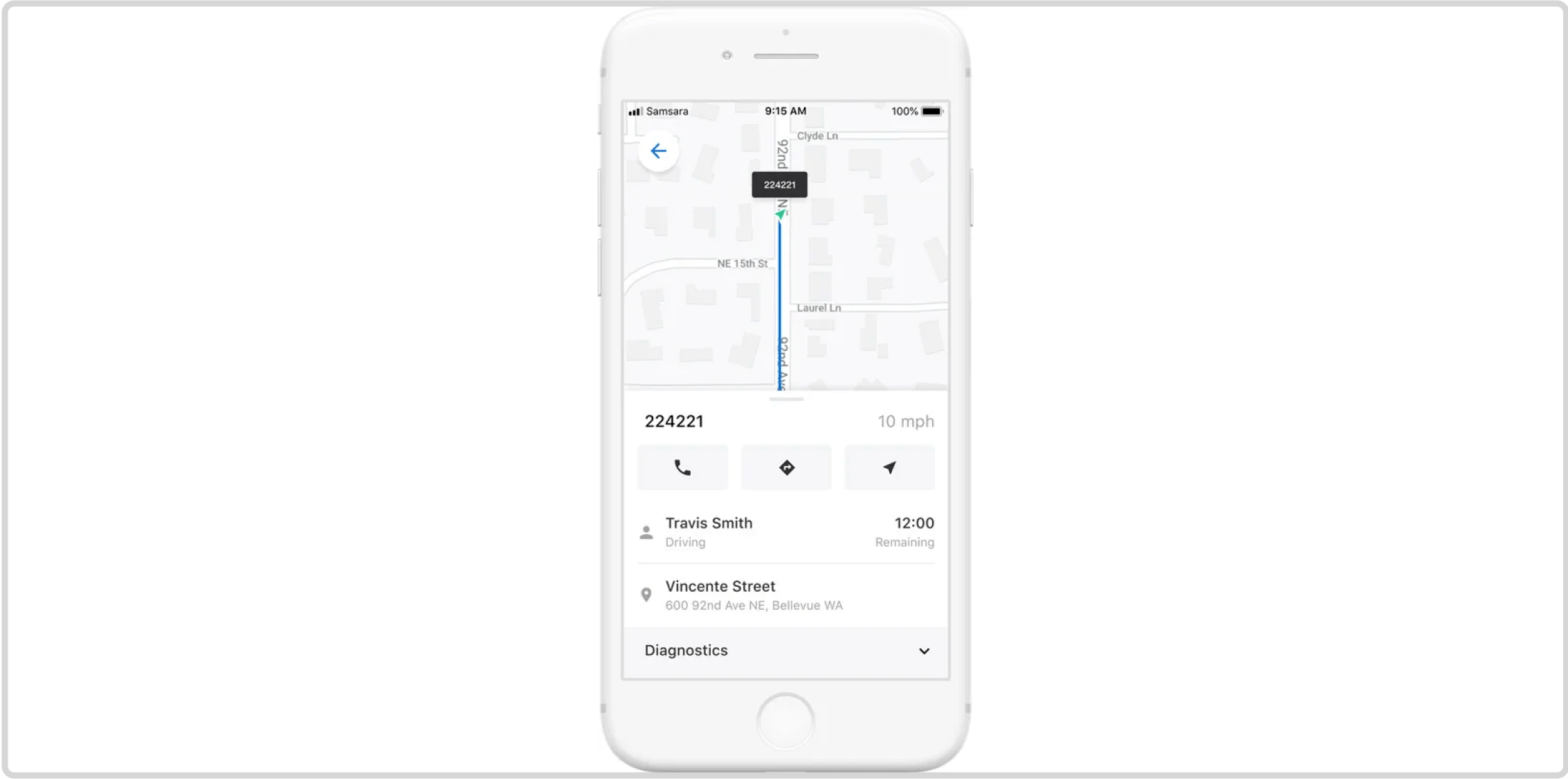 9. AI-enabled camera systems:
The AI-enabled camera systems from Samsara have a multitude of use cases, from site safety and inspection to dashcams. These cameras can detect any traffic accidents or workplace mishaps and can help managers quickly comb through the video to find what they need.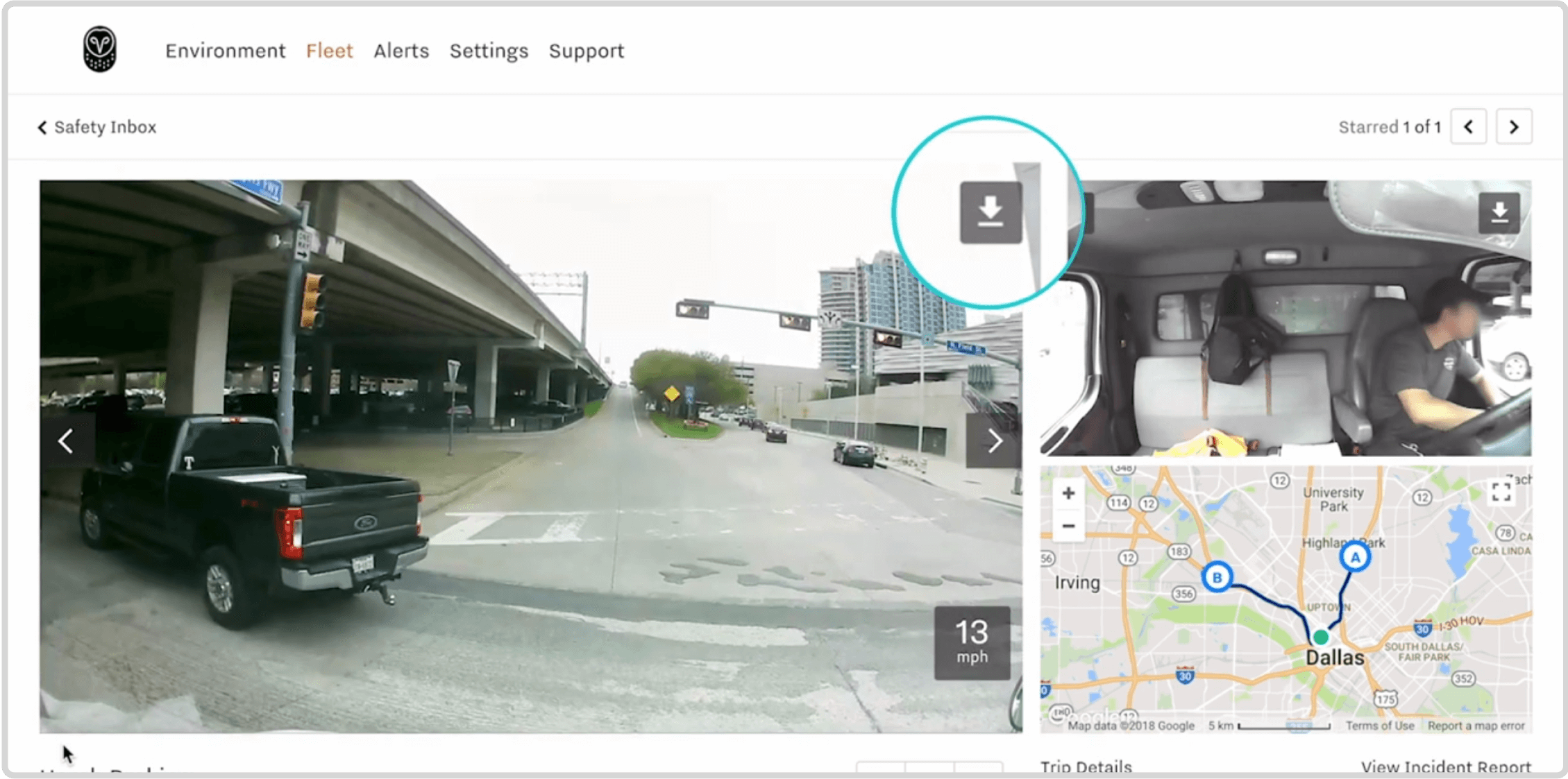 Is Samsara Right for Your Business?
Samsara is truly a one-of-a-kind player in the fleet management industry with its vast array of features that give you a commanding view of all operations. But, this vastness of features is not usable for businesses that are not at a scale that justifies the use of such complex technology.
Most businesses are usually looking for an easy-to-implement solution that gives them greater operational efficiency. Thankfully, the market is ripe with plenty of route optimization software that is capable of increasing operational efficiency and acts as a suitable alternative to Samsara.
A Perfect Alternative to Samsara
If you feel that Samsara is just too cumbersome and complex for your business needs, then you're not alone, as many have deemed Samsara unfit for their needs. This is why you might want to use Upper, which is perfect for handling regular routing operations.
Not only does it come with amazing route optimization abilities but also features like Excel import, proof of delivery, one-click dispatch, and more. Also, its app interface is very user-friendly for both drivers and dispatchers alike, allowing for quick habituation.
These are the ways in which Upper is a superior alternative to Samsara for your business.
User Interface: The user interface of Upper is very simple to understand as it is designed to be as intuitive as possible. Upper requires zero prior experience to use. Every single option and feature is laid out logically to help you navigate the app with ease.

Pricing: Because Upper comes with simple yet effective features, its pricing is often far lower than other competing software. This value for money offered by Upper is nearly unparalleled in the route management industry.

Reliability: Unlike Samsara, Upper has a steady record of not having many issues with its routing solution. This enhanced reliability is especially required if your operations are very sensitive to software glitches.
DON'T MISS OUT! LIMITED OFFER
Upper's Growth Plan now available @
$160/mo
Get the Best Cost-Effective Samsara Alternative & Speed up Your Deliveries by 3x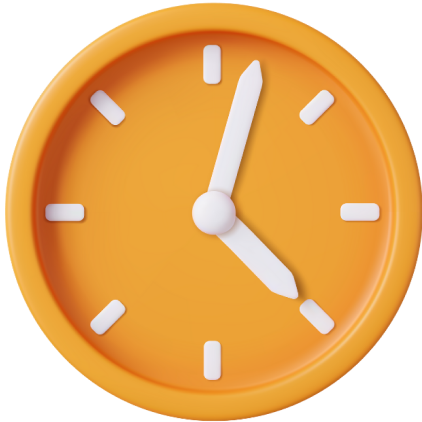 Conclusion
Solutions such as Samsara are built to cater to very large fleets of vehicles and are thus feature-packed to accommodate most business needs. But, in the pursuit of offering every feature available, software like Samsara eventually becomes too big and confusing to use.
In search of a simpler platform, many users seek alternatives that are easier to use and lighter on the wallet. The need for such simpler solutions is quenched by route planning and optimization solutions that offer an easier path toward achieving greater efficiency.
One such route planning and optimization solution is Upper, which comes packed with easy-to-use features that maximize your business profits. However, it is best to see what potential Upper holds for your business by using our 7-day free trial.
Frequently asked questions
What type of businesses use Samsara?

Typically, the users of Samsara are enterprise-level businesses that need to manage hundreds of trucks and employees on a regular basis. Samsara's AI-enabled cameras and hardwired tracking devices are what aid in these scenarios, which is why companies use them.

Are fleet management and route management software the same?

No, fleet management software is mainly for live diagnostics and tracking of fleet vehicles, whereas route management software is primarily used to make shipping routes as efficient as possible. While the terms are sometimes used interchangeably, they are indeed very different in terms of their priorities.

How does Samsara ensure driver compliance with safety regulations?

Samsara ensures that drivers stay in compliance with safety standards using their AI-dashcam systems that detect all instances of traffic rules violation. This increases driver accountability and helps keep them in accordance with the latest safety protocols.

How does API integration help in streamlining operations?

By having your route management solution integrated into any other business platform, you are able to transfer data between the two software seamlessly. Doing this boosts your operational speeds and lets you import data straight from the source, enhancing order accuracy.

Can route management software reduce operational costs?

Indeed. To reduce costs such as fuel costs and maintenance costs, route management software gives you optimized routes that reduce the distance traveled. This lowered travel distance makes you burn less fuel and thus save money on gas which lowers overall business costs drastically.