All kinds of delivery businesses can make use of delivery route scheduling and route planning software. But most delivery businesses make multiple deliveries on a single route. For that purpose, these businesses require route planning and scheduling software with multi-stop route planning.
Do not get confused between route scheduling and route planning. They are often used interchangeably, but there is a slight difference between the two. But they have the same objective – to minimize the total cost of providing the service.
The better your route schedules, the more productive and efficient your deliveries are. In this article, we have discussed some of the best route scheduling software, along with essential things to keep in mind while choosing one.
What is Route Scheduling?
Schedule a driver's daily delivery tasks and create a route plan with specific delivery constraints like arrival time is called Route Scheduling. Route Scheduling helps maximize work orders and makes sure the customers receive their packages in a timely and accurate manner.
Route planning software helps in route scheduling for drivers and fleet.
Route Scheduling offers benefits like:
Improving efficiency
Increased revenue
Improved control over deliveries
It cuts down transportation costs.
Better driver and delivery fleet management
7 Best Scheduling & Route Planning Software for Multiple Stops in 2023
Below mentioned are some of the best route scheduling and planning software for multiple stops.
Upper Route Planner
Upper Route Planner is a route planning software that helps small to mid-sized businesses create daily route schedules with multiple stops. Upper helps businesses spend less time planning and driving with its advanced planning and optimization algorithms while achieving more delivery numbers. The advanced algorithm takes multiple factors into account to save time and money.
Best Use Cases: Small to mid-sized businesses like courier services, food delivery business, restaurants, flower shops, school bus, lawn maintenance service, repair & maintenance business.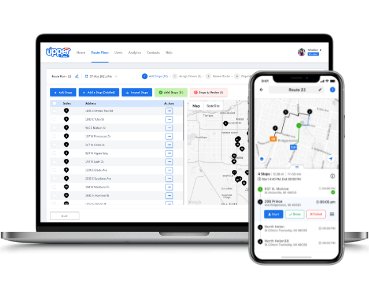 Upper Route Planner
A Simple-to-use route planner that every one is talking about.
Save up to 95% of planning time
Save up to 40% of time on the road
Plan 500 stops at once
Circuit
Circuit for Teams is a routing software that can create routes with multiple stops for multiple drivers in five minutes. Circuit for Teams can accept more than 5000 stops and turns them into more than 100 optimized routes for multiple drivers at once. Users can easily re-plan or re-optimize their stops while they are on the route. The hands-free voice entry makes planning and scheduling more convenient.
Best Use Cases: From individual drivers and contractors to large courier companies, everyone can use Circuit Route Planner.
Route4Me
Route4Me, a route optimization software, boasts planning multiple stops in less than a minute. Route4Me reduces planning and scheduling time for many delivery teams to less than 10 minutes per day. With bulletproof visibility, teams can also view their drivers' location where the drivers were using battery-efficient smartphone GPS tracking.
Best Use Cases: Field service workers, field sales, field marketing, field merchandising, and territory management.
OptimoRoute
OptimoRoute is a cloud-based delivery route planning software that helps businesses plan efficient routes and delivery schedules for drivers and service technicians. With features like Live Tracking drivers, customizable email & SMS notifications, automatic status updates, and image and signature capture, OptimoRoute makes sure deliveries are simplified and automated for all dispatchers.
Best Use Cases: Post & Couriers, Retail & Distribution, e-Commerce, Field Sales, Food Delivery, Repair & Maintenance.
Routific
Routific aims to create a route schedule that lowers your cost-per-delivery while still covering more work orders. Routific allows you to plan and optimize route schedules using real-life factors like tight time windows, lunch breaks, and sick leaves. With features like proof of delivery, reports & analytics, and tracking driver progress, Routific makes sure that productivity improves while improving the overall quality of delivery service.
Best Use Cases: Small to mid-sized businesses doing pickups and drop-offs.
WorkWave Route Manager
WorkWave is a cloud-based, end-to-end field service software solution that generates more revenue by freeing up time for more daily delivery stops. WorkWave automates the entire route planning process, right from initial order entry to final delivery. It allows employees to track and manage orders in real-time according to the delivery instructions received from different sources, making routing and GPS tracking easier.
Best Use Cases: Residential cleaning services, Residential & commercial lawn service, and landscape companies.
Speedy Route
Speedy Route is a route optimization software for planning routes with multiple locations. It creates a route schedule that seems most appropriate and easy to follow for the users who need to make multiple stops. Users have the option of creating route schedules for a single vehicle or multiple vehicles. Speedy Route considers time constraints like optimal waits or arriving at a location on or before a certain time.
Best Use Cases: Delivery drivers, individual contractors, and field sales reps or traveling salespeople.
Choose a Routing Software with the Following Offerings
When choosing a route optimization solution, you must check if it offers the following features.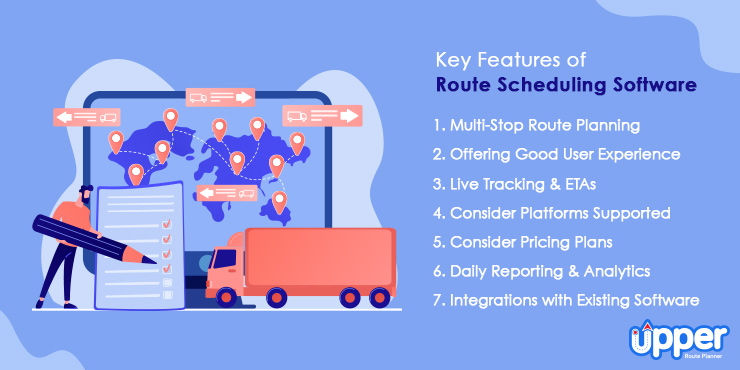 Multi-Stop Route Planning
Multi-stop route planning feature is often the essential requirement for many businesses dealing with delivery. Multi-stop route planning allows you to schedule route plans with multiple delivery destinations on a single route.
Offering Good User Experience
User experience is key to the smooth functioning of the delivery process. Choose a software solution with an easy-to-use, intuitive interface that makes things convenient for the users.
Live Tracking & ETAs
With live tracking & real-time ETAs, businesses can see where their driver is and share delivery updates with the customers with customizable text and email notifications. This improves productivity and makes accommodating last-minute changes easier. Users can also receive real-time traffic updates on the mobile app.
Consider Platforms Supported
A good software solution will be the one that supports the platform you use to work. Usually, routing software is available as web apps and mobile apps for Android and iOS devices.
Consider Pricing Plans
Softwares are priced differently, depending on the features they offer. If you have multiple drivers, choose a plan accordingly that fits in multiple users at an affordable price. Compare prices shown by different software, and you will find the one most suitable to your logistics requirements.
Daily Reporting & Analytics
The daily reporting & analytics feature can help you find the strength and weaknesses of your delivery schedule. The delivery data guides you towards the pain points but at the same time offers valuable feedback on what's working for your business.
Integrations with Existing Software
A company cannot go around changing its software all the time. The routing software you choose must allow easy integration with the existing systems and software being used in your business. This goes on to show the flexibility and the user experience offered by the software.
---
FAQs
The best way to plan routes with multiple stops is by using a multi-stop route planner like Upper Route Planner. Other apps like Google Maps will only allow you to plan routes with up to 9 stops.
---
Make Informed Decisions
Delivery route scheduling software is important for businesses offering delivery services. Every delivery business needs good algorithms for creating multi-stop route plans. We have mentioned some of the best route planners in the article, hoping you will find the one that fits your delivery and optimization needs and make better business decisions. You can reach out to us if you have any questions or need more information about something.