Key Takeaways:
Truckers can save time, money, and stress by using GPS apps for trucks since they offer precise directions and information.
The top GPS apps for truckers include functions like IFTA fuel tax reporting, HOS tracking, and routing depending on truck size and weight.
By delivering notifications for low bridges, steep curves, and other hazards, trucking GPS apps can help truckers stay safe on the road.
Truckers can save time and money by optimising their routes and avoiding traffic jams with the help of a trucking GPS app.
Truck driving is not just about finding the most optimized route. It deals with several unknown factors. Making deliveries using a truck is different than deliveries within a city using a car. So it is important to consider the safety of the drivers, vehicles, as well as the packages.
Truck deliveries are mostly long-distance and they demand more information and accuracy from the tools and equipment utilised in the process. This is why using the best truck GPS app is important for all truck drivers.
Truck drivers do not use physical devices like Garmin and Rand McNally. They can easily use GPS mobile apps.
In this article, we will cover some of the best truck gps app solutions available in the market and the benefits of using dedicated GPS apps for trucks. You will be able to compare each of these by considering their features and pricing. Depending on your requirements, you can make a choice.
What is a Truck GPS?
Often the biggest complaint of many truck drivers is that their truck specific needs are not focused on. But this was until a few years ago. Now we have many GPS devices and applications that are designed specifically for truckers.
A special GPS developed for trucks and truck drivers will often take into account specific factors that are relevant to a trucker, such as truck stops, truck maps, rest areas, heavy traffic jams, and route planning.
There are three main companies that still manufacture traditional physical GPS devices. Rand McNally is the oldest such company. They have been developing navigation tools since the 1800s. Garmin and TomTom are more recent companies, started in the late 20th century.
What is a Truck GPS App?
Steve Jobs launched his famous iPhone in 2007. Since then, we've been living in a mobile world. Smartphones dominate both our businesses and our lives. A truck GPS app is the next iteration of tools for truckers. It integrates many of the features and benefits from the physical GPS devices they have traditionally have had in their car. The advantage of this type of app over a GPS unit is that it's smaller and software can be updated more easily and frequently.
What are the Benefits of a Truck GPS App?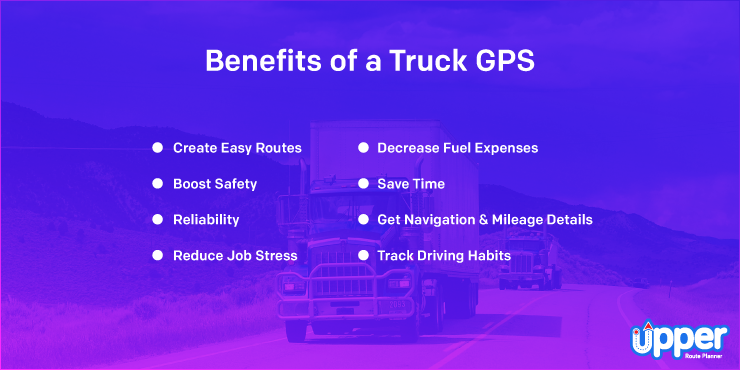 The GPS app is now an essential tool for the truck driver. Here are some of the benefits :
Efficiency: A good application will be able to create truck routes, and get a driver from place to place as quickly and efficiently as possible.
Safety: The worse thing would be to have an accident. Included in the GPS is crucial safety-related information. Safety measures include weight limits, speed limits, height limits,, and more.
Reliability: An electronic device with updated maps is generally more reliable than a paper map.
Stress reduction: The job is quite stressful. The assistance of having a reliable source of information reduces some of the stress on the job.
Save Money: A great application will allow the user to reduce their fuel expenses, as well as any other expense related to the truck delivery trip (such as meals)
Save Time: Getting to a destination using the shortest routes means that the trucker and the company save time. Quicker deliveries mean less delays, more client satisfaction, and better ratings for the company.
Know the condition of the truck Navigation: is not the only feature of a good truck GPS app. It will also provide information about mileage (e.g. the hours and miles are driven), fuel usage, and tire condition. These are components that are related to fleet management.
Driving Habits: A good app will also help track driving habits. What everyone wants to avoid are bad habits and dangerous driving. This is a solution that helps both drivers and managers.
What are the Top Features to Consider in a Truck GPS App?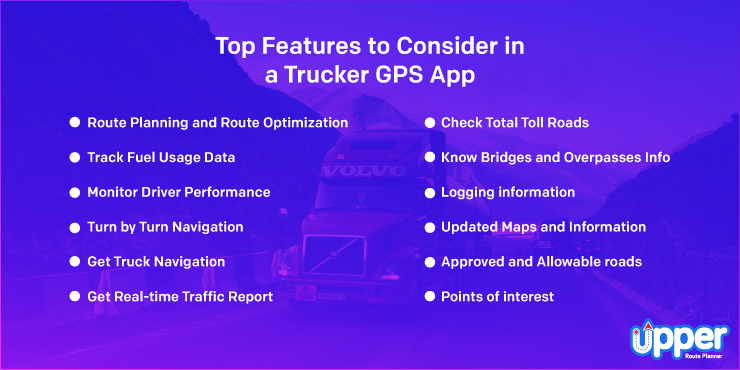 Route Planning and Route Optimization: The number one reason to consider is the driving directions in the most efficient and optimized way. A good application will be able to optimize using a variety of features such as tolls, traffic, and weather.
Fuel Tracking: When synced with a vehicle, the truck GPS can accurately track fuel data, miles per gallon. Certain apps will allow to identify any fueling locations that provide cheaper gas prices. Also, a great application will allow drivers to avoid traffic and find quicker routes. Less time on the road means less fuel used, and more money saved.
Speed and Driver Monitoring: Another feature of many GPS apps is the ability to monitor driver performance. This is to identify any bad driving habits or reckless driving. This is especially useful for fleet owners who can monitor these behaviours as well as other factors like engine idling. Reducing these costs can mean a lot to the bottom line.
Turn by Turn Navigation: The big advantage of a modern app is the voice turn-by-turn navigation. A GPS allows you to have peace of mind and not have to look at the map. All a driver needs to do is listen to the directions.
Truck Navigation: On top of turn by turn navigation, truck drivers have specific needs when it comes to navigation. There are specific instructions that are required to allow the truck driver and their cargo to get to the final destination safely and efficiently.
Traffic: Downtime in traffic is costly for the trucking industry. Having a real-time traffic report enables drivers to avoid it and reduce time and money expenses. This includes any delays relative to road construction or traffic incidents.
Toll roads: Another feature is toll road information. The main questions are a) where are they?; b) how much do they cost?; c) if we avoid the toll road, what is the estimated time length of the alternate route.
Height: Identity the low bridges and overpasses that are below the height restrictions.
Logging information: Every trucker knows they need to keep an electronic log. A good app will help keep the ELD full of up to date information. Certain apps are able to track information in real-time and for multiple trucks at a time. This gives the fleet manager an eagle eye's view of all the operations.
Updated Maps and Information: Routes and maps are constantly changing. There are new roads constantly being built. In the age of the paper maps, a driver had to get a new paper map every year, and even then, it might have been outdated. Now, software updates allow for over-the-air and real-time updates to any changes on the map.
Map of Approved and Allowable Roads: Large trucks and semis have many restrictions on where they can drive. The types and weights of loads will affect these limitations. The best navigation systems create a detailed route while considering all these factors. Certain applications allow for a 3D map as well, where truckers can visualize a low bridge for instance. Therefore, it is important to know and follow these route regulations. This will help avoid fines as well.
Find Points of interest: Certain applications allow us to highlight specific locations that are of interest. These points include grocery stores, hotels, rest stops, repair, towing facilities, hospitals, and restaurants
Utilize Upper and Empower Your Truck Drivers
From providing the dispatch status to getting delivery details, Upper has the utmost care for truck drivers. Experience doing it on Upper.
Try Upper for Free

Top 7 GPS Apps for Truck Drivers
Truck GPS App
User Ratings
Key Features
Price
Download
Sygic

4.6/5

Real-time traffic information;
Lane assistance
Voice navigation

€ 79.99 per month
PTV Navigator

2.6/5

Truck navigation in 20 languages;
Offline maps
Truck parking assistant.

$26.99 per month
Trucker Path

4.7/5

Find parking, rest areas, weigh stations;
Trip planner;
Real-time updates.

$8.30 per month
CoPilot

4.8/5

Dynamic ETAs based on real-time road conditions;
Avoid toll roads, low bridges & truck restricted routes;
250 configurable API options.

$8.99 per month
TruckMap

4.7/5

Plan for truck weight, HAZMAT, and low clearance;
Optimized GPS routes;
Overnight parking.

Free
Waze

4.9/5

Finding parking and gas stations;
Avoid toll roads, ferries, freeways;
Quirky voice options for voice guided navigation.

Free
Google Maps

4.7/5

Aerial photography;
Google Street View;
Real-time traffic conditions.

Free
Now, we're going to look at some of the best gps apps. If you are a professional truck driver looking for GPS apps that will run on your Android tablet or phone and work in Truck Mode, here are the best out there:
Some of the most popular GPS apps mentioned here are truck specific, some are not.
Sygic Truck GPS Navigation

Sygic Truck is a well known and well-used application. It is internationally known as the best truck GPS app with maps in North America, South America, Europe, Russia, Africa, the Middle East, New Zealand, and Australia.




The application allows us to store maps offline (useful for those who can't use mobile data). It offers standard features such as truck friendly turn-by-turn navigation and points of interest.

For a long time, the application has been on the high end of the scale in terms of pricing. It is considered a "premium" offering in this space.

Pros

Maps for North America, South America, Europe, Russia, South Africa, Australia, and New Zealand.
Offline maps
3D cities and landscapes
Professional truck routing with hazardous materials
Offline maps with free map updates
Points of interest and highway resting areas;
Voice instructions for navigation, lane assist (lane guidance), and road indication.
Settings for truck size and load type;
Syncs with Google Maps API.
Premium routing app.

Cons

More expensive
No speed traffic alert
Sometimes crashesç
Route errors – sometimes restrictions are ignored.

PTV Navigator

PTV Navigator is designed for truckers, and we can see that focus on the design. The first job is to create routes. It creates fastest routes to help the driver at each stage.




When creating routes, the app will take into account all useful parameters such as size, restrictions, the weight of the vehicle, as well as other factors like traffic. The route optimization feature will then create an optimal and fastest route using these specifications.

Pros

Routes across Europe;
Real-time traffic alerts and information (from TomTom)
Parking assistance ( over 20,000 truck parking spaces and parking places)
Tolls feature
Monitor fuel costs;
Takes into account truck restrictions
ELD functionality and mileage

Cons

Only available on Android
No lane indication
Imprecise data
Settings missing (MPH)
Inability to save locations
Reported bugs

Trucker Path

Trucker Path is one of the best trucker GPS app designed for professional truck drivers. It is considered a favorite among truckers. The main features allow a truck driver to find weigh stations, shopping centers, truck washing stations, fuel stations and more.




Another powerful feature is the fuel price comparison tool to save on fuel. Trucker Path is available on both major platforms (Apple and Android).

Pros

Identify points of interest like
TruckStop Locator: Easy to find popular truck stops
Includes smaller stops
Visualize truck parking in real-time
Overnight parking locations such as Walmart
Fuel Station Locator
Trip Planner feature.

Cons

Does not include advance navigation
Few truck settings
Lack of traffic reports, bridge heights, road conditions, and road closures;
No integration with backup cameras

CoPilot GPS

Copilot GPS is another truck-specific app that's been around since 2014. It has similar truck friendly features to many other apps. It offers navigation and guidance and allows for input of restrictions.




Restrictions to avoid are things like dangerous turns, low bridges, and allowable roads. One of its strengths is the offline maps that can be downloaded. This means the user does not need to have mobile data. This is especially useful in very rural areas in dead areas where cellular data may be limited.

Much like Trucker Path and other apps, it shows points of interest such as rest stops, CAT scales, rest stops, and more. It is a perfectly suitable app for truckers. There is a loyal following and in total there are over 16 million users of this app. It is available on the App Store and Google Play.

Pros

GPS designed for Truckers
Offline Maps capability
Reliable Guidance
Good Route Planning options
Route optimization with resequencing
Ability to input Vehicle-Specific Restrictions
Easy to read 3D maps

Cons

Issues in finding addresses.
Not free.
Not suitable for Smaller screens.
Lack of traffic information

Truck Map

Truck Map is said to be the only routing solution that offers dedicated routes for trucks. It helps drivers in finding truck stops, weigh stations, and parking.




Drivers can also opt out of low bridges and truck restrictions on their routes.

Helps you find amenities along the route;
Overnight truck parking & accurate diesel prices;
Drivers can look for over 14,000 locations;
Many stop options with laundry, showers, and truck washes;
Offers 400,000 truck parking spots.

Pros

Easy to use app;
Truck specific routes helps deliver faster;
Navigate safely while still using faster routes;
Provides better planned routes than most apps.

Cons

Misses a few turns;
Creates inconvenience with wrong navigation;
The app freezes up or crashes sometimes;
The navigation voice could be a little louder.

Waze

Waze is another useful application that is not truck-specific. It will identify things such as traffic congestion, fuel prices, dead animals, and road blockages. This is possible because of the social aspect of the app.




As reported by Wired, the unique feature of Waze is that it comes with real-time mapping with social media. It can be used on both the mobile devices or the tablet.

Main usefulness of Waze is to identify upcoming hazards on the road;
Boasts a great user interface;
Gives drivers a realistic view of the road;
Unique approach of user-generated content.

Pros

Free app;
Social media and real-time mapping integration;
Crowdsourced information on traffic, routes, closures;
Real-time warnings of roadblocks, and other incidents;
Automatic rerouting.

Cons

Although this application is not very successful on the navigation side because it does not create optimal driving routes, it is useful for the real-time alerts it offers with the users on the road;;
Not Truck specific;
Requires internet connection. Not useful for truckers who do not have mobile data usage while on the road.

Google Maps

As most of you know, Google Maps is not a truck specific app. We do think it's useful to include it here because it does offer a large variety of useful features. Truckers use Google Maps in conjunction with other truck-specific applications.




Pros

Free
Most updated application
Good routing options
Live traffic data
A large collection of POI's – from restaurants, stores, hospitals, and more.
Explore nearby function
Frequent Update;
Save routes in advance function;

Cons

Google Maps requires mobile data connection. This is not always possible for truck drivers;
Does not include truck specific data (height, weight restrictions etc.)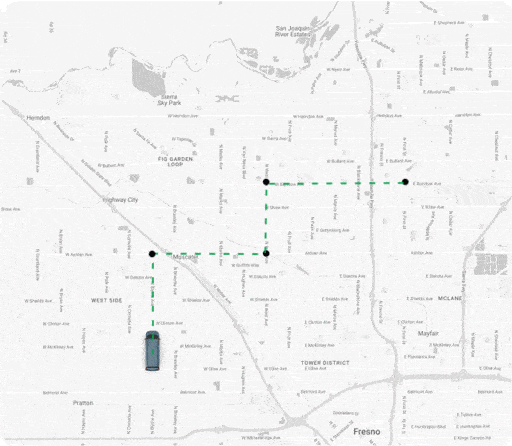 FAQs
The best truck navigation app depends on your location, language, cost, and features you require. Generally, truck-specific applications are more suitable as they take into account restrictions. If you are looking for a free option, Waze and Google Maps can get the job done.
It is advised to use a specialized trucking application because trucks have restrictions such as truck dimensions, weight, and height. A good truck app will include these features whereas Google Maps currently does not. So you can't set Google Maps for trucks.
Truck Map is definitely the best truck GPS app if you are looking for a free option.
---
Pick the Best Truck GPS App
Making use of the best truck navigation app will make all the difference for your truck drivers. As you can see, there are many applications that have either similar or complementary features.
The best trucking GPS apps in 2023 include Sygic, PTV Navigator, Trucker Path, TruckMap, CoPilot, Google Maps, Waze, and many others.
We have tried to cover some of the best apps and highlighted all the necessary information about all the truck GPS apps available out there. Now it's over to you to pick the most suitable option for your truck drivers.
If you want to discuss something or feel like we've missed something above, you can get in touch with us. We'd be happy to discuss!