Key Takeaways:
Perform a packaging audit to find inefficient and wasteful areas.
Employ reasonably priced and environmentally sound packing materials.
Automate packing procedures to boost productivity and cut labour expenses.
To spot and take advantage of cost-saving opportunities, monitor and track packaging expenses often.
Every delivery business owner knows the importance of high-quality product packaging. Packaging is an aspect where the customers do not want to compromise while purchasing. 
For big companies, choosing the wrong packaging materials can lead to both product damage and a bad customer experience too. According to a report, manufacturers spend more than $150 billion yearly on product packaging.
The size, weight, and material of the package determine shipping costs. In this manner, a small improvement in packaging can make a critical impact on shipping or handling costs throughout the supply chain. So, picking the appropriate material, redesigning packaging, and maintaining packaging play a vital role in pulling down the packaging costs.
In this article, we will learn how to reduce packaging costs for your business.
So, let's get started.
What is Packaging?
In logistics, packaging refers to a coordinated system of preparing goods for safe, cost-effective, and efficient movement throughout the supply chain, resulting in increased consumer value, sales, and profits.
Packaging has the potential to influence a buyer to initiate sales because the buyer comes into contact with the package first and then with the product. But, many businesses overlook packaging and opt for a standard size box. So, businesses should take their packaging seriously if they want to boost their sales and build the brand.
What are the types of packaging?
The type of packing you choose has the biggest impact on the packaging cost directly. So, let's look at the various packaging types used in the industry.
1. Cardboard boxes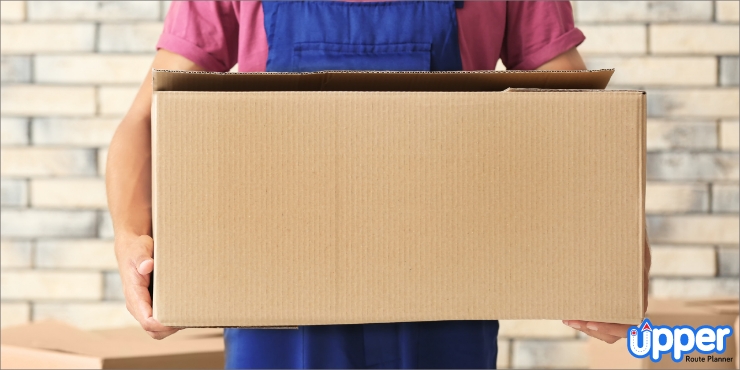 Cardboard boxes are the most common forms of packaging, preferred by both large and small businesses. The boxes are sturdy and long-lasting that can frequently accommodate heavier items. Boxes can withstand the rigors of transportation when combined with bubble wrap until they arrive at their destination.
Although the primary purpose of the shipping box is protection, you can customize boxes with colors and styles to serve as a branding and marketing tool for your business.
2. Customized packaging
Custom boxes are frequently designed to provide customers with a unique unboxing experience. The range of custom packaging adds to extra packaging costs. It works as an excellent branding tool.
For instance, Asus ROG products come in unique packaging, enhancing the customer experience.
3. Thermoform packaging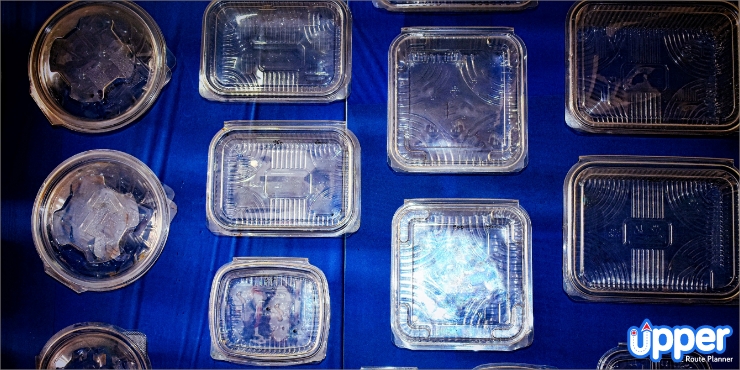 It involves heating plastic sheets so they can be easily molded or trimmed depending on your product. It includes plastic containers such as meat trays, egg trays, disposable food containers, and blister packaging.
4. Paper bags
Eco-friendly packaging can help to reduce the carbon footprint. Paper bags are recyclable, reusable, and biodegradable, which makes them a viable alternative to plastic bags. Paper bags can be highly customized, with any weight, size, shape, logo, or strength, at a low cost.
To strengthen paper bags, you can laminate them with other materials, such as woven fabric or plastics. They are generally used for packaging small items such as clothing, toys, etc.
5. Monocartons
Mono Cartons are plain paperboard boxes. Mono Cartons are used as retail boxes because they can easily be customized, laminated, and printed. They also protect against minor splashes, drops, and bumps. For example, Kellogg's cereal comes in mono cartons.
What are Packaging Costs in 2023?
The packaging costs vary depending on the type of packaging. Furthermore, each packaging project has its components that affect delivery costs. The cost of packaging generally includes labor, raw material, tooling, set-up fees, design work, prototypes, testing, shipping, fulfillment, storage, and, of course, volume.
Some packaging solutions are naturally more expensive than others, but ordering in larger volumes can lower unit costs because large projects can produce a large volume of units at once, with the packaging machine only needing to be set up once.
| Packaging type | Unit cost |
| --- | --- |
| Corrugated packaging | $2.7-$3.5 |
| Folding carton | $1.8-$2.25 |
| Rigid boxes | $8.5-$10.00 |
Find Optimized Routes to Ship Your Packages without Hassle
Switch to Upper Route Planner where dispatch is just a single click away. Get the benefit of a fully automated process and save money on packaging.
Let's Get Started

8 Effective Ways to Reduce Packaging Costs
The package's quality is important because it physically represents your company. The goal, however, should be to save and maximize the available budget.
We've compiled eight effective ways that can help you get significant cost savings on your packaging.
1. Remove flyers
While including flyers and thank you notes benefits your marketing department, it increases your packaging costs and takes time to incorporate them into each other.
You can remove these elements and instead consider printing a thank you message inside your product box or incorporating a hot-stamped design to lower the packaging costs.
Also, after a customer receives their order, you can send them a thank-you email, which shows that you value your customers.
2. Use paper and plastic inserts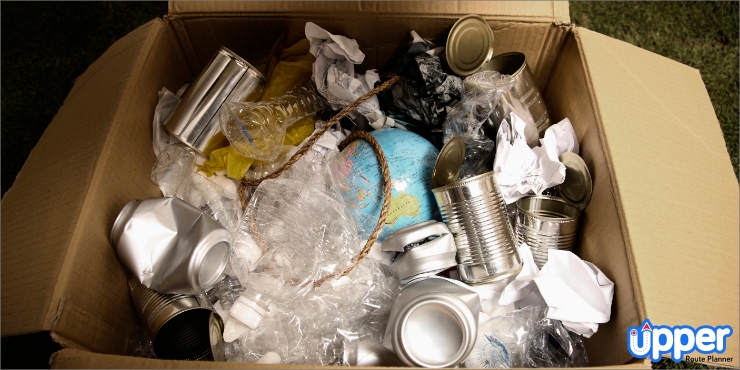 Paper and plastic inserts are inexpensive ways to add an extra layer to your packaging. This is especially useful for boxes that contain several products. It acts as a cost-effective packaging solution.
You can enhance your unboxing experience by placing padding between the products and/or appealingly displaying them.
Paperboard trays are great for displaying items like cosmetics, candles, and much more because they provide extra support and protection to your products.
Whereas plastic tray inserts are especially useful for cookies and baked goods because they separate your products within a single vessel.
3. Custom packaging for your products
The more space your package takes, the higher will be the delivery fees. It is not a good idea to send a package that takes up more space than it should. Your box's dimensions should be determined by your product's length, width, and depth.
Integrating custom packaging will eliminate extra space for void fill, reducing the time and costs associated with filling space.
4. Order packages in large volume
Setup cost is required for the production of your boxes, cleaning the machine and tooling, changing different machine components needed for cutting, dyes, etc.
Small runs will cost more per unit because manufacturers will need to set up the machine for your specifications every time you order a new batch.
Meanwhile, large-run projects can produce many units at once, only needing to set up the packaging machine once.
5. Minimize printing costs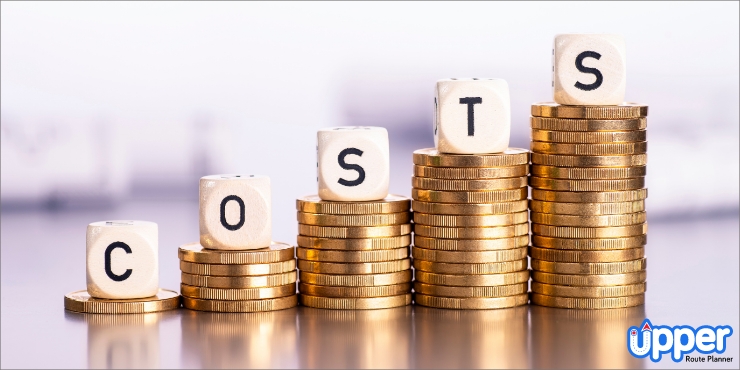 The ability to custom print your branding draws businesses to custom packaging. Depending on the quantity of your order, you can also save money on printing.
Although both digital and flexographic printing are excellent options, depending on your volume, one of the two may be the more cost-effective custom printing solution.
For short-run projects, digital printing is the most cost-effective option.
On the other hand, flexographic printing layers color onto sheets rapidly and stamp designs directly onto the substrate using metal plates, but it is expensive for most low-volume projects.
So, the best way to keep printing costs low and packaging quality high is to request a digitally printed prototype and produce large volume orders with flexographic printing.
6. Utilize the right materials
Most of the time, choosing the right materials can help in reducing packaging costs. 60% of businesses use easy-to-open packaging, which customers prefer.
As a result, as a business owner, you must utilize a wide range of available options. Here are some ideas for refreshing your branding:
Packaging type
Various options

Paper

Plain/Customized brown paper

Crepe paper

Grey paper

Oil paper

Plastic

Drawstring bags

Resealable Pouches

Zipper bags

Stuffing

Bubble wraps

Foam chips

Styrofoam

Silica gel

Seal

Plastic seal covering

Stretch foil covering

Shrink foil covering
With so many different packing materials, it is simple to keep your packaging costs under control. Depending on the product, you can choose the one that is both affordable and appropriate.
7. Automate packaging process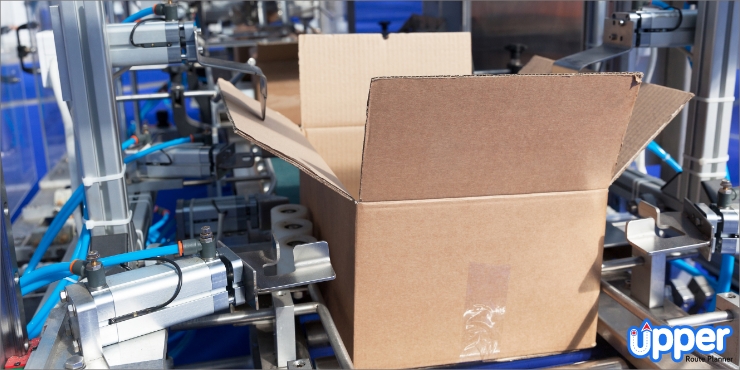 An automated packaging line will improve your picking and packaging process, making your business more profitable. Automation has changed the way consumers and businesses connect with each other. It has replaced the manual packaging process and adds to saving money on packaging.
The packaging industry has also benefited from digital and automated innovation. Routine tasks such as the following consume a significant amount of labor and time in most packaging operations:
Carton design and security
Corrugated cardboard boxes construction
Inserting stuffing and dividers
Box taping and security
You can improve your packaging processes by utilizing new technologies while saving time for bulk deliveries.
8. Choose reliable software
To better estimate the shipping costs, you should consider how much it will cost to ship the custom box design and packaging based on your warehouse.
Depending on your manufacturer's location and timeline, route planning software such as Upper Route Planner can assist you in planning the most cost-effective and time-efficient route.
It can also help determine your custom packaging shipping journey and how much it will cost to ship packages overall.
Why is Packaging Crucial for Your Business?
For eCommerce businesses, well-trained staff is critical for an efficient supply chain. There are numerous factors that contribute to your product's success in the marketplace.
One of the most important aspects is quality packaging design. The influence of packaging on consumers cannot be neglected. Let's look at some reasons why packaging plays a vital role in your business's success.
1. Protects the product
Packaging protects the product during shipment between the inventory to the customer. Many companies package their products with seals and locks to ensure product integrity and safety because consumers expect their products to work as intended, and quality packaging materials is the best way to ensure that.
2. Helps you stand out from others
Many businesses offer similar products, so separating your products from the competition is highly important.
However, a well-designed, eye-catching product with unique colors, fonts, and style can help you stand out from the crowd.
3. Works as a marketing tool
Packaging design is much more than just the appearance and feel of the package. It's also an excellent marketing tool for your business.
You can use packaging to convey how you want customers to perceive your product or service and build brand loyalty over time.
4. Creates brand recognition
Consider some of your favorite brands; they all appear to share one trait: uniqueness. One method is repetition; these businesses want customers to return weekly or year after year as purchasing habits develop over time.
Coca-Cola has consistently made minor changes to its packaging while maintaining its original appearance.
Perform More Deliveries with Reduced Packaging Costs on Upper
Upper Route Planner is a route optimization and planning software that can assist you by creating optimized routes to reduce fuel costs and ensure maximum profitability no matter how many delivery projects you handle.
The software's optimization algorithm simplifies route planning and optimization to ensure the on-time delivery of your orders. It makes delivery routing and planning a lot easier.
Upper provides numerous features that can assist delivery drivers and couriers in saving time and money. Directly import the additional stops on the route planner, and it will help you generate a route plan with the quickest and more efficient delivery routes to deliver your goods.
Take advantage of the FREE trial today to streamline your business and increase revenue and profit.
Simplify Shipping Your Packages with Upper
Consider the Upper Route Planner for dispatching and delivering the package on time. Also, minimize your packaging costs with Upper's automated delivery process.
Start Using Upper

FAQs
Flexible packaging refers to packaging that can be easily shaped and altered. It uses less material while combining the best characteristics of plastic, film, foil, and paper.
Whereas rigid packaging includes cans, plastic boxes, glass shipping containers, and cardboard, which cannot be easily shaped or changed. Although they provide adequate protection, they are significantly heavier and more expensive than their flexible packaging counterparts.
While there is no set range for packaging prices, it is a good practice to include packaging expenses in the cost of your product. Packaging should typically cost 10-40% of the product's retail price. The simplest way to obtain packaging is to locate some good packaging suppliers who can make the packaging job simpler.
A folding carton is a box sleeve made of single-ply paperboard or corrugated cardboard boxes (the standard brown shipping boxes with wavy cardboard) that is cut, glued, creased, and scored to produce the desired size and shape. Folding cartons are manufactured and delivered flat. At the manufacturing facility, they are then unfolded and assembled. Food, cosmetics, electronics, and other items are packaged in folding cartons.
If the primary or secondary packaging is not durable enough to withstand the conditions encountered along the supply chain, the product will likely arrive in sub-optimal condition. It will also leave a bad impression and, as a result, will repel customers from buying your products.
Moreover, the cost of packaging goes high due to poor or inefficient packaging.
The cost of packaging depends on the following factors:
Packaging box size

Weight

Packaging material

Durability

Labor cost
Conclusion
Packaging is an unavoidable part of your logistics. Therefore, it is essential to understand the packaging budget. Choosing the right material and reducing the average shipment size can reduce warehousing fees and shipping costs. By doing this, you can save packaging costs and increase the profit margin of your business.
So, if you are handling any aspect of deliveries, be it logistics or last-mile deliveries. Upper Route Planner can help you streamline your delivery process. With Upper, you can reduce operational costs, minimize fuel consumption, and improve productivity. To understand more about Upper, you can book a demo now with us.