Key Takeaways:
Business organizations may improve their routes and save time and money by using logistics routing software.
Real-time traffic updates and driver communication tools are features that can boost productivity and customer service.
The entire logistics process can be made more efficient by integration with other applications and platforms.
Cost, scalability, and ease of use are significant considerations when selecting logistics routing software.
Due to Covid-19, eCommerce giants like Amazon have achieved more than 35% in global net revenue in the last year. The current sales are showing no signs of slacking.
The rise in demand for deliveries for everyday objects like groceries has pushed logistics & e-Commerce businesses to expand their operations. As a result, there have been new entrants in the market. With all the disruptions, logistics and supply chain businesses are constantly on alert.
The one thing supporting and boosting these deliveries is the logistics routing software. In this article, we will look at logistics businesses, the benefits they receive from routing software, and many tips to help you choose the right routing software for your business needs.
What is Logistics Business?
A logistics business handles the process of planning, implementing, and controlling the movement and storage of goods, services, data or documents, within a supply chain between the point of origin and the final destination.
Logistics has now entered industries like grocery & food delivery service, courier delivery, e-Commerce, pharmacy, and even furniture & homeware.
This process of coordinating supplies and materials is now applicable to every little object or service moved from one place to another. Now, the flow and storage of goods and services from origin to consumption is known as logistics.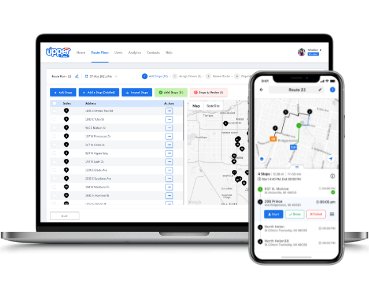 Upper Route Planner
A Simple-to-use route planner that every one is talking about.
Save up to 95% of planning time
Save up to 40% of time on the road
Plan 500 stops at once
How Logistics Routing Software Helps Your Business?
These are some of the major benefits of logistics software that help your business in many ways.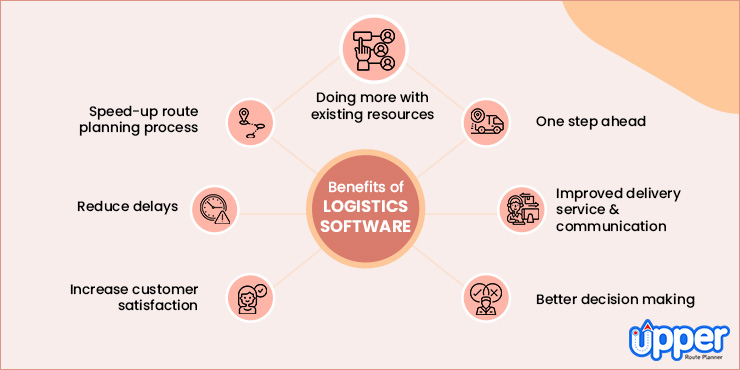 Doing More With Existing Resources

Logistics businesses do not have to worry about accommodating more orders in the present resources. They can easily balance deliveries among their drivers. Upper Route Planner is capable of distributing multiple stops among your drivers. At the click of a button, dispatchers can create multiple routes with multiple stops. It will allow you to serve more customers each day with the same resources.

Speed-up Route Planning Process

Planning manually can take hours. It utilizes valuable workforce and time. But with software like Upper Route Planner, you can simplify planning and build route plans efficiently. By doing this, it will not only save you time but also speed up the reporting process, enhance communication, and provide quick results.

One Step Ahead

With real-time GPS tracking, businesses can keep track of deliveries and their drivers. By doing this, you can identify hold-ups that may affect your drivers along with their route plans. Issues with drivers taking unscheduled breaks can also be solved with real-time driver tracking. The driver tracks can be easily set up on a web dashboard or integrated with other web tools.

Reduce Delays

A lot of local businesses have to deal with delayed deliveries daily. These delays could be due to weather, detours, road maintenance, etc. Being able to avoid these delays is crucial for delivery drivers to achieve timely deliveries. Dynamic routing software can provide useful details, traffic alerts, and other important data. It offers the flexibility of re-routing deliveries as and when required. This will not only reduce delays but save fuel costs, improve delivery efficiency & customer satisfaction.

Improved Delivery Service & Communication

A good routing system can provide communication tools that can ease and improve the dispatch team, drivers, and clients' links. These tools can provide real-time ETAs, customer notifications, real-time updates of schedules and plans, proof of delivery, etc. Better communication can avoid many problems that usually take up a lot of time and space.

Increase Customer Satisfaction

Customer satisfaction is as important as any other function of a business. It is a limit that constantly needs to be pushed. In pushing towards customer satisfaction, you will be able to improve planning, scheduling, fleet management, and overall delivery operations. All this can be supported by routing technology. With features like real-time ETAs, delivery notifications, proof of delivery, you make service for your customers easier.

Better Decision Making

Route planning systems provide a business with on-demand routing capabilities and the required information and delivery data in the form of reporting and analytics to make better business decisions. It can help the management team in studying the efficiency of everything in the delivery operations. With this data, companies have something to fall back on.
8 Best Tips on Choosing the Logistics Routing Software
Here are some of the features you must consider before adopting logistics route planning software.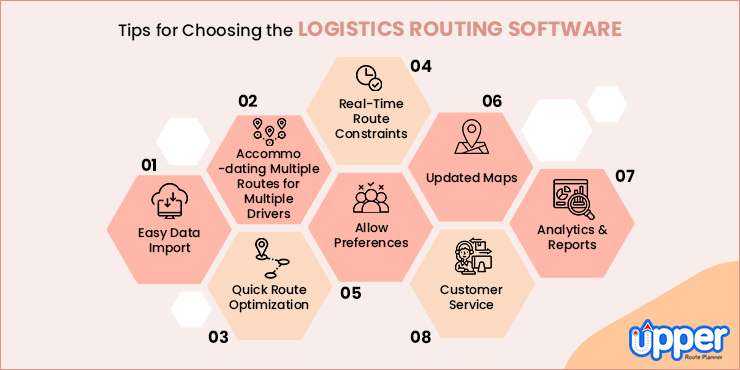 Easy Data Import

Manual address input or pen and paper methods are time-consuming. Upper Route Planner has one of the simplest import features where it becomes easy and convenient to add as many addresses as you want. Simply uploading the Excel document and lining up the columns will present you with a list of addresses that need to be arranged in a route.

Accommodating Multiple Routes for Multiple Drivers

By adopting a route optimization solution that allows you to plan a route with multiple stops for multiple drivers, a business can easily accommodate more delivery orders daily. Smaller businesses that do not have more number drivers will eventually need more drivers and thus ways to accommodate them in the route schedule. With region settings and dynamic changes, a business will need to keep up with the increasing demand. Upper Route Planner allows a business to create multiple routes with multiple stops for many drivers.

Quick Route Optimization

Using a sophisticated route planner, you can not only add multiple stops to a route but optimize them in a matter of seconds. The route optimization software is specifically designed to take into consideration multiple variables that can affect a route.

By considering those specific variables, the routing software can create the most well-optimized routes. This reduces complexity for the entire dispatch and driver team. Auto-update to the routes is also possible with such software solutions.

Want To Optimize Your Route For Multiple Drivers?

Upper Route Planner allows you to plan 500 stops at once and provide the shortest route available to save 40% of time on the road.

Real-Time Route Constraints

Fleet managers can use Real-time constraints like real-time traffic consideration, order-vehicle constraints, rider preference consideration to manage the delivery drivers and create proper scheduling.

Allow Preferences

At the time of route planning, fleet managers or dispatchers must choose from the team to carry out the deliveries. Often, route planning software can itself choose suitable delivery drivers for certain depending on the constraints you have set. Preferences can be depending on factors like vehicle size, vehicle capacity, driver expertise, etc.

Updated Maps

Receiving wrong or outdated directions for a specific delivery can be frustrating for delivery drivers. It also adds up to the fuel costs and the time wasted on a certain task. A delivery business must choose a routing software that provides the most updated maps, whether it uses Google Maps, Apple Maps, Waze, or Maps.me.

Analytics & Reports

A route optimization software must be able to produce reports and analytics for the multi-stop routes it creates. The reports offer the management valuable insights relating to the deliveries that were carried out, the time needed for carrying out deliveries, and a comparison of actual vs. optimized routes.

Fleet managers can receive information based on which they get a performance for the drivers and vehicles. Analytics & Reports can be helpful in fleet management, further delivery planning, and making decisions regarding the delivery route planning process.

Customer Service

Good customer service is integral to any product or service you purchase. As a business, you are liable to offer exceptional customer service to your consumers, and naturally, you would want the same with the solutions you choose. Route planners like Upper aim to offer the best customer assistance to solve any user's end.
Top 5 Logistics Routing Software Solutions To Checkout
Logistics Routing Software
Top Features
Pricing
Download
TrackoBit

Supports GPS tracking
Delivery tracking
Dispatch management
Manages your fleet operations
Shipment management
Third-party integrations

Need to contact customer support representative

Upper Route Planner

Logistics route optimization software
Easily add up to 500 stops at a time
Optimized and efficient routes for your drivers
Save on-road time
Human-centric design approach
Scale multiple driver deliveries smoothly

Samsara

GPS tracking
Trailer tracking
Dashboard camera
Routing and dispatch
Monitor driver's behavior

Depending on your business need, they provide pricing

LogiNext Mile

Automated planning & optimization
Real-time ETA calculation
Delivery route planning visualization
Dynamic rerouting Electronic proof of delivery

Need to contact customer support

DispatchTrack

Route managemen
Shipment tracking
Real-time data monitoring
Billing & invoice
Delivery tracking

Free trial available
Need to contact customer support
FAQs
Whether it is a single route with one destination or multiple routes with multiple stops, you can use Upper Route Planner to map out your daily delivery routes. Upper Route Planner is a cloud-based route planning software that can help you create delivery routes in minutes. There is other delivery route planning software like Route4Me, Onfleet, and Optimoroute that you can try.
UPS uses an integrated optimization software called ORION (On-Road Integration Optimization and Navigation) to schedule and dispatch its deliveries. The routing and fleet management software is based on advanced algorithms that create some of the most efficient multi-stop routes.
---
Avail the Benefits of a Logistics Routing Software
Businesses don't have to have a vast fleet to use route planning software. A route planning and optimization software can also be used for smaller logistics players who aim to improve route efficiency and customer service.
Companies can adopt route optimization platforms from various industries that deliver packages to their customers. But before you choose your best route planning software, make sure you go through the check of important features you can expect from the solutions.
This article was aimed at providing users with solutions to plan routes with ease. If you have any questions about route planning or route optimization, you can get in touch with us.