Key Takeaways:
Waze Route Planner allows users to set numerous stops along a route and select various routing alternatives based on traffic, tolls, and other considerations.
Users can also receive real-time updates on traffic events and road conditions as well as share their planned routes with others.
Waze Route Planner provides information on traffic, road closures, and other driving-related topics.
Waze also offers a wide range of other services that can improve the driving experience, such as turn-by-turn navigation, voice commands, and social connectivity.
Waze is one of the soaring apps packed with route planning and other standard features. With around 140 million active users, the Waze app has made it to the list of popular route planners. It provides real-time traffic and road information, along with other helpful information that drivers can use to plan routes more efficiently.
The app was developed by Waze Mobile and then acquired by Google in 2013. It is a community-based navigation app. So, users who wish to share live traffic updates, road hazards, and other information can get into the app and help fellow drivers. Read on to know how to plan routes using Waze Route Planner.
Waze Route Planner: A Most Used Navigation App by Drivers
Waze app is a fantastic navigation app that comes with multi-stop route planning as well as other helpful information to make the lives of drivers stress-free. Waze users are greatly benefiting from its turn-by-turn navigation system that provides clear and concise driving directions. You can avoid traffic delays with the help of this app on your mobile device.
Being a delivery driver, one of the most tedious tasks is traffic congestion! This is where the app comes in handy as it provides real-time data based on current traffic conditions so you can avoid congested areas. Moreover, you can also know the cheapest gas prices in your area, which makes it easy for you to save fuel costs.
How to Plan Multi-Stop Routes on Waze
Planning multi-stop routes and getting directions on Waze is a simple process. Here are the steps to do it:
1. Get started: Open the Waze app.
2. Add your destination: Enter the first destination in the search bar at the bottom.
3. Add stop: Tap the blue oval and click "Add a Stop". You can then enter the address of the next destination on your route.
4. Preset destinations: If you wish to choose any of the preset destinations, depending on whether you wish to stop by a restaurant, hotel, gas station, or parking lot.
5. Repeat: To add the next stops, repeat the previous step for an additional stop.
6. Start navigation: Once you have added your stops, tap on the "Go" button to start navigation. Waze will provide you with turn-by-turn directions for each stop on your route.
As you drive, Waze will provide you with real-time updates on traffic conditions to ensure that you reach your desired location efficiently.
Plan Best Routes by Directly Importing Multiple Stops
Taking longer than usual to reach your customers? Get highly optimized routes on Upper and skip the long traffic queues. Let Upper save your time and cost throughout the delivery process.
Start Using Upper for FREE

Is Waze Better Than Google Maps?
Waze is often considered the better choice for drivers who want real-time traffic updates and information about road hazards, as the app uses a community-driven approach that allows users to report traffic incidents and other information in real-time. Google Maps, on the other hand, provides more traditional turn-by-turn navigation, with real-time traffic updates based on data from various sources.
Google Maps also has extra features, including the ability to search for businesses and locations, view satellite imagery, and find public transportation options. Waze, on the other hand, focuses more on providing lone drivers with the most efficient route and is often favored by those who prioritize avoiding traffic and finding the fastest route to their destination.
Both Waze and Google Maps route planner offer amazing navigation and mapping capabilities. However, they have some variations that might make one of them preferable over the other. Although navigation apps are widely popular among individuals, these create limitations when it comes to businesses.
Drawbacks of using navigation apps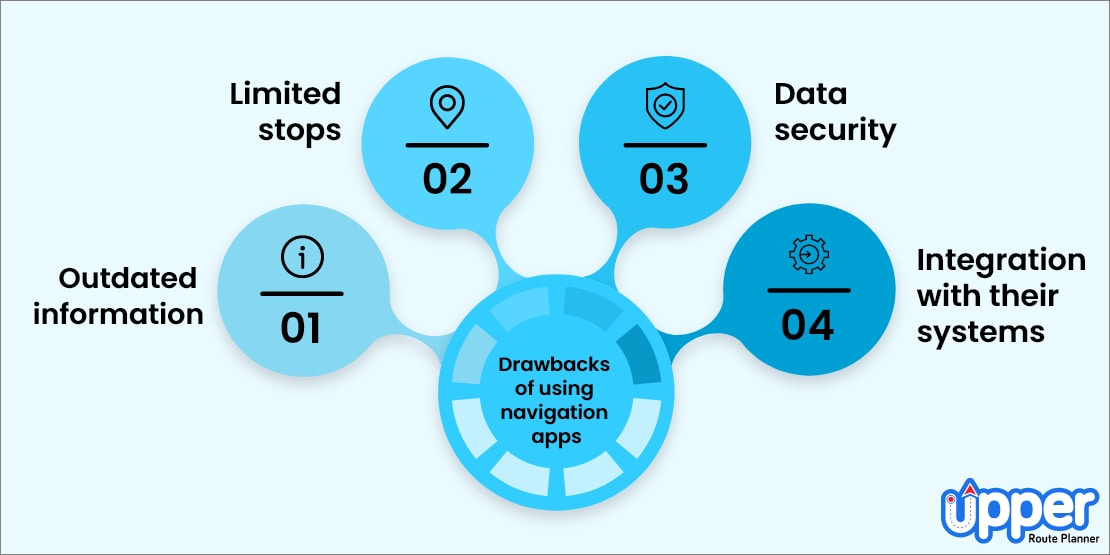 The main cons of navigation apps are:
Outdated information: Although navigation apps are created to provide accurate directions, they are not always up-to-date. They fail to show recent changes to the road network including new road constructions or detours.
Limited stops: Navigation apps do not offer the level of flexibility and customization that businesses require. For example, you can not do route optimization for extra stops (more than 10) or track the location of vehicles in real time.
Data security: As a business, you would be concerned about the privacy and security of your data collected by navigation apps. They may prefer to use smarter solutions that comply with data privacy regulations to safeguard their information.
Integration with their systems: Many companies have existing fleet management software or GPS tracking systems. Navigation apps may not integrate seamlessly with these systems, requiring additional effort and resources to make them work together.
Waze Vs Google Maps Vs Upper: Which One is Better?
If your work involves planning routes with dozens of stops and making unlimited deliveries, you need something more than just a navigation app. Below is the comparison table that will help you choose the best for your business.:
| Feature | Waze | Google Maps | Upper Route Planner |
| --- | --- | --- | --- |
| Real-time traffic data | Yes | Yes | Yes |
| Analytics and reports | No | No | Yes |
| Optimizes more than 10 stops | No | No | Yes |
| ETA | Yes | Yes | Yes |
| Offline maps | Limited | Yes | Yes (only in app) |
| API integration | Limited | Yes | Yes |
Plan and Optimize Routes on Upper and Explore Them on Your Desired Mapping Platform
While talking about the most popular route planners out there, Upper comes with the best route combinations to reach from point A to point B. The intelligent algorithm is made such that drivers can add their preferences and avoid delivery constraints. Here's why Upper is among the top route planning apps:
1. Plan routes in seconds
When you have a number of delivery stops to schedule, Upper helps optimize and plan ultrafast routes keeping all your locations in perfect sequence. It takes only a few seconds to get the most efficient routes for multiple stops.
2. Access routes on other platforms
If you or your drivers are using default navigation apps including Google Maps, Yandex, or Waze, you can set these in your Upper profile. Later, you can open pre-planned routes on the platform you choose. This gives flexibility and convenience to your delivery team.
3. Dispatch routes instantly
Once optimized routes are ready, you can share them with your delivery drivers in a single click. They will get their assigned route schedules on their driver app or via text/email message, whichever option they choose.
How to explore your route map on Waze?
Exploring route maps on Waze is simpler than you think. You simply need to plan routes using Upper and follow the below steps.
Step 1: Log into your web app as the admin, go to your profile tab at the bottom left.
Step 2: Click on "Settings."
Step 3: Choose "Waze" from the drop down of "Default Navigation Map."
Step 4: Once done, your assigned driver can explore route plans in Waze on their mobile phone.
See, it's that simple when you have an advanced route planner like Upper by your side. Not only Waze but also you can choose different mapping platforms as per your requirement.
Plan Unlimited Routes in Blink of an Eye
No one wants to waste time in manual route planning when you have automated route planning options available. Upper is one of them, make the most of it now.
Start a Free Trial

FAQs
Yes. You can integrate Waze with other apps including Uber, Spotify, and Google or Apple Calendar to provide an enhanced experience.
Yes, some navigation apps come with offline capabilities. For example, Google Maps allows you to download maps that can be used offline. However, the offline capabilities of navigation apps are usually limited and may not include real-time traffic updates, re-routing, and other industry-specific features.
Waze does optimize routes to help you reach your desired destination on time. The app uses real-time traffic updates and data from other Waze users to give you accurate information on road conditions.
Conclusion
While boasting a high level of user engagement, Waze Route Planner has many users actively contributing to the app by reporting useful information. Additionally, Waze has grown in popularity among drivers due to being integrated with many third-party applications and services.
But, if you are running a delivery business, you need an extra edge to optimize routes and streamline other aspects of delivery dispatch schedules. Therefore, you must consider opting for more sophisticated route planners like Upper. It is specifically designed for small or large size teams of drivers or businesses to save their time. Get going with your route optimization journey by signing up for a 7-day FREE trial today.