In 2019, delivery drivers dispatched more than 1.5 million packages daily in New York alone. The package delivery rate is expanding globally, given customers' growing preference for online shopping and the current mobility limitations due to the Covid-19 pandemic.
However, more deliveries can spell a logistics disaster without the necessary support and tools to ensure that every package is transported right and on time. To avoid package pick-up and delivery problems, delivery drivers can rely on a handy tool – a route planner. In this article, we'll take a look at the Waze Route Planner, and see if it's a useful tool for you.
What is a Route Planner?
What is the best route to take in delivering twenty or more packages to different locations? This question represents the Traveling Salesman Problem (TSP) route planners aim to solve for delivery drivers by using algorithms for the most optimized route options.
A route planner app is an indispensable tool in finding the fastest, cheapest, or shortest route given a set of parameters such as delivery schedules, location of drop-off spots, current weather, and traffic situations.
Aside from route optimization, route planners also offer a map of turn-by-turn directions and can have other integrated features like data capturing, sales invoicing, and barcode reading for improved customer service.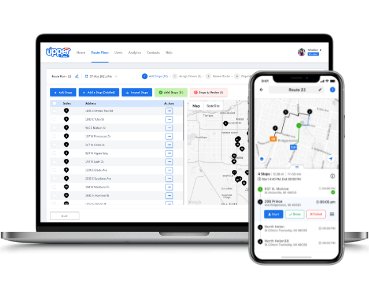 Upper Route Planner
A Simple-to-use route planner that every one is talking about.
Save up to 95% of planning time
Save up to 40% of time on the road
Plan 500 stops at once
What are the Needs of Delivery Drivers?
Much can happen between picking-up packages at the warehouse and delivering them to customers – gridlocks, roadblocks, road conditions, traffic, heavy rain, or worse, auto accidents.
A delivery driver needs a route planner to create a map to navigate through these obstacles and perform the following tasks:
Ensure the safety of delivery vehicles and maintain constant communication with the fleet or operations manager for vehicle or road problems
Deliver best-quality packages on time and courteously to every customer
Verify purchase requests and invoices for delivery accuracy
Contact customers for delivery details and updates
Maintain a positive relationship with customers
Keep an updated delivery log and record
For more information, check out:
Best Route Planner App for Delivery Drivers in 2023
Waze – is it Useful?
Delivery drivers always have a constant race against time. Let's see how the Waze fares as a route planner in helping you accomplish deliveries right on time. Here are some reasons why Waze is a reliable app for delivery driving:
Community-powered App
Waze utilizes its network of users to provide real-time road and traffic conditions and route recommendations. Unlike other route planners, the app depends on the network effect – users helping each other find the fastest route.
Live Traffic Updates
Users log real-time traffic updates, traffic data, and reports on flooded areas, helping users reroute on time.
Construction Updates
Local updates on urban developments, construction projects, and other roadblocks are available on Waze to alert you and help you take an alternative route.
Speed Alerts
Waze allows users to alert each other on cops' presence at intersections or highways. This feature is useful in avoiding speed tickets, especially for delivery drivers speeding up when they are behind the delivery schedule.
Gas Price Checks
You can use Waze to map the cheapest gas prices in your area. The users' community also provides gas price updates for more cost savings.
On its downside, Waze cannot operate on 1,000-mile routes and beyond. Sometimes, Waze recommends unfamiliar ways like outskirts with unpaved roads. Google Maps and Apple Maps have more features and a user-friendly interface.
Plan quickly, deliver faster, delight customers and get home early.
Everyone deserves to have simple and easy route planning.
FAQs
It certainly does. The Waze app is designed to be a navigation app for driving directions. It does have limitations in terms of routing changes and is less robust than certain specialty apps found on Android or Apple.
To start, simply enter your destination. In some instances, you'll need to add one other address to the phone if the journey or commute is starting from another location than your current location. You are now ready for the driving directions with a clean map view.
Waze has a list of issues for many users. One such fact is that you cannot create driving directions with multiple stops or places. The app is limited to one stop or two stops.
Waze is a Dependable Navigation Service
For a start-up business with ten or fewer deliveries each day, using Waze for navigation and route planning is highly recommended. Waze is a free service. No need to pay to get a dependable turn-by-turn navigation app, which helps you save precious time and cut delivery costs.
However, as your business expands and delivery demands increase, investing in a route planner with more useful features is the best option. Look for a route planner with unlimited stops, user-friendly interface, and drag and drop functions for adding contacts and addresses.
Choose a route planner that suits your delivery needs to increase your productivity, save costs, and improve customer service. As always, please let us know if you have any questions. Our goal here is to provide you with a variety of useful articles and provide you with a positive general experience. Please let us know if we've missed anything you were looking for in your search. If not, we wish you a great day!