As a delivery business owner, what is your primary goal? – To make the delivery process faster and safer.
But trust me, it's not an easy task. You might face many challenges like:
How do make drivers ready to provide faster deliveries?
How to improve business productivity and business growth?
To avoid such challenges, you need to adopt route optimization solutions that make it easy for your delivery drivers to make more deliveries on time. However, before adopting any route optimization software solution, first, you need to understand "what is route optimization?"
What is Route Optimization?
Let's make it simple. Route optimization means finding the best and most efficient route available.
For example, if you're using Google Maps for your delivery route, then you are just limited to creating a route plan for ten stops. But what happens if you've more than ten stops? It becomes quite challenging for you to manage such routes using Google Maps. 
A route optimization system or route planning software will overcome such challenges. Using analytics and computer algorithms helps you in finding the optimal route for multiple stops by considering the factors like:
Traffic congestion;
Distance;
Time windows;
Service time;
Vehicle type;
Turns and intersections;
Closest drivers.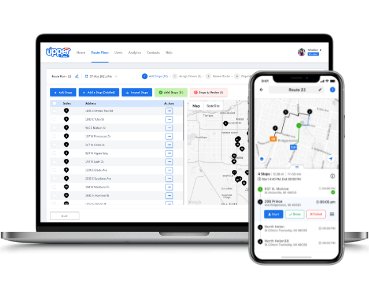 Upper Crew
A Simple-to-use route planner that every one is talking about.
Save up to 95% of planning time
Save up to 40% of time on the road
Plan 500 stops at once
No credit card details required
Benefits of Route Optimization
Route optimization provides the most efficient multiple stops. However, there are some significant benefits that you can gain by using route optimization software.
Save Time and Resources

It helps you to deliver more orders quickly and improve your overall delivery productivity.
Delivery drivers or field sales reps will have a list of planned routes to perform on a specific day within specific delivery windows; this ensures faster deliveries to more customers.
It will give you more chances of having same-day deliveries. You'll have happy customers and happy drivers too.

Boost Customer Service

It helps you to meet your ever-growing customer expectations.
It helps in improving customer experience.
It makes it easy for you to provide quick and efficient delivery services.
It helps you get rid of abandoned shopping carts and reduced revenues.
It helps your business deal with increasing shopper demands, improve service levels, and build a competitive advantage.
Bring your shipping expectations to a new high.
Save your business money, as well as go above and beyond your consumer expectations.

Ensures Driver Safety

What are the precaution measures you take for your delivery drivers? Have you ever thought about the drivers who work overtime or are on the road for long periods?

It might be dangerous for the drivers and other drivers available on the road and possible bystanders.

You can overcome such potential dangers by adopting route optimization software. It can help your drivers avoid working, overcome and minimize the total time spent on driving and the distance has driven.

Prevent the driver fatigue that leads to possible accidents on the road and injuries while lifting heavy items.
Keep track of drivers' locations with GPS. Route optimization helps lost drivers to get the accurate driver location.
Drivers quickly get rid of time-consuming paperwork, saving more time for deliveries and allowing for more successful deliveries.
Your business can save time, money, and their drivers from harm.
Customers will also be pleased to receive efficient deliveries and will be more likely to become loyal customers.
Driving requires skills and attention, so keep your drivers safe and your deliveries efficient with route optimization software.

Cut Costs

It provides accurate driving directions and makes it easy for the drivers to follow that route. It will reduce the driver's overtime and fatigue.
With the continual rising of fuel prices, it becomes essential for you to consider the factors that help to reduce the overall expenses. And it is made possible if you have optimized routes available with you.
With the help of route optimization, all your drivers can efficiently save more fuel on the congested traffic and provide quick delivery to the customers.

Manual Vs. Automated Route Planning

Manual Route Planning
Automated Route Planning (Optimization)

Assigning multiple drivers with multiple stops manually is quite a challenging task.

Route planning is easy, and you can quickly get the most efficient routes for your multiple drivers.

Unable to identify the road variables like road traffic, diversions, avoiding toll roads, and even freight.

You can easily filter your route by considering various road factors to make your route easier.

Lack of communication between your customers and delivery drivers.

By using route optimization software, it becomes easy for you to share the route with your drivers..

Manually dealing with a large volume of orders, drivers, and vehicles is somewhat tedious that will boat operational costs of your business.

With a route optimization algorithm, you can efficiently make multiple delivery orders and manage delivery routes in a matter of seconds.

Real-World Example of Route Optimization (Success Story)

After looking at the detailed information on route optimization, let's introduce you to the real-world example of one of our clients of Upper Route Planner.

Client: Chef Nicole – A Miami-based Healthy Meal Delivery Service Provider

What do they provide? – Creates and delivers healthy and well-balanced meals

Situation Before Using Upper Route Planner- A Route Optimization Software

Chef Nicole is currently handling six drivers to deliver more than 1000 meals every week. They need to cover 20-35 stops per day, thereby increasing the back-office load. The challenging part of Chef Nicole was to perform a manual route planning process and entering zip codes to create routes.

Upper Route Planner helped Chef Nicole by providing the best solutions like:
Quick and easy planning by adding multiple addresses directly from Excel spreadsheet.
Handles multiple delivery routes for multiple drivers smoothly.
Record proof of delivery for every delivery performed by the drivers.
Improved business productivity.
The fantastic result of Chef Nicole after using Upper Route Planner:
33% time-saving in planning route.
60% more orders were accommodated.
5 minutes or less to re-run routes.
2 major suburbs opened up for deliveries.
40% productivity increased.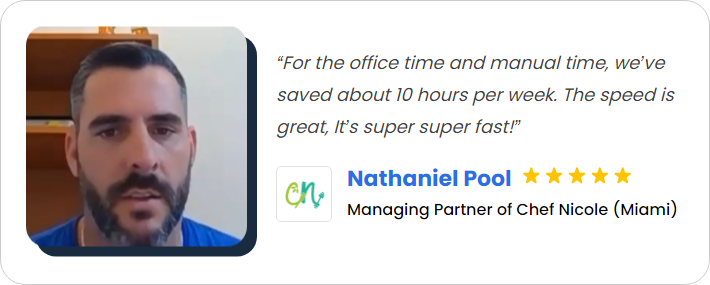 How Route Optimization Solves the Challenges of Different Industries?
Food Delivery Business

What are the challenges that food delivery businesses face?

Customers waiting for a long time for their food orders.
Unreliable food delivery.
Last-minute changes to delivery route.
Logistics operations like planning best routes and optimization.

How does route optimization software help the food delivery business?

Easily optimize the delivery route for your drivers. It becomes easy for the drivers to follow the shortest route available to reach the customer's location.
It makes it easier for you to deliver food to your customers on time.
Possesses strong ability to plan & optimize routes for multiple orders quickly.
Reduce up to 10 hours of planning time per week.
Plan & optimize up to 500 stops among multiple drivers.
Increase order capacity by 50-60%.
Record proof of delivery for each meal or food package delivered.

Flower Delivery Business

What are the challenges that flower delivery businesses face?

To plan routes manually for the drivers to handle multiple deliveries.
Customers need floral arrangements on an urgent basis.
Have to deliver fresh flowers to the customers on time and in pristine condition.
Need to provide faster deliveries by taking utmost care of flowers.

How does route optimization software help the flower delivery business?

Creates the best route plan for multiple drivers efficiently.
Create routes for multiple drivers at a time.
Improve customer satisfaction by providing fresh flower deliveries.
Solves Vehicle Routing Problem for your drivers to deliver flowers to the customers on time.

Logistics Business

What are the challenges that logistics businesses face?

How does route optimization software help logistics business owners?

Provides more efficient routes for the customer's orders to get on time and in good condition.
If you have more orders in a day, you can easily optimize the multiple routes for multiple drivers in a matter of seconds.
It allows you to streamline your delivery operations easily.
Still have some questions related to route optimization? Then, here are the answers to the most asked questions from readers.
Plan quickly, deliver faster, delight customers and get home early.
Everyone deserves to have simple and easy route planning.
FAQ
Yes. It is possible to plan your routes and optimize it manually. But there are different areas that are going to be more affected in your business.
Improve efficiency
Scalability
Accuracy
Flexibility
Robustness
Operating Costs
Route planning helps you to create the route. On the other hand, route optimization makes it easy for you by providing the shortest route by using route planners and optimization algorithms to reach your destination point.
Route optimization is essential for any delivery business as it:
Helps you reduce your fuel costs and time
Makes it easy to plan the routes to reach your customers on time
Improves your fuel efficiency
Help you to reduce travel time
You can create route plans with up to 10 stops only using Google Maps. Also, you can add specific constraints like traffic and travel time. But Google Maps can't optimize a route like a route optimization software does.
Adopt Route Optimization in Your Delivery Business To Improve Productivity
In summary, route optimization work will improve your delivery productivity.
Drivers will have optimized routes on a daily basis;
Your business will perform more deliveries by adding multiple addresses and reach new customers;
You can easily plan multiple stops at once and plan last mile delivery routes in clicks.
So, if you are running any kind of delivery business, make sure that you adopt route optimization software that will give you an optimized route, save planning time, and boost overall productivity. In addition to this, you can increase the number of deliveries by up to 40%.
A route planning and optimization software can help not only food delivery businesses but also field service businesses, chimney sweep businesses, e-commerce, and logistics businesses.
To try route planning software for your business, you can
7-day free trial
and know how it benefits your business.