As per the recent survey, it has been found that 80% of online shoppers in the US want same-day shipping. So, it becomes important for you to guide your riders to deliver the items on time, faster, and most importantly safely.
It often happens that drivers are in a great hurry to deliver the items to the customers just because they want to deliver on time. But, it can be very harmful to them as there are more chances of facing an accident. Moreover, your business will be affected too, and it can result in lower delivery productivity.
So, you need to provide better guidance to your delivery drivers to get the best delivery to customers on time. But what are the key points that you need to take care of? What are the possible solutions to be faster? These are the common questions that might have.
Here, we will give you five essential tips on how to be a faster delivery driver that will answer your questions and give your delivery drivers the edge for quick delivery service by considering the safety precautions.
5 Best Tips For Your Delivery Driver to Be More Faster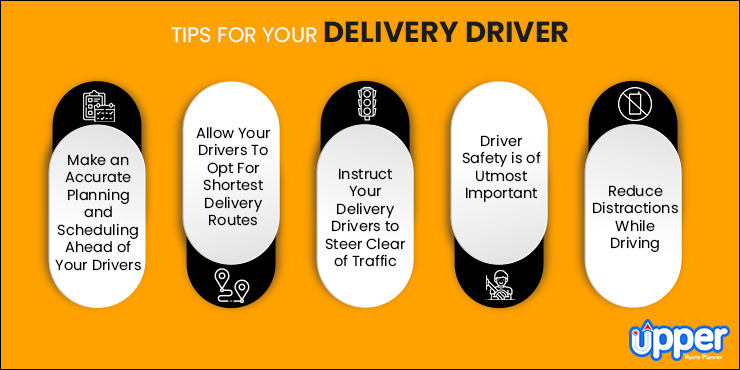 For faster deliveries, you need to instruct your drivers to be more systematic, and it can be done more quickly if you follow the tips mentioned below.
Make an Accurate Planning and Scheduling Ahead of Your Drivers

One of the crucial things you need to take care of is creating proper planning for all delivery driver jobs. You need to provide accurate planning information to the drivers about:

The total number of packages that need to be delivered on each delivery route.
The order in which those packages will be delivered.
The loading up of a vehicle to be used to provide the delivery to the customers.

On the other hand, if you create schedules for your delivery drivers in advance, there are more chances of having a healthier and more productive working environment. The primary reason for scheduling in advance is that the driver will be ready to deliver safely and request a shift swap for the next delivery under some personal issues or family events.

How Does an Upper Route Planner Help You in Proper Planning & Scheduling?

Allows you to create and manage routes for delivery drivers.
You can quickly create multiple stops on every delivery route.
Provides detailed information about the delivery orders to the drivers that need to be loaded on vehicles.
Drivers can access the right package for each stop rather than roaming here and there to find the location.
It helps you cut the time spent at each address and reduces the overall delivery times of the drivers.
It enables you to ensure that drivers are following accurate driving directions and delivery addresses.

Upper Route Planner

A Simple-to-use route planner that every one is talking about.

Save up to 95% of planning time
Save up to 40% of time on the road
Plan 500 stops at once

Allow Your Drivers To Opt For Shortest Delivery Routes

After planning and scheduling, the next essential thing you need to consider in speeding up deliveries is to provide efficient routing to your drivers.

You must provide them with the shortest delivery route such that it does not break the speed limit and even take care of driver safety. It is possible using the Google Maps app or website, but there are certain limitations like:

You need to provide the address to your delivery driver manually.
Calculating delivery routes become more complex as you have to guess what specific order to deliver packages and which route is fastest.
You can add up to ten stops per route, making it challenging to perform calculations on multiple routes separately.

It might sound obvious that searching for the quickest route using this tool is time-consuming and inefficient. So, you must optimize your delivery route using Upper Route Planner to make it easy for drivers to find the shortest available route.

How does Upper Route Planner help you provide the shortest delivery route for your drivers?

You have an option to import multiple deliveries stops using an Excel spreadsheet.
You can quickly dispatch your delivery driver for delivery using a single tap on your mobile.
You can even set priorities, time windows, service time, and curbside delivery for multiple stops.
It provides you with the most well-defined route by avoiding toll roads and highways.
You can even create and share proof of delivery on a mobile device.
It allows you to assign a route to every delivery driver by setting different parameters that they need to finish.
You can even send driving instructions to the driver, which they follow using their preferred mapping app.
It provides you with ETA for every stop coming in your delivery route.

Instruct Your Delivery Drivers to Steer Clear of Traffic

Traffic is the biggest constraint that many delivery drivers face and is responsible for slowing down the deliveries. So, it becomes essential for you to consider this factor as a priority; otherwise, it can affect your business in many ways like:

Late delivery to the customers, resulting in bad customer experience
More chances of cancelled delivery
Reducing the business and employee productivity

To overcome such situations, route optimization software like Upper Route Planner helps you recalculate delivery routes available in real-time to avoid traffic delays.

How does the Upper Route Planner help your drivers to avoid traffic?

It helps you to adapt driving instructions based on the traffic condition available on the route.
It automatically reroutes drivers in case of bad traffic or jams ahead on the route.
It helps drivers, dispatchers, and even customers informed of real-time ETA changes.
It allows you to adjust delivery times for your delivery drivers.

Driver Safety is of Utmost Important

One of the essential metrics that delivery teams need to take care of is driver's safety. Without drivers, your business has no value. To ensure driver wellbeing and timely deliveries, you need to manage your drivers very carefully.

Remember that faster delivery does not mean that drivers need to accelerate their vehicles to full speed and deliver the product to the customer. Instead, they need to drive carefully so that they do not face any accidents while driving.

Depending on the delivery driver's capability, you need to provide them with the schedule, making it easy for them to complete the delivery on time. For example, if your delivery driver is aware of its daily schedule and has a goal to complete on that specific day, the route becomes easy, and they can deliver on time without rushing.

Upper Route Planner provides your driver with accurate timings. The software solution quickly calculates the total amount of time any delivery route takes on average. As a result, it becomes easy for the driver, and they need to rush to deliver.

Upper Route Planner

A Simple-to-use route planner that every one is talking about.

Save up to 95% of planning time
Save up to 40% of time on the road
Plan 500 stops at once

Reduce Distractions While Driving

The next essential thing that you need to take care of your delivery drivers is to instruct them to minimize the common distractions while driving. One of the biggest mistakes that many drivers make is receiving phone calls while driving, and it causes high-risk factors like accidents and slowing down the delivery process.

How does Upper Route Planner help you reduce distraction to drivers while driving?

It provides your drivers with accurate driving instructions.
You can easily track the drivers' progress along their delivery routes, so no need for multiple or lengthy calls.
It allows your drivers to easily visualize all the routes.

These are the tips that you need to take into account while giving instructions to your drivers. However, if you have any questions related to the same, we've answered some of the most common questions in the next section.
FAQs
The delivery efficiency is calculated based on the following metrics:
Total number of deliveries per day
On-time delivery
Accuracy in delivering orders
Calculating the transit time to distance
Average time per delivery
Average delivery cost
On-time delivery (OTD) helps you better collaborate with your customers, thereby providing delivery reliability and customer loyalty. However, customers expect you to meet the promised delivery date. Therefore, it is crucial to set the right expectations with your customers and meet them.
The route optimization software is the best strategy that you can use to enhance delivery drivers' performance and speed up delivery. It helps you to:
Optimize routes
Make proper planning before starting your route
Enable real-time route modification
Combine forward and reverse logistics
Sanitize all utensils, packages, and other tools before and after delivering the orders
Conclusion
So, we've come across the best tips that will help you to guide your delivery drivers to deliver the items on time and faster.
You need to consider the requisite factors that help your driver to be faster: proper planning for delivery drivers, less traffic available on the delivery route, and even driver's safety.
For your convenience, you can adopt the Upper Route Planner, a route optimization software in your business that will do the work more straightforward for you. Yes, you read it right. This software solution allows you to create multiple stops coming in your driver's delivery route. Then, with its algorithmic approach, it becomes easy for your drivers to stay away from traffic and take the shortest delivery route available.