Key Takeaways:
With Google Maps you can plan routes and also share & print them for offline use.
Google Maps has a limitation to plan routes with up to 10 stops only.
For better route planning, prefer opting for a route planning software.
Whether you require turn-by-turn directions or you are trying to locate a local burger joint in your area, the first tool that comes to your mind is Google Maps. Because of its accurate GPS features, no wonder it is everyone's preference.
But do you know there's one feature that hardly a few users know and utilize properly? It is to create custom routes to pre-plan your trip. With this feature, you can plan your customized routes, save them for offline usage, and share them with others.
In this blog, we will dig inside this feature and guide you step-by-step on how to create a route on Google Maps. 
So, let's get started!
How to Create a Custom Route on Google Maps?
Creating a custom route in the Google Maps app is a simple process. Follow the below-given steps to create a route on Google Maps using My Maps:
Step-1:
To create a custom map, open Google My Maps and sign in to your Google account.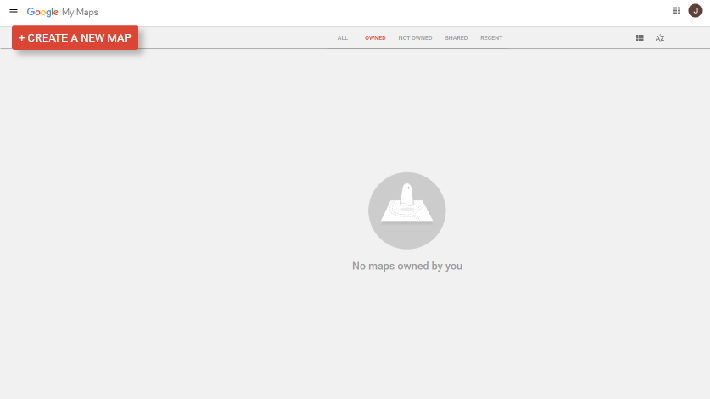 Step-2:
Then, click on "Create a New Map," and it will open an untitled map. Click "Untitled Map" to name the map and add a description of the map in the below-given space.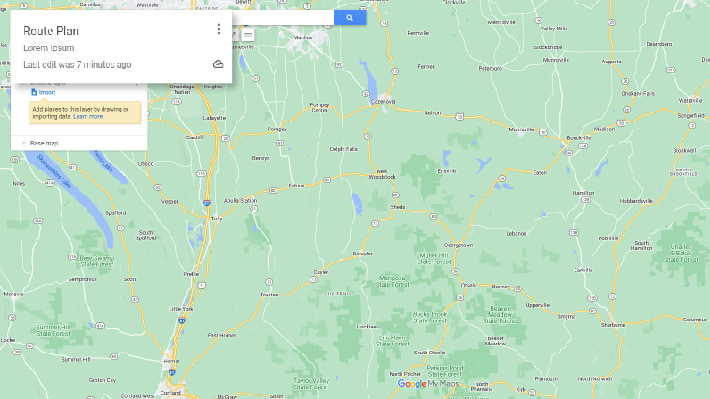 Step-3:
Then, find and click on the "Get Directions" button below the search bar.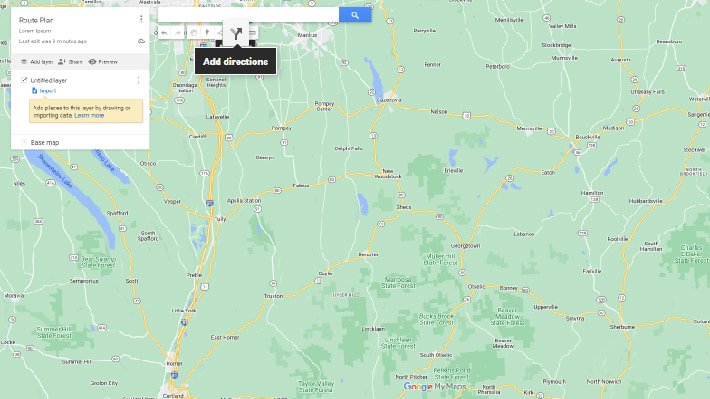 Step-4:
It will open a new layer where you can add your departure point in A. Search and select the departure point you wish to add. Then, add your destination in point B.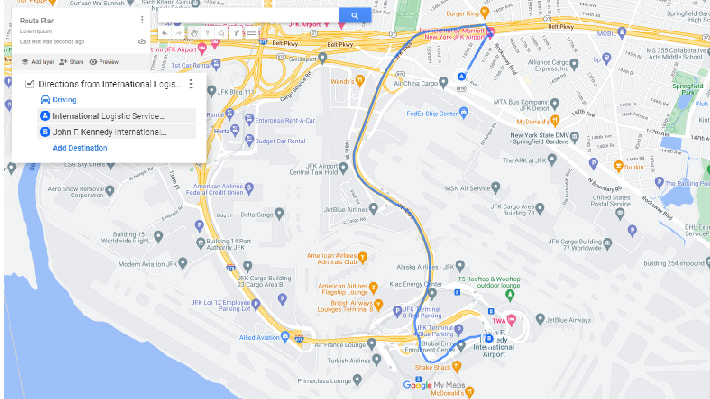 Step-5:
Now, if you wish to add more destinations, click on "Add Destination".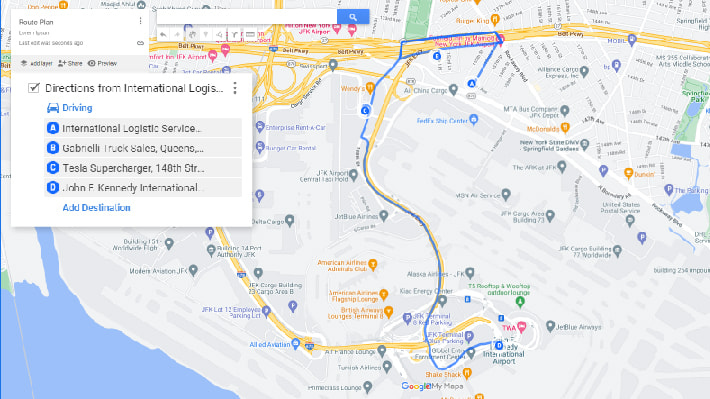 Step-6:
You can repeat this process to add up to 10 destinations (including the initial destination). Google will automatically plan a route, including all the destinations.
Step-7:
To customize the route, click and drag the route line.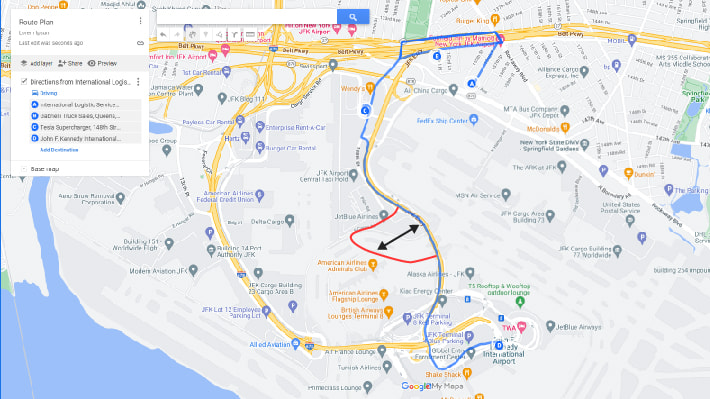 This way, you can make a route on Google Maps and also share it via Facebook, Twitter, email, or by directly sharing the link. It also allows you to print the route to use in the areas where the internet is not accessible.
Tip: If you are still confused about how to map a route on Google Maps, watch the below-given video tutorial.
Drawbacks of Using Google Maps
To build a route in Google Maps is useful if you want to plan a small trip across your locality or you want to drive through a few stops once in a while. But for commercial purposes, Google Maps is not an ideal route planner. It has several drawbacks that hinder your business operations. That is:
Lack of route optimization
With the Google Maps tool, you can only plot stops and get directions in the sequence you have added the stops, and it does not optimize them. Lack of route optimization leads to excess fuel burn, time wastage, increased transportation costs, and vehicle wear and tear. With ideal route planning and optimization software, you can save on fuel cost and time while reducing vehicle wear and tear.
Limitation to add stops
As seen above, Google My Maps lets you plan a route with only 10 stops (including the initial point). But a route planner will enable you to plan multi-stop routes with hundreds of stops in them. So, Google My Maps is useful only if you have fewer stops to plan. But if the number of stops exceeds 10, Google My Maps becomes ineffective.
Cannot plan routes for multiple drivers
Google Maps lets you plan a route for one driver only, lacking the ability to efficiently optimize routes for a team of drivers managing a fleet of vehicles. This is a major drawback for businesses that manage multiple drivers every day. For that, adopting a route planner is necessary. Planning routes for multiple drivers saves time and resources compared to planning routes individually for all the drivers.
Does not generate reports
In any business, being informed of numbers and statistics is crucial. Especially in a delivery, pick-up, or service business, you must know how your agents are performing and how many stops they are completing every day. For this information, you need a reporting feature that Google Maps does not have. A standard route planner provides you with a reporting feature that generates customized reports so you can make data-driven decisions for your business.
No customer preferences
Knowing customer preferences and planning routes accordingly affects your customer satisfaction rate directly. An ideal route planner, while planning routes, considers various factors like customer-preferred time windows, priorities, and service time. By following these routes, drivers can reach and serve customers at their preferred time only. Planning routes without considering customer preferences leads to dissatisfaction among customers.
Take Control of Your Journey, Personalize Your Routes with Upper!
Get a 7-day free trial of Upper to tailor routes according to your needs and get the hasslefree route planning experience.
Start FREE TRIAL

Create More Efficient Routes than Google Maps with Upper
What if you want to plot a route on Google Maps with hundreds of stops?
How would you optimize your routes considering customer time windows and driver preferences?
What if you need to reassign a route to another driver?
How would you know your drivers are on time and on -track?
If you have these and other such questions in your mind, then I'm afraid Google Maps is not the solution. To tackle the above-listed challenges and get efficient solutions, you need a smarter solution that's designed for businesses like yours.
One such solution is Upper, which is a route planning and optimization software for you to create custom maps or routes for your business. It comes with a variety of features, delivering numerous benefits and peace of mind.
With Upper, you can:
Plan and optimize routes with multiple stops:
Upper efficiently plans and optimizes routes with multiple stops in just a few minutes, saving time and resources. Whether you have a few or hundreds of destinations, Upper ensures your routes are optimized for maximum efficiency. When you create custom directions and follow them, you can save on fuel charges and reach your destination point on time.
Most importantly, Upper optimizes routes considering customer-preferred time windows, transportation modes, and priorities. So, it lessens delayed or canceled deliveries, eventually increasing the customer satisfaction rate of your business.
Multiple driver allocation:
After optimizing routes, Upper helps you allocate them to your drivers evenly. So, none of your drivers are overworked or underworked. Using Upper, you no longer need to plan routes individually for each driver. This feature simplifies fleet management and enhances productivity by assigning deliveries or pickups to the right team members.
Make dynamic changes:
With Upper, you can make real-time changes to the routes even after they are optimized. In Google Maps, if you are using offline access, you can only use pre-planned routes and cannot make real-time changes. But with Upper, whether it is sudden driver unavailability or accommodation of last-minute changes, you can reassign routes easily. This dynamic adjustment gives you the freedom to replan the whole route, ensuring deliveries stay on schedule.
Generate reports:
With Upper's reporting and analytics feature, you get detailed reports on driver performance and delivery metrics. This data helps you identify areas for improvement and optimize your operations. Also, you can make data-driven decisions that help you improve your business operations.
Integrate third-party apps:
Integrate Upper with your existing systems and third-party applications seamlessly. Whether it's your CRM, order management, or other tools, Upper's API integration offers easy integration to streamline your workflow.
Track your drivers:
Upper allows you to track your drivers in real time with its tracking capabilities. It gives you complete visibility into driver locations, enabling you to provide accurate ETAs to customers and ensure driver safety and efficiency.
Generate proof of delivery:
Once your driver reaches the stop and fulfills the delivery, they can easily generate digital proof of delivery. It can be collected by capturing photos and e-signatures of the recipients. This enhances transparency and accountability in your logistics operations. Also, you can use PODs as legal documents in case of fake claims by customers of not receiving the parcel or receiving a damaged parcel.
Start Planning Multi-stop Routes Efficiently!
With Upper, you do not need to worry about the number of stops. Whether they are a few or a hundred, for Upper, it is a matter of a few minutes.
Get 7-day FREE TRIAL

Frequently Asked Questions
Google Maps is a very useful navigator tool. But when it comes to planning routes, it sets back compared to other route planners. If you want efficient route planning, we advise you to check out Google Maps alternatives.
In your Google My Maps window, you will see a search bar. Below that search bar, find the "Add Directions" button. When clicked, it will add a new directions layer where you can add stops and plan routes.
Firstly, open Google Maps and sign in to your Google account. Then, in the top left corner, find three horizontal lines and click on them to open a dropdown menu. Click on "Your Places". On the bottom of the page, click "Create Map," and it will open a new Google Maps window.
Step-1: Open Google Maps and sign in to your Google account
Step-2: Click on the "Directions" button
Step-3: Search the destination you want to proceed for
Step-4: Then, click on "Directions," and it will create a route from the initial point to the destination point
Conclusion
In this blog, we explored how you can create custom routes on Google My Maps. Now, you will find it less difficult to plan routes. Creating a custom route in Google Maps is quite simple and fast.
However, we came across a few drawbacks of using Google Maps as a route planner. Well, whether to use Google Maps or a route planner completely depends on the purpose of your route planning. If you are planning routes for personal usage, like a family picnic or city tour, Google Maps will work. But if it is for commercial purposes like scheduling deliveries or pick-ups, you need a robust route planning solution.
Across many route planning solutions, our pick is Upper. You can explore its features and benefits by getting their 7-day FREE TRIAL (No credit card required).