Are you looking to plan a delivery route for your business?
Do you want to fulfill the evolution in customer demands with robust last-mile delivery?
If so, you need to choose the right tools and tactics for route planning and optimization for your business.
But how to plan a delivery route?
There are multiple ways to create a delivery route for your business. Let's discuss them one by one and filter the best path for your delivery business.
Ways to Create a Delivery Route
If we broadly categorize the ways of creating a delivery route, there are three ways you can create a delivery route for your delivery drivers:
1. Manually
The traditional manual process was used in the days when the internet and technology were not an integral part of our lives. The manual process uses a pen and paper to craft the shortest delivery path for the drivers to deliver the packages to the customers.
Businesses usually get in touch with the local guide to help them analyze the quick and shortest method with minimal traffic and shorter distance. The manual route planning process does not include factors like real-time weather and traffic conditions, performance and condition of the vehicle, and the delivery drivers, among other technical details.
Ignoring these factors is inefficiency in the modern world as traffic congestion is responsible for costing Americans $1,348 and ​​97 hours per year.
With the rising demand and changing consumer behavior, the pen and paper approach doesn't deliver the optimized results businesses want. It cannot deliver cost-effective results that can help your business scale its footprint in the industry.
The following way of route planning businesses use is Google Maps.
2. Google Maps route planner
It is one of the most popular and highly used route planning applications by businesses, but for a fact, it's not even a dedicated delivery route planner. It displays the shortest path for 10 delivery points and doesn't have a dedicated interface to be reliable route planning software for your organization.
Google Maps doesn't provide optimization reports and a communication system but has voice command software instructing users to follow a specific path.
Now let's discuss what route planning and optimization software offer.
3. Route planning and optimization software
A delivery route optimization software offers end-to-end solutions to simplify your logistics and transportation process. It analyzes the multi-stop delivery points using the robust algorithm and delivers the shortest and optimized path within a few clicks.
To stay on track and connected with real-time communication, you can create a flawless communication ecosystem with your fleet management and on-ground delivery drivers.
You get the ability to create multiple routes for different drivers and dispatch the information and details to all within a few clicks. Machine Learning and Artificial Intelligence in a route planner minimizes the risk of human errors and integrates the power of automation into your business delivery ecosystem.
This is how you can choose your delivery process and optimize your delivery workforce's performance. But manual planning and Google Maps have a lot of downsides that you need to take seriously while choosing your best way of delivery route planning.
Downsides of Manually Planning Delivery Routes and Google Maps
1. You won't get the fastest route
The major downside of choosing manual routing or Google Maps is you won't get the fastest and optimized route for multi-stop deliveries to match the rising demand of the customers and industry.
Customers prefer same-day deliveries from businesses and want the best delivery service, or else they'll choose your competitors over your business. Using the pen and paper approach is entirely void in the digital age, and Google Maps is not capable of delivering an optimized route over 10 delivery stops.
Not getting the fastest delivery path can cause your business loss in customers base, fewer conversions, and delayed or failed deliveries.
2. The rise in human error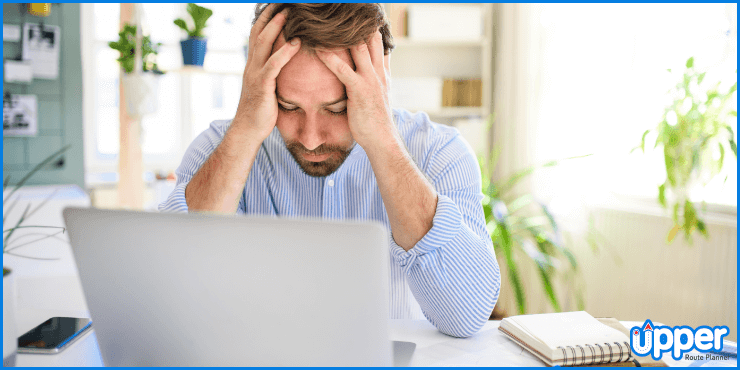 The rise of human errors increases with manual route planning, and Google Maps doesn't have a dedicated interface to manage the delivery addresses and create a robust ecosystem for your delivery workforce to operate.
The rise in errors can cause inefficiencies in the delivery process. It will get difficult for your business to sustain itself in the competitive space where one mistake can cause you to lose your customer.
Misplacing the delivery address and adding a wrong address in Google Maps can cause havoc in your delivery system. The rise in errors is one of the prime reasons businesses shift their delivery business to third-party delivery agencies. It results in losing control over the delivery experience delivered to the customers.
3. Multiple deliveries
Manual routing and Google Maps are not focused on handling bulk orders and delivering a simplified route planning and optimization solution for businesses. If you are a result-oriented business and looking to scale to new heights, using these two ways is not a wise decision to make.
Quick multi-deliveries are your doorway to minimizing the delivery cost and increasing the business revenue. Successful multi-deliveries help you gain the trust of your customers and convert them into your raving fans by outshining your competitors.
4. Delivery time windows and vehicle capacities
With customers' demands, minimal time windows for their delivery package, manual routing, and Google Maps can result in delayed delivery processes and increased time windows.
Your conversion rate can decline if you offer a wider time window to the customers as buyers consider the estimated delivery time a critical factor that will make the transaction.
Also, you need to account for the vehicle capacity in case of manual routing with each delivery. Google Maps doesn't even have an option to consider the vehicle's load capacity to finalize the weight one truck can carry.
5. No data storage
You can't store any information with manual processing or Google Maps. There's no option of optimizing your delivery process with tailored automated reports and data storage. It gets difficult for businesses to track back to the information and check for any details of previous orders.
Businesses cannot optimize their existing workflow and figure out the loopholes and latencies with the help of manual route planning or Google Maps.
6. No proof of delivery
Your delivery drivers don't have the option of recording the delivery proof by following the manual routing path or using Google Maps. Without the delivery proof, you can't integrate a transparent and agile delivery network within your organization.
It gets difficult for you to track the delivery success rate and the performance of your delivery drivers.
But these challenges or drawbacks can be bypassed using a dedicated route planner application that can ease the route planning process and help you get an optimized route for the delivery process.
But not every route planning and optimization software is suitable for your business requirement and needs. Different route planners have different specialties, so which one is ideal for your business needs?
Upper Route Planner is the solution that you were missing out on.
Why?
Let's find out.
How Can Upper Route Planner Help You Plan Your Delivery Routes?
Upper Route Planner is one of the leading delivery route planners available in the industry, and it has multiple benefits when you apply to your business. Have a look:
1. Fulfill your customer's expectations
It is becoming difficult for businesses to deliver accurate and timely deliveries with the rising dynamic customer goals and expectations. Using Upper Route Planner, you can streamline your delivery management and complete the customers' expectations.
It uses geocoding to plan delivery routes based on ETAs, weather, and traffic conditions, among other factors that can deliver you to the correct address within a limited time.
With the power of the real-time tracking system, you can remain on track with the updates in the last-mile delivery process and even update your customers on SMS/Whatsapp/email the tracking details.
2. Cut the fuel cost and time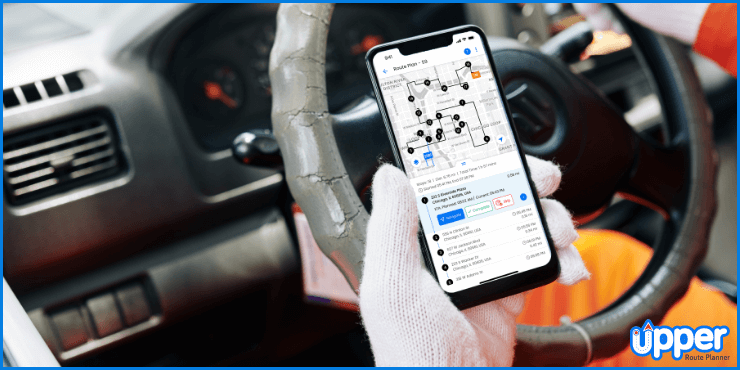 Using Upper Route Planner, you can save up to 95% of the route planning and optimization planning and time and enhance your delivery productivity by 40%. With minimal delivery time, you can save more fuel costs and cut your delivery expenses.
You can maximize your profits and reduce operational costs without compromising the quality of delivery and customer experience.
3. Minimal manual intervention
With minimal manual intervention, you can minimize the risk of errors and ineffectiveness using Upper Route Planner. It tweaks the fleet management process and improves the efficiency of your deliveries with better management and agile communication.
It helps to integrate automation into your delivery ecosystem to improve productivity and cut redundancies.
These are the top benefits that Upper Route Planner can offer your delivery business. Considering these benefits, we hope you take actionable steps in deciding what's best for your business.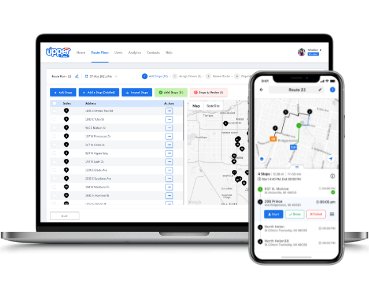 Upper Route Planner
A Simple-to-use route planner that every one is talking about.
Save up to 95% of planning time
Save up to 40% of time on the road
Plan 500 stops at once
No credit card details required
---
FAQs
Route planning offers you an advantage over your competitors to stream the delivery process and enhance the fleet management system. It helps you deliver optimized results to your drivers to help them deliver the maximum orders in the minimum time. It helps you fulfill the customer demands and scale your business profits with finesse.
Google Maps doesn't have any route planning or optimization feature. You can just enter the address details of the delivery location, and it can deliver you the shortest distance path to reach that location. You cannot import bulk delivery addresses and don't have a holistic view of the delivery operations using Google Maps.
Organizing a delivery route requires selecting a route planning path to get optimized route results to help you satisfy the delivery requirement of your customers. Choosing a route planner makes it easier as you get a bird's eye view of the operations and the ease of organizing different delivery touchpoints within a few clicks. You can communicate with different delivery teams and pass on your message by checking the real-time updates of the delivery process.
Route planning software analyzes different delivery elements like weather and traffic situation, ETAs, vehicle and drivers performance, among others, to deliver an optimized route for multi-order delivery.
Planning your route gets simpler if you have route planning and optimization software than manual route planning or Google Maps. You can get the most optimized and shortest path within a few clicks and can send it to multiple drivers in no time.
Make a Wise Decision
Route planning is a critical and time-consuming segment of your delivery operations. It sets up your foundation strong and makes it easier for your delivery driver to achieve better productivity and fulfill maximum delivery orders in minimal time.
But choosing route planning and optimization software is the best option you can take to match the rising customer and industry demands compared to manual routing or Google Maps.
And if we talk about the leading route planners in the market, Upper Route Planner got you covered.
Get detailed reporting for better optimizing your delivery process within a few clicks. Experience the quality with Upper Route Planner by offering a 7-day free trial period.