Key Takeaways:
Use social media and online marketplaces to find potential clients for your truck dispatch business.
Provide services and maintain positive client relationships to create referrals and repeat business.
You can build relationships with trucking companies and drivers to boost your network and potential business opportunities.
Dispatchers need serious efforts to take care of daily operations. On the other hand, they need to manage a truck business, speak to drivers, and yes, dispatch products at the right time.
But your hard work may go in vain; if you do not find prospective clients for your business. Starting a trucking business can be challenging, but finding clients might be more daunting because of rising competition.
According to the survey, the truck industry market is expected to reach $997.35 billion in 2025 at a CAGR of 8%. This data indicates a massive opportunity for dispatchers to acquire contracts but is also tricky to get customers.
Thus, we have curated this blog and shared 6 proven tactics on how to find clients as a truck dispatcher.
6 Effective Tips to Attract Clients & Earn More Profits
Whether you are a start up truck dispatcher or working for a long time, the following 6 tips will help you to find clients.
1. Expand your network
The traditional and effective method to find potential clients is to expand your network. As a truck dispatcher, you need to promote your service through events and meetings. Moreover, you have to attend seminars and local meetings where you will meet industry experts who can help you understand the domain better.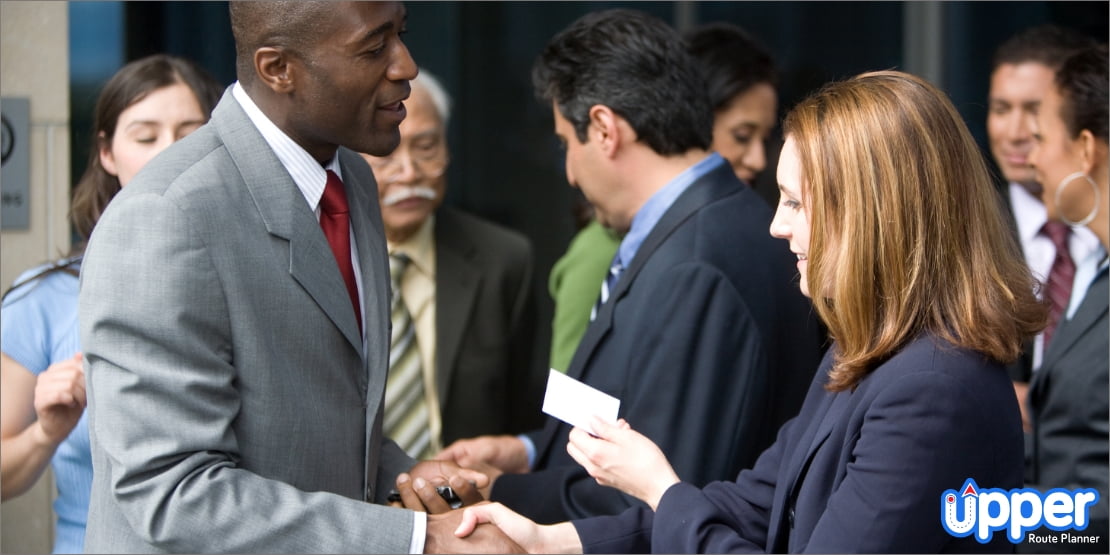 As a result, you will get new ideas to manage and help you to know how to grow as a truck dispatcher. Connecting with other professionals in the trucking industry, such as freight brokers and trucking company owners will help you to lead new client opportunities and build good relationships.
Also, by attending events, trade shows, and conferences, you can acquire trucking contracts and insightful knowledge about truck loading.
2. Send cold emails or calls
Another traditional method to get clients is calling out the trucking companies and introducing your company and services. First, prepare a list of the target markets and companies that can help you with services.
Contact them by sending an email or through a call, introduce your company, what kind of services you provide, and how you manage them. With the call or message try to convert your potential client into a permanent client.
3. Make sure you get your online presence
There's nothing in this world that you cannot search on the internet. Nowadays, clients search online to find solutions. For instance, if a person is looking for a coffee, they will directly search it online "coffee shop near me" and find numerous results of coffee shops near to their place.
Likewise, you can use online platforms, such as Google to find customers. Check whether any customers are looking for a truck business in your near locality. You might extend your services and provide services that are far from your destinations.
The online platforms are also easy to use and cost-effective. Additionally, you can showcase your service on social media platforms like Twitter, Instagram, and Facebook by uploading pictures or videos on it. Get your company listed on Google My Business, so whenever anyone searches for a "truck dispatching company near me", they can find you.
4. Ask for referrals
You can ask for references to your customers. Word-of-mouth marketing is an effective marketing method to attract new clients. For instance, you can ask your existing clients to refer your dispatch work to others. Indirectly, you are asking them to promote your services, so other potential clients can come to know about you.
Moreover, if you are an independent truck dispatcher, you can ask businesses to refer you. Ask them for feedback and if they like your services then they can guide you. With word-of-mouth references, you will gain popularity in a short time.
5. Collaborate with delivery businesses
If you are new to the industry, you can partner with owner-operators. Many businesses want truck dispatchers who can manage their work. The service includes connections to freights for shipping, speaking to brokers, negotiating with them, and planning delivery routes.
So, once you get in touch with them, you can expect more clients and contracts as well. You can obtain a yearly or monthly contract to dispatch their trucks. If nothing works as per your plan, you can contact fellow dispatchers who have previously worked or already working in this industry.
6. Use truck load boards
A load board is a freight matching service platform that helps truckers to find loads using freight inventory and tools. It helps you with truck loads and keeps you updated about it. Use truck load boards to grab more freight contracts by posting your services.
The tool will help you to know about market rates, so you can take advantage of it and keep prices accordingly. Show truck business company owners how you can handle the entire truckload job effortlessly; capable of efficiently performing deliveries and pickups.
Grow Your Truck Business Using Right Strategies
Once you set up a customer base, it's time to grow your business. Nevertheless, you need an effective plan and powerful strategies. Hence, implementing the following strategies will help you to grow your truck business successfully.
1. Focus on your target market
No matter how much hard work you do and provide smart dispatch service, your entire work is wasted; if your target market is wrong. The truck business is a massive industry and you need to find a specific niche for your target audience.
Moreover, by targeting the right market, you are increasing work efficiency and reducing unnecessary costs invested in equipment and trips. Also, you can improve customer service by matching their requirements and demand.
So, there will be a better use of resources, generate more revenue, and increase the chances of standing out differently in this competitive market.
2. Offer competitive rates
The truck transportation market size is expected to grow $2,594.36 billion in 2026 at a CAGR of 9.1%. The data signifies how massive the market and the number of competitors are, we can always attract clients by offering customer-friendly service and affordable prices.
By offering competitive rates, you will attract new customers and they would consider you as a reliable trucking dispatcher. If you quote too high, then you might not get the attention of prospective customers.
In addition, you can grow your reputation by offering a fair price and that also will help you to build relations with new customers. You can win customers by providing a better deal compared to other freight companies.
3. Optimize the dispatching process
Would you like to use the same equipment for the last 10 years? Probably not, because after certain years, you need to change it. Likewise, you need to optimize the dispatching process to find truck loads. Implementing the same strategies for years will not be a wise decision.
The trucking dispatchers are required to upgrade their strategies and methods to grow their business. You need to stay updated with the industry trends, tools, and technologies. You can also see competitors' methods to fulfill your trucking needs.
Hence, you can have better use of assets and improve fleet management by identifying the issues. In short, you need to be well-updated with your industry to grow your trucking business.
4. Diversify your services
We all have come across the saying 'do not limit yourself' and it applies to the truck business as well. As a truck dispatcher, you must find your niche but do not restrict your trucking dispatch services. After all, as we have mentioned earlier, you need to stand out in this competitive industry.
So, diversifying your services could be a good idea. However, ensure that you do not compromise the quality in your services because every customer demands quality work.
Manage Delivery Schedules Effortlessly With Upper
Planning routes to multiple drivers is one of the core responsibilities of truck dispatchers. Being a truck dispatcher, you already have too many tasks to perform, and planning hundreds of routes manually might be tiresome and time-consuming for your busy schedule.
But, worry not, it takes only a few clicks to schedule unlimited routes when you are using advanced software like Upper. The routing software helps you from route planning to handing over parcels to end-users; let's look at its unique features:
Quick Route planning and optimization

Upper helps you plan and optimize the best routes for truck drivers. The route planner software finds the quickest routes considering advanced driving preferences like avoiding tolls or highways, setting priority levels, and delivery service time. Thus, you do not have to spend hours on route planning and optimization manually.

Dispatch routes with one-click

Once you plan routes, you can dispatch drivers in a few clicks. The ​​automated software allows you to quickly send optimized routes to the assigned drivers via text message or email. Moreover, in an ongoing process, you can reoptimize, swap, and lock routes. Hence, it eases your overall operational efficiency.

Schedule multi-stop routes

A truck dispatcher has to plan beforehand and with Upper, you can schedule routes in advance. Do not worry about the updates as it notifies drivers about the delivery on the scheduled day. As a result, you can focus more on the dispatching process and less on supervising drivers.

Complete your delivery with a proof

You have to ensure that the package has been picked up and delivered to the right place. So, to be accountable and stay out of false claims, Upper helps you to capture proof of delivery (POD) via e-signatures and add notes.
Hence, Upper can be your go-to solution for managing dispatching and decreasing your workload.
Let Upper Deal with Your Dispatching Hassles
Ready to take your dispatch services to the next level? Take Benefit of Upper's automated process to simplify your daily managing and dispatching job.
Join Upper for FREE

FAQs
Either you work independently or collaborate with any delivery business, challenges could be a part of your daily work life. Some of them are mentioned below.
Finding and retaining drivers
Planning routes
Dealing with compliance paperwork
Incomplete details about delivery
Truck drivers' availability
No formal qualifications are required to become a truck dispatcher. However, you must have knowledge about the trucking industry, transport regulations, and good communication skills to become a successful truck dispatcher.
Using route planning software a truck dispatcher can manage their daily operations. It will help you to plan, schedule, and track the number of deliveries. Moreover, it keeps detailed records of routes and deliveries you have performed.
Providing outstanding customer service, solving their every inquiry, communicating with them, and matching their needs can keep clients satisfied with your services. To retain clients, you need to go a few extra steps to keep them happy.
Conclusion
Referring to this blog, it's safe to say that being a truck dispatcher is no less than doing a multi-tasking job. At the end of the process, it's you who ensures the customer receives the parcel on time. The situation may get worse if you fail to get clients.
Worry not as the above tips will help you set up your customer base real quickly. Once you get going, follow a truck dispatcher checklist that can be handy when it comes to performing time-sensitive tasks.