Key Takeaways:
Trader Joe's does not currently offer a delivery service, but there are third-party options available.
Apps like Instacart and Postmates can deliver Trader Joe's products to your doorstep.
The availability of delivery services can vary depending on your location.
Trader Joe's is a well-known grocery store chain that is very well-liked by most consumers as they offer unique products at affordable prices. With annual revenue of over 13 billion dollars, you'd expect Trader Joe's to also offer delivery services or curbside pickup.
This is what most customers that do their grocery shopping trip at Trader Joe's want. If there was a way to get Trader Joe's delivery then customers would be all over it. Unfortunately, these ways are not very well known among shoppers which is why they miss out on them.
To get the best delivery service from Trader Joe, we need to first look at all the ways to get it done. This way, you will have a better idea of what service suits you the best. Depending on the method you choose you can even get delivery on the same day.
What is Trader Joe's?
Trader Joe's is best known for its wide range of products that are both great and affordable, making many customers flock to the brand. Trader Joe's is a grocery store chain in the United States that started its journey in Pasadena, California.
Over the years theft has garnered quite a following of loyal customers that would do anything to have groceries from Trader Joe's delivered to their homes. What Trader Joe's does with their grocery stores is highly uncommon, especially in the modern world.
Does Trader Joe's offer delivery services?
Trader Joe's doesn't offer delivery service of their products through their website, nor do they have a dedicated grocery delivery service. To have your groceries delivered, you will need to use a third-party grocery delivery platform.
Many grocery stores around the world started offering their own online ordering system after the pandemic to boost sales. Customers expected Trader Joe's to soon follow suit and come out with their own online ordering options.
Though some Trader Joe's stores briefly operated their delivery service for their customers in New York. Every single Trader Joe's fan has been asking them to launch their own online shopping system but they haven't acted on it as they have their own reasons.
5 Alternative Ways to get Trader Joe's Delivered to your Home
It is no problem if Trader Joe's refuses to give grocery delivery services, as there are other ways to get your favorite Trader Joe's products to your doorstep. These ways mainly involve a third-party grocery shopping platform that helps getting Trader Joe's products to you. Let's explore them.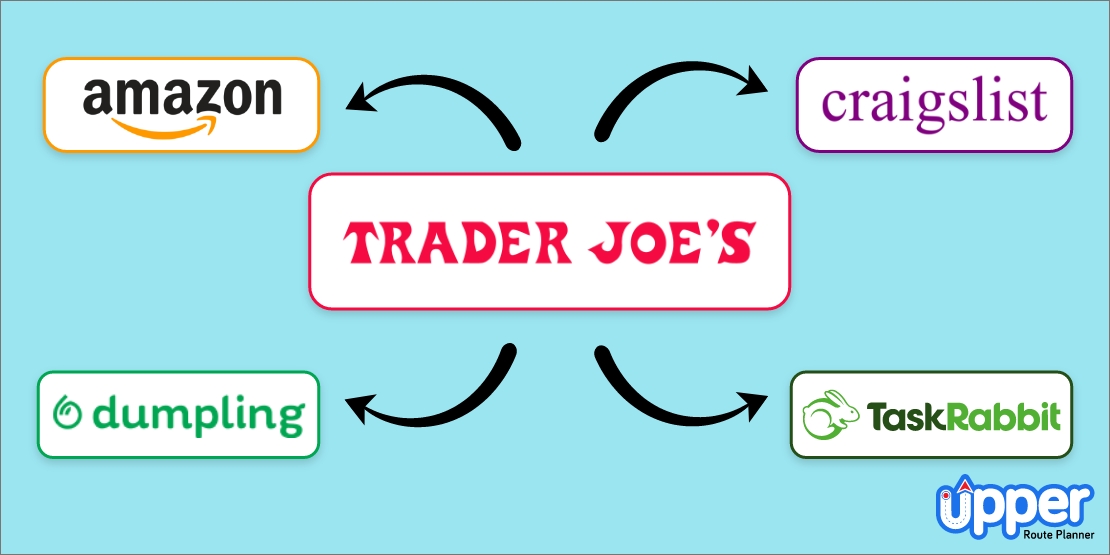 1. Trader Joe's Delivery from Amazon
Getting your Trader Joe's items from Amazon is quite simple and straightforward. All you have to do is go to Amazon and search for the product that you're looking for. Chances are that it will be available to purchase on Amazon.
If it is available then you simply have to order it to your address much like any other product that you buy from Amazon. This is indeed a very simple process but it does have its pitfalls. One of them is that the number of Trader Joe's products on amazon can be limited.
You might also have to pay delivery fees and wait a couple of days for your item to arrive. If you have Amazon Prime then you would not be paying any delivery fees. There are also no discounts and items could be sold for higher than their usual price depending on the seller.
2. Trader Joe's Delivery from Craigslist
While this is an unconventional way to get your groceries from Trader Joe's delivered, it is one that works for many people as Craigslist doesn't charge a platform fee. On craigslist, you will find a lot of people looking for short side gigs to make some extra money.
Some of these gig workers also offer their own delivery service that allows you to give them your grocery list, make them shop for you, and deliver it to your house for a small fee. This is an excellent option for those that don't want to rely on other grocery delivery apps.
If there aren't any personal shoppers in your area then you might want to simply post a gig offering on craigslist for personal shoppers. Any user that is scrolling through might look at your offering and take up the job.
This method is also useful if you want your groceries delivered from any other stores or even multiple stores at once. Though this process is also known to be very time-consuming and unpredictable, which is why most people choose not to use it.
3. Trader Joe's Delivery by TaskRabbit
Taskrabbit is a thrip party delivery option that lets you get same-day services. They allow for a wide range of tasks such as cleaning, assembly, or general handyman tasks. These Taskrabbit services also induce personal shopper services.
TaskRabbit allows you to order Trader Joe's products via taskers that will shop for you and deliver the purchased items to you. All you have to do is visit the Taskrabbit website, search for the service you need, enter your address and see all the available taskers near you.
The good thing about TaskRabbit is that apart from getting Trader Joe's products, you can also use it to get same-day delivery from any local store. Though it would be nice if you could use a dedicated grocery delivery service.
4. Trader Joe's Delivery from Dumpling Grocery
Unlike the other options on this list, Dumpling Grocery is a dedicated grocery delivery app that allows you to have shoppers deliver your groceries to you. The dumpling personal shoppers are in your area and are usually willing to deliver products from Trader Joe's grocery section.
All you have to do is go to Dumpling Grocery's website and enter your zip code to see all the Dumpling shoppers in your area. To see whether or not the Dumpling grocery shoppers offer Trader Joe's products all you have to do is look at their profile.
If you see the Trader Joe's logo on their profile then it means that they do indeed deliver products from Trader Joe's. While Dumpling Grocery might be difficult to use because of the lack of shoppers on the app, it is still an option if your area is packed with personal shoppers.
5. Other ways to get Trader Joe's delivery
If the ways to get Trader Joe's delivery mentioned don't work for you then all is not lost, as there are still a couple of other tricks that you could try. If you cannot directly get groceries from Trader Joe's then you could resort to getting them indirectly via other local stores.
There are plenty of convenience stores that do happen to sell Trader Joe's products. If it is a popular grocery store then you might be able to buy it online. Though the only problem with such options is the time taken for the delivery person to deliver your product.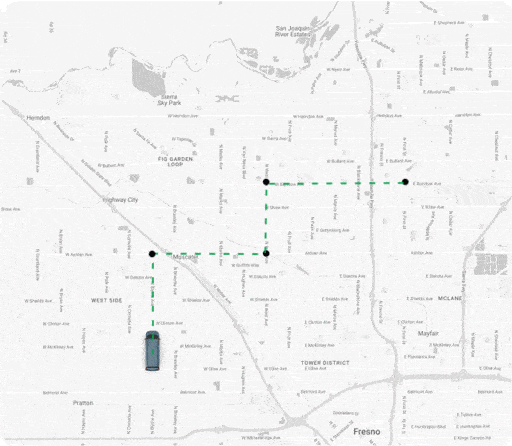 Reason Why Doesn't Trader Joe's Have Delivery Service
When asked the marketing director of Trader Joe's, Tara Miller said that Trader Joe's doesn't plan on implementing any online ordering system yet. Despite the pressure, they realize that starting online grocery shopping or curbside pickup services doesn't always turn profitable.
There is also the fact that in order to make Trader Joe's have delivery options, they would have to do things that require tremendous resources that may not be worth it in the long run. They would also have to solve any logistical issues that may arise by themselves.
Issues such as the global trucker shortage also make the possibility of Trader Joe's delivery drivers even thinner. You can probably imagine how high the cost would be to develop a delivery system for a company that does not even facilitate a curbside pickup option.
Create Unlimited Routes for Your Multi-stop Deliveries on Upper
Running a delivery business is easier when you have optimized routes. If you have your own fleet under you, then the responsibility of making timely deliveries is on your shoulders. This is why dispatchers usually spend hours planning routes to make sure that every delivery is on time.
Though why waste hours of your time behind an issue that can be resolved by using Upper within minutes? With Upper's route planning abilities, you will be able to accommodate more stops in a shorter amount of time.
An accurate ETA for each and every stop puts you at ease knowing that your deliveries are going to be on time. Such brilliance is essential for any delivery service as it dramatically increases the efficiency of your operations.
Get Rid of Delivery Delays with Best Routes
Use Upper to get the most efficient routes in less than a minute. Avoid delivery delays by switching to Upper and boost your delivery process with less resources.
Start Using Upper

FAQs
Instacart is a well-known online shopping service that connects you to local shoppers that are willing to do grocery delivery. While they do have deals with other grocery stores, they don't deliver items from Trader Joe's.
Trader Joe's does not have its own online portal for you to shop through, though you can buy its product via other online stores that have them in stock. This is not the best way to get Trader Joe's products but it is still an option for many.
Postmates is primarily a food delivery app. While they do support some grocery shopping, it, unfortunately, does not deliver items from Trader Joe's to your residence. Though you may find other stores on the app selling items from Trader Joe's.
No, Trader Joe's does not offer any curbside pickup option as they believe in making their stores great first. This is why they don't have any grocery delivery options either. Without a home delivery service, those that love Trader Joe's are forced to use other apps for delivery.
Doordash is primarily a food delivery service and it does not cater to grocery stores much. Though you could always use a grocery delivery app like Dumpling Grocery instead which is built to specifically cater to your grocery needs.
Conclusion
Trader Joe's is a truly unique business that offers products that are rare at affordable prices. It is no wonder that they have built a loyal customer base that always has a shopping list of their favorite items when visiting a Trader Joe's store.
While a Trader Joe's delivery service would be a massive undertaking, it still might be worth it as customers are willing to pay for said services. Even if they could offer a simpler solution such as curbside pickup, it would greatly help customers in their shopping experience.
Though until Trader Joe's starts hiring its own delivery drivers, people will still have to keep relying on a third-party delivery option. It is evident how important deliveries are in this day and age and thus it is important for a business to keep making the entire delivery process better.