Key Takeaways:
When shipping perishable goods, proper packaging and temperature control are essential to ensure that they arrive fresh and safe for consumption.
By selecting a shipping company with expertise in handling perishable goods, you can lower the chance of spoiling and damage.
Perishable goods must be monitored for quality while in transportation, and backup plans must be made in case of problems or delays.
It's crucial to follow the rules while transporting perishable goods and to secure the required licenses and certifications to avoid any legal or financial repercussions.
Handling all shipping logistics is even more challenging when transporting perishable food items. According to the UN Food and Agriculture Organization, around 40% of the food is wasted before it reaches the consumers. We don't want to contribute to that statistic.
Shipments of perishable food items are considered the most-sensitive shipment. They require special shipping considerations and specific temperature ranges to keep them fresh during transportation. This is the reason shipping perishable items is both challenging and expensive.
If not shipped carefully, the food products may get spoiled before reaching your customers. In the worst-case scenario, food products may become contaminated and affect your customer's health. However, this can be easily avoided by learning more about the correct shipping options for perishable food items.
In this detailed perishable item shipping guide, you will learn about shipping techniques, the best packaging materials, and the challenges you will face so you can work around them.
What are Perishable Food Items
Food items are assumed to be perishable, with a limited shelf life. Such food items are sensitive to temperature changes, especially hot conditions or extreme temperatures. For example, a wide range of fruits and vegetables, dairy, meat and fish, flowers, and some pharmaceuticals. As a result, perishable food items go bad during transits if they are not adequately packaged.
All perishable foods do not require strict temperature control during transit. For example, baked goods are easy to ship and do not require constant temperature control. However, they can still go bad due to extremely high temperatures and humidity.
Keep in mind that if there is a specific temperature requirement to store the food, you should ship that in temperature-controlled packaging or refrigerated shipping container especially during the summer months, to prevent spoilage.
Just adding preservatives to ship frozen foods does not magically protect their environmental factors. Therefore, it is necessary to understand the property of your foods before shipping them.
How to Ship Perishable Goods and Food?
We understand that shipping time and temperature-sensitive items like perishable goods come with significant challenges. Hence, following the efficient shipping process can make it easier for you to ship safely.
Mail can be the best shipping option to ship perishable items. Shipping perishable food or goods by mail requires proper planning to ensure that they arrive safely to the customers. You can follow these 5 essential steps to ship perishable goods and food:
1. Package your perishable goods appropriately
The first step for shipping your perishable items is to select the proper packaging materials. For example, the lightweight packaging material includes styrofoam boxes, custom styrofoam cut sheets, insulated pads, insulated liners, and air-filled insulation liners.are good insulators and maintain cool temperatures. Styrofoam boxes are also light and help reduce
Similarly, heavy-duty packaging material includes glass and insulated containers.
The most common combination is wrapping the food in plastic and shipping it through styrofoam shipping containers. The flexible plastic bags are least likely to puncture. Vacuum-sealing meat inside plastic bags also prevents dehydration and freezer burns. Rigid plastic boxes are most effective for solid food items. But ensure you are using non-toxic plastic material to wrap items.
Styrofoam boxes are also great for shipping perishable food. They are good insulators and maintain cool temperatures. Styrofoam boxes are also light and help reduce shipping costs. However, hauling these boxes can dent or even damage them. This can cause fluid leakage and reduce the internal temperature of the box. Therefore, combining plastic wrap with styrofoam boxes will reduce the chances of any leakage.
Glass is arguably one of the best materials to ship perishable food. Glass does not react with any food items, thus protecting them from spoilage. Mostly, large corporations use massive glass shipping boxes to transport their food items. However, glass boxes are heavy, expensive to ship, and fragile. Liners with bubble wrap take up extra storage space. Therefore, a suitable container made of glass should not be your go-to choice until the need arises.
2. Choose your cold storage materials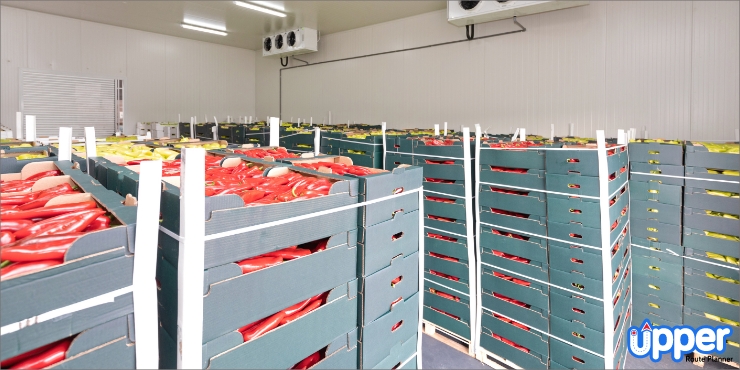 After selecting the appropriate container, it is time to choose the cold shipping storage materials. The type and level of cold storage materials will depend on the packaging you choose. Disposable ice packs and gel coolants are affordable for refrigerated items, but not for frozen food.
Dry ice (frozen carbon dioxide) is one of the best cold storage materials. It is because dry ice sublimates and brings down the temperature. However, using dry ice has its fair share of disadvantages. Any package containing dry ice needs to be marked outside as carbon dioxide solid state needs to be handled with extreme care. Touching it with bare hands can lead to severe frostbite.

Next, some carriers do not allow you to ship items containing dry ice. Those that would allow having strict rules you need to adhere to.

The next best alternative is to use reusable gel packs. The type of gel packs you need varies depending on the distance and the food you are shipping. Some frozen gel packs are malleable and can easily fit into boxes. A sturdy cold shipping package is also available for perishable food items that need to ship to distant locations.
3. Partner with a reputed shipping carrier
Well, there is no right way of selecting the perfect shipping partner for your business. The right carrier is the one that gets shipments to your customers fastest. Again, it will depend on the items you are shipping and how quickly you want them delivered.
Most carriers recommend that perishable (including cold, frozen, or refrigerated food) items should not be in transit for more than 30 hours. Therefore, you have to find the best delivery options in different regions.
When choosing a regional carrier, ensure they have previous experience in shipping food and other perishables. But if you are still struggling to find the right carrier, you can start your delivery service. Of course, the initial setup cost will be expensive, but you will save money on future deliveries. You can also use Upper Route Planner to plan and schedule routes for your delivery drivers and let customers track their packages.
4. Adopt faster shipping
As mentioned earlier, you have a delivery window of 30 hours. Same-day shipping can be a practical option for customers ordering perishables.
Adding the breakdown of the delivery times on your webpage will also help the customer to set realistic expectations. You will need to learn the routes and how much time each delivery will take to streamline your system. Identify all the production cutoffs, black-out days, and other things that can delay your delivery. It's also wise to take shipping insurance as it works as a protection for merchants against damaged or stolen goods.
Moreover, you can also opt for multi-origin shipping that will help to deliver food products to your customers from the closest warehouse.
You can also avoid all this by using route planner software like Upper. This software creates automated and detailed delivery routes to avoid any delays for your perishable shipment.
5. Check for incorrect details to avoid late delivery
To reduce delivery errors, you need to start by changing your webpage. Since most deliveries depend on delivery addresses, include extra fields in the address section. You can even ask your customer to enable GPS location while filling in their addresses. This will help to verify address types so that there is no delivery attempt after business hours for commercial shipments.
Next, you can use enhanced checkouts letting the customer choose a delivery time slot. Also, double-check the shipping label that you are attaching to the products.
Get Upper to Improve Your Delivery Efficiency
Switch to automated route planning with Upper and find optimized driving routes to deliver the perishables 3x faster.
Start Using Upper

Challenges of Shipping Perishable Items
A good rule of thumb is to keep the perishable items fresh is insulation and refrigeration; which means keeping the heat (moisture) out and cool temperature in.
Following all the guidelines makes it easy to get accustomed to the shipping process of perishable products. However, there are certain challenges you must be ready for so you can prevent and work around them.
1. Maintaining the right temperatures in transit is difficult. And as perishable goods are highly temperature sensitive, extreme or inappropriate temperatures are likely to spoil the items. Only following the right shipping process and having the right equipment, packaging, and tools can help you here.
2. Getting these time and temperature-sensitive deliveries to your customers in time is also a challenge. Even if you follow all the packaging and ideal temperature guidelines, your package may spoil if it is delayed due to additional transit time. You, thus, want to ensure that food is served to customers at the right time.
Suitable carriers and last-mile delivery software like Upper will help you spend less time on the road and more time making a maximum number of on-time deliveries.
3. Next challenge is doing all of it while keeping the expenses in check. The cost of shipping perishable items can be expensive, as you need to deliver them quickly, ensuring the proper temperature range is maintained.
For example, fuel is expensive, and so is shipping with dry ice and gel packs. The ice and gel packs will need larger shipping containers, which will also add extra expenses.
Spending time with disorganized, inefficient routes will drain your time, so you'll surely need a route planner like Upper to overcome this challenge and rely only on efficient routes that will save up to 40% on fuel costs.
Furthermore, packing your products with gel packs, ice packs, and dry ice means you have to use a larger shipping container, which adds up to your list of expenses. To avoid this, try using reusable gel packs to get more value out of each use. Use small but tightly packed containers to ship perishable foods.
Perishable Food Shipping Options
Multiple carriers and shipping platforms offer various options for shipping perishable goods and keeping food shipments fresh.
1. FedEx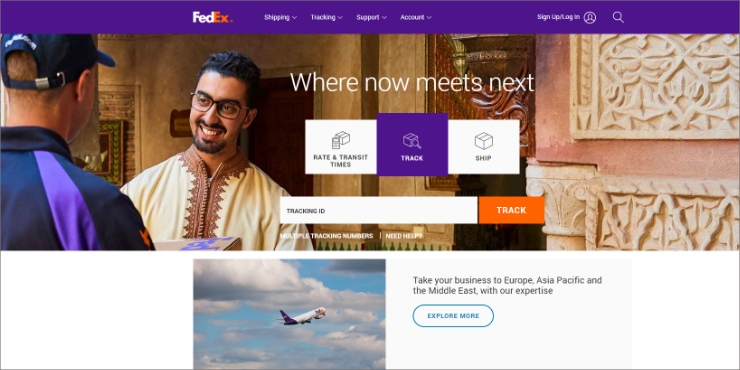 FedEx has multiple guidelines for vendors looking to ship perishable items. FedEx suggests storing your food or frozen items inside an insulated foam container and filling it with gel packs. This entire contraception should be packed in an outer corrugated cardboard box.
FedEx recommends that the minimum transit time for perishable items should be under 30 hours. They also advise not to ship perishables on the day that will keep the package in transit during weekends or holidays.
You may also need to add plastic foam peanuts, watertight plastic liners, and absorbent materials to the perishable shipping boxes. You can use dry and wet ice, but they have strict rules.
2. USPS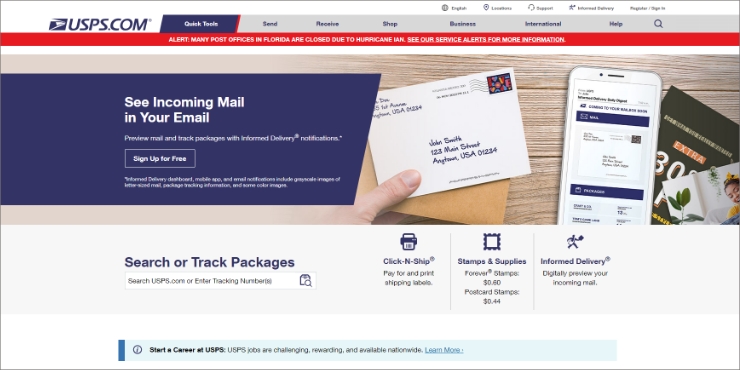 USPS also offers a shipping facility for perishable products. USPS does not offer specific refrigeration services for perishables shipment. They allow the usage of dry ice for shipping perishables within the country and not for international shipments.
You are responsible for packaging the items according to their rules. And if you are using dry ice, you must put a caution sign stating the same. USPS is not responsible for any damages caused to your products due to unexpected weather changes.
3. UPS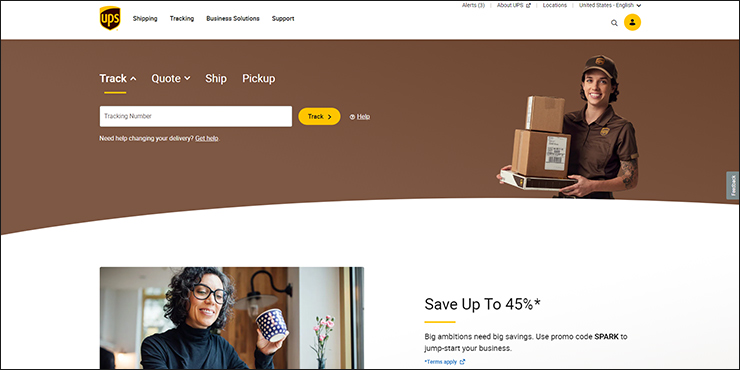 UPS has similar applicable rules regarding perishable shipments. They advise using thick insulated foam containers to keep the food as cold as possible. UPS allows the shipment of packages with dry ice following the IATA regulations, but frozen water is restricted.
They also state that if the food content does not require much cooling, it should be packed with thermal bubble wrap. You can use dry ice for frozen items as a coolant as long as the weight of dry ice is within 5.5 pounds.
Your package is considered hazardous material if it exceeds the dry ice weight limit. Hence, you need to make sure that you follow the UPS guidelines and restrictions for shipping perishable items.
Increase Your Shipping Speed with Upper
To create a loyal customer base and boost your brand value it is important to ensure that customers receive their packages quickly.
Delayed deliveries due to inefficient route planning can significantly harm your business profits, especially when shipping perishable products. This is where the Upper Route Planner comes into the picture.
Upper is a route planning and optimization software that focuses on shipping perishable goods and food to customers on time. This software is designed considering the urgency and the requirements of shipping food items on time to curb the spoilage of food.
Here's how Upper can improve your shipping process and execute flawless delivery:
1. Multi-stop route planning
The route optimization algorithm used by Upper is capable of finding routes that can accommodate multiple deliveries. Consequently, the drivers can carry more loads and make more deliveries in less time. Route optimization increases your ROI by cutting your fuel costs by 40%.
2. Priority deliveries
The set location priority feature helps you highlight the packages that must be delivered first. Usually, this feature is used to deliver perishable items most vulnerable to environmental variations. You can also use it to complete bigger and more important orders first to meet delivery commitment time.
3. Share ETA with customers
With Upper, you can share delivery status and ETA with your customers via automatic notifications. The Estimated Time of Arrival is automatically updated based on the traffic conditions. It helps to save your time-sensitive deliveries from getting spoiled.
The ETA notifications make the customer aware of the delivery time to avoid missed deliveries. Ready to improve your delivery similarly? Sign-up for a 30 days free trial today.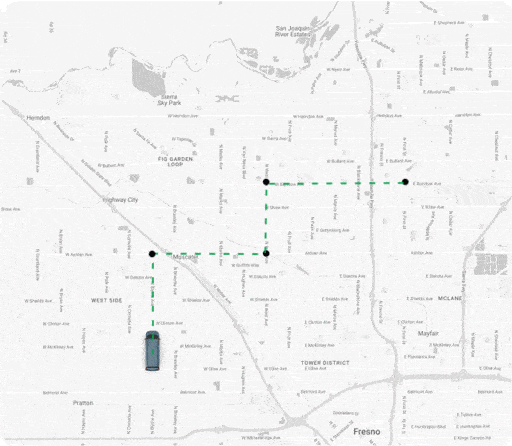 FAQs
First, tightly pack your perishable items with non-toxic and biodegradable plastic wrappers. Then store them in styrofoam boxes filled with ice packs, dry ice, or gel packs. And, if you are transporting them over long distances, ship them with refrigerated packaging via trucks.
The shipping rates for perishable or frozen foods will vary depending on the quantity you are shipping and your delivery partner. Mostly, the price to ship food will be between $30 to $140 per a couple of pounds.
Yes, you can ship perishable goods and frozen or refrigerated food items through the mail. But you have to securely package your food items to prevent them from going bad. Also, you are liable to pay for the damages caused to other mail due to any accidental leakages from your packet.
Perishable items are goods that deteriorate with extreme variations in environmental conditions. Usually, food items like fruits, vegetables, animals, meats, and dairy products are considered to be perishable items.
Conclusion
Improper packaging for the shipment of perishables can reduce your overall profit margin. Therefore, it is important to follow the correct shipping methods for shipping perishables so that the customers receive the food items in a consumable state. Customers will also make repeat purchases from your brand if they trust your perishable goods shipping and packaging methods.
Following the guidelines and correct packaging is critical for on-time deliveries. This is where route planning and optimization software like Upper comes into the picture. With Upper, you will easily be at the top of the shipping perishables efficiently and delivering on time and in excellent condition.
You can book a demo today to find out how Upper can benefit your business.