Key Takeaways:
Success in drop shipping depends on picking a niche with high demand and little competition.
Researching suppliers and items in-depth can assist guarantee quality and prevent fulfillment and shipping problems.
Profit margins can be raised by cultivating connections with suppliers and negotiating more favorable terms.
Providing distinctive and special products might help in differentiating the company and establishing a loyal clientele.
Starting a dropshipping business is an excellent way to enter the e-commerce market with low startup costs and minimal risk. The global dropshipping market size was valued at $128.6 billion in 2020, and is expected to grow to $476.1 billion by 2026.
Clearly, with the e-commerce industry growing rapidly and more consumers turning to online shopping, dropshipping will go a long way. So, if you are thinking of entering the world of online business or just wish to develop another income stream, this is a great time to start.
In this step-by-step guide, we will uncover how to start a dropshipping business so you can place your feet firmly on the online business ground.
What is Dropshipping?
Dropshipping is a business model wherein a company (the dropshipper) does not keep products in stock. But instead, it purchases the product from a third party supplier and then ships the order to the customer.
The dropshipper acts as a middleman and sells a wide range of products without having to handle the inventory or shipping logistics. You need comparatively low startup costs to start such an eCommerce business. The E-commerce giants like Amazon are using a similar business model to ship products from one country to another.
How does the dropshipping business model work?
There are 3 major faces in the dropshipping business model: the supplier, you (the dropshipper), and the end customer. The process typically works as follows:
1. The dropshipper finds a supplier who offers products at wholesale prices. This supplier may be a wholesaler or manufacturer.
2. After setting up an online store, such as a website or e-commerce platform, the dropshipper lists the products for sale. They then set the retail prices for the items based on their profit margin.
3. Once the customer purchases an item from the dropshipper's website, the latter pays the product's wholesale price to the supplier.
5. Then, the supplier ships the product to the customer using the shipping address provided by the dropshipper.
As a dropshipper, you can offer a wide variety of items without investing the time and money related to inventory or shipping logistics. But, this also means that they will be responsible for all customer service and returns, and also to establish a good relationship with the supplier for smooth and efficient order processing.
How to Start a Dropshipping Business: 7 Key Steps
To start dropshipping, you need to have a proper business plan, find reliable suppliers who sell quality products, and manage your own online store. Let us look at these 7 steps in detail.
1. Identify your niche
To start selling products and gain traction from the beginning, you must decide what it is that you can sell. You can look for Google trends to know which products are in high demand. Pick a dropshipping business idea that doesn't just earn you revenue but also interests you.
However, you should not just go by the trend. Instead, keep the trends within your business model. Meaning, if you see a trend of denim apparel, it comes within the fashion niche. Customers are mostly drawn to such niche items, thus making it easier for you to sell to your target market. Here are a few dropshipping business ideas to consider:
Home decor
Phone-related products
Appliances
Gardening supplies
Children related items
Toys and games
Sports and entertainment
Lights/lighting
Tools and accessories
Beauty products
Jewelry
Clothing
Food and drink
2. Conduct a competitor research
Once you know the market niche for your dropshipping store, look into your competitors and analyze how they work. As they are in the business for a long time, you will get an informative understanding of success-driven strategies.
More competitors means more advantage on finding your target market. Focus on researching the top competitors including Amazon and Walmart. Here are a few ways to start your research:
Google search

You can start with Google to check your competitors. You can do this by entering key search terms related to your product niche and see the top 10 results. These will most likely display your top competitors and their promotion methods.

Tools such as Similarweb and Semrush

These online tools are your best bet to find your competitors and keep track of their online activity. Semrush and Similarweb give you a list of competitor website information, including their website's audience and traffic information, social media profiles, advertising campaigns they are running, and their competitors.

Social media

Look at Facebook, Instagram, Twitter, and other social media channels for ads related to your niche. Check how your competitors have developed their online presence through their feeds and their engagement levels.
3. Form a business structure
Now, you will need to register your dropshipping business with a unique name as a legal entity. Although you must seek advice from a legal counselor, we have jotted down the three common business structures below.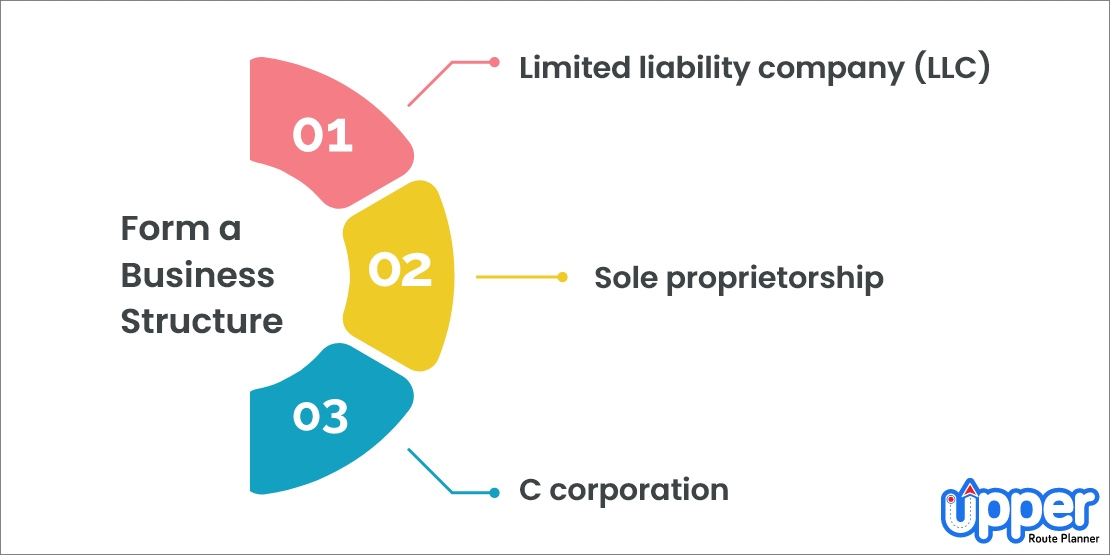 Limited liability company (LLC)

An LLC protects your personal assets (more than sole proprietorship) as it establishes your business as a distinct legal entity. It will need you to comply with all the requirements and pay relevant fees.

Sole proprietorship

While this is an easy structure, it doesn't offer personal liability protection. In a situation wherein the business is sued, there are chances of potential threat to your personal assets.

C corporation

Major companies set up their business structure as C corporations. These are the most reliable ones in terms of liability protection. However, they may cost you more and need double taxation, as the income isn't directly passed to the shareholders.
4. Get financial documentation
One of the most important aspects of starting any business is keeping your personal and business finances separate. This will avoid any sort of confusion, make account handling easier, and save you from any mishaps when there's an audit for your IRS.
Business bank account

All your business finances, whether it is deposit of income or withdrawal, must be handled using one primary account.

Business credit card

As you will have expenses related to setting up your online store, marketing and related ones, you must have a business credit card. It can bring some amazing rewards with the right business cards.

Sales tax collection

Sales tax is necessary in most of the states. So, you must check your state laws regarding the same and

Permits and licenses

Most of the dropshippers work from home. So, you must check with your government and complete the relevant procedures.

Business EIN number

An employer identification number (EIN) may be needed to perform various tasks associated with your business. You can check if you need it based on your dropshipping business structure and apply online for an EIN number.
Bonus tip: Check with a legal advisor on any additional documentation you may need for starting your dropshipping business.
5. Look for a dropshipping supplier
You can start finding reliable suppliers for your dropshipping store at places like DSers. This marketplace helps search for online products including fashion, toys, electronics, and others. It allows you to find products from various dropshipping suppliers globally and add them to your store in a click.
DSers is a great app with a lucrative potential for profit. It manages processes such as sending your customer orders to your supplier, thereby making the process easier for you.
Moreover, you can also use AliExpress to search for products, and choose dropshipping suppliers from the displayed results. Check the suppliers' reviews and time duration of their business. Then, you can contact them and ask relevant questions including the shipping terms, timelines and order quantities.
Fast Track Your Route Planning Process with Upper
Leave the outdated methods of manual route planning and join Upper Route Planner to find unlimited best routes in less than a minute.
Try Upper for FREE

6. Develop a website for your eCommerce store
Next up, you need a dropshipping online store where people can find your products and buy through your website. You need to be creative to stand out against your competitors and make a memorable impression of your business.
You will need the below to get started:
A website domain name
A website design with a unique logo, trendy brand colors, and fonts
List your products with shipping information and payment methods
Platforms like Shopify help create websites and reach a satisfactory level of selling through an eCommerce store. You can also integrate Shopify to a route planner to automate your delivery processes.
Once you have a website, you need to ensure that it is well optimized with proper content. You can have an SEO professional help you with the right keyword-targeting so you can gain visibility across your potential customers.
7. Come up with marketing strategy
Marketing is an excellent way to reach your target market and gain dropshipping clients. You can check out your competitors for the type of marketing strategies they are using and what is performing better for them. BuzzSumo will help you see the type of content that gets the maximum shares on social media.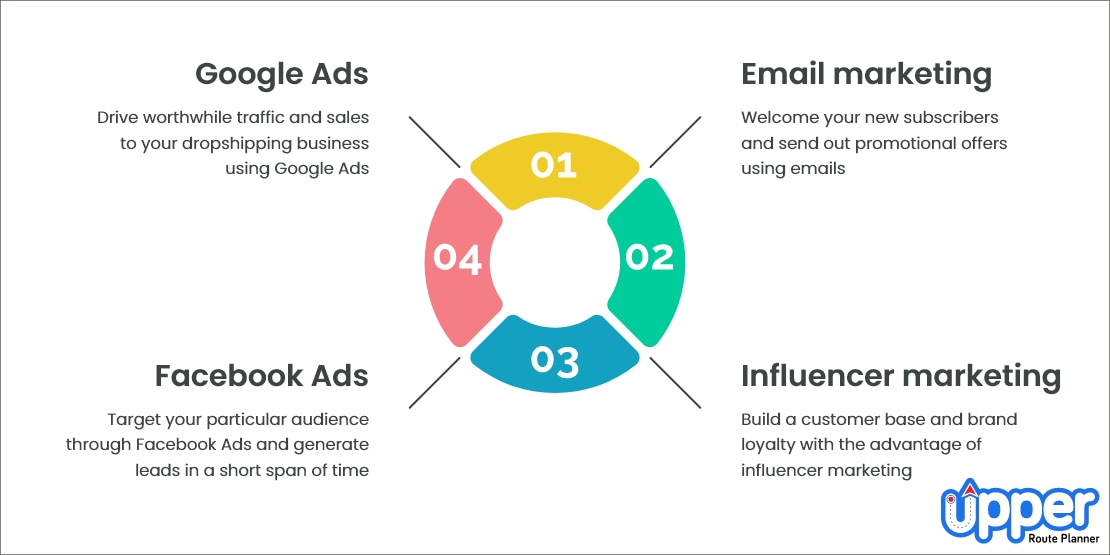 Here are a few ways you can reach a wider audience for your dropshipping services:
Google Ads: The most commonly used marketing technique is to showcase your online dropshipping store through Google Ads. When you create Ads through this method, your products are promoted across websites with Google's AdSense system.
Facebook Ads: You can start getting leads once you post your dropshipping services through the right targeting on Facebook. You can keep a low budget at first and try posting different Ads to see which one is working.
Email marketing: Emails are highly used in the business world, whether it is about welcoming your new subscribers, sending promotions or discount offers. So, you can take advantage of these to gain leads.
Influencer marketing: Using influencers to promote your dropshipping services is a great way to build trust in your target audience. You can leverage this marketing method with a little budget and get going.
Efficiently Plan Unlimited Routes for Your Dropshipping Business on Upper
Do you know how delivery service providers are adopting the latest technology to uplevel their game? Route optimization software like Upper is able to reduce manual work and increase on-time deliveries for courier businesses. Here is how your dropshipping business can make the best out of Upper Route Planner:
1. Efficient and cost-effective deliveries
Get rid of paperwork and switch to a smooth route planning process. Upper lets dispatchers find the best delivery routes so drivers make the fastest deliveries with high efficiency. It also aids in saving a lot of fuel as the delivery drivers don't need to waste time on the road searching for routes.
2. Enhanced customer experience
With Upper, customers can get notifications about delivery updates. This helps them stay updated about their parcel's delivery time and be present to collect it. Such an experience makes customers happy and improves trust levels toward your dropshipping business.
3. Keeps the dispatch team in loop
Now your dispatch team doesn't need to be doubtful about delivery completions. Once their task is done, the delivery drivers can collect e-signatures, take photos, and add delivery notes as required. As a result, it streamlines your dispatch team's operations as they have delivery confirmation at one place.
4. Send delivery instructions to drivers
Upper comes with an added advantage of adding delivery instructions. Customers can add delivery notes for drivers anytime throughout the ongoing delivery process. For example, you can include things such as: do not ring the bell, or any other instruction based on the situation.
Boost Your Dropshipping Process with Upper
Get into the zone of intelligent route planning with Upper Route Planner. Schedule multiple delivery routes, stay ahead of time, and achieve your delivery target on time.
Start Using Upper

FAQs
There are free-to-use online platforms that help you open your dropshipping business store with no money. These platforms include Shopify and WooCommerce. However, they may be limited to a certain trial period, so you can get started.
There are a lot of benefits of a dropshipping business, as mentioned below.
Low risk
Minimum startup costs
Ability to offer different variety of items
No need to invest in a huge inventory
Walmart can be a profitable drop shipping option if you can navigate the competition and comply with their requirements. It is important that you keep improving your strategies to make the most out of this leading eCommerce platform.
Conclusion
Dropshipping is a well-known and low-cost business model that enables you to enter the world of e-commerce with minimal risk. By finding reliable suppliers and focusing on the key marketing strategies mentioned above, you can sell a lot of products without investing into large inventory.
However, you need to optimize your deliveries with a route planning solution that can make your work more seamless. Upper comes with the advanced features to streamline and optimize delivery routes. With route planner, you can manage delivery route schedules, take proof of delivery, and perform multi-stop deliveries in a short time. Get your 7-day FREE trial to explore more about Upper.