The retail e-commerce global sales generation reached around $5.2 trillion in 2021. Online shopping industry is booming as more consumers are turning towards doorstep delivery. But with that, there has been an elevating customer demand for faster order fulfillment. Purchasing online and getting quicker delivery options only happened with the onset of distribution centers.
Hence, in order to get a competitive edge, it is important to improve the flow velocity in the distribution centers. Many people think that a warehouse, distribution center, and fulfillment center are similar to each other. While they do sound similar because of the supply chain operations they conduct. 
However, there are some key differences between warehouse, fulfillment, and distribution centers. What is a distribution center and how does it work? Read on to understand in detail.
Distribution Center: Meaning
Distribution centers are used to store finished goods before shipping them to the end user, whether it is a wholesaler, retailer or an individual customer. However, there are various processes involved in managing all the in-house and logistics operations. Businesses can run and manage a distribution center based on their structure and requirements.
For instance, some retailers develop their own distribution centers, while some tie up with a third-party logistics (3PL) provider. Others have specialized distribution centers that cater to the purchase demands of other companies. Wholesale food distributors, for example, supply items to restaurant owners and hospitality companies.
Distribution centers are a key component of the order fulfillment process. Managing them is a complex task as they store a lot of products. For efficient order processing, many distribution centers use the latest technology, such as:
Warehouse management system (WMS)
Transportation management system (TMS)
Distribution center processes
Distribution center handles various processes from receiving packages from the manufacturers to transporting them for last mile delivery. These operations need careful monitoring of inventory levels for a smooth and effective flow.
With the help of cloud computing, you can ensure proper inventory management and visibility of the processes involved in the supply chain network. There are three major processes that mainly occur in distribution centers:
Receiving products
Distribution centers receive packages from manufacturers, suppliers, or other long-standing storage warehouses within the company. After arrival, the goods are unloaded from trucks at a receiving dock across different distribution center locations.
You can make this process faster with the help of equipment like shipping containers, forklifts, and pallet jacks. You can also use mobile technologies like scanners. During this, the in-house distribution center teams have to cross check all the received products. This ensures they are of proper quality/condition and match with their order.
Keeping them in storage space
After unloading, inspecting and scanning packages, they're moved to secure storage locations. Storing them is handled through the stock management strategies of the distribution center:
First in, first out (FIFO)
Last in, first out (LIFO)
A conveyor system can be used to move packages to the storage and placed them carefully on pallet racks. Warehouse workers are meant to keep track of stock from time to time.
Fulfilling orders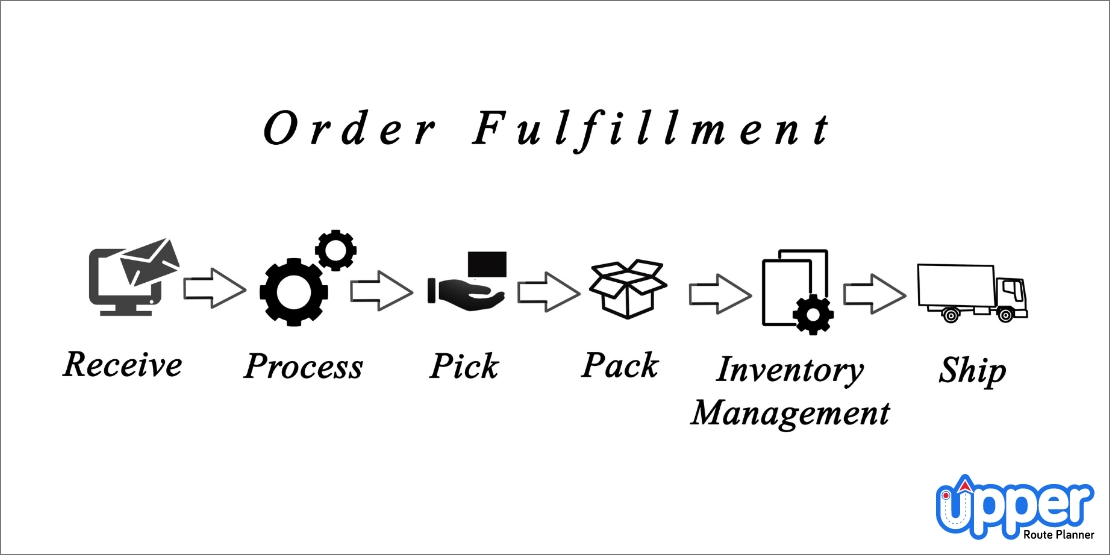 Picking, packing, and shipping process of the product begins once a customer places an order. The products may be picked for scanning via storage containers based on the scope and size of the distribution center.
Warehouse management systems are used to automatically allocate an order picking strategy. Its main focus is to ensure an efficient workflow and accuracy in batch picking, zone picking, or wave picking. Then the products are ready to be packed and shipped.
A proper returns management process is known to significantly increase eCommerce business revenue by improving customer satisfaction and reducing logistics shipping costs. Some distribution centers may manage returns as per the nature of their operations.
Facilities that process returns themselves must keep open communication with the customer. Once the package is received back, they must restock or refurbish it as per requirement.
4 Key Differences Between Warehouse and Distribution Center
The fact that warehouses and distribution centers work on the line of storing goods, they are often used interchangeably. But there are major differences between the two, as each facility is created to handle distinct operations.
1. Storage period
Warehouses are vast buildings that keep bulk storage of items, often for a longer period. These goods are typically sent to the wholesalers instead of end consumers. Warehouses do not manage order processing and fulfillment operations actively in their routines.
Unlike warehouses, distribution centers have short-term storage of goods and focus more on how they are handled. This involves best distribution center practices, strategies, and systems that can lower costs and increase the pace of order fulfillment. So, these centers are mostly used by eCommerce companies and online retailers. 
2. Services and customers
Warehouses are solely there to store products. Whereas, distribution centers offer value-added services like product mixing, cross-docking, and packaging on top of storage.
Distribution centers generally cater to B2B customers. Although warehouses handle B2B customers, they can also serve a few B2C customers.
3. Operational procedures
Distribution centers store products for a shorter period as compared to a warehouse. As a result, the flow of receiving and shipping goods is higher at a distribution center than the flow at a warehouse.
The operational procedures of distribution centers are complicated compared to a warehouse. Hence, distribution centers need advanced technologies to manage things like processing orders, transportation, and the facility.
4. Assistance and returns
A warehouse's purpose is to have ample storage of goods, while the purpose of distribution centers is to maintain storage and customer satisfaction. Moreover, retail and warehouse orders are not shipped from a warehouse, but from a distribution center.
Warehouses may not provide you with the required assistance. You will need to have your own returns system and keep staff for restocking items. By using a distribution center, you have the option to lean on a distribution partner or 3PL partner to handle returns for you.
Streamline Your Delivery Process Using Upper
Delivery route planning is easier than ever with Upper Route Planner. Carry out multi-stop deliveries in a minimum time using a fully automated routing process.
Try Upper For FREE

Distribution Center vs Fulfillment Center – Key Differences
Distribution centers are transit hubs for orders as they change the mode of shipment. Fulfillment centers store goods for a shorter duration before dispatching them to customers. They make sure customers receive their orders on time.
Fulfillment centers work with various business entities, retailers, e-commerce companies, and corporations to fulfill B2B and B2C orders. However, distribution centers play a major role in the entire supply chain, especially in fulfilling customer orders with accuracy and in less time.
Let's look at the pros and cons of fulfillment centers and distribution centers.
Pros and cons of a distribution center
Pros
Delivers huge number of products for B2B
Ideal for items that don't need individual packaging or finishing
Allows item storage for a long-term at reasonable costs
Ample storage space to reserve more inventory quantities at once
Usually a cheaper option than fulfillment centers
Cons
Shipments take longer time as the centers are a bit away from target markets
Goods are sent on pallets, so they're not packed at the center
Ship orders less often, as most shipments are in bulk
The ability to directly communicate with customers is less
Offers limited services as compared to fulfillment centers
Pros and cons of a fulfillment center
Pros
Retail location can be established near customers for faster delivery
Can pick and pack orders for your logistics process
Offers labeling for shipments
Delivers products directly to end customers
Handles returns and provides reverse logistics services
Cons
Stores products in a limited quantity
Goods are only stored for a short-term
Bulk shipping for large quantities isn't available
It is costly to store unsold inventory
More expensive compared to distribution centers because of location and value-added services
Use Upper's Automated Delivery Process to Streamline Your Delivery Operations
The main purpose of distribution centers is to provide the best online shopping experience to your customers. So, you can focus more on your eCommerce business and leave the hassle of planning routes with an intelligent route optimization software.
With Upper, you can schedule unlimited deliveries and find optimized routes with less time and effort. No matter how many deliveries you have, it never asks you to extend your working hours.
Here's how Upper increases delivery efficiency and boosts customer experience:
Quick route optimization
Switch to the effortless process of finding the best routes, as you can automate it for your distribution center. Upper helps optimize routes by considering driving preferences, priority levels, and delivery constraints.
You can also re-assign a route to another driver in case of a driver's unavailability. Within a few seconds, you will have the most cost-efficient routes planned for your drivers.
Accurate ETAs and notifications for buyers
You no longer need to keep your customers in a dilemma about their orders. With real-time notifications, your customers will be alerted about the estimated arrival time of their products. This will keep them informed and stay present at their locations to collect their orders.
Electronic proof of delivery
When you use Upper as your route planning software, your delivery drivers are sure to increase their accountability. This is because of features like proof of delivery so drivers can collect e-signatures, click photos and add notes. As a result, it increases happy customers and negates the chances of any false claims about your business.
Get your hands on the Upper route planner and start optimizing routes by signing up for a 7-day free trial today!
Plan Routes for Your Shipments with Upper
Get rid of manual paperwork by adopting to complete automated route planning process. Let Upper help you optimize and schedule routes for your multi-stop deliveries.
Try Upper For FREE

FAQs
One of the benefits of using distribution centers is speed of order processing and delivery to customers. So if you have multiple distribution centers, you can fulfill more orders in a cost-effective way and meet customer satisfaction.
The terms 'distribution center' and 'warehouse' are used identically as both of them are important. Warehouses help store inventory for a longer period of time, while distribution centers help with storage, cross-docking, product mixing, and order fulfillment.
In usual cases, a package stays at a distribution center for a shorter period of time as compared to warehouses. These packages may be shipped the same day if orders are placed on or before a specific time (e.g.: morning).
Conclusion
A distribution center mostly falls under a larger distribution network that enables the availability of inventory across various locations. Companies handling fulfillment services have a lot of tasks to meet delivery deadlines. Effective supply chain management is vital to ensure the timely delivery of products while minimizing costs. While it is easier for customers to place orders, a distribution center has much more work to accomplish the delivery. So, you may need to cover the extra mile to win customer satisfaction and build your center's reputation.
Upper Route Planner is an excellent companion that helps lower your load and perform tasks on your behalf. With advanced features like route planning, route optimization, one-click dispatch, API integration, and proof of delivery, you don't need to waste another minute.
It doesn't just save hours of route planning but also helps you bring down overall shipping costs. Take a 7-day free trial and experience it yourself.