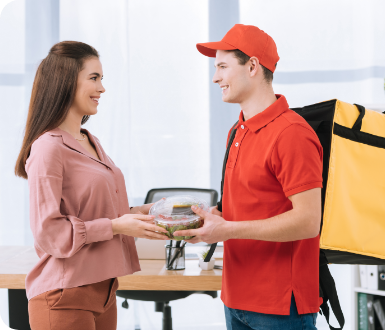 Meal-kit industry is worth $5 billion. It is estimated to be $11.6 billion by the end of 2022.
Over 80% of US citizens believe meal-kits delivered to home are healthier than restaurant food.
Meal-kits are in great demand for their convenience and their extended delivery throughout the day.
Meal-kits are expected to satisfy unique dietary requirements, lifestyle choices, and sustainability needs.
Tackle the 4-hour Delivery Window and Deliver Fresh Meals with Every Optimized Route
Make Time Slot-based Deliveries
Due to the perishable nature of fresh ingredients and organic produce, fulfilling meal delivery in the stipulated time slot is key to your meal delivery business. Thus, doorstep deliveries of fresh meal kits need to take on a more refined approach.
Plan Tight Delivery Schedules
Without a strong plan of action and a tight delivery schedule, the meal deliveries are bound to falter. Overcome this challenge with software that helps you plan routes efficiently and reduce time on the road.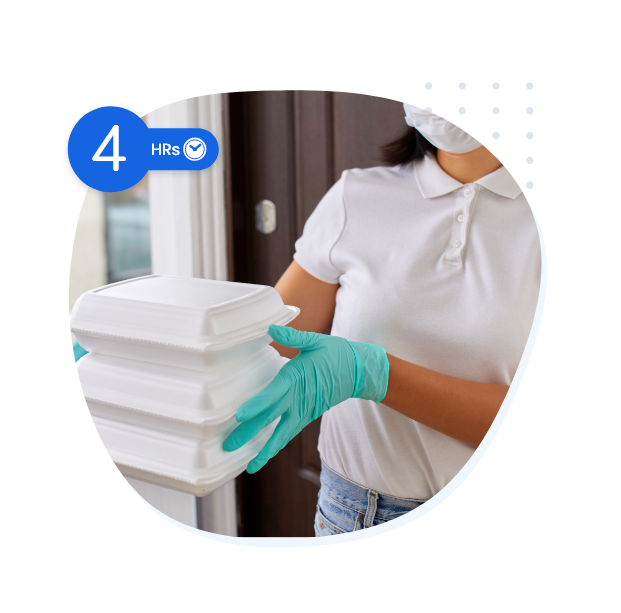 Ensuring your meal deliveries are fresh and on-time is easier with Upper Route Planner!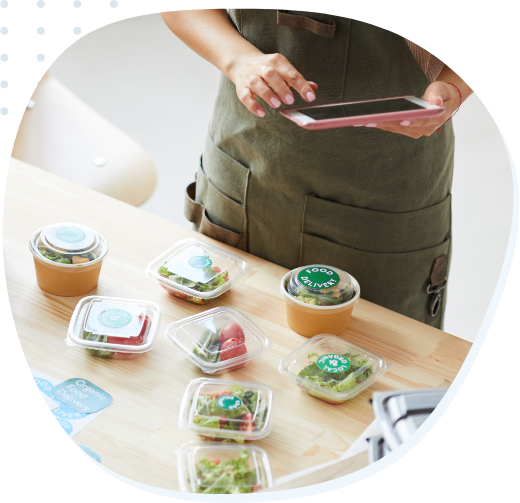 Reach Your Meal-kit Delivery Customers With Fresh Deliveries Using an Advanced Route Optimization Software
In addition to the fondness for fresh and ready to eat meals, another reason the customers like meal-kit deliveries is the convenience it offers in terms of timely meal delivery to their doorstep. But that is only possible when you plan routes accurately. Without these accurately timed deliveries throughout the day, the meal-kit delivery loses its charm. The challenges like last-minute changes, logistics operations, poor customer experience, an inefficient delivery system can be easily tackled using efficient route planning and optimization. Integrating dynamic optimization capabilities of Upper into the delivery process helps you provide a supreme delivery experience to your audience.

Yes, I Want To Optimize Routes

Reduce up to 8 hours of planning time per week.

Increase order capacity by 50-60%.

Record proof of delivery for each meal or food package delivered.

Improve delivery experience with customer notifications & timely deliveries.
Automate Your Weekly Meal-kit Delivery Operations With Upper
Delivering hundreds of meal kits to customers across the city in a 4-hour delivery window is challenging. Making sure large orders of fresh meals reach your customers on their time is extremely stressful. Upper will take that stress away. Our route optimization software helps you deliver fresh meal kits on time and saves hours of planning and driving each week.

Save Time in Planning
Don't waste your precious time planning your meal kit deliveries manually. Instead, empower your dispatchers and drivers with the right solution. Help them work efficiently, improve productivity and save time in the office and on the road. It helps you save fuel costs as well.

Manage Demand in the Stipulated 4-hour Window
For small businesses delivering healthy meals, it is key to fulfill deliveries in a 4-hour delivery window to ensure the food reaches the customers while it's still fresh. Upper makes sure you fit in the maximum number of orders and reach customers on time.

Create & Manage Routes for Multiple Drivers
The best way to save time and make sure your drivers deliver fresh meals in the 4-hour window is to create and manage delivery routes using route planning software. Upper helps you create multiple routes for a team of drivers instantly, ensuring time & cost-effective deliveries each day.

Set Time Windows & Priority Stops
Urgent orders & deliveries with specific time windows need to be handled equally well. This is a daily challenge for a healthy meal delivery service. Upper helps you manage that with ease, thanks to its savvy route optimization algorithm.
Provide Timely Healthy Meal Delivery Service to Your Clients With Upper
Upper Route Planner helps your entire delivery team at each step of the delivery process to ensure you are able to fulfill deliveries on time, in the most cost-effective manner.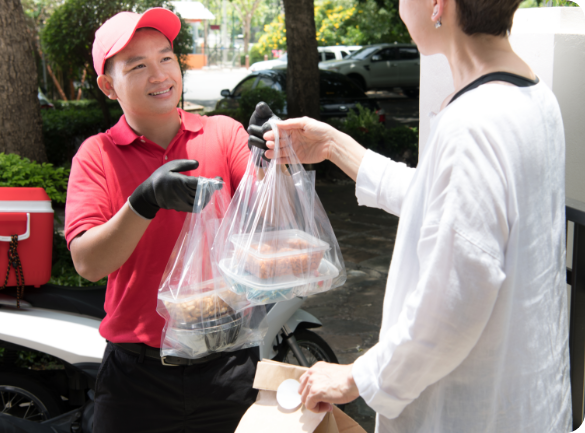 Scale Your High-volume Meal-kit Deliveries With Upper
Plan and Dispatch Instantly

Import 500 Stops in an Instant
Instead of manually adding each stop to the software, you can prepare an Excel sheet and upload up to 500 stops instantly with Upper.

Dynamic Route Optimization
Upper's dynamic optimization capabilities generate delivery routes for your drivers in a matter of seconds.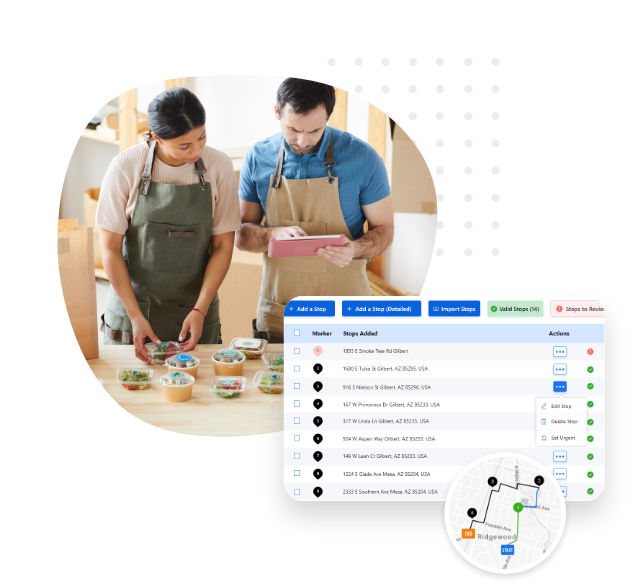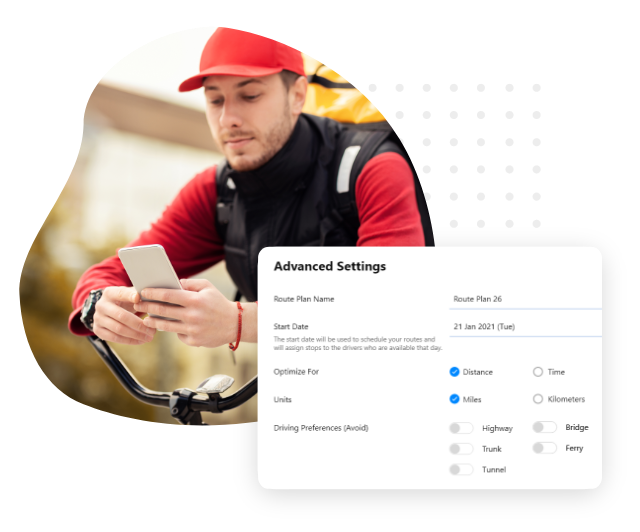 Optimize Delivery Routes For
Instant Delivery

Optimize Stops According to Delivery Constraints
Manage specific time windows and urgent orders in the most optimized delivery routes. Upper takes into consideration multiple delivery constraints while generating routes.

Recipient Notifications & Notes for Drivers
Keep your customers in the loop and informed at every step of the delivery process with SMS & email notifications. Your customers can also leave specific notes for drivers.
Documenting Deliveries & Results

Boost Reporting with Proof of Delivery
Drivers are empowered with the ability to record customer signatures, and capture pictures of the products delivered. It helps improve driver accountability and avoids false claims.

Measuring Results & Generating Insights
Knowing whether or not you're fulfilling daily deliveries is easier with daily reports. Dispatchers and managers can generate reports and receive insights on delivery tasks.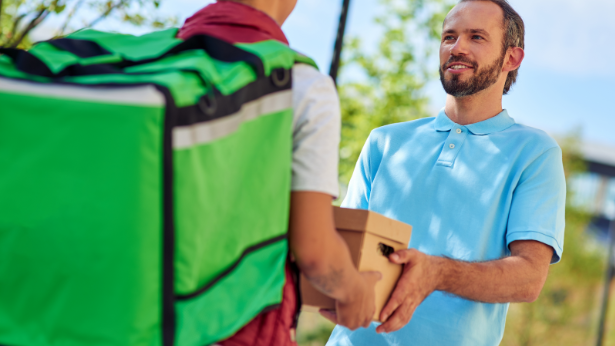 Manage Your Healthy Meal Prep Delivery with an Efficient Route Planning Software
Upper offers all the necessary tools and functionalities to help you scale organic & healthy meal delivery and boost revenue.
Start a Free Trial

How Does Upper Help Boost Your Meal-kit Deliveries?

Scale Your Daily Deliveries
Upper Route Planner helps scale high-volume meal kit deliveries effortlessly and uplifts your meal kit delivery services.

Improve Productivity
Upper's perfectly optimized routes let your drivers stay on track and help them cover more orders in less time.

Boost Customer Experience
Our recipient notifications, delivery notes for drivers, and proof of delivery functionalities help you create a delightful delivery experience.

Reduce Back Office Load
With automated route planning, dispatchers save precious back-office hours in creating efficient routes for drivers.

Maximize Potential of Delivery Resources
Our route optimization function helps avoid time-consuming activities. You can achieve better results while efficiently using the potential of all your delivery resources.

Archive Frequent Routes
Have frequent deliveries to the same addresses throughout the week? Archive those routes with Upper so you don't have to waste time in planning for recurring orders.

Offer Curbside Delivery
For customers demanding for the package to be delivered at the sidewalk, dispatchers can choose the Curbside Delivery option for those specific deliveries.

Generate Insightful Delivery Reports
Avoid micromanagement and get insights into each delivery task carried throughout the day by generating customized reports and analytics using Upper.
Deliver On Time & Boost Customer Experience To Stand Out From The Competitors
Provide your customers with a delightful experience by integrating Upper into your healthy meal delivery process.