As a food delivery service, you will be expanding convenience and choice for your existing and potential customers. You will be working towards making it easier for them to order a wide variety of food from various restaurants.you will have to integrate
In the last few years, there have been huge changes in the food delivery market. These changes have come into effect due to:
Increasing demand and competition;
Competitive prices;
The rise of digital technology;
Evolving customer behavior; and
The worldwide effect of Covid-19.
At the time of creating a food delivery business plan or venturing into a dynamic market like the food delivery industry will require you to consider several aspects in advance.
In this blog, we will take a look at those important pointers that will help you create a more effective plan with all the elements in the right place. Let's get started!!
Key Statistics to Observe Before Entering the Food Delivery Market
The global revenue in the online food delivery segment has doubled in the recent past.
57% of millennials prefer to have restaurant food delivered.
33% of consumers are willing to pay higher fees for faster delivery services.
60% of restaurant owners & operators said that offering delivery generated incremental sales.
Joining hands with third-party delivery services has raised restaurant sales volume from 10% to 20%.
70% of consumers prefer to place delivery orders online for a seamless digital experience.
Ghost kitchens or cloud kitchens is going to be an industry worth $1 trillion by 2030.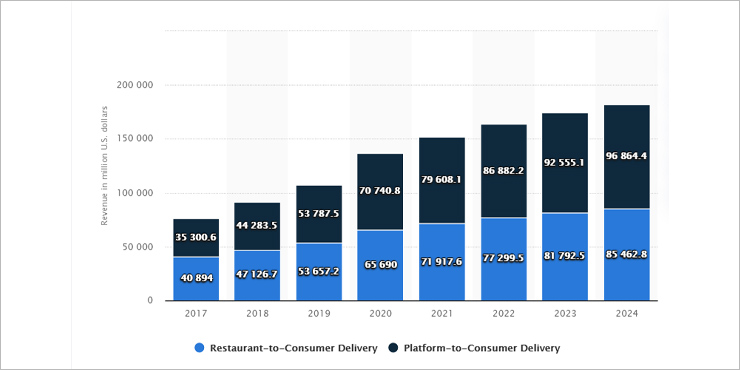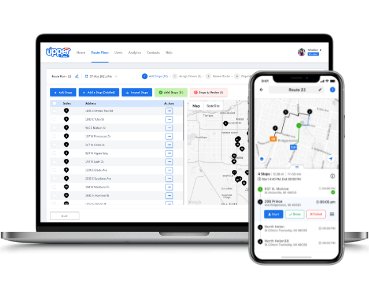 Upper Route Planner
A Simple-to-use route planner that every one is talking about.
Save up to 95% of planning time
Save up to 40% of time on the road
Plan 500 stops at once
No credit card details required
Why Do You Need a Food Delivery Business Plan?
The customers have evolved. Their needs, demands and behaviors have changed. These points show how :
Apps of platforms are able to retain their customers;
Offer great speed of delivery;
Most meals are ordered from & delivered to homes;
High volume of orders on Friday, Saturday, and Sunday.
In order to tackle these challenges and many others, you need to formulate a detailed food delivery business plan. The plan is not only an executive summary or roadmap, it is much more than that.
Here's how a properly developed plan will help you:
Offers an understanding of your industry, competitors, target audience, and trends.
Conducting a SWOT analysis and getting insights on your strengths, weaknesses, opportunities, and threats.
Works as a document to attract investors and potential clients.
Can help change and enhance strategies or business plans of an existing business.
Works as a benchmark on how to conduct the business.
You can find out the requirements of new members, tools, and equipment to help you reach the goals.
Helps with cash flow projections, financial strategies, and revenue model of the food business.
Popular Food Delivery Business Models [Infographic]
Order Only

Order only model is followed by food delivery companies like Grubhub. These services only function as a software layer between the restaurant and the customers. Order only platforms like Grubhub & Postmates have experienced remarkable growth.

Order & Delivery

Apps like DoorDash, UberEats, and Deliveroo are channels that bring in extra orders to restaurants in the form of takeaway and delivery. The apps manage the deliveries for these restaurants using their own fleet of independent drivers.

Fully Integrated

Fully Integrated delivery businesses develop their own apps using which customers can get meal deliveries from cloud-kitchens at their doorstep. These apps focus on convenience and a specially curated customer experience.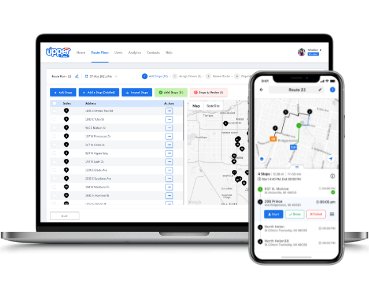 Upper Route Planner
A Simple-to-use route planner that every one is talking about.
Save up to 95% of planning time
Save up to 40% of time on the road
Plan 500 stops at once
No credit card details required
What's your Unique Selling Proposition?
Identify and create a unique selling proposition for your food delivery service business in the following ways.
Identifying your USP

Make something memorable: A good USP is the one that is memorable, makes a case against existing products and offers value to customers. How will you embody your USP in your products, services, user experience, and brand?

What are you doing differently?: In order to identify your USP, look at the competitors and find out what you are doing differently from your competitors. An in-depth market analysis will be helpful.

Notice patterns in the market: If you notice a pattern in the market about features or aspects missing in the competitors, note that down and see if you can offer those features or food services.

Talk to your customers: Conduct a thorough market survey. Talk to your existing customers and see what they have to tell you. It will help you find out what's working for your food business and what's not working.

Developing your USP

Don't try to be the best: Don't try to be the best brand or product out there. Just carve out a niche for your own business in the food delivery industry and stick to it. You will not be concerned about the competition once you make the rules yourself.

Who are you targeting?: Be particular about who your target market. Focus on that particular audience. It will help you keep your brand image consistent because you can't be everything to everyone.

Develop a personality: Incorporating a strong personality into your USP will make your product more memorable. Once you infuse a personality into your brand or product, it will be difficult for others to not notice you.

Writing your USP 

Write things down: Create a list of all potential differentiators. You will find these points if you do a thorough market research. Wrap these points around your marketing and advertising strategy.

What are your unique angles?: Pitch your most unique angles against the customer's needs. Learn about their pain-points.

Compile data: Collect all the data you receive from your consumer and market research and integrate it with your product, service, marketing strategy, and business idea.
What's your Budget?
Your budget will be dependent on your approach and the food delivery business model you choose. Your approach to market and growth strategy will also be an important factor in the total costs you incur.
As a food delivery company, you can choose if you will be building an in-house tech platform and support or whether you will be dependent on third-party services for the same. It is an expensive thing to integrate advanced technology in-house. You need a great amount of investment just to get started.
Figure out a budget considering all the major factors of your business model and marketing plan. You will have several financing options to choose from:
PayPal Working Capital Loan: PayPal offers short-term loans to help small businesses grow. The application process for a PayPal Working Capital Loan is quick and easy and there are no extra fees and prepayment penalties.
Credit Cards/Personal Loan: Business credit or personal loan can be acquired to fuel the daily functions of your business. Small business owners can easily qualify for credit cards and personal loans.
SBA Loans: You can apply for a small business loan under the Small Business Administration advantage program. SBA offers small business financing with lower interest rates compared to other options. SBA Microloans can be used for inventory, supplies, working capital, and machinery.
Government Grants & Subsidies: There are several State and Federal Government grants and subsidies available to businesses. In recent times, the government has helped several small and medium-sized businesses to revive their existing business or start a new business.
Crowdfunding: Reach out to investors and financial institutions to see if you are eligible for a loan. There are great opportunities for businesses with innovative ideas. Some platforms where innovative businesses are identified and valued are KickStarter and Indiegogo.
Plan quickly, deliver faster, delight customers and get home early.
Everyone deserves to have simple and easy route planning.
Purchasing Equipment and Hiring a Team
Acquiring New Equipment & Vehicles: Decide which vehicles and equipment or kitchen utensils you will require for your food delivery company. Do you need bikes, box trucks, or cargo vans? Depending on your business model and budget, plan out the lease or acquisition of vehicles and new equipment.
Hiring Drivers: You will have to choose whether you want to hire contract drivers or full-time drivers. It will depend on your delivery business model. Look for drivers on industry-specific job boards. Make use of your brand's social media platform to search for suitable drivers.
Training Drivers: A thorough training will have to be provided for your newly-hired drivers, whether they are involved on a full-time basis or on a contract. The training process shall cover:
Train them for your last mile delivery process;
State their responsibilities as a delivery driver;
Train them to work with a customer-centric mindset;
Give access and train them for the tools and equipment they will be using on the job;
Train drivers to prioritize their health and safety over the package.
Plan your Business Logistics
Plan Your Last Mile Process: Your last mile delivery process is the front-end process that is often trackable and visible to the customers. Try to make this process as efficient as possible. A customer-facing operation must always be crystal clear and should be carried out without any uncertainty.
Simplify the Process by Employing the Right Tools: One major way of simplifying your last mile delivery process is to cut down planning and optimization time by eradicating a manual procedure. In order to automate these steps, you will have to integrate a food delivery planner and optimization software in your last mile delivery process.
Try Upper Route Planner: As a food business owner, you will be employing multiple drivers and creating multiple routes for them daily. You will need to cut down planning time and find the optimized routes that reduce time spent on the road. Our last mile delivery solution – Upper Route Planner, will help you automate the planning and optimization process and cut down planning time by 90%.
Benefits of Upper Route Planner: Using Upper Route Planner has several benefits for last mile delivery businesses. Let us walk you through:
Optimize multiple routes with up to 500 stops simultaneously;
Cut down up to 10 hours of planning time per week;
Add specific delivery constraints like time windows, urgency, and curbside delivery;
Adjust driver schedules on the fly;
Reduce cost-per delivery;
Adding notes and delivery details for each stop on the route;
Record proof of delivery for each stop;
Generate daily reports and analytics for insights on delivery tasks.
FAQs
Food delivery service businesses are booming currently. The rise in quarantine and lockdown restrictions has people locked up in their houses. It has given a huge boost to online food ordering. Most businesses recorded the highest revenue only because of the online food ordering and delivery.
Food delivery businesses either prepare the food on their own or partner with restaurants to handle food deliveries on behalf of them. These are the two main ways in which food delivery businesses operate. A food business that prepares and delivers on its own either receives orders through its website, third-party mobile app, or phone call.
You can start accepting orders for your homemade food online through your social media platforms, website, or phone calls. Many small businesses that sell homemade food accept orders through phone calls or they tie up with third-party services that help them sell and deliver their food to the customers.
Food delivery services like DoorDash, Grubhub, and Postmates are some of the most popular food delivery services having the maximum market share in the online food delivery service industry.
Grow your Own Food Delivery Business Quickly with Upper Route Planner
With a reliable food delivery business plan, you can never go wrong. Make sure you consider all the important pointers mentioned above before setting up your own online food delivery system.
One of the most important aspects, as mentioned above, is planning and optimizing your delivery routes. Without proper optimization and a strong last mile delivery setup, you will not be able to gauge an audience in the market.
Use a route planning and optimization software like Upper Route Planner to make sure your routes are optimized and you save time and money while achieving more deliveries per route. If you have any questions or would like to discuss something, you can get in touch with us.