Excessive use of advanced technologies is like two opposite sides of a coin, good and bad. Positively, it reduces your workload and enhances business efficiency. And bad? Your client will have higher demands day by day.
Mid-sized businesses would have the upper hand in earning desired profit using technologies. But at the same time, you need efforts to keep your customers satisfied. Especially, businesses associated with delivery operations have to put serious effort.
It is because, when it comes to delivering the product, your customers can't keep calm, right owners? Many of you might have heard that advanced route optimization solutions can ease your delivery challenges.
So, is the automatic route optimization secret to eliminating those troubles and providing excellent customer services?
For answers, continue reading Route Planning Software – Buying Guide and get in-depth knowledge about route mapping software.
What is Cloud-based Route Planning Software?
Route planning is a flexible route optimization software that considers multiple factors to automatically plan an optimal route. Generally, it is widely used by business owners to get rid of the daily route planning hassles. One of the advantages of using digitized route optimization is to lower the delivery costs and to improve customer service.
Moreover, this automation software helps you in optimizing routes so that you can have delivery in less time. Hence, many businesses use route planning software to create and download routes using a route optimization algorithm. Such optimized routes will improve fleet management and you will receive customer satisfaction as well.
Consequently, you won't have to worry about the challenges lying between delivery routes. Instead, you can shift a focus to expanding your business.
Why Your Business Needs a Route Planning Software?
Businesses that still make deliveries based on manual route optimization will need advanced route optimization tools at some point. This is because you need to consider many factors while planning routes. If not done, it may adversely affect your business in such a way that there would be no customer satisfaction.
Planning delivery routes using route optimization systems means you will have a better delivery performance. It will make sure your business does not take a hit from recurring late delivery issues. Ultimately, switching to the route planner software will give a better customer experience.
Besides, saving time and saving significant on fuel & labor costs, it also offers you real-time visibility that you can have your eyes set on the delivery process. Yes, the GPS tracking will send you real-time field service data. With the lower fuel costs of vehicles and minimum chances of delays, it will increase efficiency of your business.
Ready To Automate Route Planning & Dispatching Operations?
Kick-start your free trial Now and see how Upper Route Planner benefits you!
How Can Routing Software Be Your Virtual Assistant?
Businesses that are dependent on logistics would have a helping hand from an assistant who lets you select the effective route quickly. And therefore, you must embrace a delivery route planner to plan an entire route.
From planning the best route to offering customer-friendly delivery, routing software would be your perfect aide. No matter if you use it for delivering meals or sending health care products, this route planning software is capable of getting things done.
And so, it lets you keep going in hands-free mode. Below is how powerful route optimization software can play a vital role in boosting your business productivity.
Set up Optimized Routes for Drivers

Setting up the routes is where the business owners waste more time and eventually, end up assigning the same routes to an individual. With route planning software, you will not have to worry about assigning and choosing the routes. The automated software quickly gets you profitable delivery routes within a few seconds.

Divide Route to the Delivery Crew

As a business owner, you invest more of your resource and time to assign the task to crew members. But, there would be no hassles for assigning tasks when you follow route planning software. Here, route regulations will be done by the automated software which means it will automatically divide and assign on-demand delivery services to the drivers.

Guide Drivers Through the Autogenerated Link

Once it assigns the routes to the drivers, all they have to do is access the link received on mobile. And for that, they don't even need to download specific apps or get a unique device. The link will run on any smartphone or tablet in such a way that drivers get all details like shipping address, contacts, and important instructions.

Re-assign Routes for Unavailable Drivers

Running your own business, you would have had some days where you don't have your drivers available to make the deliveries. Sounds familiar? Then, what is the first thing you gonna do? Probably reassign the route to another driver after a long thought. This would be easier when you have a strong route optimization solution as it will quickly re-assign the route if you have unavailable drivers.

Quickly Dispatch Drivers

Amid the business challenges, dispatch managers might find it difficult to leverage delivery services. Such issues can be resolved with the help of the route planner software. Its intelligent dispatch will quickly alert the drivers to move forward with a single click of a button. In other words, online route planning acts as your wingman who does everything to keep your business growing.
Notable Benefits Of Route Planner For Different Industries
Route mapping software comes with more than one advantage for your delivery businesses. Industries like e-commerce, logistics, and food delivery can make the most out of it. Since all of your work will be done through elements of route optimization, what you get are multiple benefits from delivery route optimization software. Below are the benefits of using the route planner software.
Faster Delivery

One of the major reason why routing software is popular among entrepreneurs is it make deliveries quicker. It quickly finds out the efficient route and guides the drivers to the destination point bypassing the avoidance zones. Hence, you can expect faster deliveries.

Lower Fuel Consumption

Having the best route on the go means you will save more gas. So, when you have less fuel consumption, you don't have to mind cost considerations. Also, it will be easier for you to manage the fleets. As a result, you will save time and fuel costs.

Real-time Updates

With the use of GPS tracking technology, online routing software enables you the option to receive notifications. Whenever the delivery crew is on the move, you can receive real-time updates on your device.

Delivery Proof

Many small business owners successfully make the delivery, but often forget to collect the proof. But, it does not happen with route planning software as it records delivery proof. And therefore, you can turn down any false claims made by your clients.

Improves Business Profitability

If the delivery operations are smoother and faster, then you don't have to invest much time in making decisions. Route planner software wipes off the burden on your shoulder so that you can have time for analyzing reports. Such maneuvers will help you earn business profits.
Steps To Consider For Buying Best Route Planning Software
In the wake of delivery challenges, today there are many online route planning software available in the market. Businesses owners in an urgency to disperse delivery issues usually end up taking software that has limited features.
That's why it is necessary to follow the below steps before buying the route planning software.
Know what time does routing software takes to optimize the route
Get the software that allows more than 10 stops.
Choose the online planner which can import/export the data.
Check out if it is accessible from any device or not.
Consider the routing software which gives you a delivery proof.
Try a free trial to know whether the software is user-friendly or not.
Make sure you buy a route planner tool at an affordable price.
How Upper Route Planner Could Be Your Right Pick?
If you are into a business that involves delivery services, then you must get an online route planner app to get rid of field services hassles. When we talk about route planning, you need to consider factor in delivery costs like vehicle variables, on-road traffic, road closures, and drivers' availability. Switching to the Upper route planner will set you free from managing and changing of the routes.
From optimizing routes to making deliveries faster, this feature-rich route planner is what you are looking for. At Upper route planner, you can include more than 50 stops and add 25 drivers at the same time. Thereafter, as per your command, it automatically sets the best route complying with your business rules and sends it to the drivers.
Plus, what's the good thing about the Upper route planner is you always get a delivery proof. Don't believe us? Book a demo now to experience seamless planning and optimization of routes.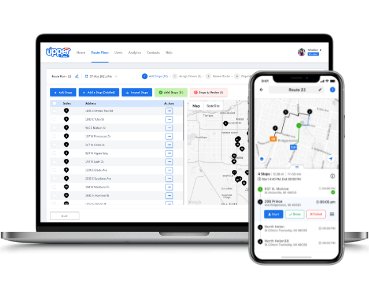 Upper Route Planner
A Simple-to-use route planner that every one is talking about.
Save up to 95% of planning time
Save up to 40% of time on the road
Plan 500 stops at once
FAQs
Google Maps does not support route optimization which means you will have to perform manual route planning to find a last-mile delivery route. Also, it allows limited stops, which could be time-consuming for many business owners.
The online route optimization software can eliminate the delivery troubles like changing of routes, unavailability of drivers, and road closers in the way. Thus, it is recommended to use route optimization software for increasing business efficiency.
Route optimization software takes care of the below factors:
Traffic congestion
Restricted area
Diversion of routes
Last-mile delivery route
Fleet drivers
customer parameters
Available resources
Duplicate addresses
Of course, you can minimize the delay in delivering food meals using the route planning software. Your day-to-day delivery issues may not exist if you have an automated route planner App. It will further help you get a positive response from your customers.
Conclusion
We saw how things can be topsy-turvy if you don't have route planning software. In the modern era, businesses endure a great financial loss due to the hefty charges for delivery operations. And still, if you fall short of delivering on time, it would make your customers unhappy.
Nearing the end of this blog, we hope now you have a complete idea of route planning software. If you're planning to buy one, don't forget to follow the aforementioned steps.
Start a free trial at Upper Route Optimization Software to explore the plethora of route mapping features.