Have you, as a buyer, noticed a change in the way you shop for products these days?
It is no more about getting your products delivered to your doorstep. The trend has jumped a few steps ahead and landed on curbside pickup and delivery.
You are aware of it, you probably even bought your groceries through curbside pickup. It might not look like a huge change. But when you think about it in terms of real-world statistics and the businesses that have been making curbside pickup work to their strategy, you will realize how drastic this shift is.
This article will further talk about the changes and how they have been accepted by brands and retailers.
What is Curbside Pickup and Delivery?
Curbside Pickup Meaning: Curbside pickup is a service offered by retailers where a customer places an order online and drives to their local store to pick it up. The customers can stay in their car and a store assistant will bring their package to them.
Curbside Retail Meaning: Curbside delivery is when the delivery driver drops your package to the curb at the end of your driveway. It helps businesses make a contactless delivery to their customers.
Curbside pickup and delivery balance convenience for the customers as well as the retailers. With curbside pickup, customers can save delivery charges and pick up their goods at a time and location of their convenience. Retailers save money on delivery drivers, fuel, and other operational charges for conducting deliveries.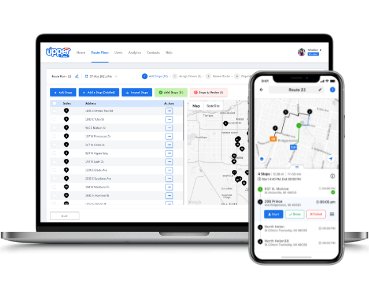 Upper Route Planner
A Simple-to-use route planner that every one is talking about.
Save up to 95% of planning time
Save up to 40% of time on the road
Plan 500 stops at once
Why is Curbside Pickup a Popular Retail Service Trend?
Every retail service trend aims to make the process seamless for consumers. The convenience and the experience of shopping for a product are extremely crucial to the success of the brand or the retail store.
So the reason curbside pickup is a popular trend is because of the convenience it has to offer.
If the retailers are willing to continue and scale this service in the future, the customers will accept it with open arms.
At the beginning of 2020, only about 6% of the top 1000 companies allowed curbside pickup delivery. Whereas in 2021, that number has reached 50.7% of 1000 retail chains. That's quite a leap, don't you agree?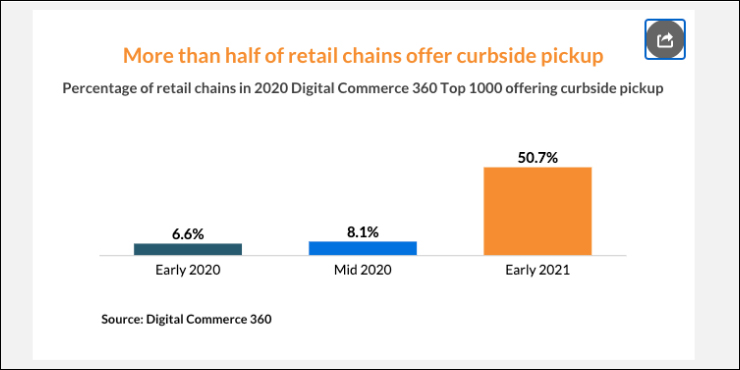 There have been questions regarding whether retailers will be able to sustain this method of selling and delivering the products to their customers. But with physical stores closing indefinitely, this was probably the best option for retailers in most countries.
Some of the major benefits that make curbside pickup so popular are: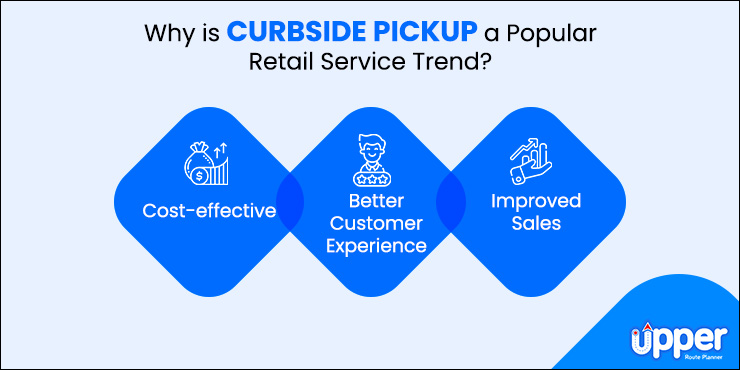 Cost-effective: Curbside pickup is known as a cheaper alternative for regular delivery of online orders. The curbside delivery system is not only cost-effective for the customers. Even the retailers can opt-out of paying the delivery businesses a higher commission.
Better Customer Experience: Grocery shopping takes up a lot of time. But having the convenience of choosing products on an app and then picking them up according to your convenience works well in the favor of the customers. Curbside pickup order collection keeps the customers and staff safe while still being able to function properly.
Improved Sales: The click and collect sales in the United States jumped to 60.4% in 2020. The click and collect sales amounted to over $58 billion in the previous year. This proves that this service trend has not only worked well in the favor of the customers but for the retailers as well.
What is Required to Offer Curbside Pickup and Delivery?
Two of the most important elements for streamlining curbside delivery are: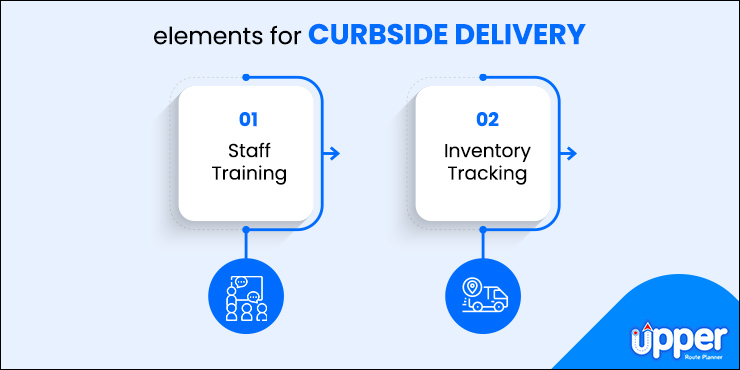 Staff Training: The reason why big brands and retailers can carry out curbside pickup and delivery services successfully is that they have a labor force. You need several staff members, carefully and meticulously trained, to handle and carry out the curbside pickup and delivery services.

The strength of the labor force and the right set of tools and training at pickup locations can help retailers boost their pickup sales instantly.
Inventory Tracking: The curbside pickup method can easily become complicated for any big retailer. The teams handling the store inventory, packing the orders, and dispatching the items to the customers must be equally aware of the inventory of the physical store.
All important inventory information must be made available to the teams handling orders at every local store. With access to the right information, it will become easier for retailers to facilitate curbside service.
Other Important Aspects That Can Boost Curbside Pickup Service
Designated Parking: Instead of making the employees wait for the customers, the store can assign a designated parking lot for curbside customers to park their vehicles and grab their packages from the store.
Order Tracking: Tracking orders or packages using a unique access code can be of great help to the customers as well as the retailers. The customers can access the store lockers using the code, pick up their packages, and drive off.
The retailers do not have to assign staff to take care of each package. The retailer can also have complete visibility of when the order was processed, placed in the locker, and picked up by the customer, thanks to the unique access code.
Contact-Free Online Order Pickup: This option not only works as a great contactless delivery alternative to curbside pickup, but it creates a more scalable BOPIS experience for the customers.
Examples of Popular Brands Offering Curbside Pickup & Delivery
Here is a list of popular stores that you can visit to order groceries online. You can choose from two options: Delivery and Pickup.
| Brands | Grocery Delivery | Grocery Pickup |
| --- | --- | --- |
| Target | $9.99 per order | Free |
| Walmart | Charges Vary | Free |
| Costco | Free for orders of $75 or more. | Free |
| Amazon Fresh | Free for Amazon Prime Members | Free for Amazon Prime Members. |
| H-E-B | $5 for delivery | Free |
Target: Target was one of the first companies to offer curbside pickup back in 2018. It figured out the need for the system even before Covid-19 made it necessary. Target's drive-up and pick-up service grew by 500% compared to other ways of making products available to customers.
Walmart: Walmart's contactless curbside pickup option spiked in May 2020. What started out as a curbside pickup specifically for groceries, eventually expanded to other non-grocery products like toys, clothes, and electronics.
Costco: Costco curbside pickup started by integrating the Instacart technology for same-day pickup orders. It started the click-and collect option with just a few stores in New Mexico.
Amazon Fresh: Amazon Fresh curbside pickup and delivery options are available in more than 2000 cities in the United States. Customers can schedule a 1-hour pickup at any Amazon Fresh facility and pick up their orders when it is ready.
H-E-B: H-E-B offers curbside pickup service for groceries for free. Customers can select items on the online store, locate the designated parking spot and reach there at their selected time. H-E-B store assistants would come and load the packages into the customer's car.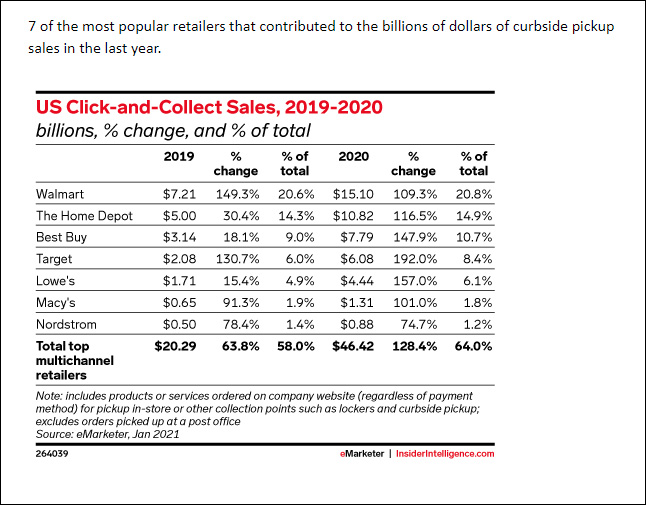 FAQs
Curbside pickup means a system where the customer places an order online. The customer arrives at the physical store at a given time and picks up their order from the physical store teams.
Delivery fees charged by most companies make the final purchase quite expensive. In comparison to that, pickup orders offer a business to incur lower costs by having customers coming to the store to collect their orders. It allows customers to collect their orders without spending time shopping or paying heavy delivery fees to the delivery companies.
Curbside pickup is very simple. The retail business receives orders from the customers (through call or online ordering system). The package is prepared for pickup at the store. The customers arrive at the store and stay inside the car in their allotted parking spots. The store associate brings the order outside and places it inside the customer's car.
For the customers, the ease of going to the store and collecting their package on their own time and not having to pay hefty delivery charges are the main reasons why curbside pickup is popular for them.
On the other hand, for retailers, it allows them to convert their stores into fulfillment centers where they are paid directly by the consumers and no middleman or delivery person demands a cut in the sale of the packages.
As a restaurant or retailer, you will have to do a few things to make sure your curbside pickup service is carried on without any hiccups. Start by:
Training & preparing your staff for curbside pickup
Set up a staging area
Invest in good quality to-go packaging
Offer several payment options and speed up the payment processDesignate a parking area for curbside pickups
Designate a parking area for curbside pickups
Restaurants like Taco Bell, Pizza Hut, Outback Steakhouse, Del Taco, Chili's, and Applebee's are some popular restaurants that offer curbside pickup options for their customers.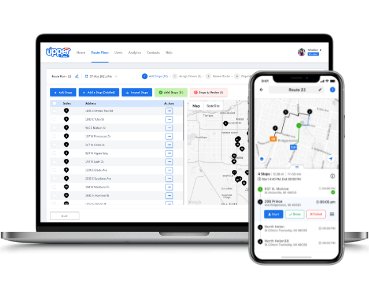 Upper Route Planner
A Simple-to-use route planner that every one is talking about.
Save up to 95% of planning time
Save up to 40% of time on the road
Plan 500 stops at once
Is Curbside Pickup & Delivery the Right Approach for your Company?
If you own a retail store or a food delivery business and you are planning to implement curbside delivery or pickup to your system you need to ask yourself the following questions:
Do you have enough curb space?
Do you have all the required resources, which include – employees, technology, finance?
How can you, as a local retailer, adapt to this mammoth change in the customer service trend and where do you fit in?
One way of doing this is by adopting technology and making it a part of your existing delivery system. For instance, a web-based tool like Upper Route Planner allows your drivers to cover multiple stops on a single route and manage curbside deliveries for each customer.
But before you start spending your time, energy, and resources on integrating curbside pickup and delivery into your business, ask yourself if it is the right approach for your company.